Chicken Kisses
 Craving comfort food? These Chicken Kisses are a family favorite!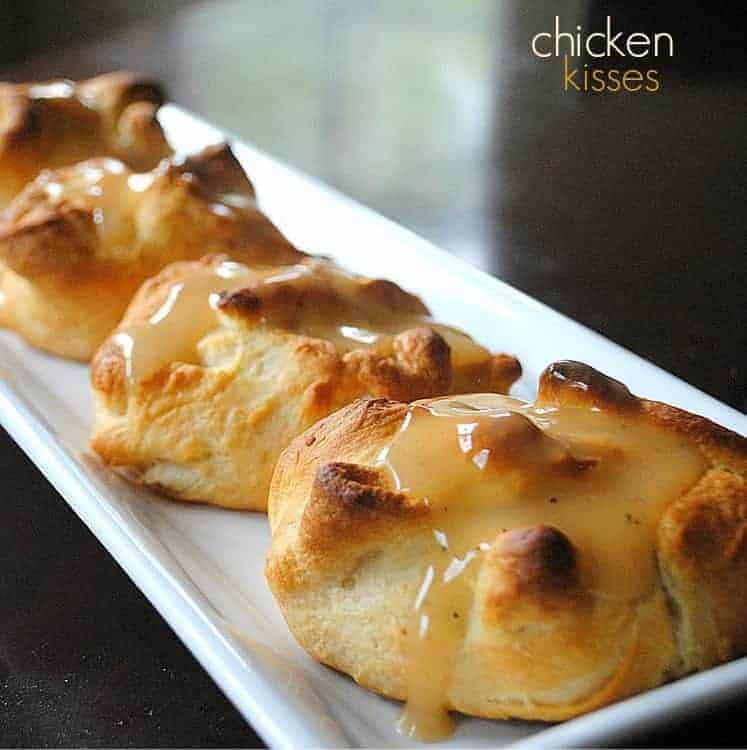 One of my favorite dinners. Alyssa (my 12yr old) usually chooses this as her birthday dinner every year. It's so perfect on a fall evening, very filling and quite delish too! Thank you to Aunt Sandy for sharing this recipe with me many many years ago! I don't think I have changed it much.
Michael is a little (okay A LOT) anti-creamy. I usually use half the amount of cream cheese called for in this recipe, but for this dinner? I went all the way. And it went all the way to my thighs. You could easily though use less fat cream cheese, if it makes you feel better.
Easy Chicken Kisses
Ingredients:
4 cup cooked, diced chicken (use a Rotisserie for an even quicker dinner)
8 oz cream cheese, softened
4 Tbsp butter, softened
1 tsp salt
1/2 tsp pepper
1/4 cup milk
1 Tbsp minced onion
2 package Pillsbury crescent rolls
1 jar Heinz chicken gravy, warmed
Directions:
Mix chicken, cream cheese, butter, spices, milk and onion in bowl.
Unroll crescents and using two crescent rolls at a time (to form a rectangle) fill with stuffing. Pinch up the corners (makes 8 packets).
Bake at 375 for about 15-20 minutes. Serve with warmed gravy! Enjoy!
MAKING THIS RECIPE? Share it with me on Instagram using the hashtag #ShugarySweets so I can see what you're cooking up in the kitchen!