Banana Caramel Poke Cake
This Banana Caramel Poke Cake has a VERY moist cake layer topped with Banana JELL-O Pudding flavored Cool Whip. Caramel in the cake AND drizzled on top with some Nilla Wafers completes this luscious dessert.
I've never made a poke cake before. Wait, I've made JELL-O gelatin poke cakes. But never the kind that uses sweetened condensed milk.
After making this banana version, I AM SUCH A FAN. I can't wait to make my next version.
I combined sweetened condensed milk with a jar of caramel ice cream topping sauce. It was a lot of moisture on top of this cake, BUT please, don't let that deter you. Once you refrigerate the cake over night, it all gets soaked up and creates a super delicious bite of caramel banana cake.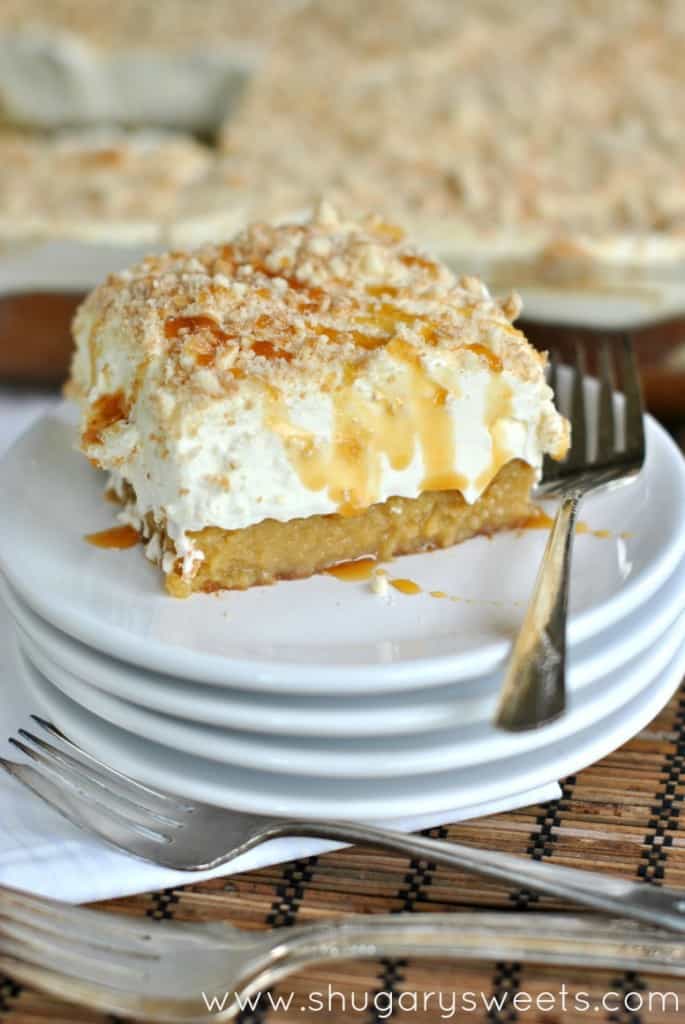 I also mixed in some banana pudding mix to the cake mix. I knew it wouldn't be enough banana flavor, so I added a second box of pudding mix to the topping. By mixing the pudding with only one cup of milk it remained nice and thick. Perfect when folding in the Cool Whip. I could eat the topping all by itself. Adding the crushed Nilla Wafers is also very essential. They provide that little bit of crunch with the cake. Totally necessary.
I guarantee if you bring this to a potluck people will want the recipe.
Connect with Shugary Sweets! I know you want to see behind the scenes…check out my instagram!
Facebook | Twitter | Google+ | Pinterest | Bloglovin'
Ingredients
For the Cake:

1 box (16.5oz) yellow cake mix (with ingredients to prepare, according to box)
1 box (3.4oz) banana cream JELL-O pudding mix
I can (14oz) sweetened condensed milk
1 jar (12oz) caramel ice cream topping sauce

For the Toping:

1 box (3.4oz) Banana cream JELL-O pudding mix
1 cup milk
16oz Cool Whip, thawed
1 cup Nilla Wafer cookies, crushed
1/4 cup caramel ice cream topping sauce
Instructions
In a large mixing bowl add cake mix and ingredients to make a 13x9 cake (according to package). Mix in box of pudding mix. Pour batter into a greased and floured 13x9 baking dish. Bake according to package directions.
Remove from oven and poke holes all over the top of the cake. I used a meat thermometer to make all my holes. In a small bowl, mix sweetened condensed milk with caramel sauce. Pour over warm cake, being sure to pour over the holes. Some sauce will remain on top of the cake. That's okay!! Cover cake with plastic wrap and refrigerate overnight.
To make the topping, beat pudding mix with milk until no lumps. Fold in Cool Whip. Spread over cake. Top with crushed cookies and drizzled caramel sauce. Keep refrigerated until ready to serve. Use within 3-4 days. ENJOY!
http://www.shugarysweets.com/2013/06/banana-caramel-poke-cake
Copyright Shugary Sweets 2011-2016
I love making pudding cakes. They are a bit different from poke cakes, but still very delicious and very easy! I have Chocolate, Lemon and Butterscotch versions on the blog!
I also love making NO BAKE Eclair Cakes. Layers of graham crackers with a pudding and Cool Whip filling. The original version is a family favorite, but the strawberry eclair cake has now become a requested recipe!
Summer is not complete until we have enjoyed at least ONE JELL-O gelatin poke cake! They are so fun and easy (change the flavor and colors too). We love layering our cake in a trifle bowl with a cheesecake filling!