Chocolate Eclair Cake
Last night I dreamt that God wanted me to build a boat. Not just any boat. I had to build an ark! Like Noah. Then I woke up. I realized it's still raining and that maybe I'm going a little nuts. Having an Evan Almighty kind of a month!
Nothing nutty though about this cake. I'm sure you all have had this before, maybe even make it yourselves. This post however is then for those of you who have never tried Chocolate Eclair Cake. You need this in your life. Just like you need an umbrella that doesn't flip inside out while walking outside.
So, go, run in the rain and get what you need to make this today!! Tonight for dessert you will thank me. Unfortunately I have been eating too much of this kind of treat, and not doing enough of the running. I keep telling myself though that when the weather changes (to sunny) then I will change too. Hahahaha. I laugh. In the meantime, I will be spending my day baking up some more donuts, because I can and I want to!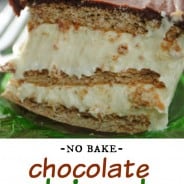 Chocolate Eclair Cake
Ingredients:
For the Cake:
1 box honey graham crackers (14.4 oz)
2 pkg (3.4 oz each) instant french vanilla pudding
2½ cup milk
12 oz cool whip
For the Frosting:
2 oz. melted unsweetened baking chocolate
2 tsp corn syrup
1 tsp vanilla
3 Tbsp melted butter
1½ cup powdered sugar
3 Tbsp milk
Directions:
Mix pudding with milk. Fold in cool whip. Layer in a 13x9 dish: graham crackers, pudding, graham crackers, pudding, graham crackers.
At this point, you can cheat and top with canned milk chocolate frosting. Or you can go that extra mile and show your family you care and make the good stuff. You won't regreat going the extra mile, it's worth it, trust me. But, I wouldn't judge you. I've used canned too. When I'm impatient. Or lazy. Or just having a regular Monday.
But on the good days, this is how you make the chocolate frosting. Mix the melted baking chocolate with corn syrup. Add vanilla, melted butter, milk and powdered sugar. Mix until thoroughly combined. Frost the top layer of graham crackers. Cover and refrigerate until serving.
MAKING THIS RECIPE? Share it with me on Instagram using the hashtag #ShugarySweets so I can see what you're cooking up in the kitchen!