Beef Pitas with Tzatziki Sauce
I could eat these daily for dinner. I wish I had my own vertical spit though so I can make real authentic gyros. These are NOT gyros. Please don't make these and complain they don't taste like gyros. These are beef sirloin slices in a pita with tzatziki sauce. It's as close as I can get to a homemade gyro. Without using lamb. And that vertical spit thing to cook the lamb. Sorry.
Actually, I'm not going to apologize. These pitas are delicious! My kids ate the steak not on a pita and I ate mine just like the picture, with juicy red tomatoes and some fresh homemade tzatziki sauce on top. I would usually put slices of onion on my pita, however, the sauce has plenty of onion flavor it wasn't even necessary.
The best part? I made the sauce in the morning, so come dinner time it only took about 15 minutes from start to table. Enjoy!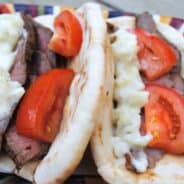 Beef Pitas with Tzatziki Sauce
Ingredients:
For the Beef:
1 Tbsp fresh rosemary, minced
1/2 tsp fresh ground black pepper
2 tsp Greek seasoning (like Cavender's)
2 lb beef top sirloin steak (boneless), cut into strips
For the Tzatziki sauce:
1 cucumber, diced (about 1 1/2 cup)
1/4 tsp fresh ground black pepper
Directions:
Mix all the ingredients for the sauce in a bowl. Store in refrigerator and allow to sit for 4 or more hours. Some people put it in a coffee filter and mesh colander all day to allow the excess moisture drain out. I personally don't bother.
In large resealable bag, mix seasonings and add beef strips. Seal bag and shake.
Heat skillet on medium high with olive oil. Add beef strips and saute for about 10 minutes, until cooked to desired doneness. I prefer a little pink, but cook however you enjoy.
Serve on a pita with sliced tomatoes and tzatziki sauce. Enjoy!
MAKING THIS RECIPE? Share it with me on Instagram using the hashtag #ShugarySweets so I can see what you're cooking up in the kitchen!