S'more Granola Bars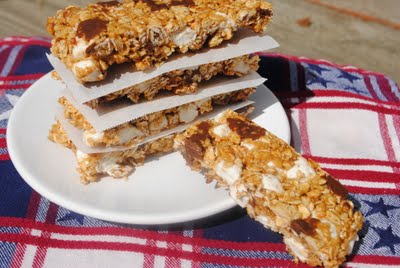 I'm always looking for a good, healthy snack. For the kids (not me, who are we kidding, I snack on root beer fudge). This is a basic granola bar recipe, one you might remember from here. I made a slight twist and instead of peanut chocolate chip, this one is all S'more goodness. Grahams, marshmallow, and chocolate.
Not that I condone s'mores, I think I've made myself pretty clear on that subject! However, I enjoy treats that mimic the real thing, but don't involve fireballs on the end of a poker!
Make these for your kids today (or yourself). Then you too might feel better about not putting dangerous weapons in the hands of children! ha!
S'more Granola Bars
Ingredients:
4 Tbsp butter
1/2 cup brown sugar
2 Tbsp honey
2 Tbsp maple syrup
2 1/2 cup granola
1/3 cup semi sweet morsels
1/3 cup crushed graham crackers (not crumbs)
1 cup mini marshmallows
Directions:
In large saucepan, mix together the butter, brown sugar, honey and maple syrup. Bring to a boil. Boil while stirring continuously for 3 minutes.
Remove from heat. Quickly fold in crushed grahams and granola. Add chocolate and marshmallows. Spread into a parchment lined 13x9 dish. Press firmly into pan, cover, and refrigerate for 10-15 minutes. Cut into rectangle bars, store tightly covered. Enjoy!
MAKING THIS RECIPE? Share it with me on Instagram using the hashtag #ShugarySweets so I can see what you're cooking up in the kitchen!