S'mores Cupcakes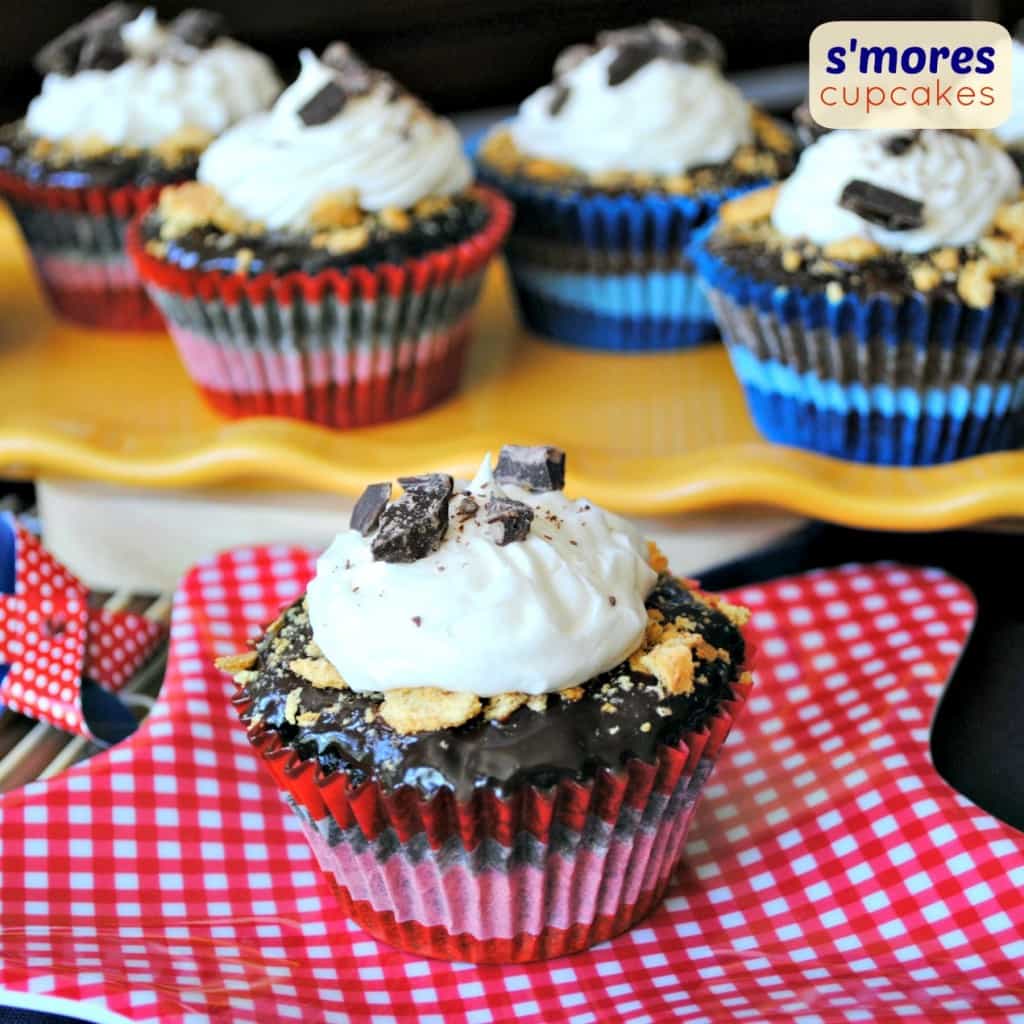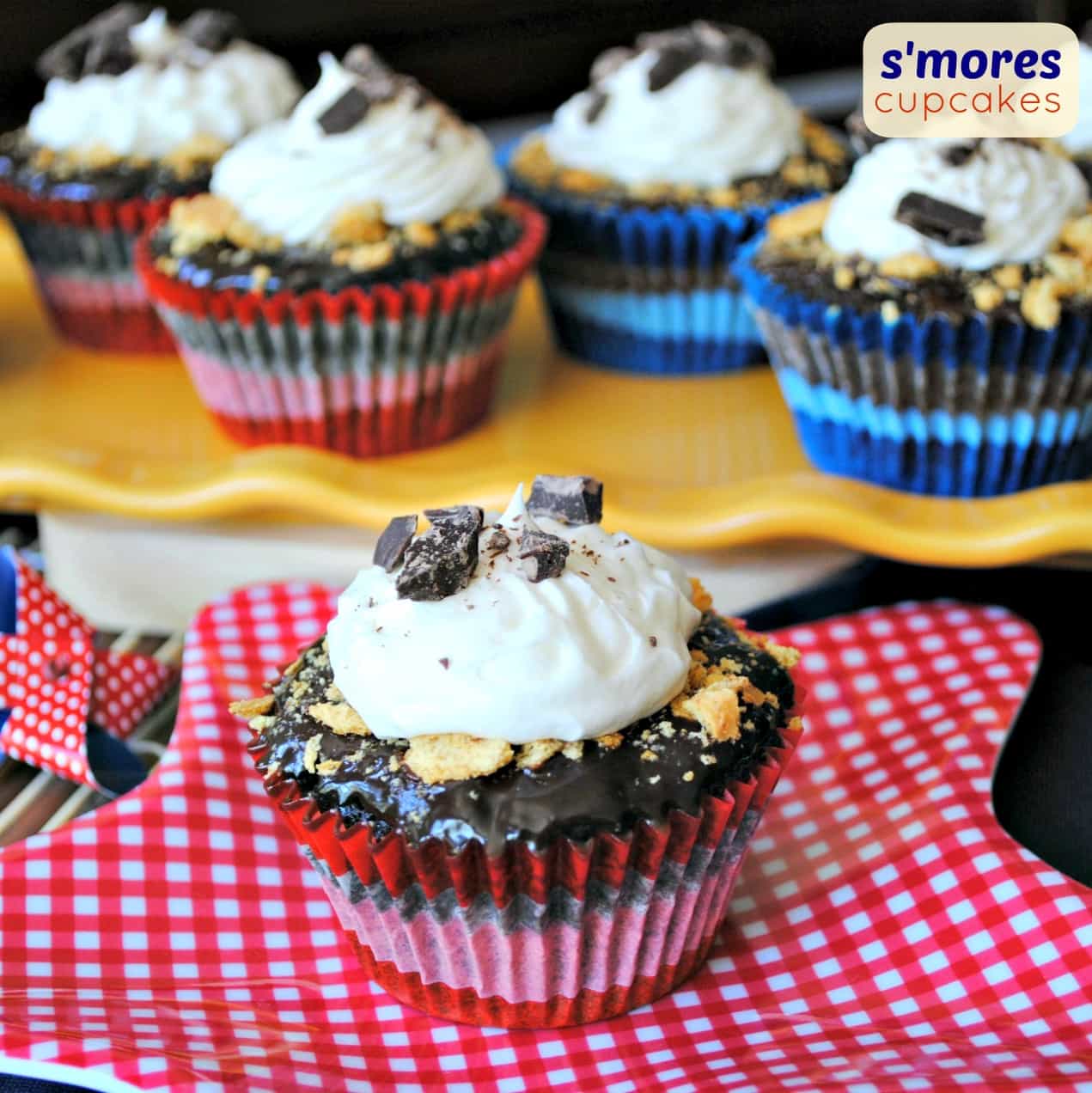 So, I bought a kitchen blow torch. I had every intention of torching the tops of these cupcakes. But I'm home alone. And I got scared. No, true story. I have a fear of fire, and since I have no idea how to fill the torch with the butane, much less USE the torch, I put it aside and took photos anyways.
Totally would have been cute, but I can hear the kids grumbling now. "but mom, mine is too brown." "mom you didn't burn mine enough."
This is why camping is more fun WITHOUT s'mores. Okay fine, go call the camping police on me. I prefer to accidentally forget the marshmallows at home. I've said it before on this blog, and I'll say it again…I hate cooking s'mores over an open fire with my 4 children. Besides the fact that they are a gooey disaster,  I end up having to cook them myself because the kids marshmallows conveniently go up in flames EVERY TIME…or how about the fact that when they do finally get a good marshmallow perfectly browned, it falls in the dirt with a child erupting in tears.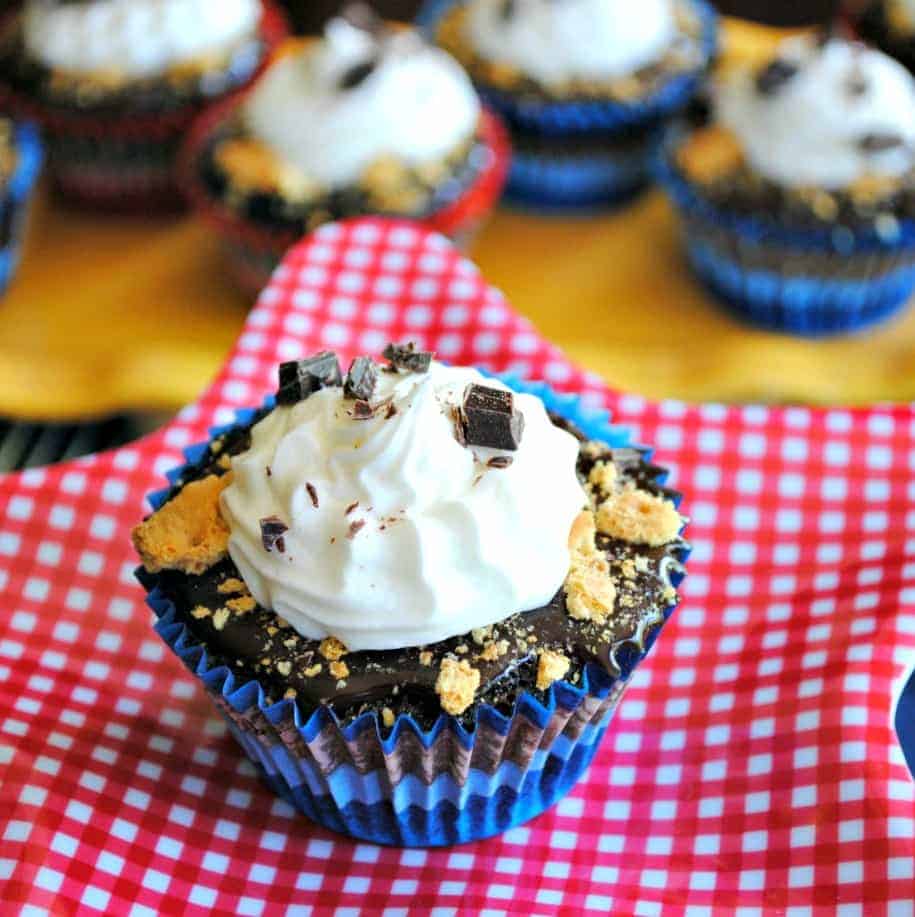 But these cupcakes? No tears involved. Just the sweet goodness of s'mores in a disposable wrapper. Dark chocolate cupcakes dipped in chocolate ganache, sprinkled with graham crackers and topped with marshmallow frosting.
You're welcome. Surely I'm not the only one who hates making s'mores????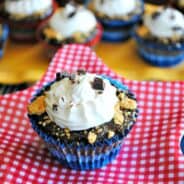 S'mores Cupcakes
Ingredients:
For the cupcakes:
1/2 cup butter, softened
1 1/2 cup sugar
2 eggs
1 1/2 cup flour
1/2 cup unsweetened dark cocoa powder
1/2 tsp kosher salt
1 tsp baking soda
1/2 tsp baking powder
1/2 cup brewed coffee, cooled
1/2 cup milk
For the Ganache:
1/2 cup milk chocolate morsels
1/3 cup heavy cream
For the Frosting:
1/2 cup butter
7 oz Fluff (marshmallow cream)
4 cup powdered sugar
2-4 Tbsp heavy cream
Garnish:
2 whole graham crackers, crushed
1/2 bar Ghirardelli bittersweet chocolate, chopped
Directions:
In a bowl, mix flour, cocoa, salt, baking soda and baking powder. Set aside.
In a measuring cup, mix together cooled coffee and milk. Set aside.
In mixer, beat butter and sugar for 5 minutes. Add eggs, one at a time. Slowly add in dry ingredients alternating with coffee mixture (about 3 additions of each). Pour batter into cupcake liners, about 1/2 full.
Bake in a 350 degree oven for 15-20 minutes. Remove and cool.
For ganache, melt chocolate with cream in double boiler until smooth. Spoon ganache over cooled cupcakes, sprinkle immediately with crushed graham crackers. Set aside.
To make frosting, beat butter with marshmallow cream, powdered sugar and heavy cream for 3-5 minutes, until fluffy. Add more heavy cream if necessary to get desired consistency. To frost cupcakes, fill decorator bag and pipe onto cupcakes. Sprinkle immediately with chopped chocolate. ENJOY!
MAKING THIS RECIPE? Share it with me on Instagram using the hashtag #ShugarySweets so I can see what you're cooking up in the kitchen!