Strawberry Chicken Salad- Guest Post!!!
…Hopefully as you are all here reading this guest post by my friend Holly, I am sipping an ice cold margarita on the beach. Unless of course it's 7am, then I am probably enjoying a gorgeous breakfast buffet, that I didn't have to make! Please welcome Holly from Life as a Lofthouse. Her blog is one of the first blogs I began to read when I started a little over a year ago! Take it away Holly….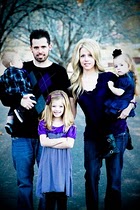 Hi everyone! My name is Holly. I am the gal behind the scenes over at Life as a Lofthouse! I was so honored when Aimee asked me to Guest post on her blog, while she's on vacation. I adore Aimee and her blog! I've made quite a few of her recipes. One of my favorites is her Chicken Taco Soup! It is a family favorite at our house.
  I 

♥ 

to cook and bake. It's my most favorite thing in the world…. besides my kids & hubby 😉  I started my blog almost 2 years ago for a place to share my recipes with friends and family. I post all kinds of simple, yet delicious recipes. From easy weeknight meals to fancy impress-your-guest dinners! I hope you'll come on over and say Hello. Your sure to find something you'll want to try!
   Today I thought I would share one of my favorite salads. With spring and strawberry season finally here, this salad is sure to please!
2 boneless, skinless Chicken Breasts

Salt and Pepper, to taste

6-8 cups chopped Romaine Lettuce

1 cup Strawberries, sliced

1/2 cup light Raspberry Vinaigrette
Directions
: Start by brushing oil on chicken breasts and then season with salt and pepper. Grill chicken on your barbecue or indoor grill pan. Grill for 5 minutes on each side, or until chicken is thoroughly cooked. Set aside.
On two plates, add the romaine lettuce, sliced strawberries and almonds. Slice your grilled chicken and place on top.
Mix together the poppyseed dressing and raspberry vinaigrette together. Pour over the salad and dig in!