Chocolate Chip ROLO Cheesecake Muffins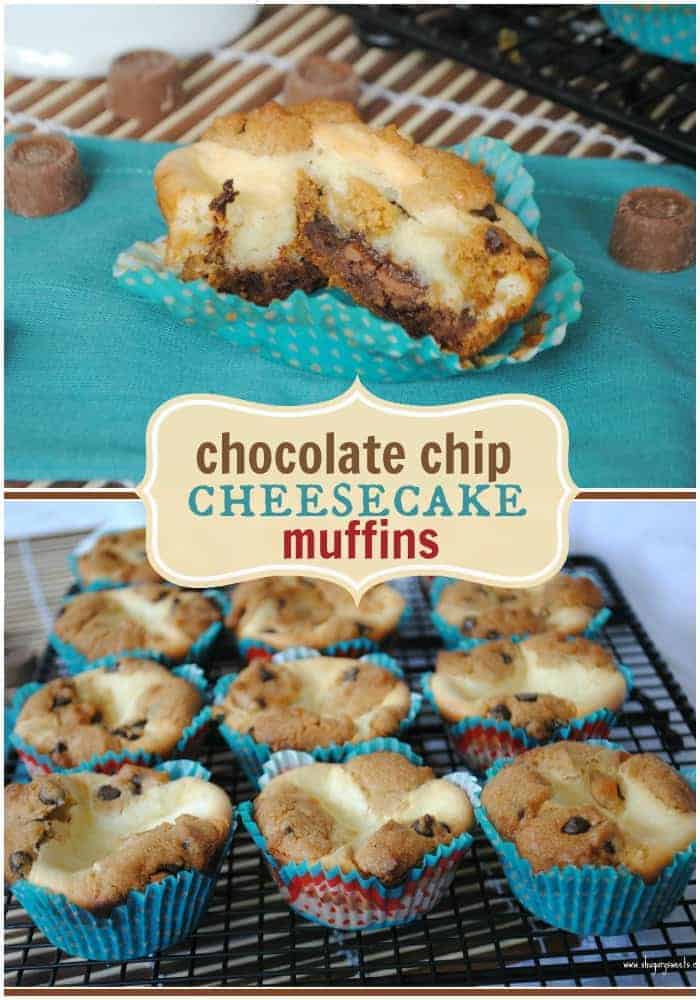 I remember when I was a kid and my mom would let me pick a candy bar after grocery shopping. There were so many choices. I had 3 that I mainly chose and rotated each time…Skor, 100 Grand, and Rolos. Occasionally I would get a taste for a Charleston Chew (but usually I bought those from the pool concessions, cause they were frozen)…and if I was in the mood for non-chocolate I always chose Skittles.
Now though? I don't choose Rolos. Instead I buy big bags of them. Did you know they sell them in mini sized, already unwrapped? Ummm, yes please!
Needless to say, I bought a couple bags awhile ago. They sat in the pantry until the decision was made as how best to use them. 
It seems I'm a little late getting on the chocolate chip cheesecake bandwagon, but I'm so glad I hopped aboard. The Rolo melts down into the cookie crust to give you a chewy caramel cookie crust. To. Die. For. 
If you don't want to bake these up into muffins, you can certainly make a pan of them, and cut them into slices. Whatever works! 
Want more Rolo recipes? Check these favorites out…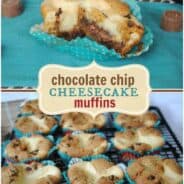 Chocolate Chip Rolo Cheesecake Muffins
Chocolate Chip Cheesecake Muffins with Rolos. Delicious, easy recipe!
Ingredients:
For the Cookie
3/4 cup Crisco butter flavored shortening
3/4 cup sugar
1/3 cup brown sugar
1 egg
2 tsp vanilla extract
1 1/2 cup flour
1/2 tsp salt
1 tsp baking soda
1 cup mini chocolate chips
For the Filling:
24 Rolo candies (I used minis, but regular would work too)
2 pkg (8oz each) cream cheese, softened
3/4 cup sugar
2 eggs
1 tsp vanilla extract
Directions:
Beat shortening with sugar and brown sugar. Beat in egg and vanilla. Add flour, salt and baking soda. Fold in chocolate chips. Set aside about 1/3 of cookie mixture for topping.
Press remaining dough in 24 cupcake liners. Bake in a 350 degree oven for about 8 minutes.
Meanwhile, in mixer, beat cream cheese with sugar, eggs and vanilla.
Remove cookies from oven, press one rolo into each crust, lightly. Scoop cheesecake mixture over each crust. Drop bits of reserved cookie dough over cheesecake. Bake in 350 degree oven for about 25 minutes more.
Remove, cool and store covered in refrigerator. ENJOY!
**recipe adapted from Taste of Home Fall Baking Cookbook 2010
MAKING THIS RECIPE? Share it with me on Instagram using the hashtag #ShugarySweets so I can see what you're cooking up in the kitchen!