Hummus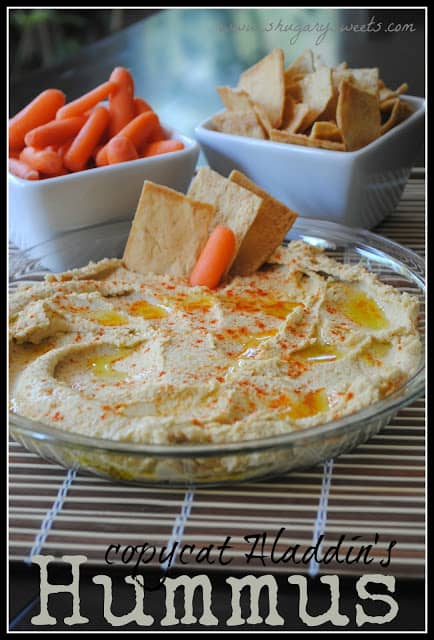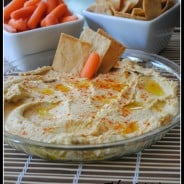 Hummus
Ingredients:
2 cans (15oz each) garbanzo beans, peeled
1/2 cup tahini
1/3 cup lemon juice (about 2 lemons, juiced)
1 1/2 tsp kosher salt
5 cloves garlic
3 Tbsp olive oil, divided
1/4 cup water (or reserved juice from beans)
1 pinch paprika
Directions:
In food processor add drained (peeled) garbanzo beans, tahini, lemon juice, salt, garlic and 2 Tbsp olive oil. Blend for several minutes, adding water a tablespoon at a time (or using drained water from beans).
Add more or less water to desired consistency. To get it creamy (similar to Aladdin's), I added about 3-4 Tbsp water.
Spread on large plate (or pie plate). Sprinkle with paprika and drizzle with remaining olive oil. Serve with warm pita or pita chips. Enjoy!
MAKING THIS RECIPE? Share it with me on Instagram using the hashtag #ShugarySweets so I can see what you're cooking up in the kitchen!
I haven't always loved hummus, but as I've grown older and wiser my palate has accepted this strange dish.
But a couple weeks ago I went to lunch at a local restaurant with a friend. 
We were told to try the hummus, and we did (I always do as I'm told).
This hummus was the best I've ever eaten. No seriously. Creamy, flavorful. DELISH.
So I set out to make it myself. I googled how to make hummus creamy. Everyone had ideas!
Using the basic ingredients and ideas I made my own version, and I think it's pretty close.