Peanut Butter Nutella Pretzel Tart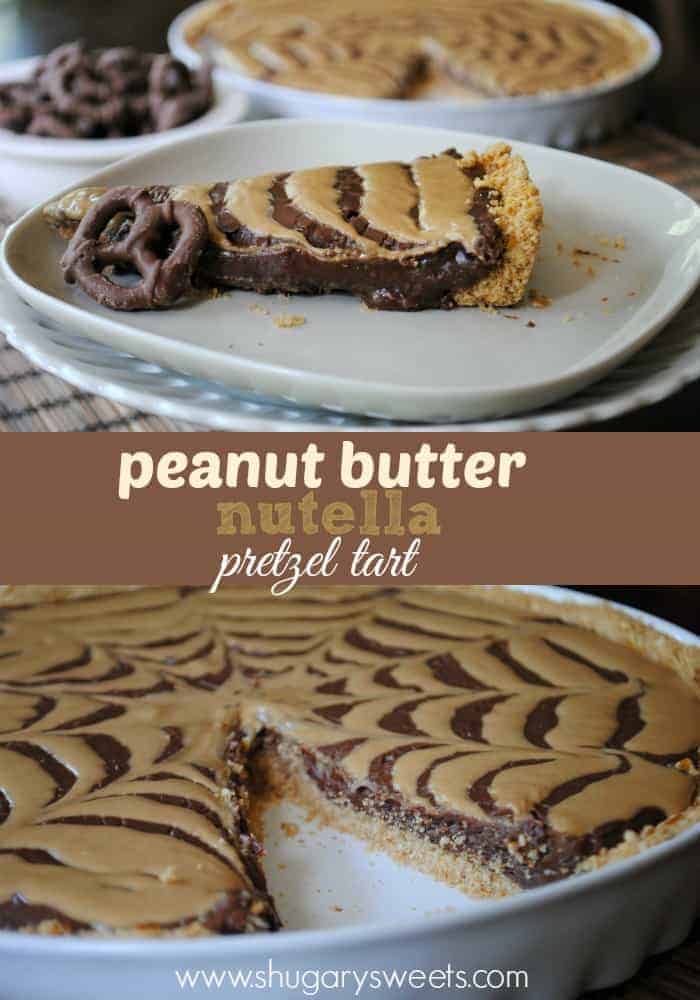 I don't even know where to begin here.
One of my kids favorite snacks would be pretzels dipped in nutella and peanut butter. 
And, those said kids are now in school. So I think it's time to classy that little snack up a bit.
The sweet and salty pretzel crust combined with the nutella fudge and drizzled peanut butter is like a party in your mouth. Seriously. Chew slowly or you might end up devouring this entire tart.
Like this Peanut Butter Pretzel recipe? You may also enjoy these recipes….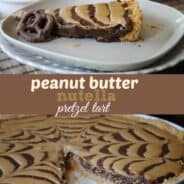 Peanut Butter Nutella Pretzel Tart
Yield: 12-16
Prep Time: 3 hours
Cook Time: 10 minutes
Ingredients:
For the Crust:
1/2 cup butter, melted
2 cup pretzels
2/3 cup packed brown sugar
For the Filling:
14oz can sweetened condensed milk
12oz milk chocolate morsels
1 Tbsp butter
2/3 cup chocolate hazelnut spread (Nutella)
For the Garnish:
1/2 cup creamy peanut butter
Directions:
In food processor, pulse pretzels until fine. Add in brown sugar and melted butter, and combine completely.
Press into bottom of large tart pan. Bake in a 350 degree oven for 10 minutes. Set aside.
In large sauce pan, heat sweetened condensed milk and butter until warm over med-low heat. Add in milk chocolate and nutella and heat until smooth, whisking constantly. Pour into pretzel crust.
Heat peanut butter in microwave dish. Drizzle over chocolate and refrigerate 2-3 hours, until set.
Slice and serve!
**recipe inspired from Hot Polka Dot
MAKING THIS RECIPE? Share it with me on Instagram using the hashtag #ShugarySweets so I can see what you're cooking up in the kitchen!