Peanut Butter Cookie Dough Truffles
 Today I have a Peanut Butter Cookie Dough truffle that is filled with Reese's Pieces! You are going to love these!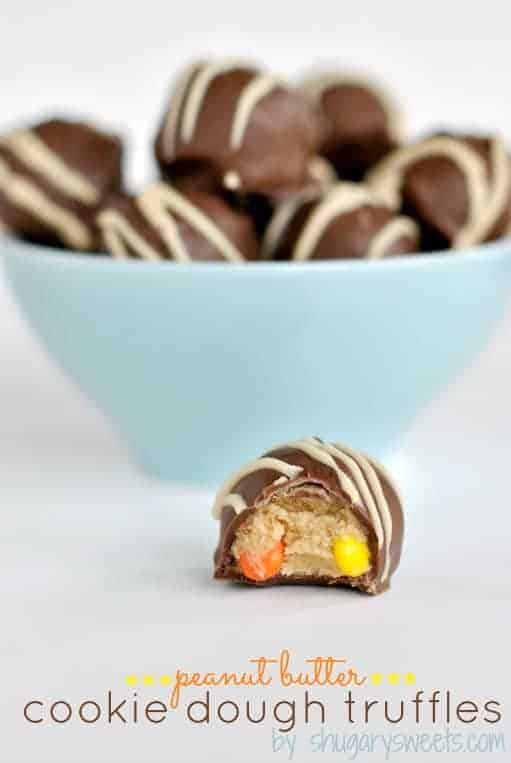 Anyone find themselves baking with the same ingredients? Like going through a phase? Right now I'm in a Reese's Pieces phase.
It could be worse, I could be on a health kick phase! Okay kidding. I NEED to be on a health kick phase.
These Truffles are amazing. So good, that once again they had to be shipped off to my husband's work, where they were quickly gobbled up!
There's no egg in this truffle, so you can gobble as many as you like. They truly taste like peanut butter cookie dough. Then I added the Reese's Pieces, cause that's the phase I'm in. Oh, and I dunked them in chocolate and added some peanut butter drizzle. Who could resist???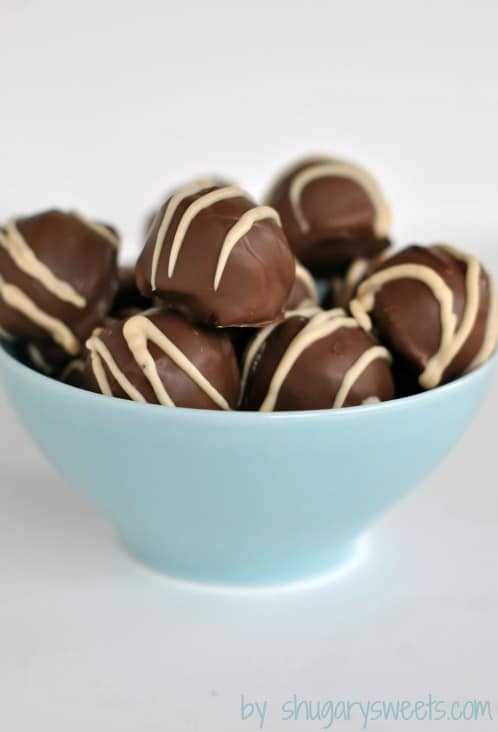 Connect with Shugary Sweets! I know you want to see behind the scenes…check out my instagram!
Facebook | Twitter | Google+ | Pinterest | Bloglovin'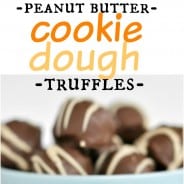 Peanut Butter Cookie Dough Truffles
Yield: 3-4 dozen
Prep Time: 2 hours, 30 minutes
Ingredients:
For the Truffle:
1/2 cup unsalted butter, softened
3/4 cup brown sugar
1/4 cup creamy peanutbutter
1 cup all purpose flour
1/4 tsp kosher salt
3/4 cup mini Reese's Pieces
For the Coating:
12 oz chocolate candy coating, melted
2 oz vanilla bark (candy coating), melted
1 Tbsp peanut butter
Directions:
In a mixing bowl, beat butter with brown sugar and peanut butter until creamy. Add flour and salt. Fold in the mini Reese's Pieces.
Using a one tablespoon scoop, drop balls onto a parchment paper lined baking sheet. Freeze for two hours.
Using a toothpick, dip each frozen truffle into melted chocolate candy coating. Tap on side of bowl to remove excess chocolate. Repeat until all truffles have been coated. In a small bowl, mix melted vanilla bark with peanut butter. Pour into a small ziploc bag and snip off the corner. Drizzle over the chocolate coated truffles. Allow to set, about 10 minutes. Store in an airtight container in the refrigerator for up to two weeks. ENJOY!
MAKING THIS RECIPE? Share it with me on Instagram using the hashtag #ShugarySweets so I can see what you're cooking up in the kitchen!

Want more delicious truffle ideas? I grew up buying chocolate from Fannie May. These Dark Chocolate Coconut truffles are copycat Trinidads! YUM.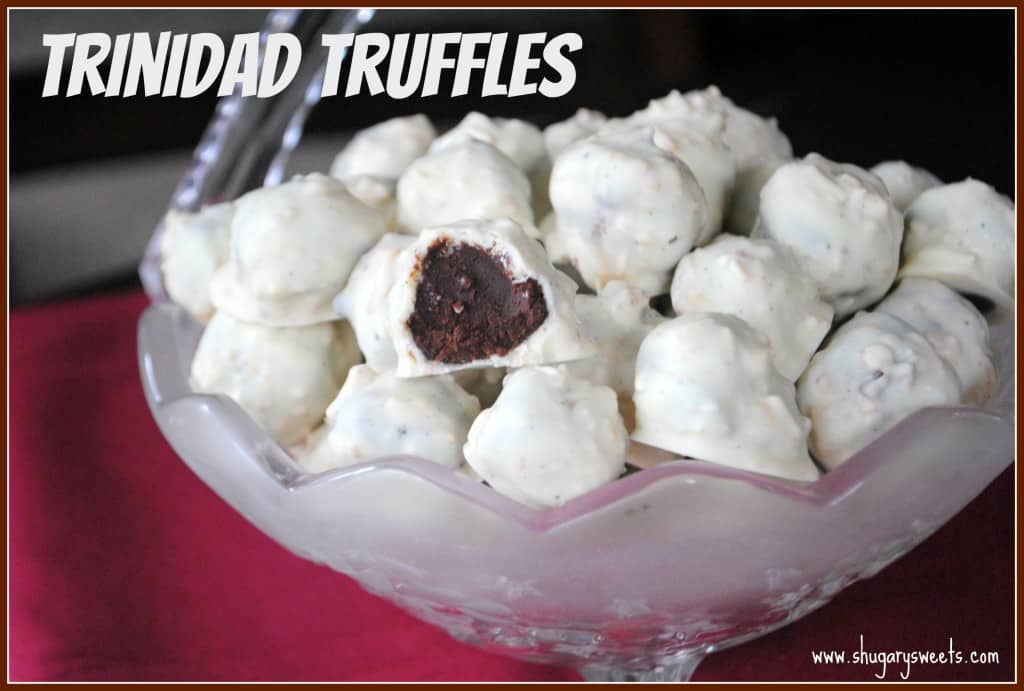 Cookie Dough Truffles are awesome. MINT Cookie Dough Truffles are even better!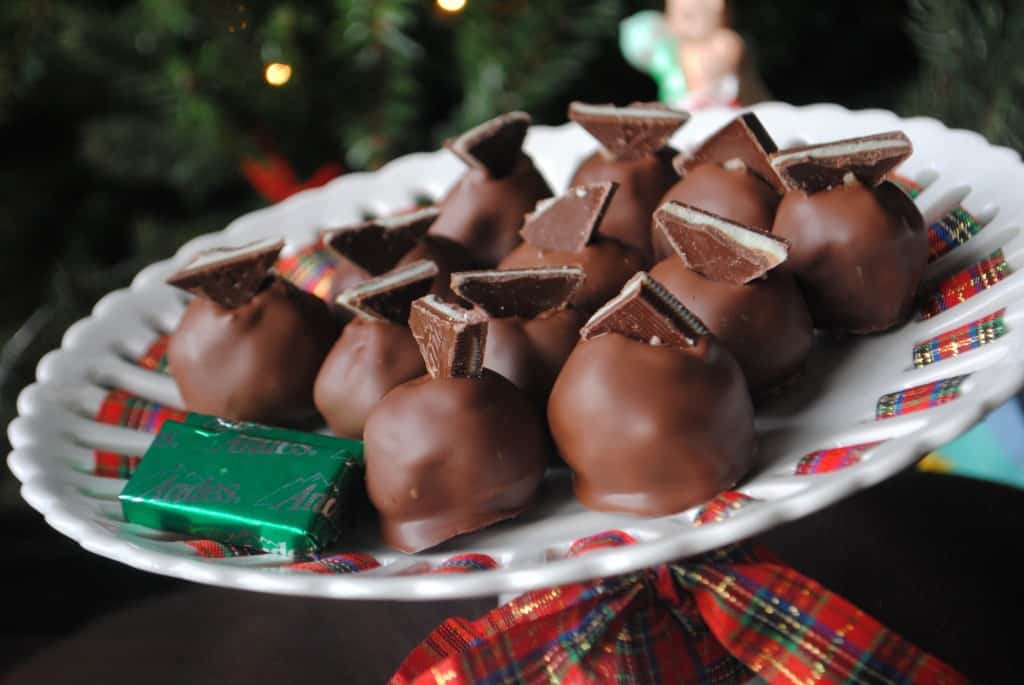 And of course, let's not forget about that Reese's addiction. These Peanut butter cookie bars are delicious and decadent!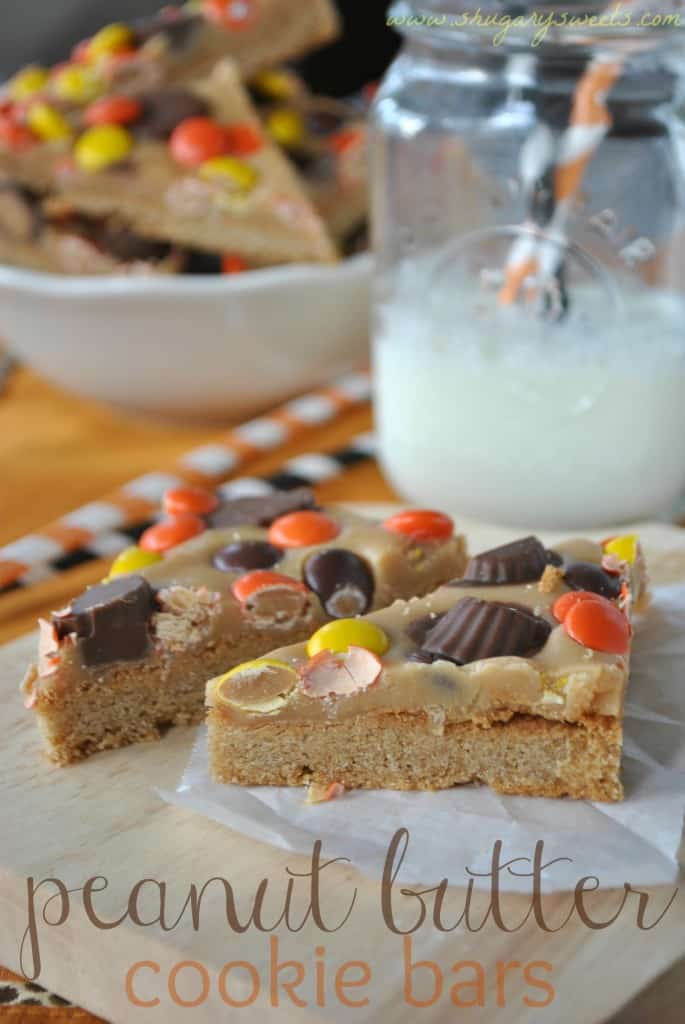 I know a few other friends who are obsessed with Reese's and/or Truffles…
Jocelyn from Inside BruCrew Life made some Peanut Butter Cookie Dough Truffles today too! Our brains tend to be tied together!
Look at this Reese's Poke Cake from Ashton at Something Swanky! OMG get me a fork!
These Dark Chocolate Toffee Truffles from Jamie at My Baking Addiction are the prettiest truffles I've ever laid eyes upon. Agreed?