Skinny Strawberry Chocolate Chip Muffins
These gorgeous muffins not only taste delicious, but are low in calories and fat! So, who wants a couple Skinny Strawberry Chocolate Chip muffins for breakfast?
Be sure to follow me on Bloglovin'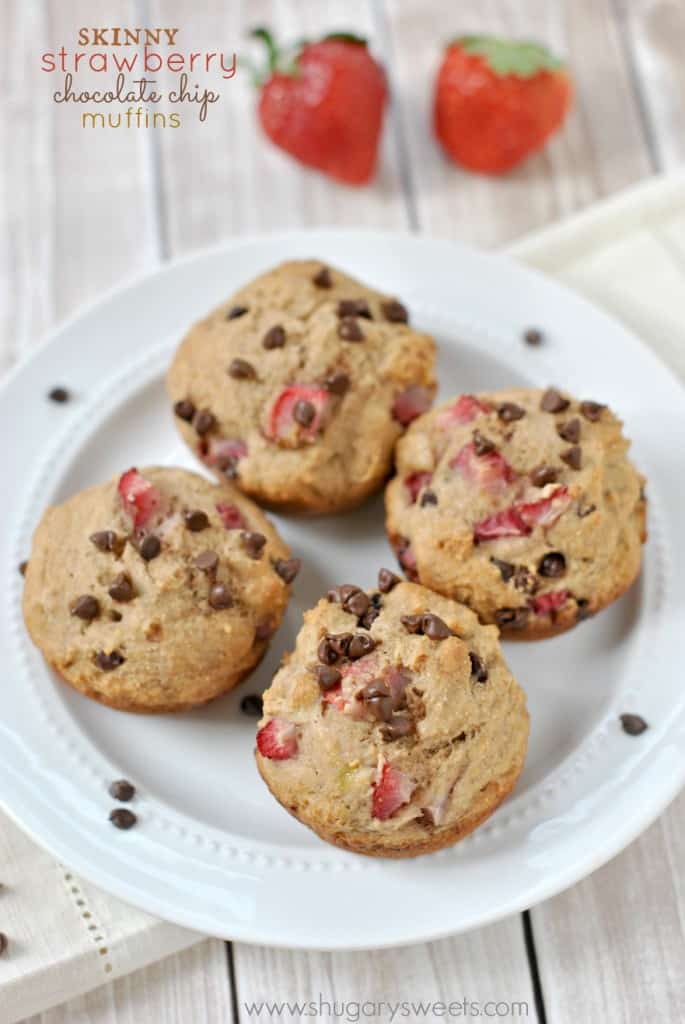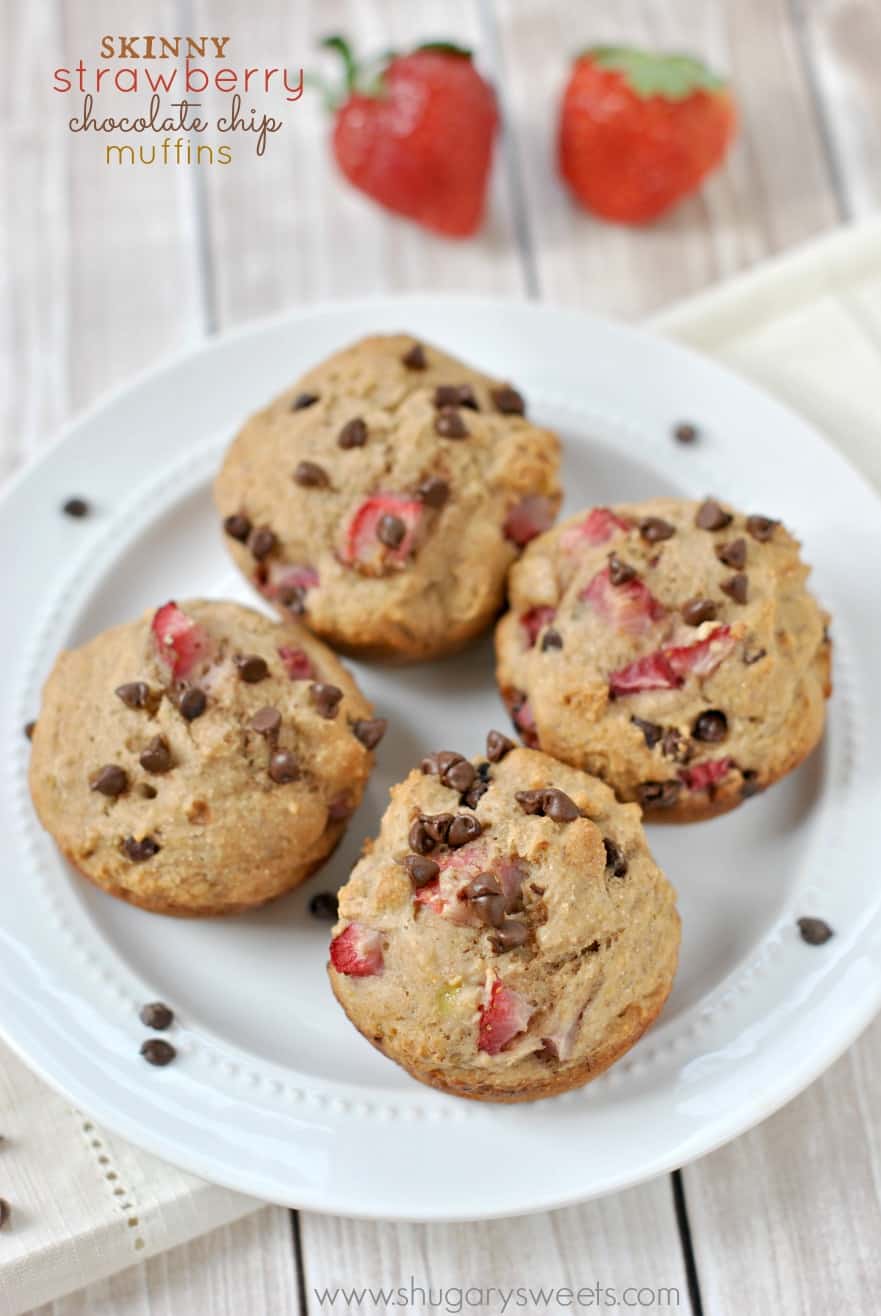 Earlier this year I made a commitment to myself that I would try to share healthy options on this blog. I started the year out by sharing these Skinny Pumpkin Energy Bites and these Skinny Banana Chocolate Chip Muffins.
You all seemed to love them!
So it was only a natural progression that I tried another flavor of muffins. Strawberry Chocolate Chip.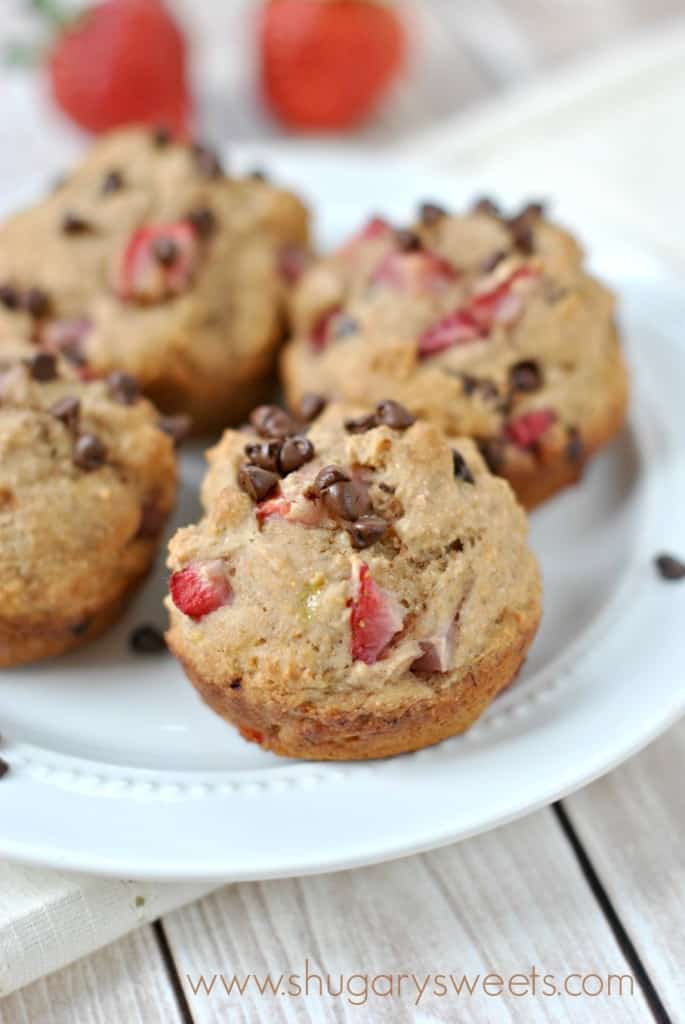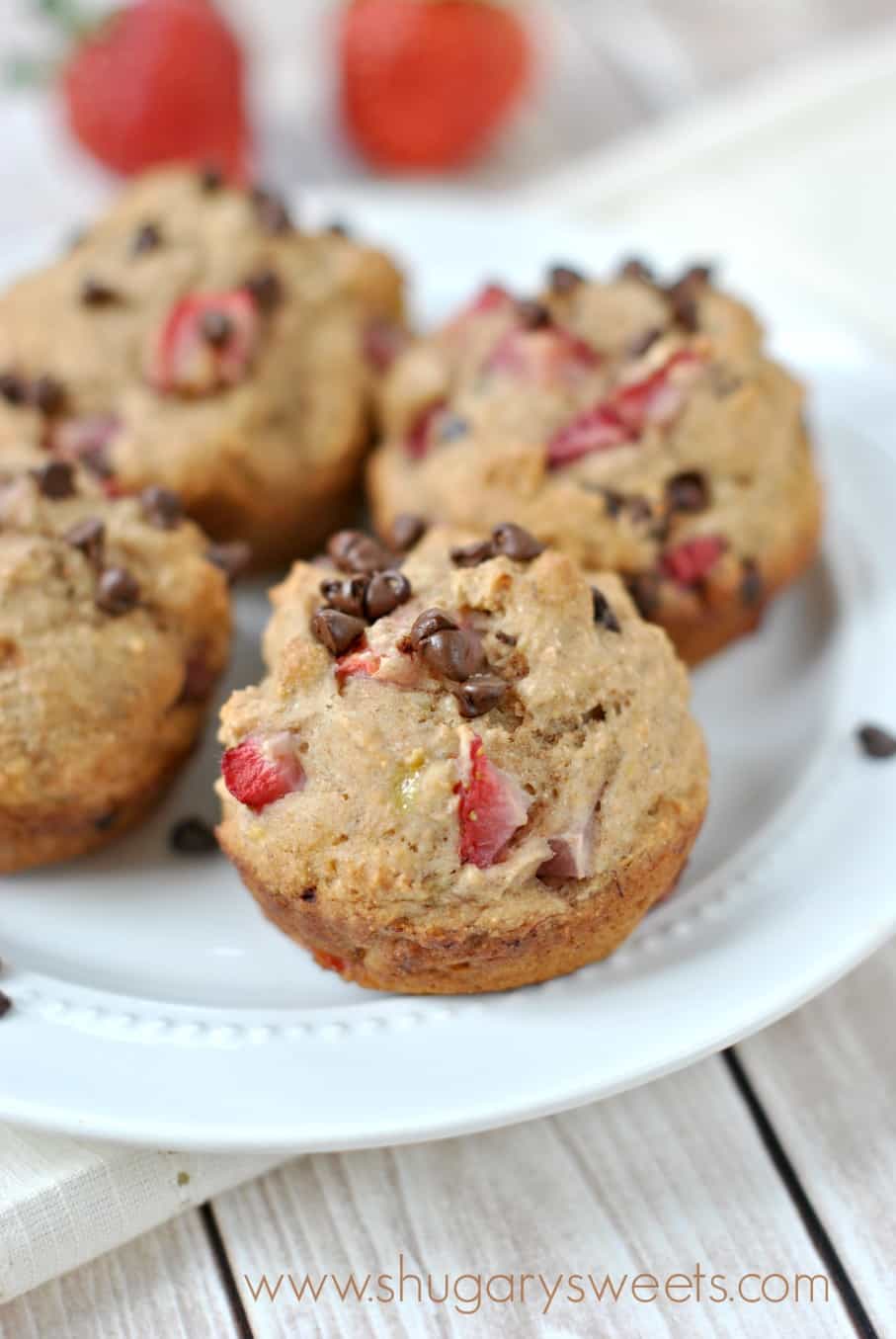 Using the same muffin base,  but adding some fresh chopped strawberries, I think you guys are going to love these!! I lowered the amount of whole wheat flour than the original version, my kids don't like their muffins too "chewy." The first batch had 1 cup all-purpose and 1 cup whole wheat, and they were delicious, but after a day my kids didn't like the texture.
So I tried making them with more all purpose than whole wheat and they were kid approved! You decide what will work in your family. While my kids LOVE healthy food, when it comes to their baked goods I have taught them to love them SWEET. Extra SWEET.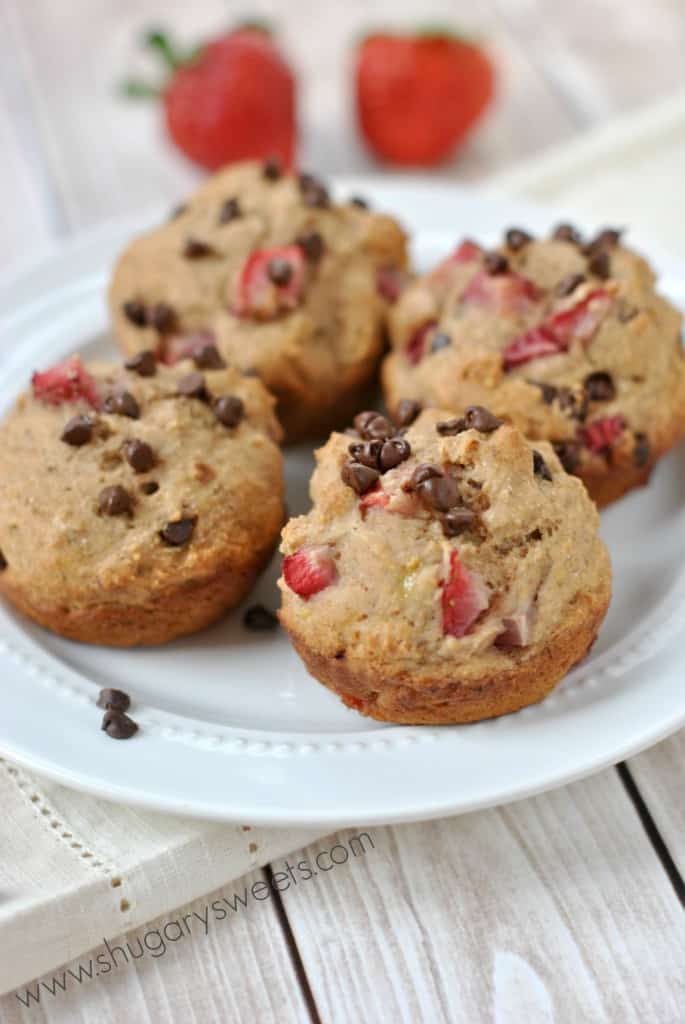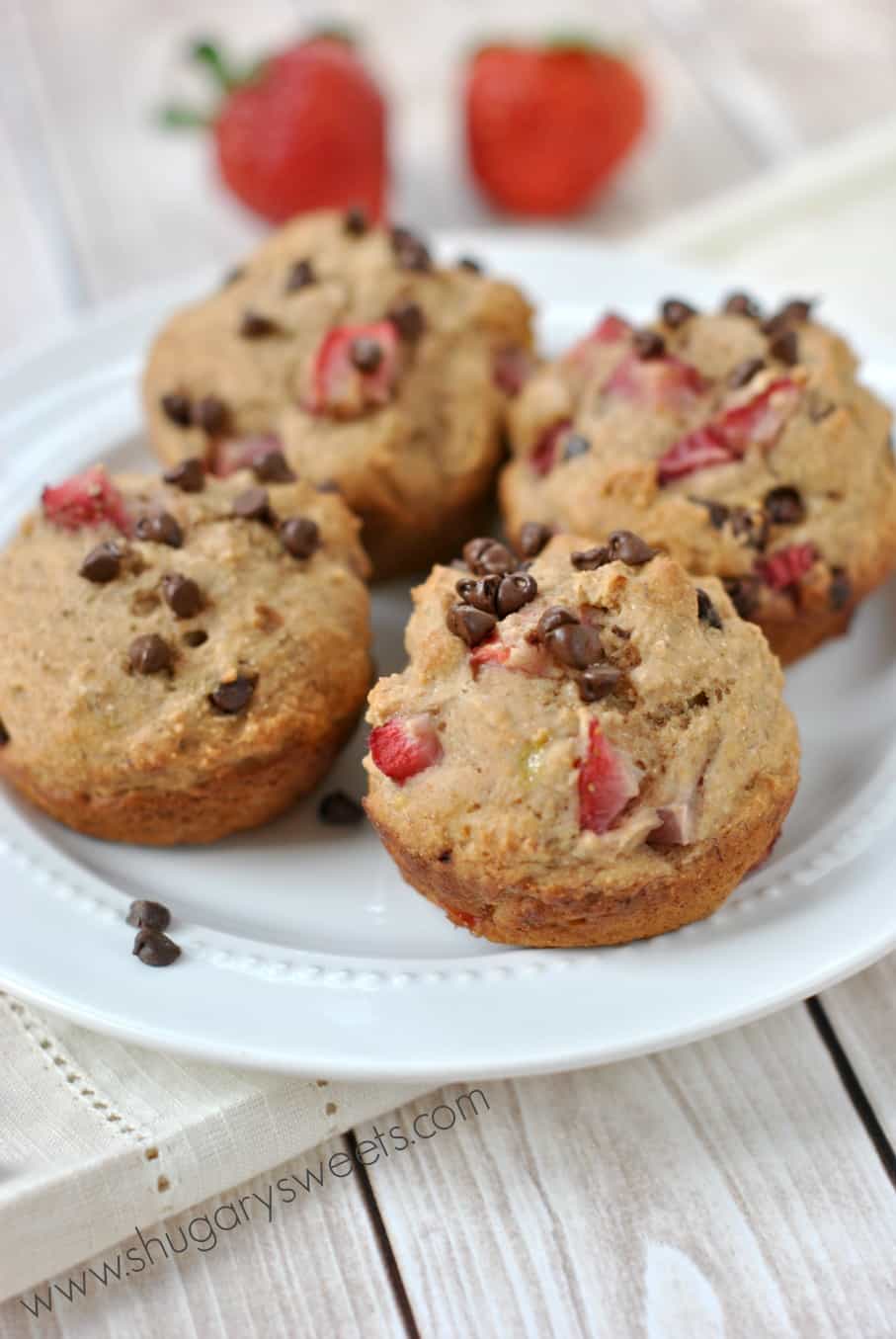 This is a work in progress! I have replaced the extra sugar from this recipe by using honey and light agave nectar. The extra chocolate chips on top add just enough sweetness to make you think you are indulging…but your skinny jeans will still fit!
Unless of course you don't wear skinny jeans. Yoga pants? Pajama pants? Whatever. So, with a handful of healthy recipes on the blog, I'm ready to indulge in a muffin with my morning coffee and not feel guilty! Now if only I can give up the sweet cream I use in my coffee…send help!!!
Connect with Shugary Sweets! Be sure to follow me on my social media, so you never miss a post!
Pinterest | instagram | Bloglovin'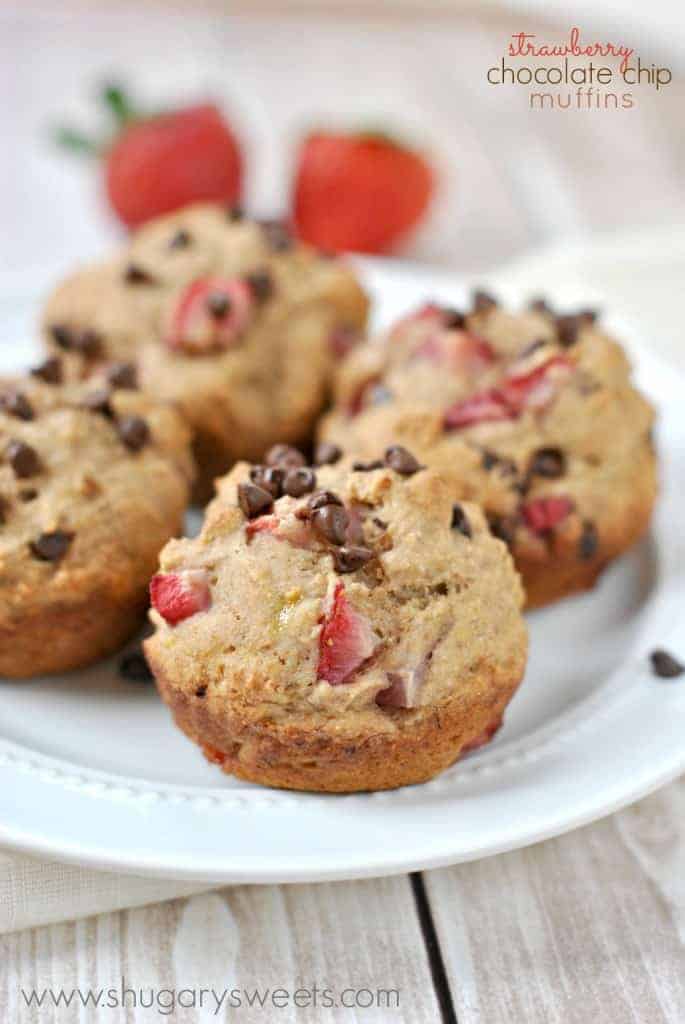 Save your favorite recipes to your personal recipe box with the   

  button on all my recipes! Create a Meal Plan with your "favorited" recipes and the ingredients will automatically be added to your own Grocery List!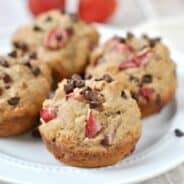 Skinny Strawberry Chocolate Chip Muffins
Yield: about 18 muffins
Prep Time: 10 minutes
Cook Time: 18 minutes
Ingredients:
3 Tbsp honey
3 Tbsp light agave nectar
1 large egg
1 tsp vanilla extract
2 large bananas
1 1/4 cup all-purpose flour
3/4 cup whole wheat flour
1 tsp baking powder
1 tsp baking soda
1/2 tsp kosher salt
6 oz vanilla greek yogurt
6 large strawberries, diced
1/4 cup mini chocolate chip morsels
Directions:
In a large mixing bowl, combine honey, agave nectar, egg, vanilla and bananas until fully combined (and bananas are mushed). Add flours, baking powder, baking soda, salt and yogurt. Beat until blended. Fold in diced strawberries.
Spray muffin tin with non stick spray. Spoon batter into 18 muffin cups evenly. Sprinkle tops with mini chocolate chips.
Bake in a 350 degree oven for 18-20 minutes. Remove and cool completely.
MAKING THIS RECIPE? Share it with me on Instagram using the hashtag #ShugarySweets so I can see what you're cooking up in the kitchen!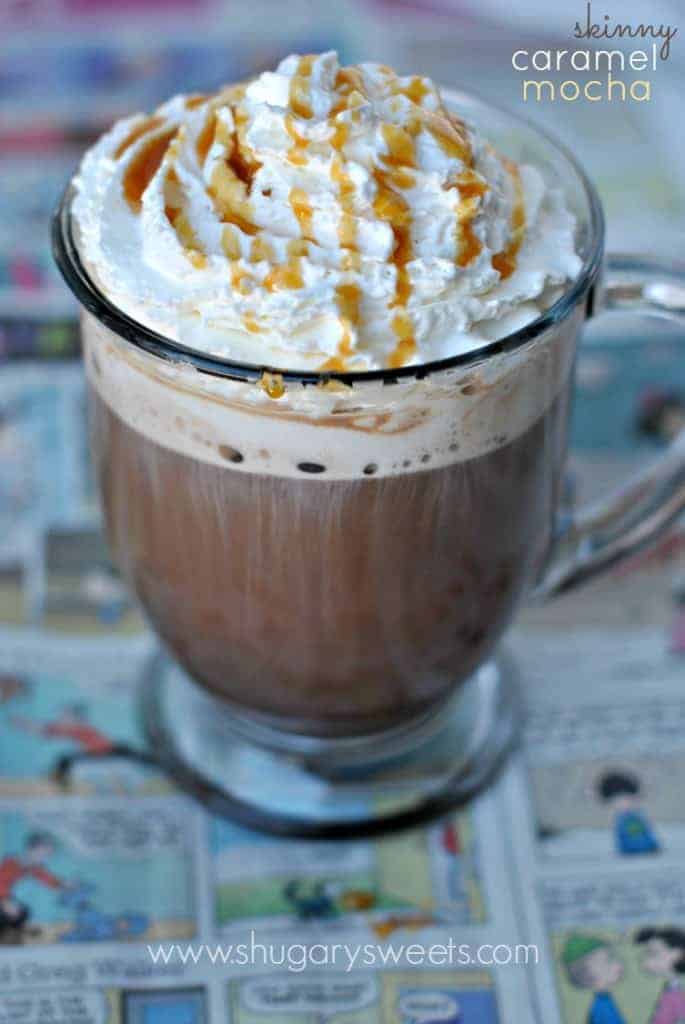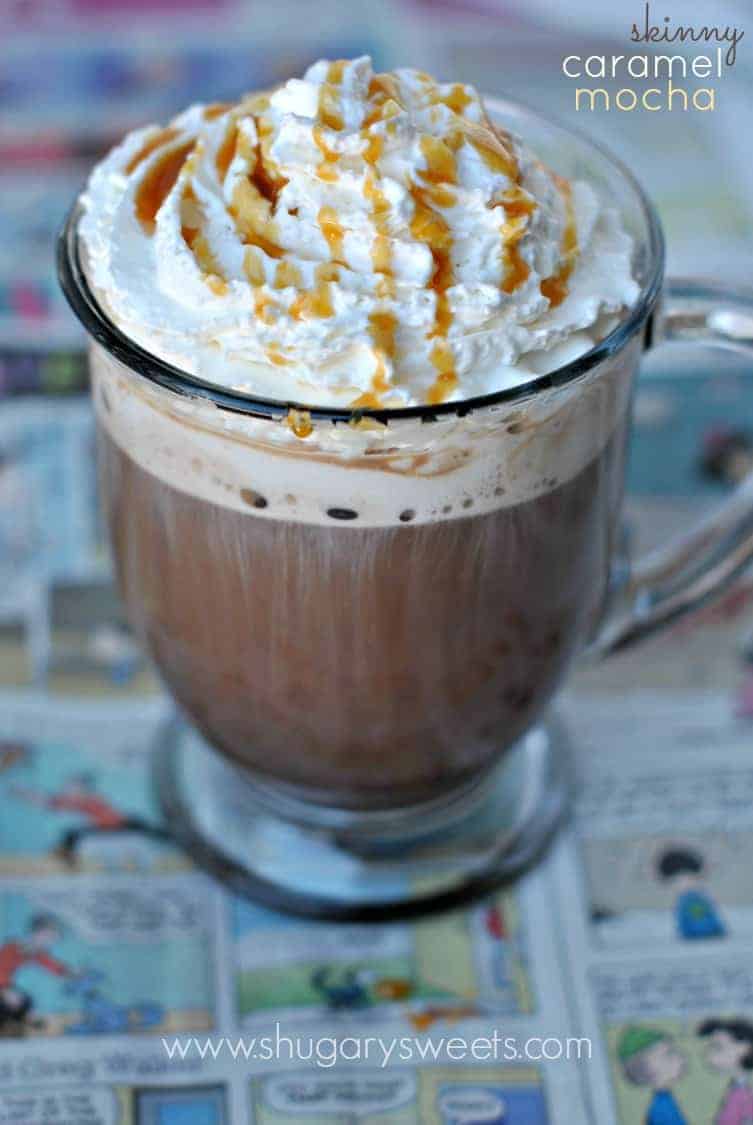 This Skinny Caramel Mocha would go great with your muffins!!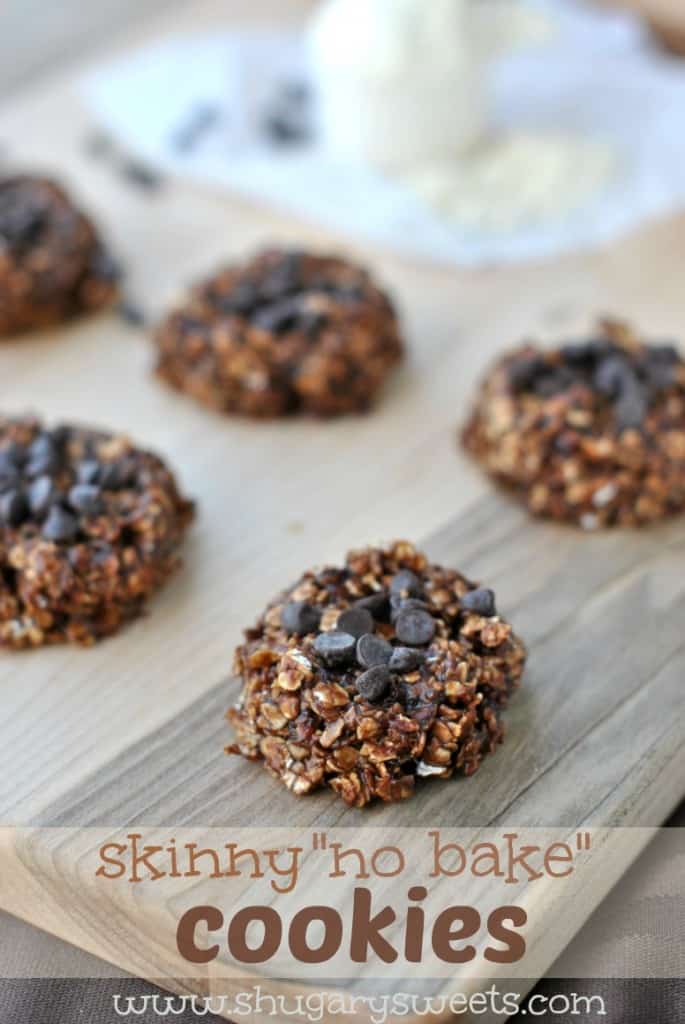 Skinny No Bake Cookies…banana and peanut butter help keep these moist and delicious!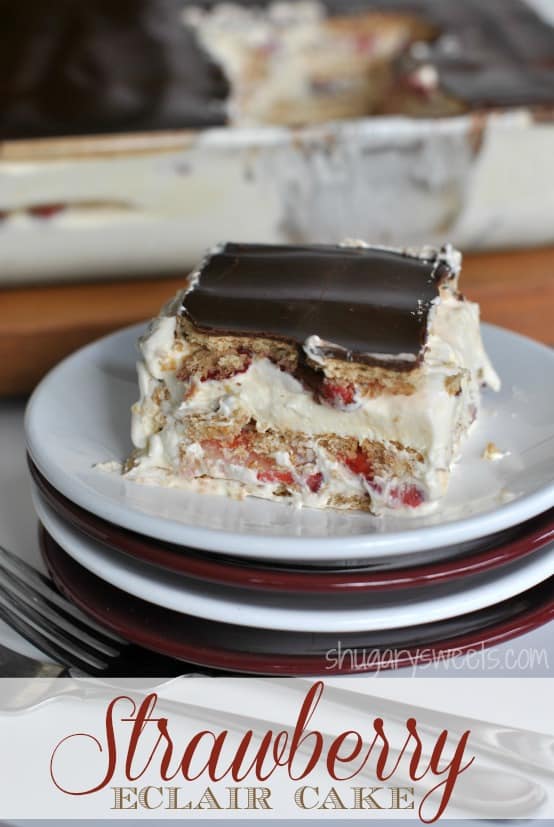 No Bake Strawberry Eclair Cake: classic eclair cake with a delicious strawberry cheesecake twist!
I created a new board on Pinterest for lighter versions of your favorite recipes: Lighten Up
More Skinny Recipes from my blog friends: