Homemade Italian Dressing
This zesty Homemade Italian Dressing is a cinch to make at home, and tastes better too! Poured on a salad or used as a chicken marinade, this dressing is scrumptious!
Be sure to sign up for my email…new recipes in your inbox!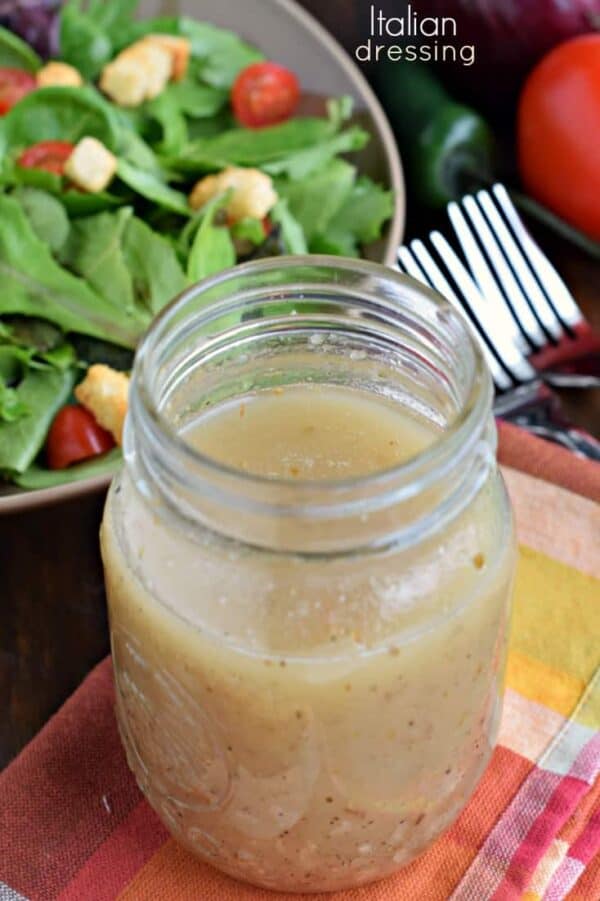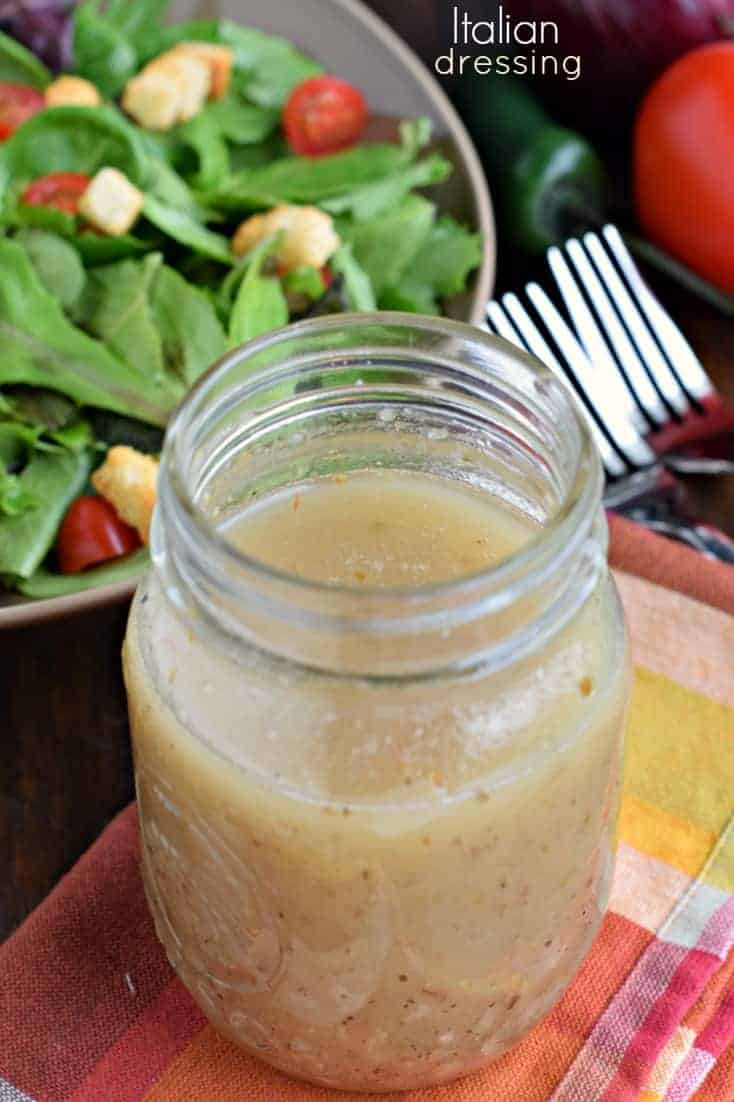 I've learned it's so easy to make your own dressing at home. Not that I am against store bought, I use it all the time, but sometimes whipping up a fresh dressing is called for! Especially if you don't feel like running to the grocery store.
I've got a delicious Shrimp Pasta Salad recipe coming for you tomorrow, but in the meantime, let's talk about dressings.
Or in my husband's case, lack thereof.
I love eating salad. I know that sounds so ridiculous, but if I go out to eat, I always get a side salad. ALWAYS. Even if it doesn't come with the meal. I started doing this was I young and thin and wanted to fill up on healthy greens before my meal.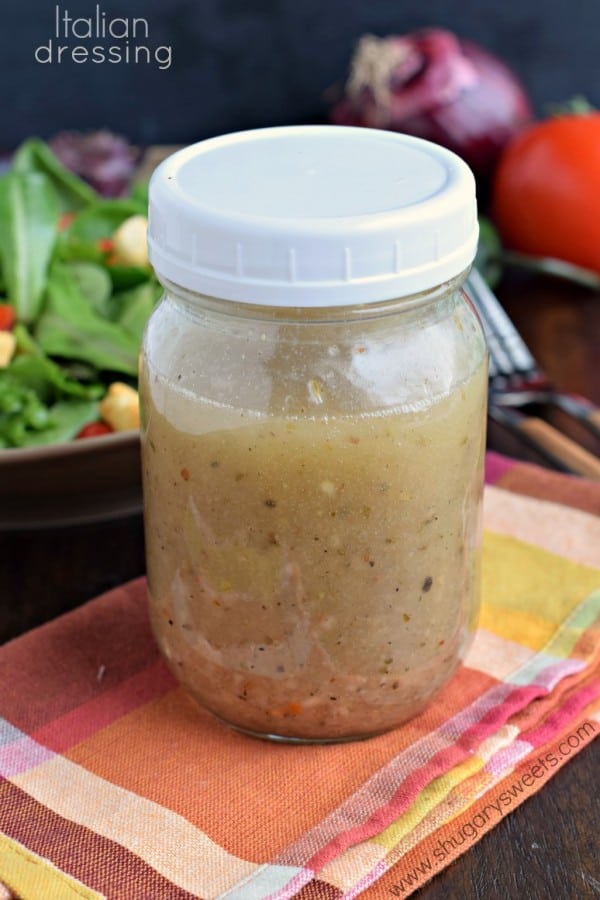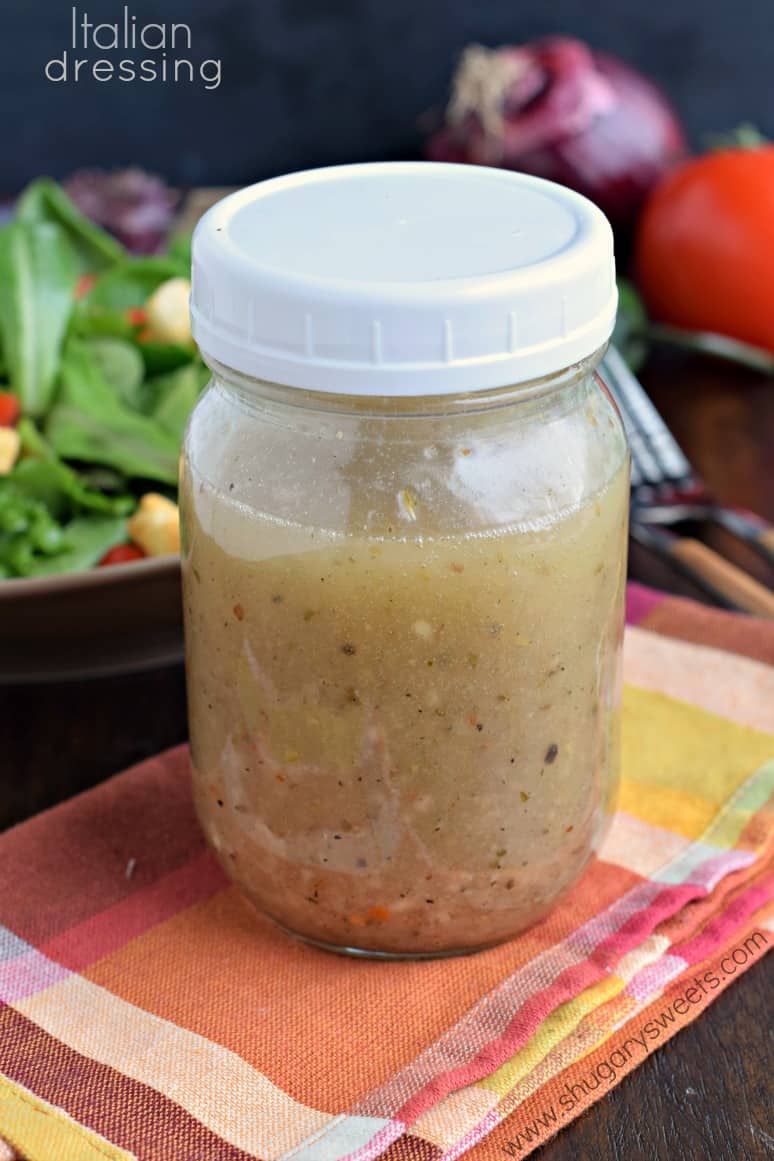 Now I'm old and well, not thin, and I still love filling up on the healthy greens. However, I love to try out new salad dressings from restaurants. And if they can toss on fruit, nuts, croutons….all the better!
Hubby, on the other hand, eats dry salad. Like a turtle just gnawing on lettuce leaves. It's bland and boring. But his aversion to condiments and creamy white stuff leaves him eating plain salads. He claims that this saturday morning PSA ruined him as a child:

So today's Italian Dressing is delicious for most people. Not all. Not condiment haters. No amount of delicious dressing could convince my husband. BUT, those of us who love italian dressing will LOVE this easy homemade version.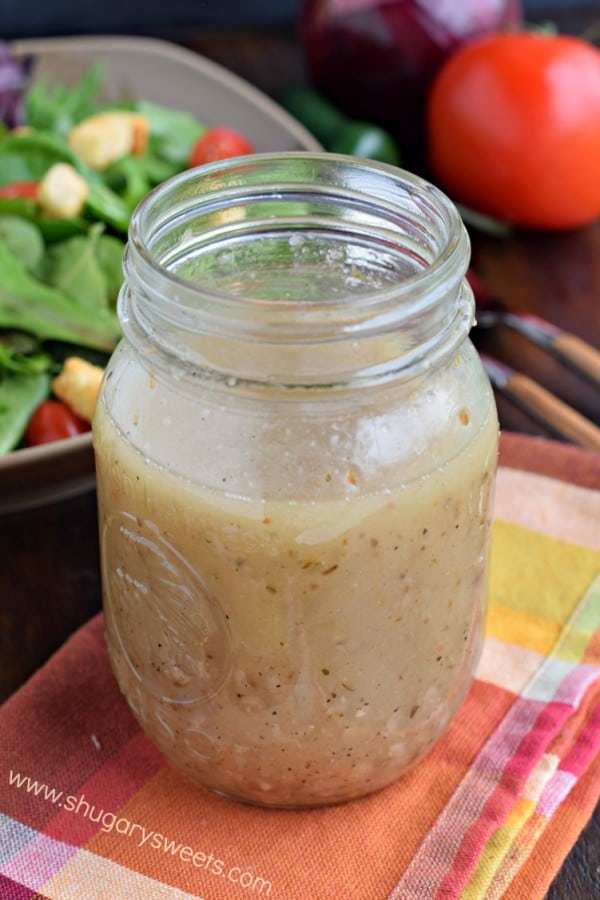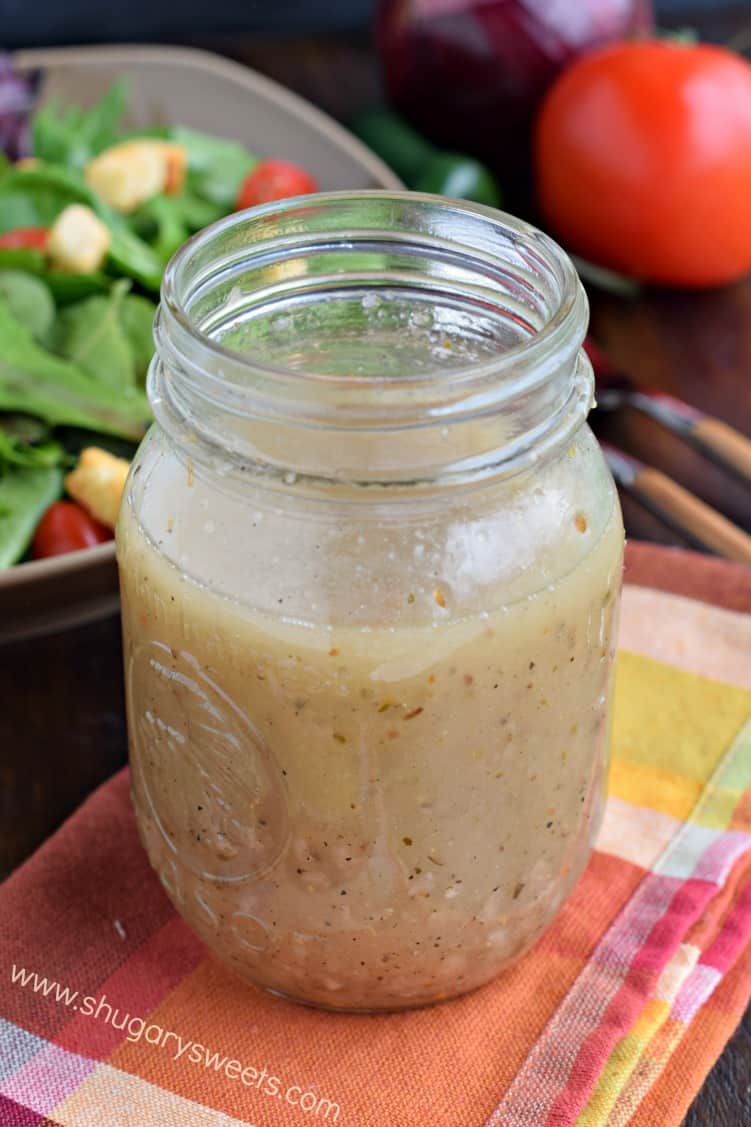 A couple of notes about this dressing;
When chopping the red pepper, make sure it is very finely diced. You don't want a big hunk of it in your dressing.
Use a mason jar to combine all your ingredients. I have a stack of these in my cabinet to aid in keeping my jars sealed.
Make the dressing at least 4 hours ahead of time. Even the day before is great. It gives the flavors time to combine.
SHAKE SHAKE SHAKE. And then shake again before serving.
Serve drizzled on a fresh green salad, or check out my Shrimp Pasta Salad!!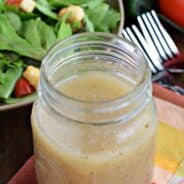 Homemade Italian Dressing
Yield: 1 1/2 cups
Prep Time: 10 minutes
Ingredients:
1 cup canola oil
1/4 cup white vinegar
2 Tbsp red wine vinegar
1 tsp garlic salt
2 1/2 tsp minced onion
3 Tbsp finely chopped red pepper
2 tsp dijon mustard
1 tsp honey
1 tsp oregano
1/4 tsp marjoram
1/4 tsp red pepper flakes
1/4 tsp black pepper
Directions:
In a pint sized mason jar, combine all ingredients.
Shake vigourously and allow to chill in refrigerator for 4 hours or more. Shake before using.
MAKING THIS RECIPE? Share it with me on Instagram using the hashtag #ShugarySweets so I can see what you're cooking up in the kitchen!
Love this recipe for homemade dressing? Here are a few more salad/dressing ideas: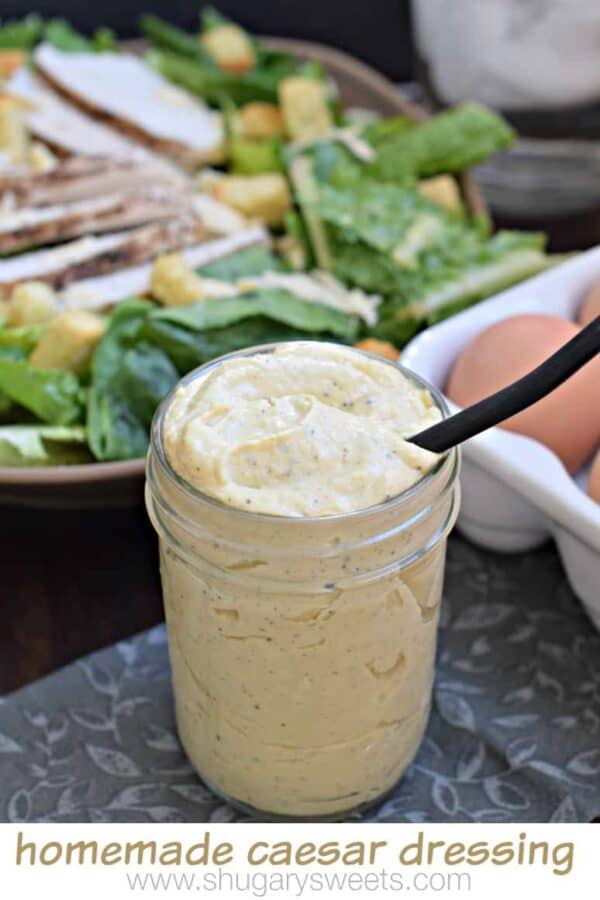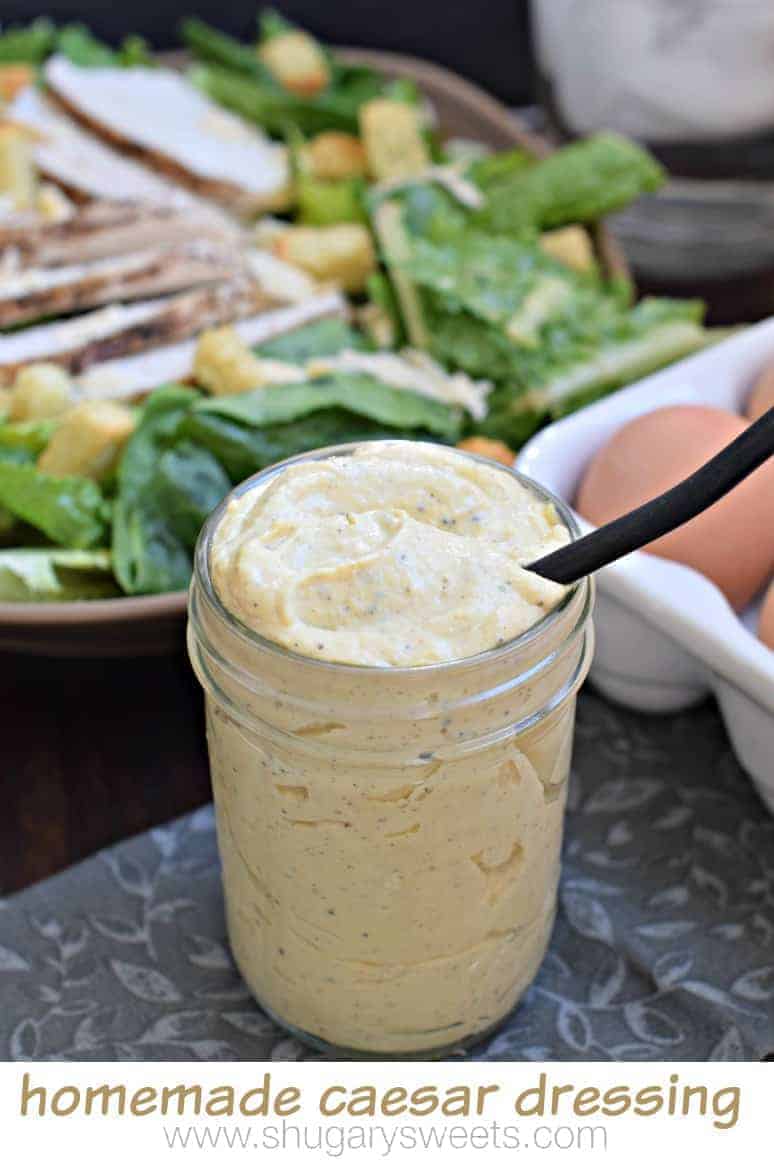 Caesar Dressing: make it at home without raw eggs and anchovies. TRUST ME!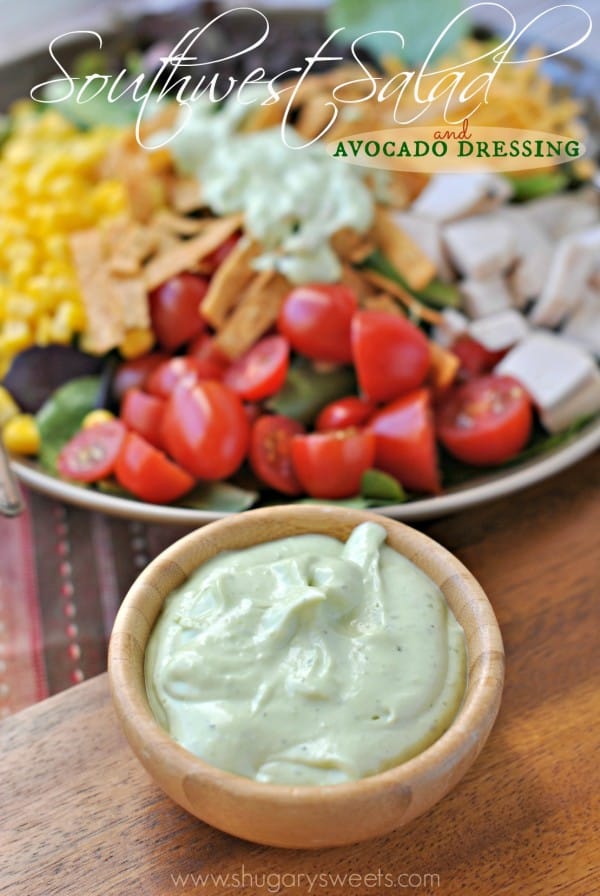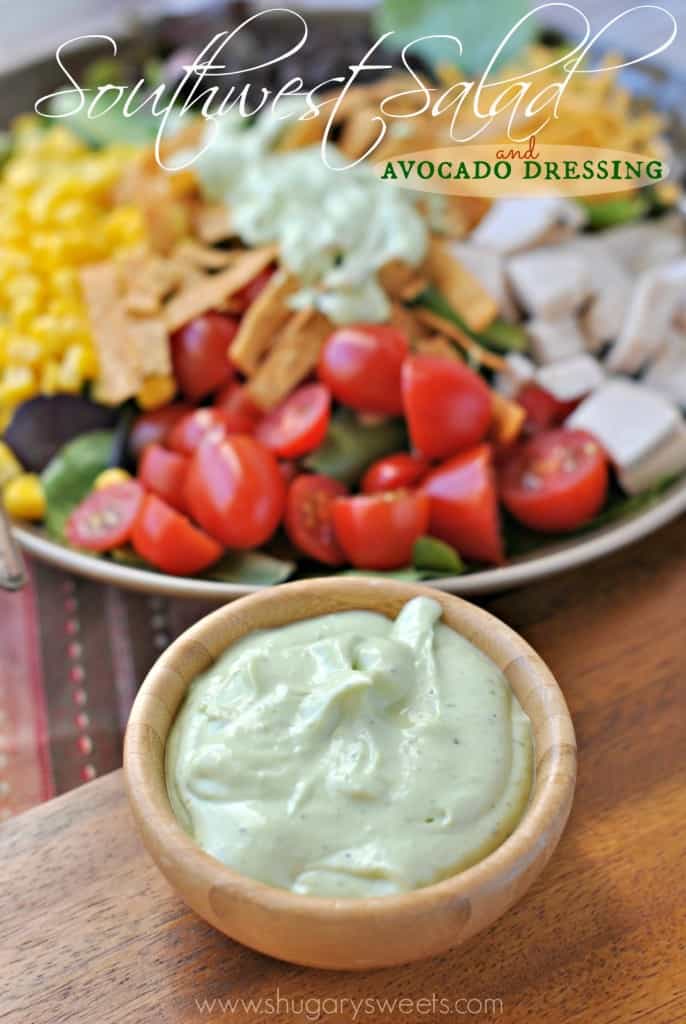 Southwest Salad with Avocado Dressing: everything about this is calling my name!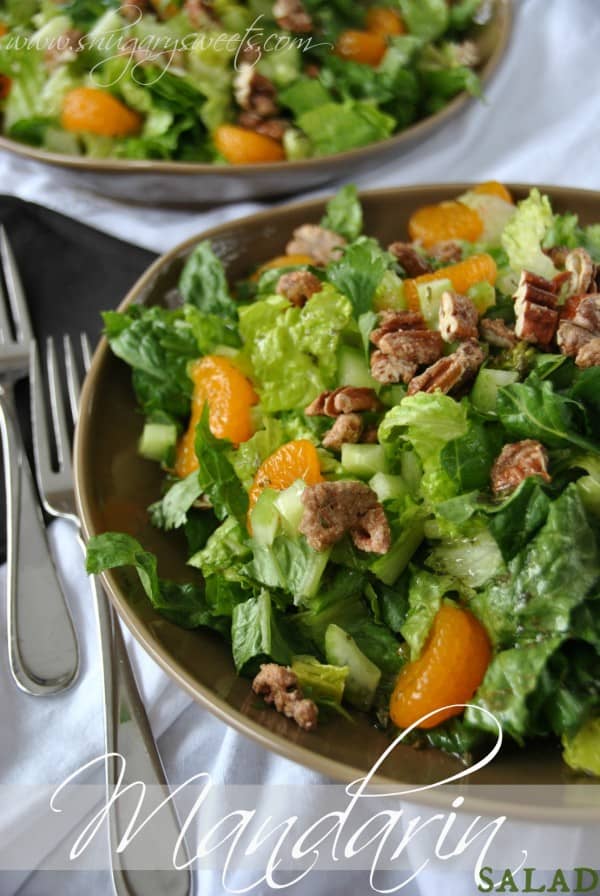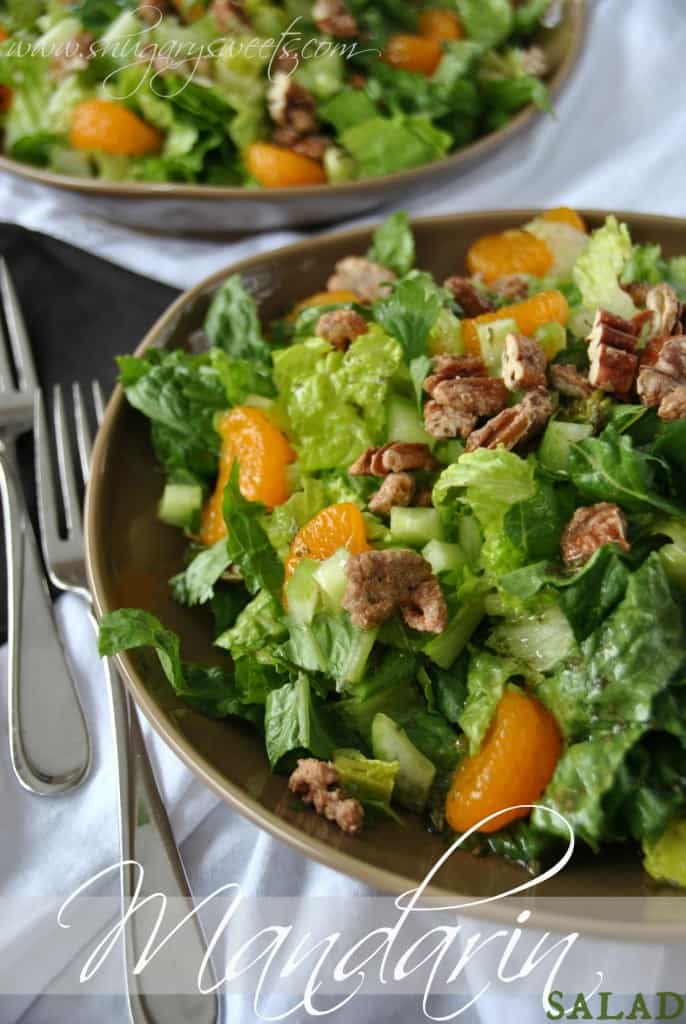 Mandarin Salad: fresh, light with a homemade dressing!
Love this salad dressing recipe? Here are some great ideas from my friends:
**There may be affiliate links in this post! By clicking on them, or purchasing recommended items I may receive a small compensation. However, I only recommend products I love! Thank you for supporting Shugary Sweets! See my disclosure policy for more info**