Lightened Up Banana Chocolate Chip Breakfast Cake
Start your day off right with this Lightened Up Banana Chocolate Chip Breakfast Cake. It's a delicious choice without all the refined sugars!
Be sure to sign up for my email…new recipes in your inbox!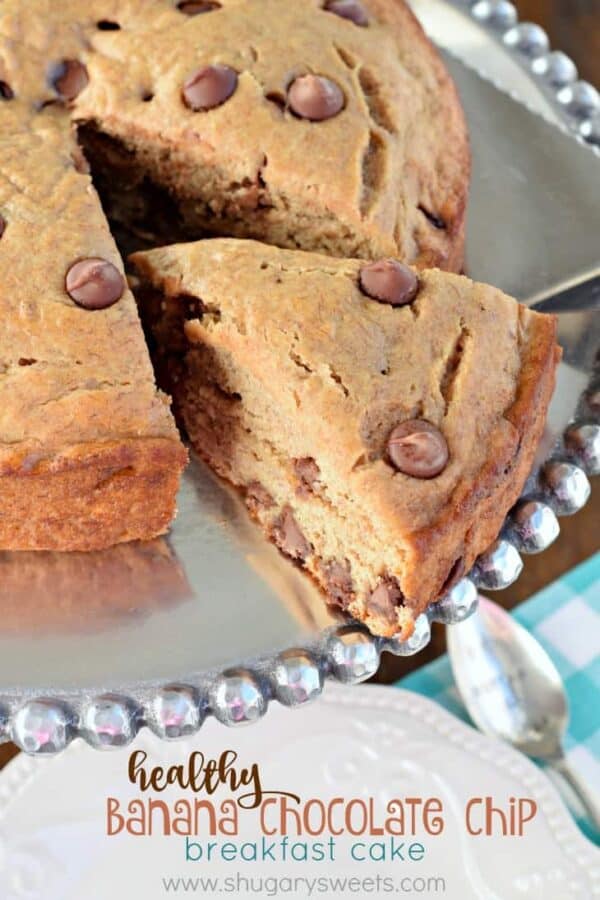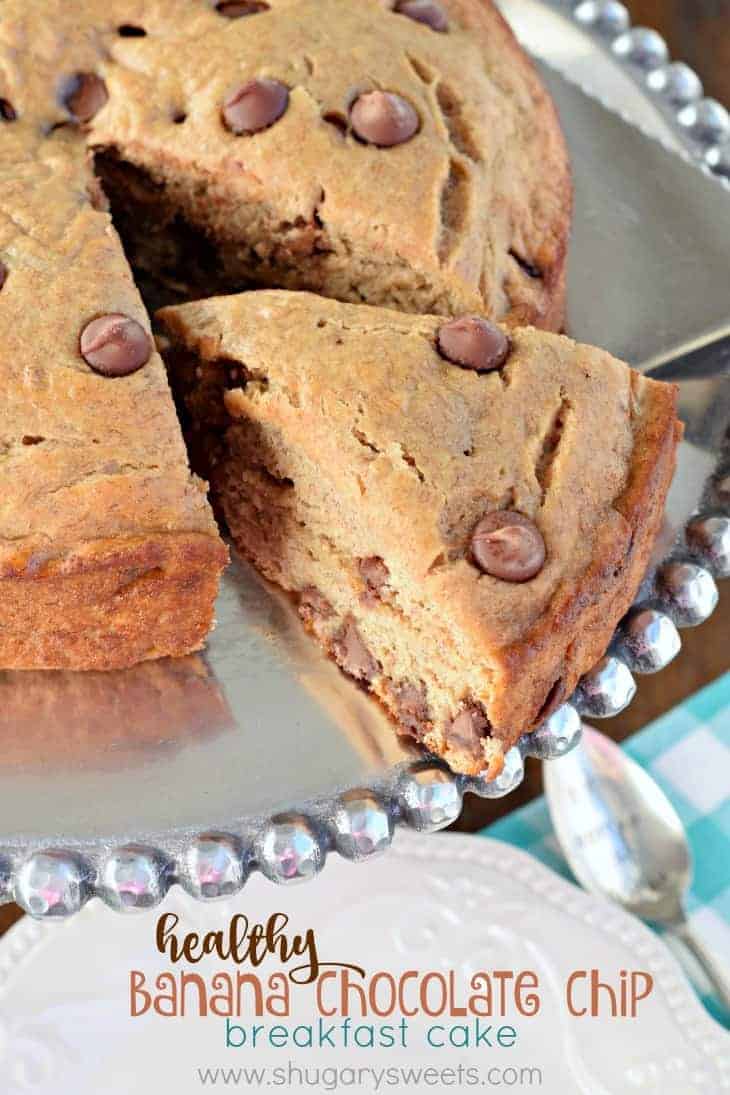 It's that time of year when many people are making their New Year's Resolutions and goals. Do you have any?
My family is going to try to eat less meat this year by adding in more vegetarian meals. Which may sound easy to most of you, but chicken and fish are a staple in our house, so it's going to be tougher than you may think.
I'm fortunate, however, that my kids all love veggies. I've got a delicious vegan (yes VEGAN) dinner recipe coming to the blog this week. That my family LOVED. So, yeah!!
In the meantime, my achilles heel has always been breakfast pastries. If there are donuts, muffins, or coffee cakes on the counter, I can't help but snag some to enjoy with my cup of joe.
Two years ago I made these Skinny Banana Chocolate Chip muffins. And they are delicious. You won't even miss the refined sugar in them! They are calculated at about 110 calories.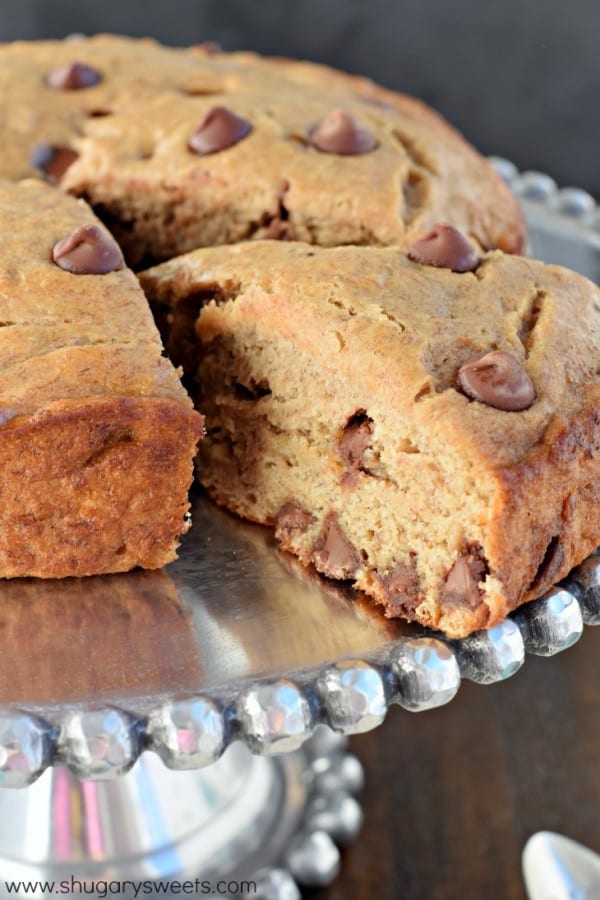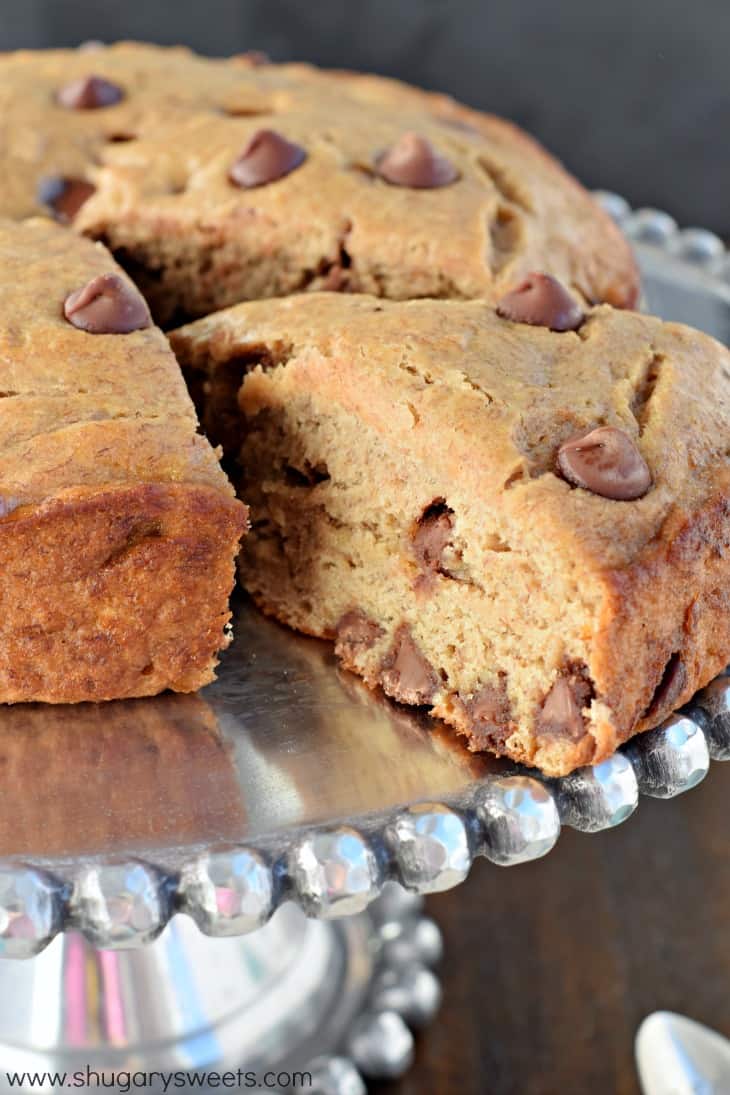 I definitely feel less guilty when I enjoy one of those muffins, or when my kids grab them as they head out the door for school!
In my attempt to start the New Year with healthier eating, I made those muffins in a Lightened Up Banana Chocolate Chip Breakfast Cake. Not only does it taste amazing, but it freezes well too! I can't tell you how hard it was to resist the urge to add a sweet cream cheese glaze over the top of this cake! I guess that would have defeated the "lightened up" goal.
A couple notes about this recipe:
It's a very dense cake. The texture will remind you of a banana bread (that's not a bad thing though!!)
Use your favorite vanilla yogurt in this recipe. I like to add Greek Yogurt for the added protein, but any brand or variety seems to work well.
Don't go crazy adding in chocolate chips or you'll defeat the purpose of "lightened up", haha! I added about 1/2 cup to mine. You want just enough to add a pop of chocolate flavor to the cake. But not too much that you're adding in a ton of calories. Mini morsels would work great too, as you get more "bang for the buck" with those!
This cake will yield about 12 slices, at about 110 calories each. If you're on a strict diet, make sure you calculate using the products (brands) from your own kitchen
I'm often asked, "where do you find agave nectar??" In my grocery store, it can be found in the baking aisle near the sugar. It's usually on the top shelf, above all the truvia and other sweeteners. If you absolutely can't find it, you can substitute honey, however it will change the flavor slightly.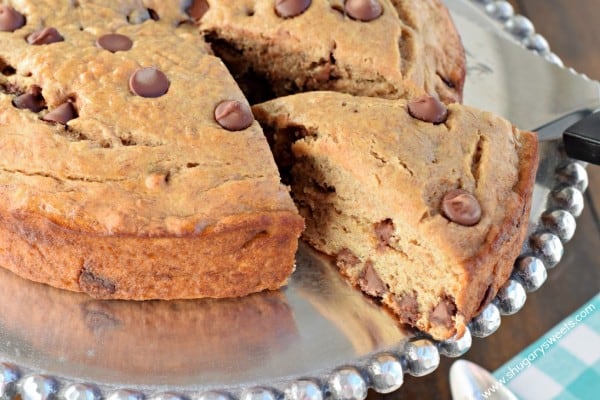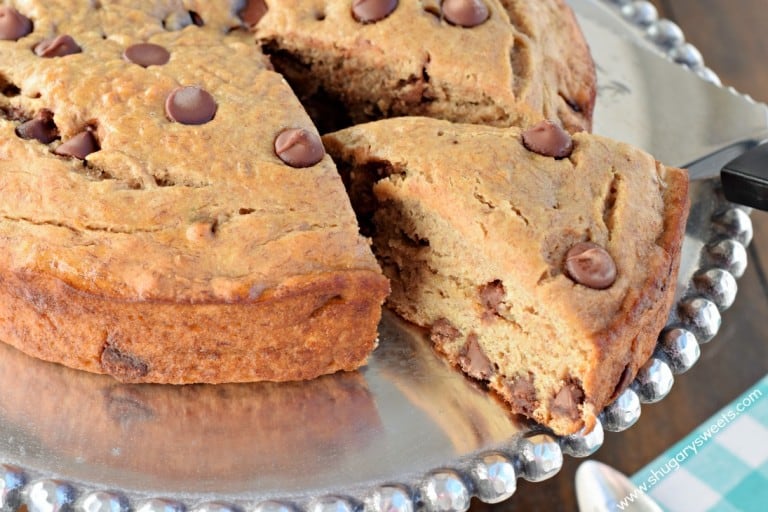 Connect with Shugary Sweets! Be sure to follow me on my social media, so you never miss a post!
Facebook | Twitter | Google+ | Pinterest | instagram | Bloglovin'
Sign up to receive an email in your inbox for each new recipe: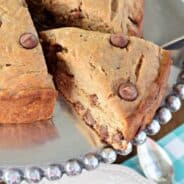 Lightened Up Banana Chocolate Chip Breakfast Cake
Yield: serves 12
Prep Time: 15 minutes
Cook Time: 31-35 minutes
Ingredients:
3 large bananas
1 large egg
1 tsp vanilla extract
1/4 cup agave nectar
2 Tbsp honey
1 cup all-purpose flour
1 cup whole wheat flour
1 tsp baking powder
1 tsp baking soda
1/2 tsp kosher salt
1 tsp ground cinnamon
6 oz Vanilla Greek Yogurt
1/2 cup chocolate chips (mini or milk chocolate)
Directions:
Preheat oven to 350 degree F. Spray 9-inch round baking pan with baking spray. Set aside.
In a large mixing bowl, beat bananas, egg, vanilla, agave nectar, and honey until combined. Add in flours, baking powder, baking soda, salt, cinnamon and yogurt. Beat for about 1-2 minutes until fully combined.
Fold in chocolate chips.
Pour batter in prepared baking dish. Bake for about 31-35 minutes, until toothpick comes out clean. Cool on rack for 10 minutes, then remove from pan and cool completely.
Store in airtight container for up to 4 days. ENJOY
MAKING THIS RECIPE? Share it with me on Instagram using the hashtag #ShugarySweets so I can see what you're cooking up in the kitchen!
If you love today's LIGHTENED UP recipe, you may also enjoy these: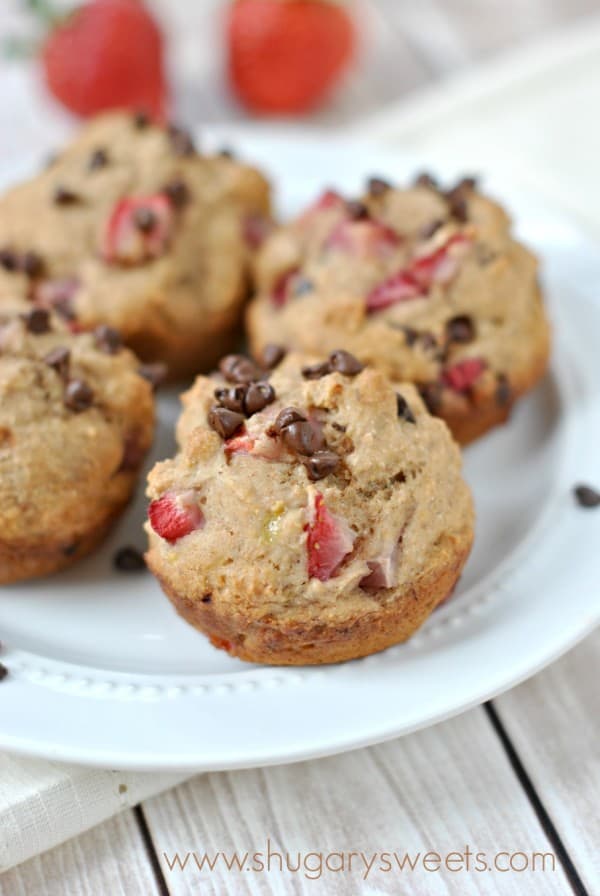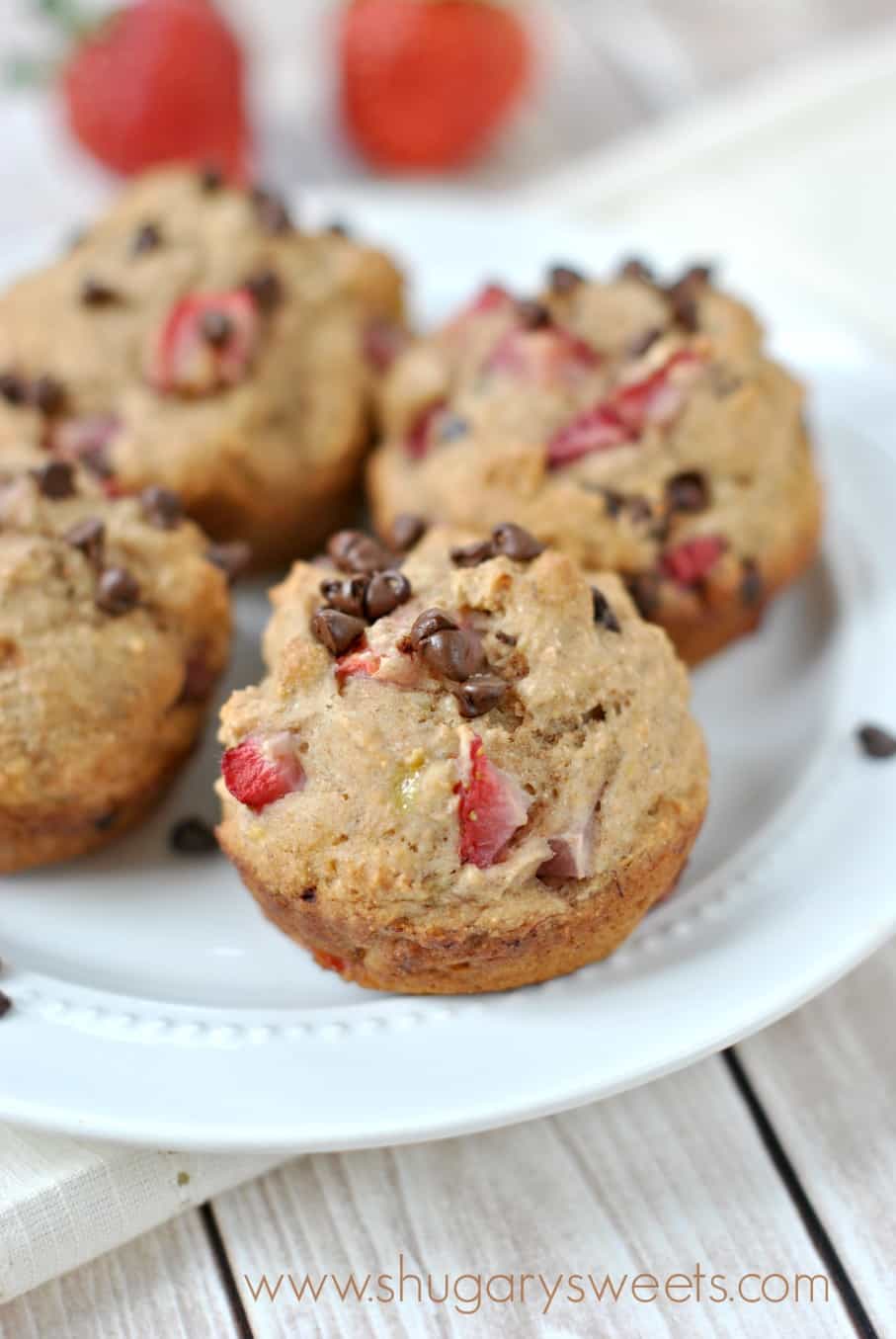 Skinny Strawberry Chocolate Chip Muffins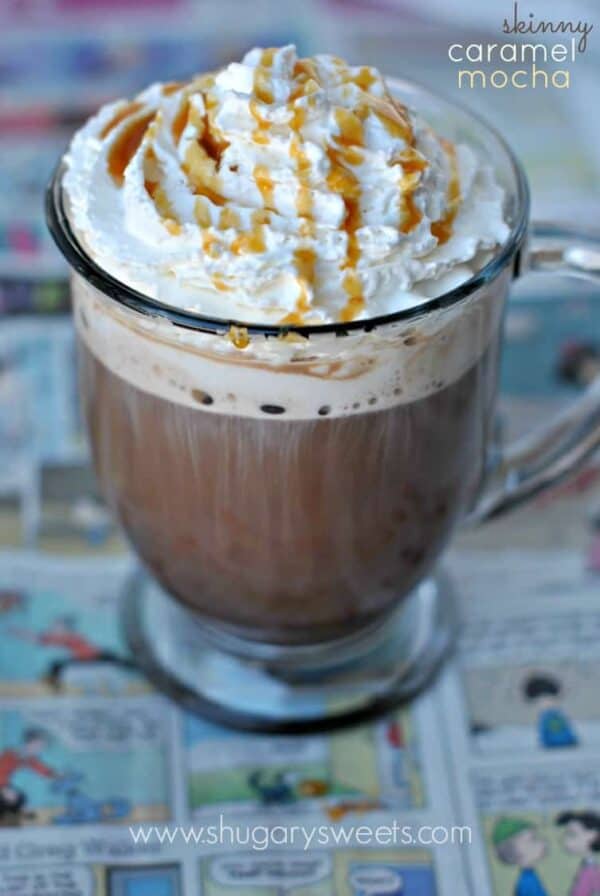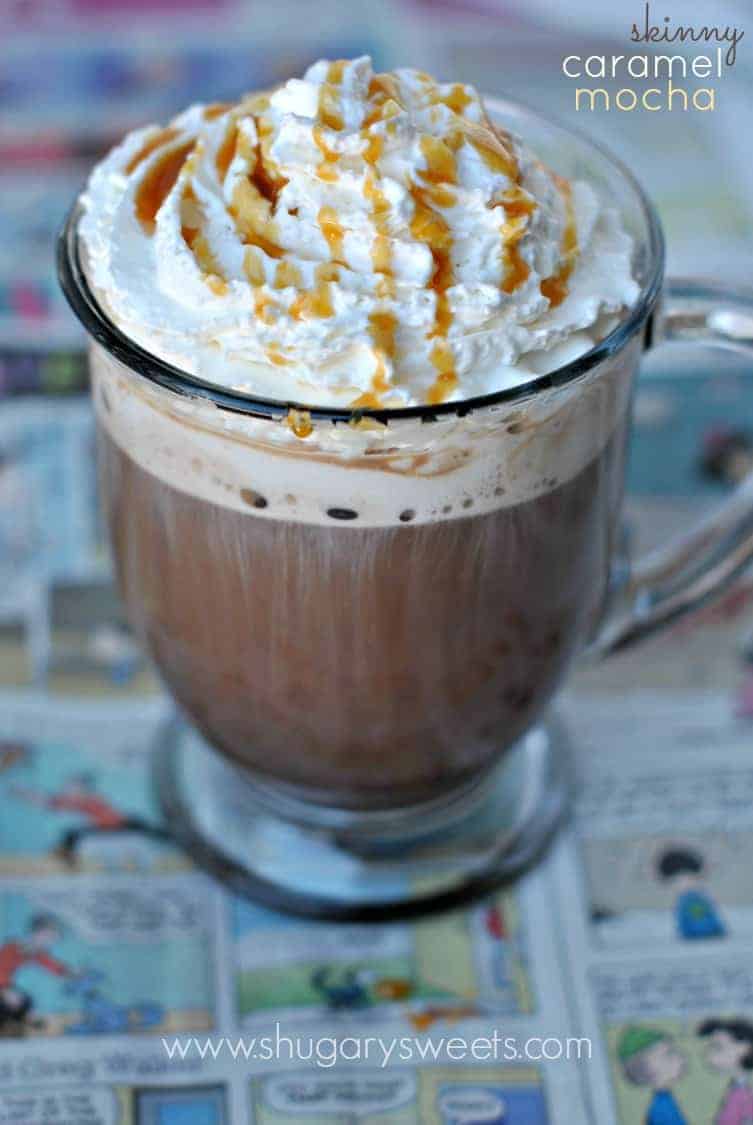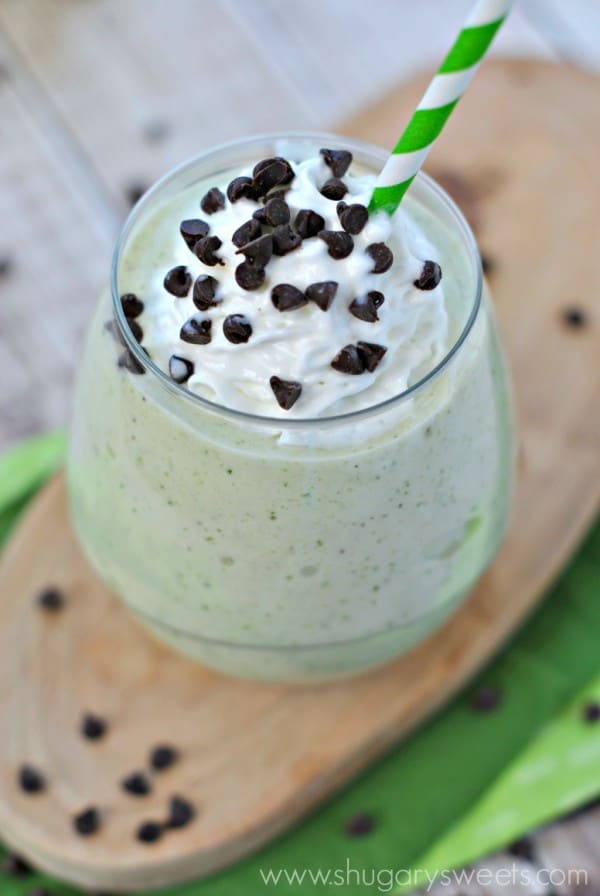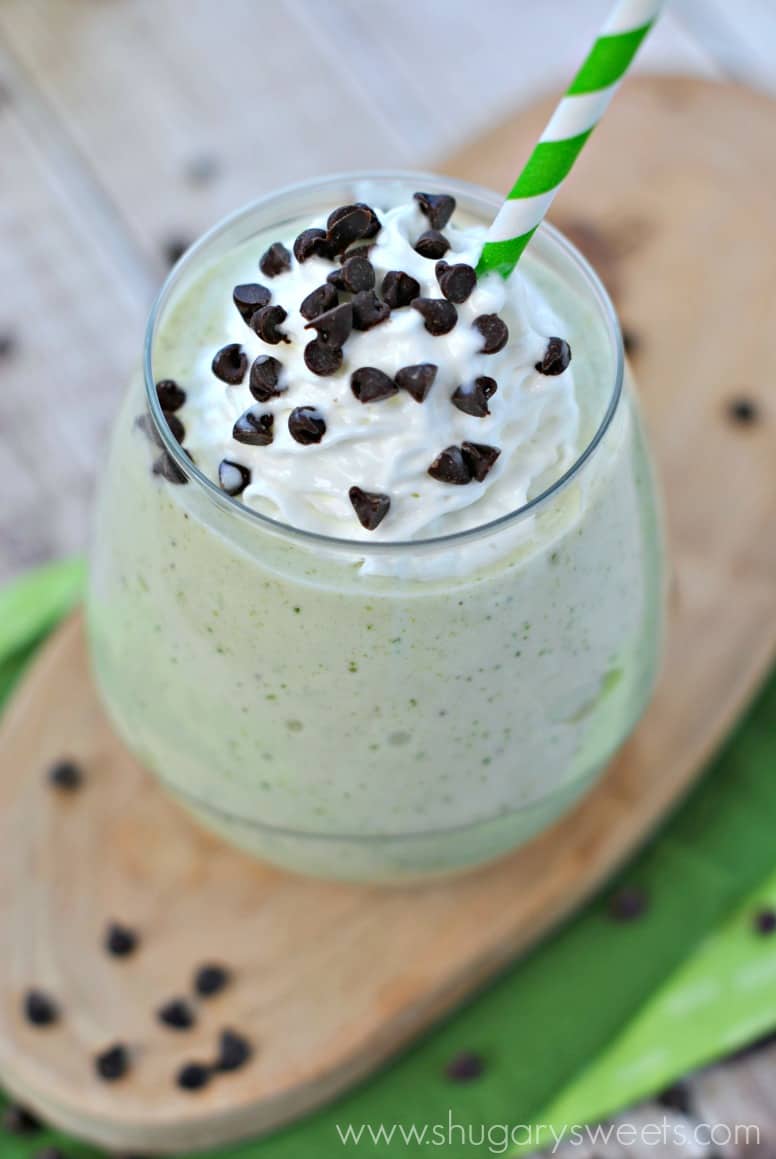 Here are some "LIGHTENED UP" recipe from my friends:


 **There may be affiliate links in this post! By clicking on them, or purchasing recommended items I may receive a small compensation. However, I only recommend products I love! Thank you for supporting Shugary Sweets! See my disclosure policy for more info**