Snickerdoodle Banana Bread
Take your classic banana bread recipe to the next level! This Snickerdoodle Banana Bread has a crunchy top coating of cinnamon and sugar, a real crowd pleaser!
Be sure to sign up for my FREE email subscription…new recipes in your inbox!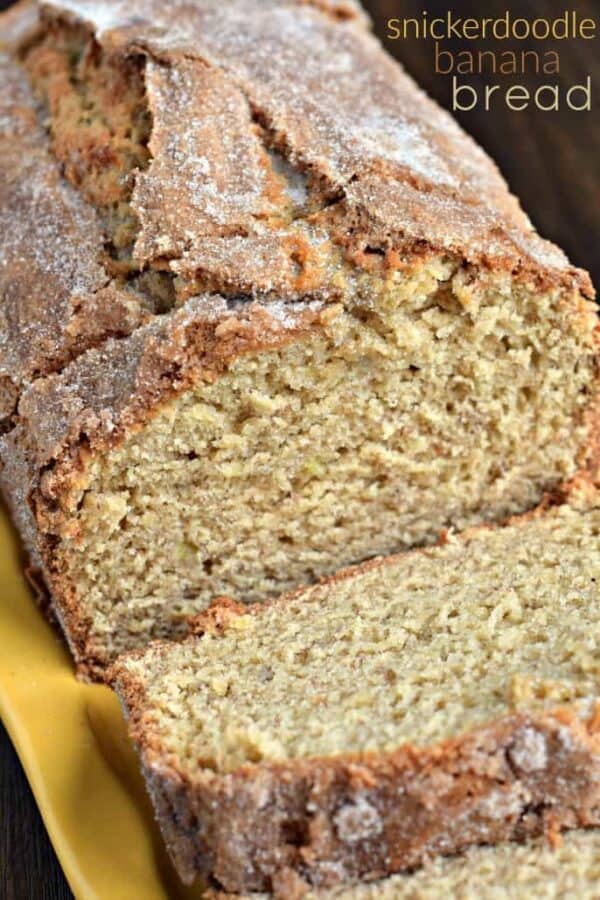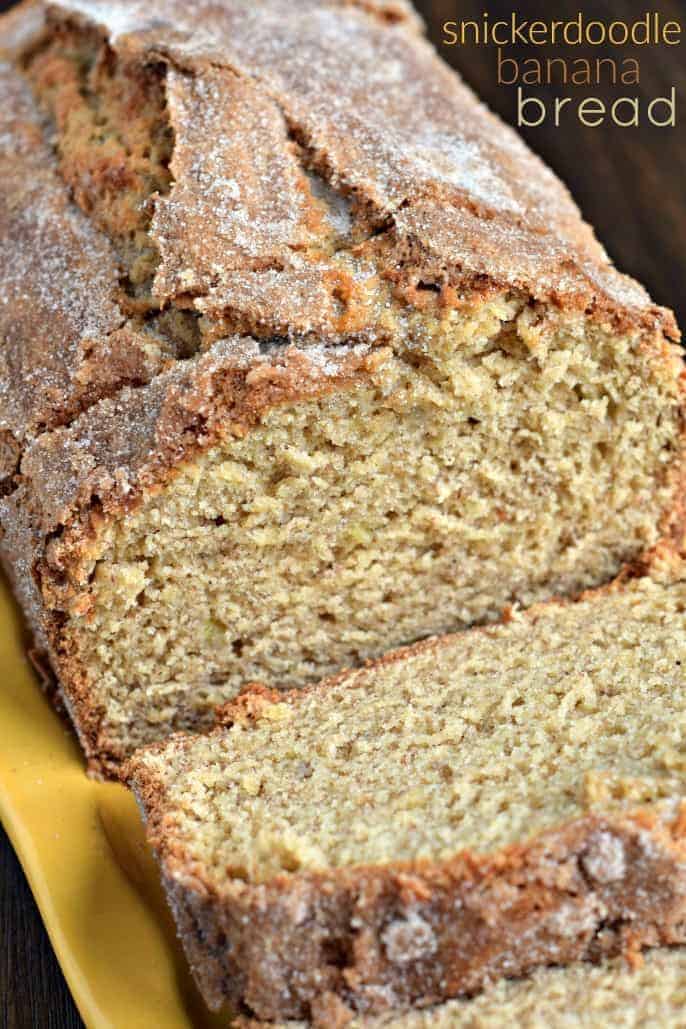 When it comes to cookies, Snickerdoodles are hands down one of my favorites. Followed by Oatmeal Scotchies, Oatmeal Raisin then Chocolate Chip. I love the sweet cinnamon sugar combination and I'll try my hardest to "snickerdoodle" everything. Like these Snickerdoodle Cheesecake Bars, Blondies, Truffles, Biscotti, and Muddy Buddies.
Today, I've taken my favorite Classic Banana Bread recipe and gave it a good Snickerdoodle twist.
I not only added a little extra cinnamon to the bread, but I coated it in a cinnamon and sugar topping. Much like Amish friendship bread, I greased the bread pans and gave a THICK coating of cinnamon sugar before adding the batter. Once the bread pans were filled with batter, I then poured sprinkled a generous amount of cinnamon sugar to the top before baking. This creates the sweet crust you see in the photos!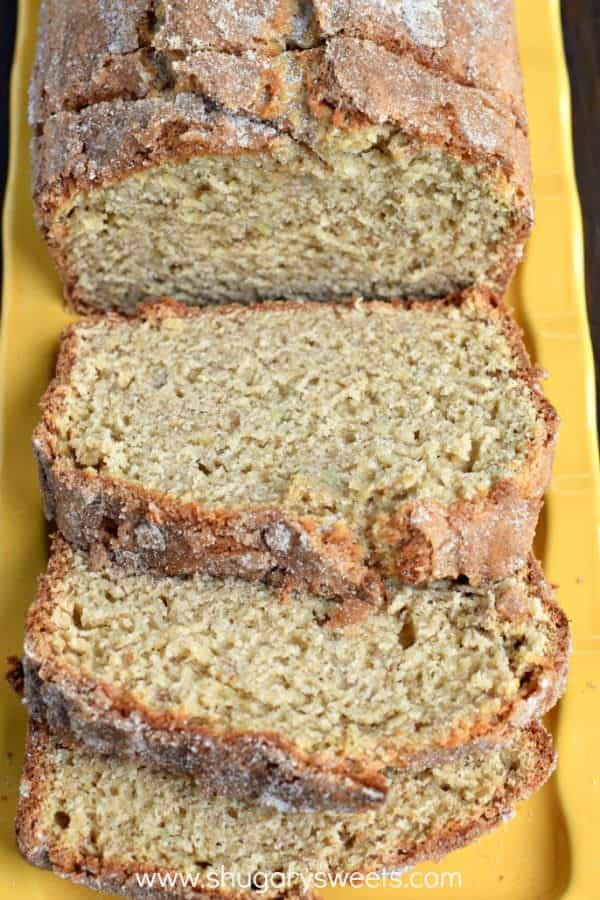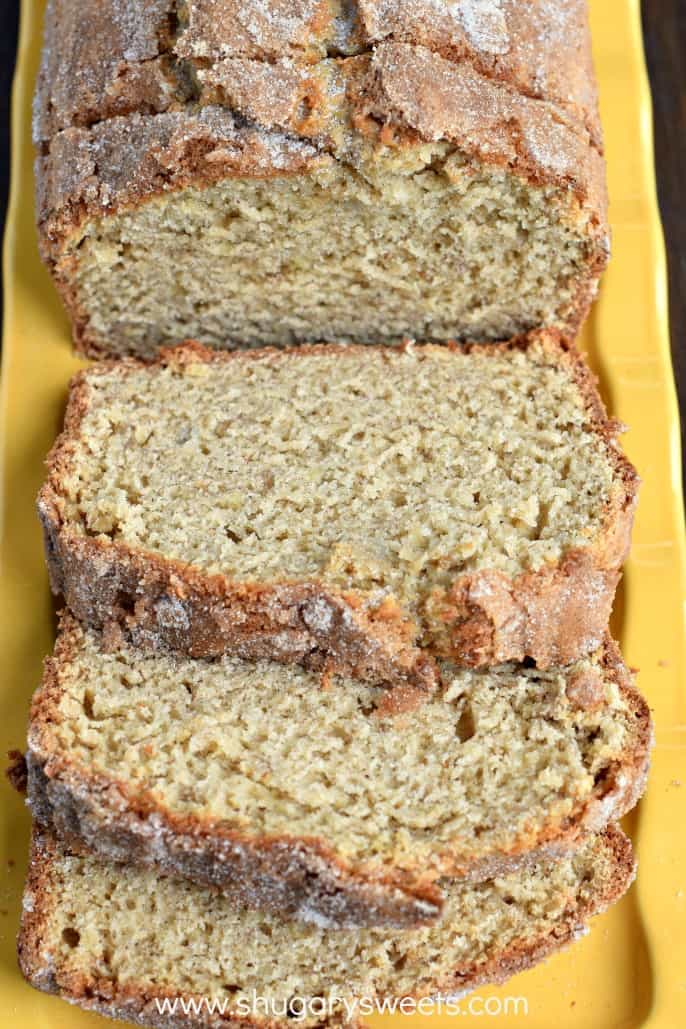 Oh my gosh you guys, it's my new favorite way to eat Banana bread! And I'm not boring banana bread eater, as you can seek out a bunch of version on my website (blueberry, coconut, apple carrot, nutella).
Spread on a layer of whipped butter and grab a cup of coffee and this my friends is my favorite way to start the day. Especially in the summer when I know the chaos of "what are we doing today" will soon ensue!
One of the best parts of today's recipe is that it makes TWO loaves of bread. AND it freezes well. So you can save one loaf for later, or if you're like my family, one loaf today, one loaf tomorrow! Ha! ENJOY 🙂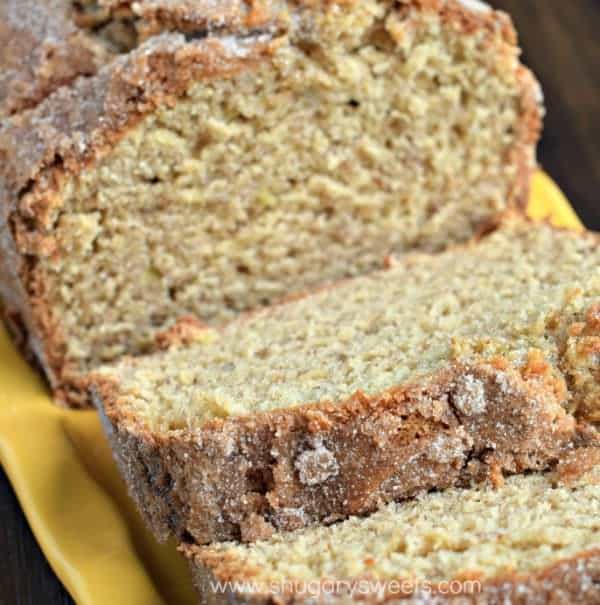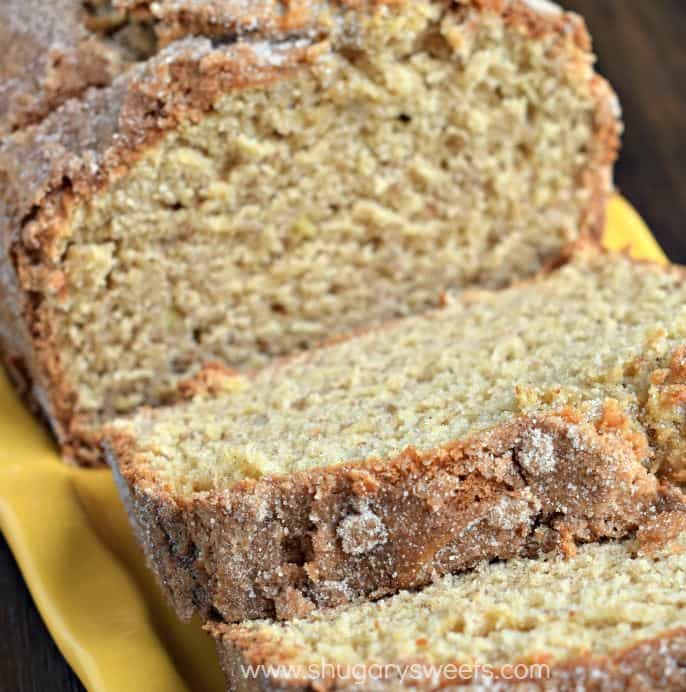 Be sure to follow me on Instagram and tag #shugarysweets so I can see all the wonderful SHUGARY SWEETS recipes YOU make!
Connect with Shugary Sweets! Be sure to follow me on my social media, so you never miss a post!
Facebook | Twitter | Google+ | Pinterest | instagram | Bloglovin'
Sign up to receive an email in your inbox for each new recipe: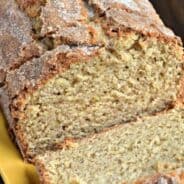 Snickerdoodle Banana Bread
Yield: 2 loaves
Prep Time: 10 minutes
Cook Time: 60 minutes
Take your classic banana bread recipe to the next level! This Snickerdoodle Banana Bread has a crunchy top coating of cinnamon and sugar, a real crowd pleaser!
Ingredients:
For the Bread:
3/4 cup unsalted butter, softened
1/3 cup milk
2 cups granulated sugar
4 large eggs
4 large bananas, mashed
4 cups all-purpose flour
1 Tbsp baking powder
1 tsp baking soda
2 Tbsp cinnamon
1/2 tsp kosher salt
For the topping:
1/2 cup granulated sugar
1 tsp cinnamon
Directions:
Preheat oven to 350°F. Grease two 9-inch loaf pans. In a small bowl, combine sugar and cinnamon for the topping. Sprinkle generously over greased loaf pans (saving the remaining mixture for the tops of the bread). Set aside.
In a large mixing bowl, beat butter with milk and sugar until blended. Add eggs and banana and combine completely. Add flour, baking powder, baking soda, cinnamon, and salt. Mix just until blended.
Pour evenly into loaf pans. Sprinkle with the remaining cinnamon sugar mixture. Bake for one hour.
Remove from oven and cool in pans 10 minutes. Remove from pans and cool completely. Store in airtight container for several days, or freeze bread for later use.
MAKING THIS RECIPE? Share it with me on Instagram using the hashtag #ShugarySweets so I can see what you're cooking up in the kitchen!
Here are a few of my other favorite quick breads: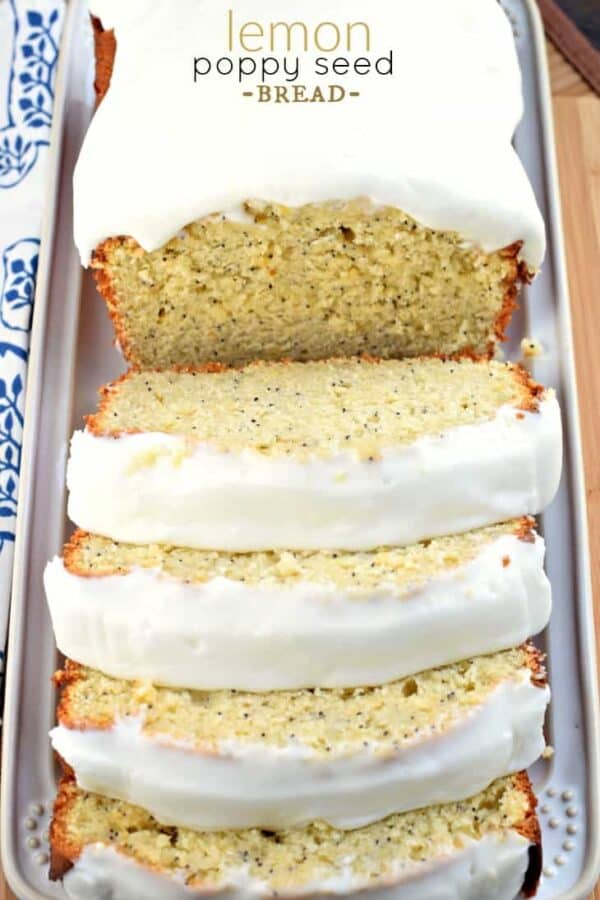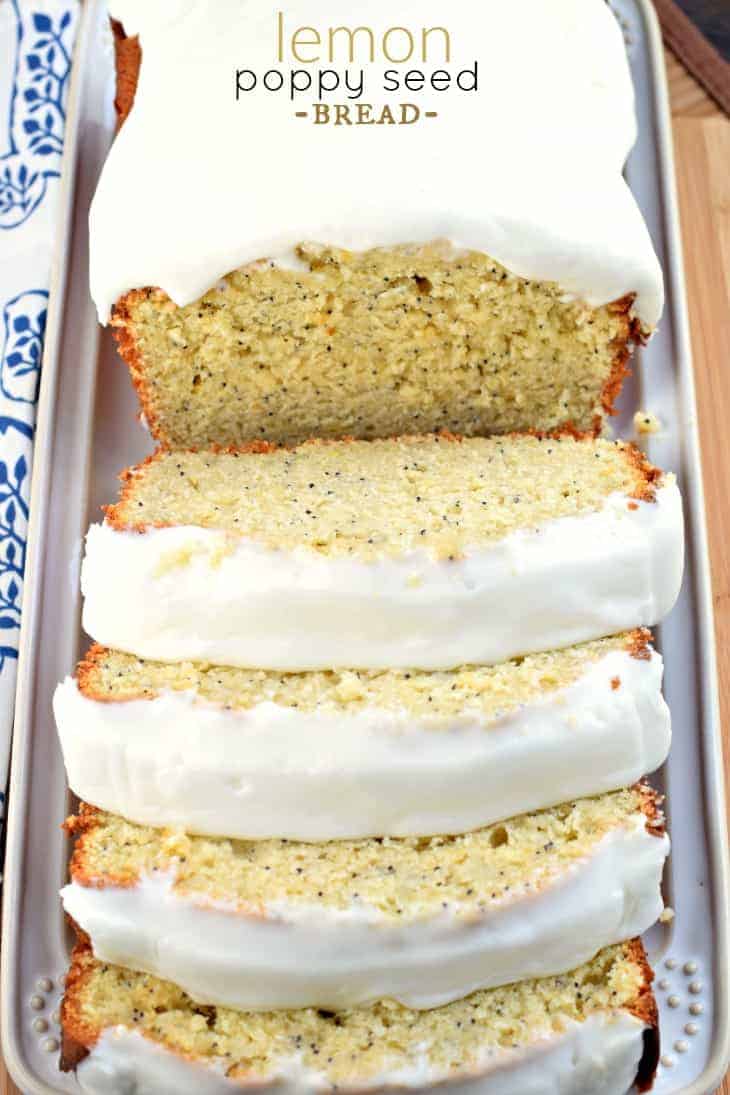 Lemon Poppy Seed Bread: full citrus flavor shines through in this delicious bread recipe!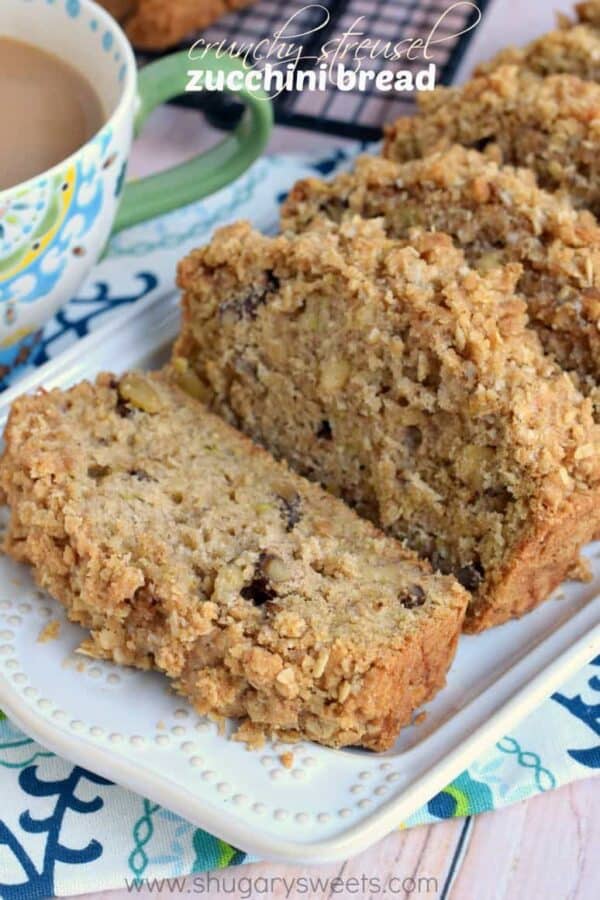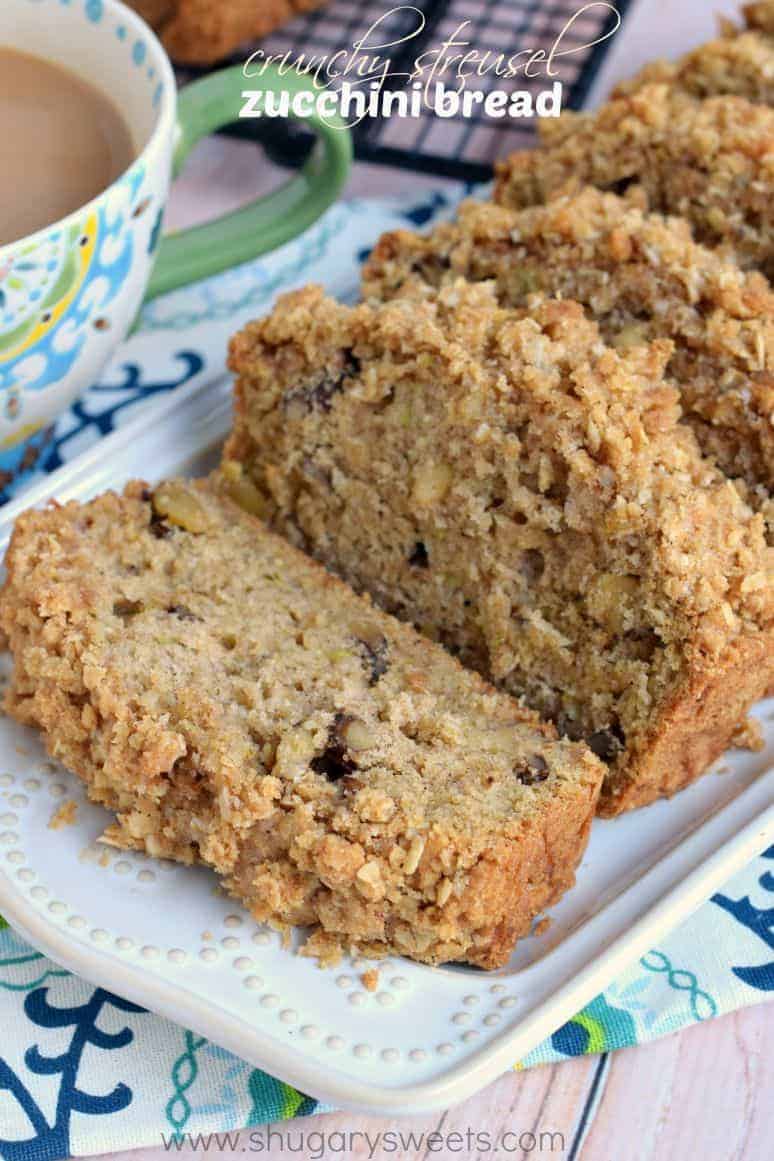 Crunchy Streusel Zucchini Bread: hands down this is my favorite zucchini bread recipe ever!!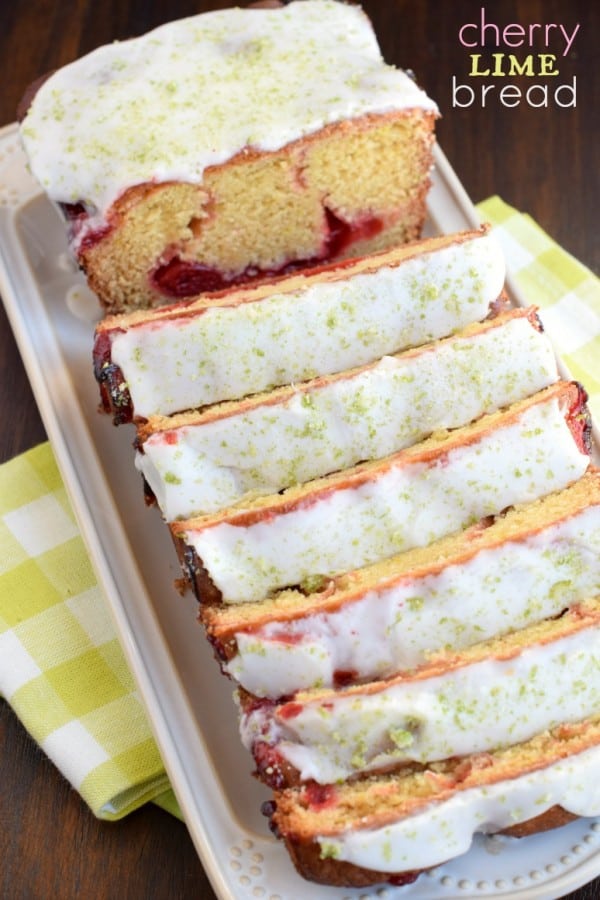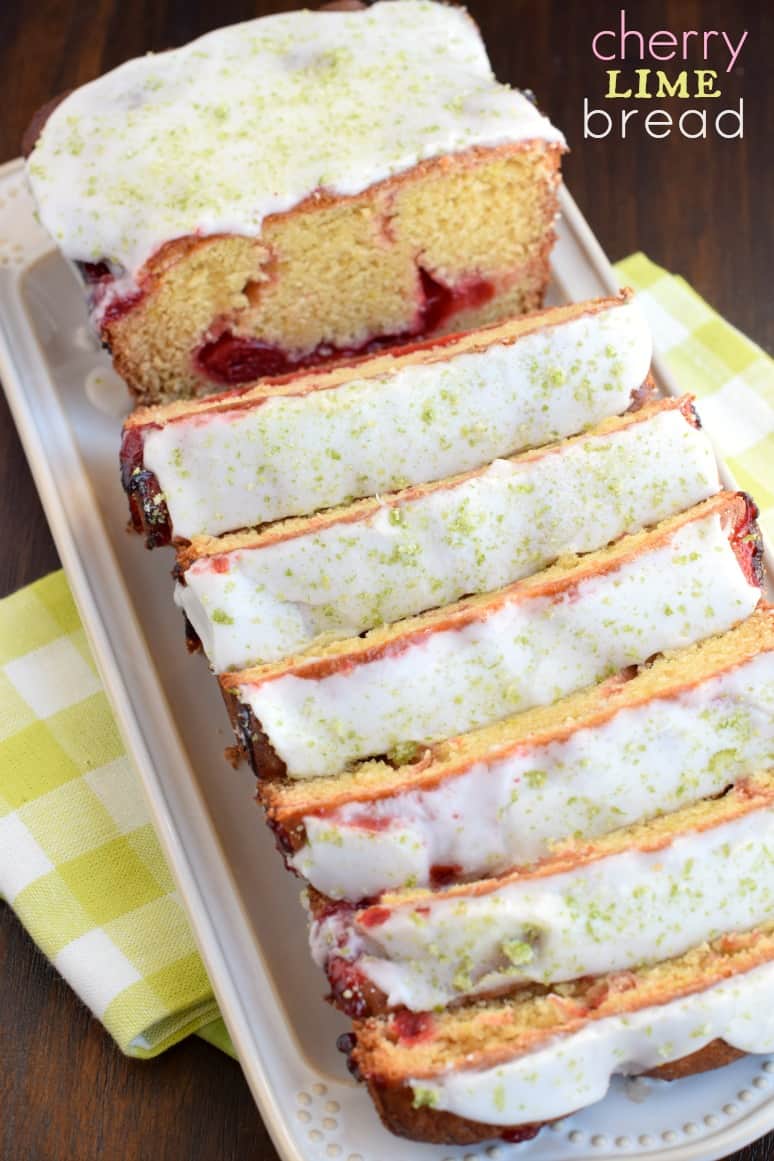 Cherry Lime Quick Bread: from the swirls of sweet cherry filling to the zing of the citrus glaze, this bread is amazing!
If you love today's Snickerdoodle Banana Bread recipe…here are a few breads from my friends you may enjoy: