4 Freezer Friendly Pasta Shell Recipes
Get the recipes for 4 Freezer Friendly Stuffed Pasta Shell Recipes. Including chicken alfredo, taco, pizza, and spinach sausage shells!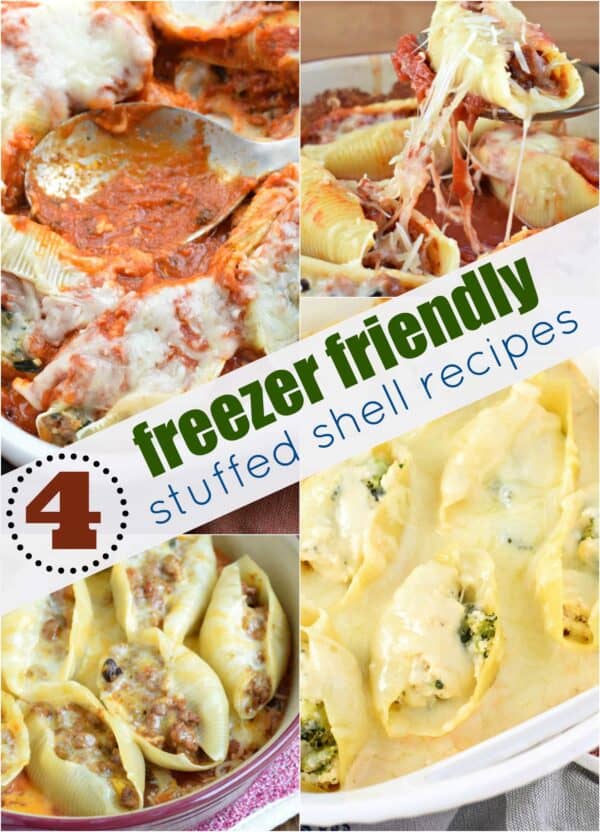 I'm heading out on a trip with one of my best friends, but I'm leaving my husband a freezer stocked full of dinners.
One of my favorite things to do is to make stuffed pasta shells. While they take a few steps to assemble, you'll end up with about 40 pasta shells for each recipe! Each member of my family eats about 2-4 shells for dinner (assuming you're serving some garlic bread and a salad to go with them). That's a lot of servings for you to stock up your freezer.
The nice thing about these pasta shells is you can just take out what you need. So I package them all up in a couple of large freezer sized ziploc bags, and then I only take out what I need for a meal. If it's just me and hubby, I can take a smaller amount than I would if all 4 of my kids were joining us for a meal.
These freezer friendly pasta shell recipes are also great to package up for a new mom. Who doesn't love some easy dinners after giving birth? Especially if you've got little ones at home AND a new baby!
So let's get to it. My list of FOUR Freezer Friendly Pasta Recipes:
1. Sausage Stuffed Pasta Shells
These Sausage Stuffed Pasta Shells are where it all began. My aunt brought me a bag of these after having my third child in 2002. We've had these so many times over the past 15 years I can't even count. I use Italian sausage and spinach as the two main ingredients, but you can play around with the recipe to make it your own. Ground beef or turkey would work, or a combo of Italian sausage and ground beef is nice too! I make this version more often than the others combined, so if you're looking for which one to start with, this one is a classic!
2. Taco Stuffed Pasta Shells
I love making these Stuffed Taco Shells when I am trying to eat a little healthier. I use ground turkey and lots of veggies to pack these pasta shells. You can also use my homemade Black Bean and Corn Salsa recipe as well as my homemade taco seasoning recipe. After baking these Taco Stuffed Pasta Shells, top them with plenty of extra lettuce, tomato, guacamole, and plain greek yogurt (or sour cream)!
3. Pizza Stuffed Pasta Shells
These Pizza Stuffed Pasta Shells are as good as they sound. And think of all the flavor possibilities! I typically make them with a combination of sausage and pepperoni, but you could do a whole veggie pizza theme. Or Sausage and mushroom. Or whatever toppings you put on your pizza, add to the filling of these shells! You'll add some pizza sauce and mozzarella cheese to finish off these delicious Pizza Stuffed Pasta Shells.
4. Chicken Alfredo Stuffed Pasta Shells
Last, but certainly not least, are these Chicken Alfredo Stuffed Pasta Shells. Filled with shredded chicken, garlic, broccoli and cheese…these might be the most indulgent, yet delicious version yet! I usually just purchase some jarred alfredo sauce, but if you're feeling adventurous, making a homemade alfredo sauce is easy. You can use my Sausage Alfredo recipe as a guide (you can even make a smoked sausage version for the filling, instead of chicken)!
So there you have it. A list of FOUR freezer friendly pasta shell dinners! ENJOY!
Be sure to follow me on Instagram to see all the fun places I'm visiting on my trip!
Connect with Shugary Sweets! Be sure to follow me on my social media, so you never miss a post!
Facebook | Twitter | Google+ | Pinterest | instagram | Bloglovin'
Sign up to receive an email in your inbox for each new recipe: