A to Z Caramel Crisp
I learn something new every day in the kitchen. I get several magazine subscriptions every month, one of them being Taste of Home. And in a previous month (maybe one last fall actually), I read that if you cook zucchini in lemon juice, you can then use it like you would apples. WHAT???
So, of course I had to try this out. My zucchini are flourishing this year! And you can only keep so much zucchini bread in the freezer. I know many of you freeze the shredded zucchini, but I prefer to bake something then freeze it. Otherwise, I find the plain frozen zucchini turns too watery when trying to use in a dish.
I thought I would make a crisp. I used my traditional crumb topping, but I guess zucchini are much more watery than apples. The "fruit" layer soaked up the crisp layer and made an awesome caramel topping. Not your usual crisp, but then again, not your usual "fruit." We loved it. I loved it. Now I plan on trying out a cobbler with zucchini. It truly did taste JUST like apples. Enjoy! Oh, and as for the name? A to Z (apples to zucchini)…Michael came up with that one. Thanks love.
A to Z Caramel Crisp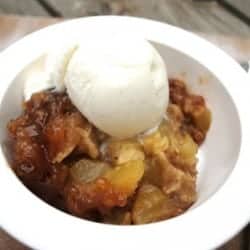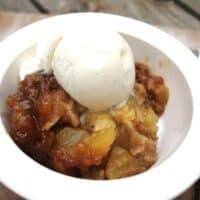 Ingredients
For the Crisp:
6 cup zucchini, diced (peeled)- for me this was 1 1/2 LARGE zucchini
1/2 cup lemon juice concentrate
2/3 cup granulated sugar
1/3 cup brown sugar
1 tsp cinnamon
1/4 tsp nutmeg
For the Topping:
1 1/2 cup brown sugar
1 cup flour
1 cup oats
3/4 cup butter, cubed
1 tsp cinnamon
1/4 tsp nutmeg
Instructions
In saucepan, cook zucchini with lemon juice on medium-low heat for about 15 minutes. Add 2/3 cup granulated sugar and 1/3 cup brown sugar with 1 tsp cinnamon, and 1/4 tsp nutmeg. Stir and heat for about 2 minutes. Pour in a buttered 9inch square pan.
In separate bowl, mix 1 1/2 cup brown sugar with flour, oats, butter, 1 tsp cinnamon and 1/4 tsp nutmeg. Use hands to combine butter until crumbly. Crumble the mixture on top of the zucchini.
Bake in a 375 degree oven for about 45-50 minutes, until bubbly and caramelized. Enjoy warm with a scoop of vanilla bean icecream!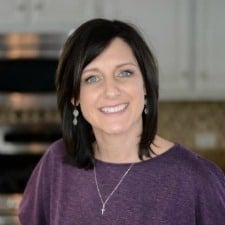 Aimee is a dessert lover (specifically rice krispie treats), workout enthusiast, self-taught foodie, and recipe creator. Her recipes have been featured in over 15 magazines, and her passion is to share her love of cooking with the everyday home cook! Learn more about Aimee.