Almond Joy Krispie Treats – Guest Post!!!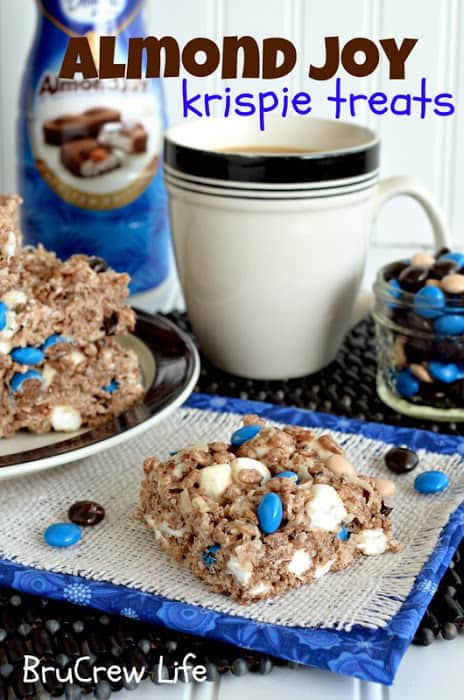 …Today Jocelyn from Inside BruCrew Life is here to share a treat with you. Jocelyn is my blogger BFF. If you haven't had a chance to read about her, you MUST. If you are a friend of mine, then you will love the treats Jocelyn makes. I mean come on, did you see the picture above???? Okay…take it away Jocelyn, I have some drinks with umbrellas to enjoy….


Hi, Shugary Sweets readers.
Jocelyn from
BruCrew Life
here.
I am so excited to be posting on Aimee's blog today!!
Aimee is pretty much my best bloggy BFF!
We are like twins separated at birth.
It is crazy how many things we have in common with each other.
There are times we even bake with the same ingredients
and don't know it until we post on the same day.
Psychic? I think so!!!
Having a best blog friend is great for so many reasons.
We can count on each other for real comments,
answers back to emails, and honest answers to life and blog questions.
But I think I love her most for how many sugar laden treats she makes…
we have the same baking addiction:-)
Everyone should have a friend like her to count on!!!
I wish she lived closer to me so we could share treats,
go shopping, drink coffee, and laugh hysterically together.
(Maybe one day I can convince her to move her family to the house next door to me:-)
One thing I know about Aimee is how much she
loves homemade rice krispie treats.
Today I have some fun rice krispie treats to share with you.
I decided to include a few more of Aimee's favorite things
in these treats, just to make it a little more personal.
They have coffee and coconut mixed in with all the marshmallows.
That makes these pretty much the best rice krispie treat evah!!!
What's that? You don't like coconut?
I guess you could leave it out,
but then you are missing out on the experience.
They are truly awesome!
My youngest even ate some and said that he really liked them,
and he doesn't even like coconut at all.
So if the 8 year old can handle it, so can you!!!
Thank you so much Aimee for having me visit your blog.
I loved sharing a specially made treat for you and your readers:-)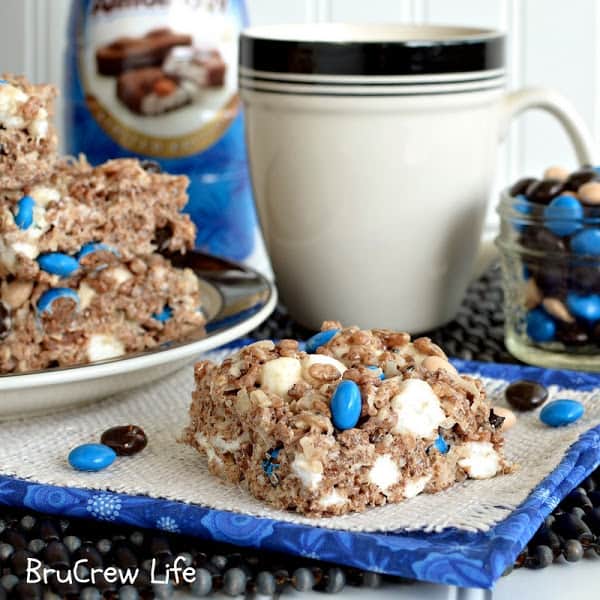 ALMOND JOY RICE KRISPIE TREATS
3 Tbsp. coconut oil
1 bag miniature marshmallows
2 Tbsp. instant coffee granules
5 c. chocolate rice krispies
1 1/2 c. shredded coconut
1 1 /2 c. mini marshmallows
1 1/4 c. Almond Joy chocolate pieces, divided
In a large saucepan, melt the coconut oil. Stir in the instant coffee until dissolved. Add the marshmallows and stir until melted. Pour in the cereal and stir until coated. Add the coconut, mini marshmallows and 1 cup Almond Joy pieces, stirring quickly.
Spoon into a buttered 9×13 pan. Gently press into the pan with buttered hands. (pressing too hard will result in hard krispy treats) Press the extra chocolate pieces into the top. Let set up. Store covered loosely.