Almond Pound Cake with Blueberry Sauce

Pure bliss. Start with pound cake, top with blueberry sauce, then add homemade whipped cream, and end with stretch pants.
I need to apologize to my sweet husband who has been working overtime lately. Apparantly this is all to support my butter addiction. I spend entire paychecks on butter (remember yesterday's post had 4 sticks). But, to eat this at the end of a long hot day, perfect. Thanks honey, I love you. Even though you hate blueberries. I left you some pound cake without sauce. Whipped cream is in the fridge. I'm on the treadmill if you need to find me.
Yield: serves 6-8
Almond Pound Cake with Blueberry Sauce
Cook Time
1 hour
15 minutes
Ingredients
for the pound cake:
3 sticks butter, softened (1 1/2 cup)
8 oz cream cheese, softened
3 cup sugar
6 eggs
2 tsp vanilla
3/4 tsp almond extract
juice of 1 lemon
3 cup flour
1 tsp baking powder
for the blueberry sauce:
2 cup frozen blueberries, divided
1/2 cup granulated sugar
1 Tbsp balsamic vinegar
1/2 lemon, juiced
2 Tbsp water
1 tsp vanilla extract
for the whipped cream:
2 cup heavy cream
1/3 cup granulated sugar
1 tsp almond extract
Instructions
for the pound cake:
Beat butter and cream cheese until creamy. Add the sugar and beat an additional 2-3 minutes. Add eggs, one at a time, beating well after each addition. Add lemon juice and extracts (batter will look curdled, it's okay).
Add flour and baking powder (one cup of flour at a time). Pour into a greased tube pan (14 cup capacity). Bake in a 325 degree oven for about 65-75 minutes, until toothpick comes out clean. Cool for 15 minutes. Run knife around edge of pan and remove. Cool completely.
for the blueberry sauce:
In small saucepan, mix together sugar, vinegar, lemon juice and water. Add in 1 cup of the frozen blueberries. Simmer over low heat for about 12-15 minutes until sugar is melted and sauce is a deep purple color. Add in remaining blueberries and vanilla extract. Stir, set aside to cool.
for the whipped cream:
Combine sugar, cream and almond extract into a very cold bowl. Beat until cream is stiff (several minutes). Refrigerate until ready to use. This is awesome on pound cake, angel food cake, inside these tasty Toffee tubes!
To assemble, cube or slice poundcake, drizzle with blueberry sauce and top with a dollop of whipped cream. Enjoy!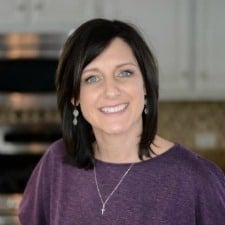 Aimee is a dessert lover (specifically rice krispie treats), workout enthusiast, self-taught foodie, and recipe creator. Her recipes have been featured in numerous magazines, and her passion is to share her love of cooking with the everyday home cook!