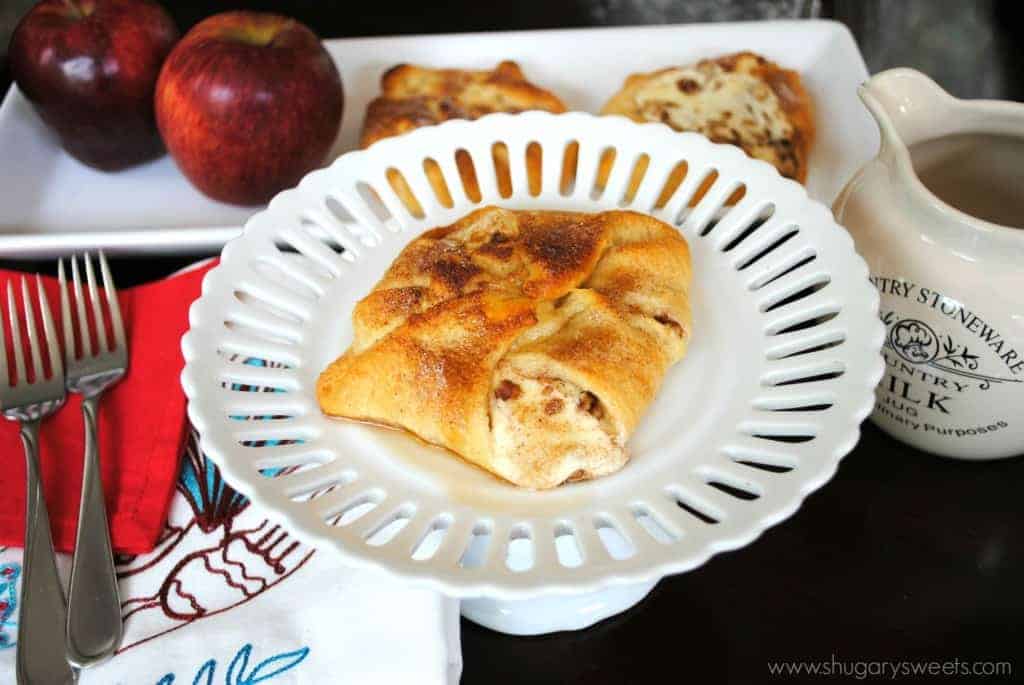 I used to make this in a large braid. But let me tell you all, I love delicious shortcuts. All the way down to using Crunchpak apples. I recently won some free product coupons on Crunchpak's facebook page, and having used their apples in the past I love the convenience and taste in baked goods.
I also love that I can make these in bundles for the same delicious taste in one lovely single serve bundle. And yes, of course, you can bake these up and freeze them. Does it get much easier? After removing from freezer, allow to thaw completely (I just stick them in my fridge overnight). Then in the morning, warm them up in the microwave and drizzle with maple syrup. These are great to have when company comes to visit!
Speaking of company, I'm going to have a house full of guests this weekend. And I couldn't be more excited. I have a feeling we all may gain 10lbs each, but when I know guests are coming I tend to go a little crazy on the baking. Have a very happy Memorial Day weekend everyone!

Check out some more similar and inspiring recipes on Pinterest:
Yield: 8
Apple Cheesecake Bundles
Ingredients
8oz cream cheese, softened
1/3 cup powdered sugar
1 egg
2 apples, peeled and sliced very thin (or use Crunchpak )
2 Tbsp pecans, chopped
1/4 cup cinnamon/sugar mixture
2 pkg refrigerated Pillsbury crescent rolls
maple syrup for drizzling
Instructions
Unroll crescent rolls and separate into 4 squares (rectangles?) per package by keeping two triangles together. Press the seams.
In mixing bowl, mix cream cheese with sugar and egg. Lay sliced apples in center of each square. Top with cheese mixture. Sprinkle with pecans and cinnamon sugar.
Pinch up the sides and press seams as much as possible. Sprinkle with more cinnamon/sugar. Bake in a 350 degree oven for 20-25 minutes. Remove from oven and allow to cool about 10 minutes. Drizzle with maple syrup and enjoy.
Notes
**If freezing these, allow to cool completely (do not add syrup). Lay in single layers in a freezer safe ziploc, seal and freeze.