Apple Cheesecake in the form of a hand held pastry! These easy Apple Cheesecake Bundles feature a cinnamon apple filling wrapped in a Pillsbury crescent roll crust. This hybrid of cheesecake and danish is delicious any time of day!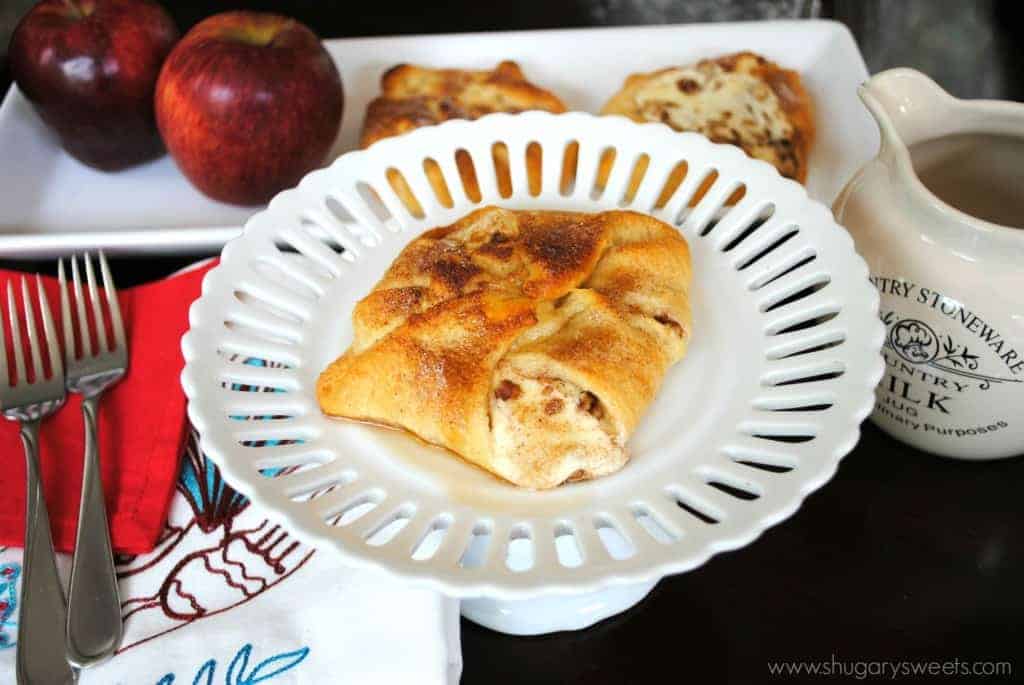 I used to make this Apple Cheesecake dessert in a large braid or ring that I called Apple Ring.
I also love that I can make these in single serving bundle form. And yes, of course, you can bake these up and freeze them. Does it get much easier?
Apple Cheesecake Danish
First, let's talk about the filling in these tasty bundles. It's made from just a few ingredients and oh so easy to whip together!
Make the cheesecake filling by beating together softened cream cheese with sugar and egg. Peel and thinly slice your apples.
Now, it's time to roll out the pastry! To get the Danish "bundle" shape, I separated each can of pillsbury rolls into 4 squares, keeping the ends of the triangles together.
To assemble:
STEP 1. Lay an apple slice in the center of each square
STEP 2. Spoon a little cream cheese mixture over the apple. Sprinkle cinnamon sugar and chopped pecans on top.
STEP 3. Pinch the ends of the crescent roll dough together, making sure to press the seams well. Dust with more cinnamon sugar.
STEP 4. Bake for 20 – 25 minutes and let cool for about 10 minutes before serving.
We love these served warm with a little bit of maple syrup drizzled over them!
How to freeze Apple Danishes
If you're making these to freeze, let cool and don't add any syrup. Transfer them to freezer safe bags or tupperware containers, with wax paper between each danish to keep them from sticking together.
After removing from freezer, allow to thaw completely (I just stick them in my fridge overnight). Then in the morning, warm them up in the microwave and drizzle with maple syrup.
These are great to have when company comes to visit! Put on a fresh pot of coffee, warm up some Apple Cheesecake Bundles and everyone's over the moon.
You can also serve these for dessert or bring them to your next morning meeting at school or the office. I can't think of a single occasion at which I wouldn't be ecstatic to see someone walk in the door with a plate piled high with homemade apple pastries.
What kind of apples to use
Any number of apple varieties will work in this recipe, but my favorite are those with a bit of tartness. That way, the apple flavor won't get swallowed up by the cheese and cinnamon sugar.
Granny Smith apples are a favorite choice for everything from apple pies to apple cheesecake bundles like these. I also love to bake with Pink Lady apples, Honey Crisps and Fuji apples.
Why not try this recipe with a few different kinds of apples to see what you like best? You're going to like these easy breakfast pastries so much you just might want to make them once a week.
Serving ideas
Out of maple syrup or don't like it? Honey is also delicious drizzled on Apple Cheesecake Bundles!
To serve these for dessert, they're also amazing with a scoop of vanilla ice cream on top. It's like cheesecake meets pie! And why not add a little caramel sauce over everything too? Believe me, no one will complain.
More Tips and Tricks
These are best when you slice the apples very thin. Use a sharp chef's knife or mandolin and aim for apples that are about 1/4″ thick. To save yourself a step, you can also use apples from Crunchpack which come peeled, cored and sliced thinly!
For a nut free option, feel free to leave the pecans out of the recipe. I love the crunch and nuttiness they add, but the real star of the show is the apples and cream cheese!
Make sure to pinch the seams of the crescent roll triangles together before you tried to fold the edges together. This will help keep the filling from spilling out or overflowing as the danishes bake.
If you're not freezing these, be sure to store any leftovers in the fridge (due to the cream cheese). Enjoy within 2 days or freeze!
Make these easy Apple Cheesecake Bundles part of your next weekend breakfast!
Yield: 8
Apple Cheesecake Bundles
Ingredients
8oz cream cheese, softened
1/3 cup powdered sugar
1 egg
2 apples, peeled and sliced very thin (or use Crunchpak )
2 Tbsp pecans, chopped
1/4 cup cinnamon/sugar mixture
2 pkg refrigerated Pillsbury crescent rolls
maple syrup for drizzling
Instructions
Unroll crescent rolls and separate into 4 squares (rectangles?) per package by keeping two triangles together. Press the seams.
In mixing bowl, mix cream cheese with sugar and egg. Lay sliced apples in center of each square. Top with cheese mixture. Sprinkle with pecans and cinnamon sugar.
Pinch up the sides and press seams as much as possible. Sprinkle with more cinnamon/sugar. Bake in a 350 degree oven for 20-25 minutes. Remove from oven and allow to cool about 10 minutes. Drizzle with maple syrup and enjoy.
Notes
**If freezing these, allow to cool completely (do not add syrup). Lay in single layers in a freezer safe ziploc, seal and freeze.