Delicious Apple Ring Fritters start with juicy apples and buttermilk batter. Fry to golden brown perfection then serve with your favorite caramel or chocolate dippers!
Short on time? These easy Southern Fried Apples are ready in 15 minutes.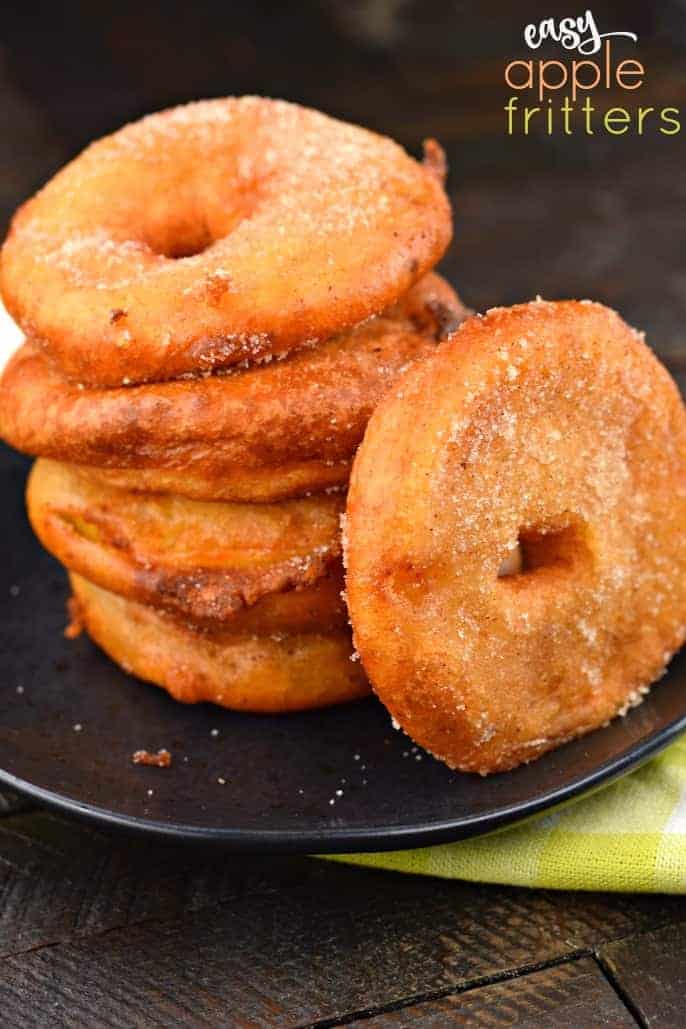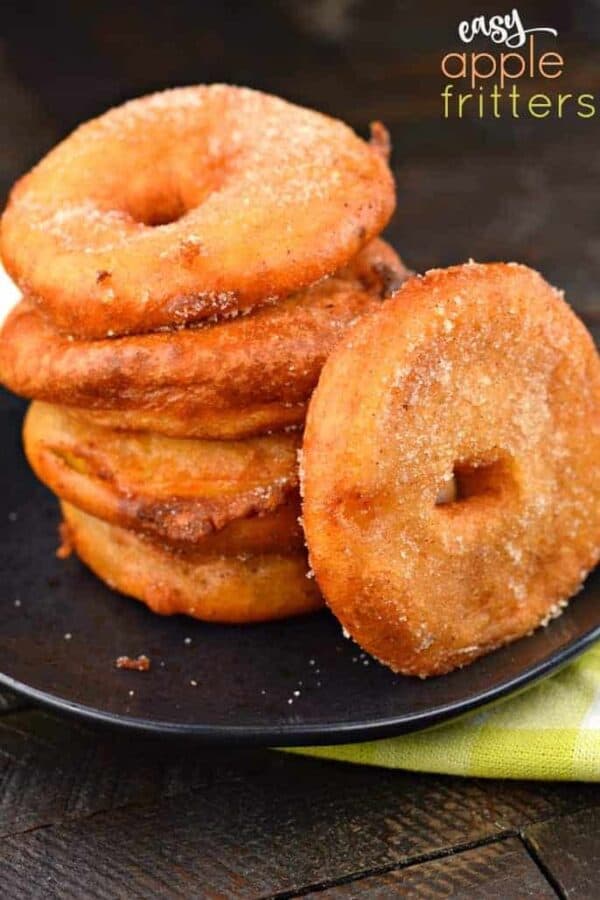 Why these fritters are best
These apple rings are fried on the stove top. No special equipment needed!
Sprinkled with cinnamon sugar AND powdered sugar.
Buttermilk batter coating won't slide off when you serve them!
Delicious on their own or with your favorite dipping sauce.
Homemade apple fritters are easier to make than you might expect. With a crispy exterior and soft apple inside, these apple rings are perfect treat for the holidays or any special occasion.
Ingredient Notes
Buttermilk – The acid in this milk makes the batter light and fluffy once fried. You can make your own if you don't have a carton handy.
Apple rings – Use pre cut apples from the store or make your own (see below). Any apples will do!
Cinnamon sugar – Sprinkle it over the apple ring fritters right after frying to give them a sweet coating. My homemade cinnamon sugar mix works perfectly.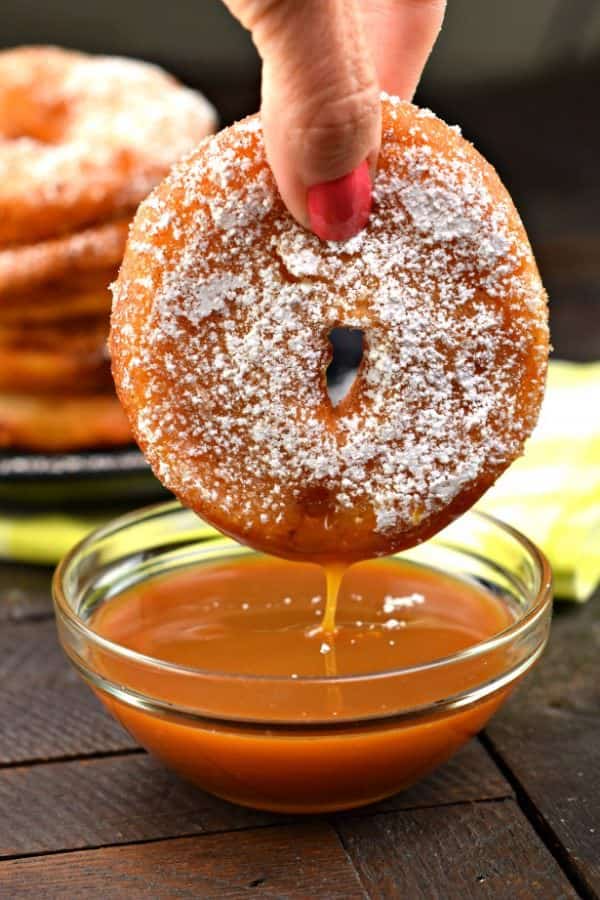 How to slice apple rings
Turn whole apples into apple rings with this easy method.
Wash and peel:
Rinse your apple and pat dry with a paper towel. Now, use a vegetable peeler to remove as much of the apple skin as possible.
Core:
Place your apple on a cutting board stem side up. Hold it in place while you insert an apple corer or sharp knife into the apple, about 1/4 inch from the stem.
Work your way around the core until it slides out of the center of the apple. The seeds should come out along with it. If you see a few seeds remaining, use a knife to remove them.
Slice:
Now, place the apple on its side. Cut the apple in half across the center.
Next, cut each half again. You'll get 4 apple rings, about a half inch thick, from each apple.
Tips and Tricks
Cook apple rings in oil a few at a time. Leave enough space that the apples can float in the oil without touching each other.
Remove the fried apple rings from oil using tongs. Place on a paper towel to absorb excess grease.
Let the rings cool for a few minutes, then sprinkle with powdered sugar for even more sweetness!
Serve with your favorite chocolate and caramel sauces for dipping. We love them with hot fudge sauce!
However you serve them, these treats are guaranteed to make you happy. Apple ring fritters are immensely satisfying hot out of the pan. . . but they have a whole 'nother level of deliciousness if you let them cool and coat them in powdered sugar.
Seriously, you decide. It's a win no matter what!
Recipe FAQs
How do you store them? Can I make them ahead of time?
These apple rings should be enjoyed right away for best taste! Like other battered and fried foods, the breading just doesn't hold up if left to sit for too long.
What kind of apples are best?
I recommend firm apples for frying and baking. Any variety can be used but I like apples with a combination of sweet and tangy flavor like honey crisp, fuji or pink lady.
How can I keep apple fritters from burning?
Prevent burning by checking the temperature of your oil. A cooking thermometer is great for this! I find 375° F is the ideal oil temperature.
If you notice some of the apple rings are burning before others are cooked, try lowering the heat on your stove.
Keeping a close eye on these as they fry also ensures fritter success! Use a slotted spoon or tongs to flip the apples and remove them immediately once both sides are browned.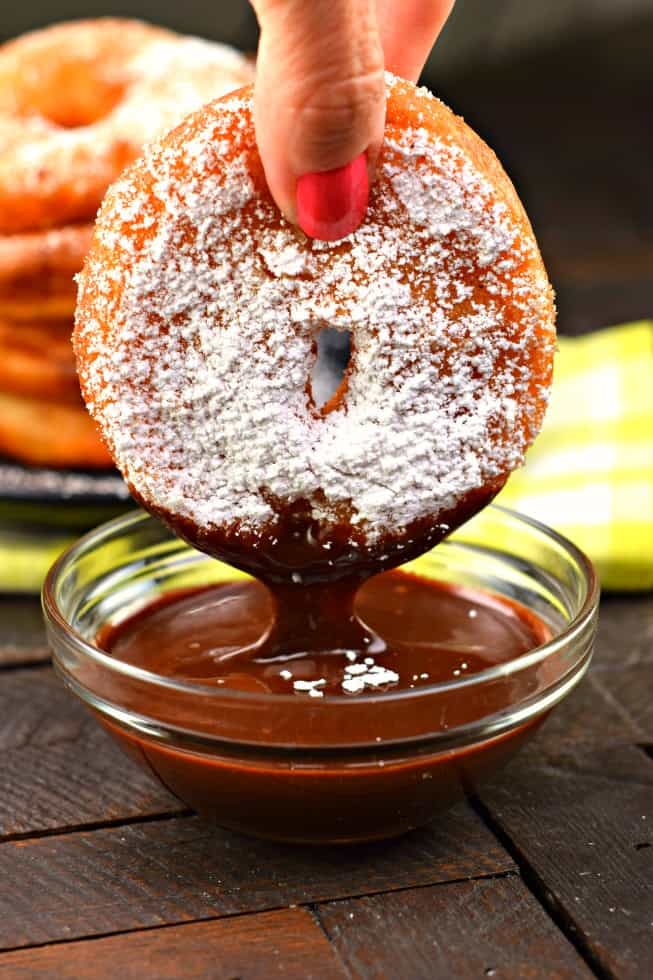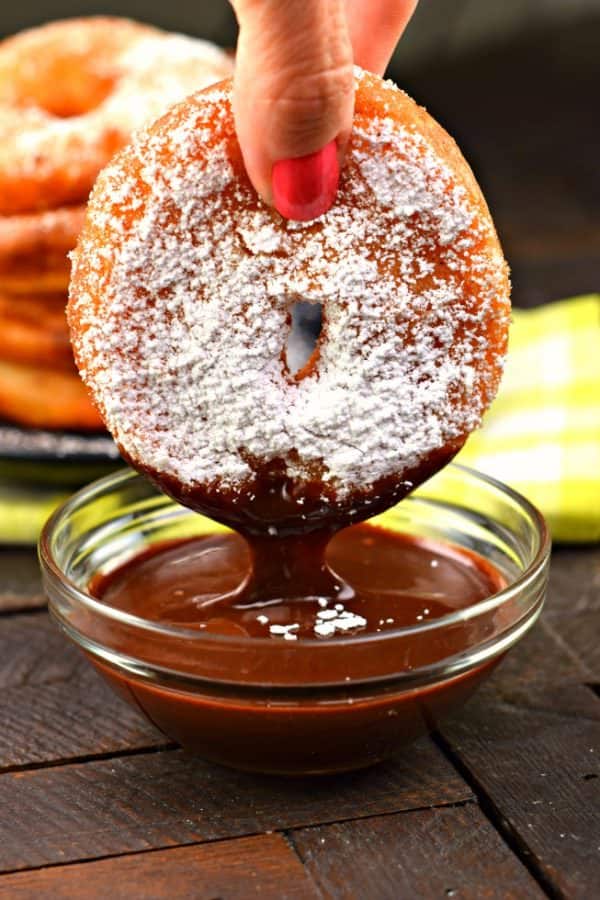 Apple ring fritters made easy! These fried apple rings are the tastiest way to get your 'apple a day'!