Buttery shortbread cookies made with BAILEYS pumpkin spice coffee creamer. Don't forget to add the pumpkin spice glaze on top!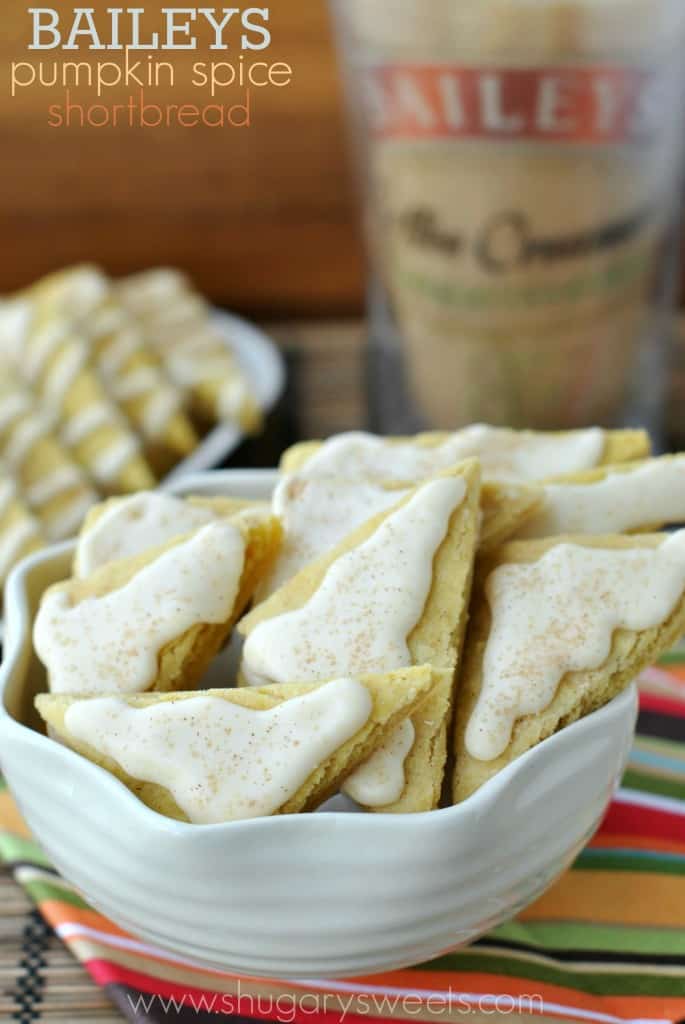 This summer I had the awesome opportunity to try out a few of the new BAILEYS coffee creamers, before they were even released to the grocery stores.
I know. Perfect gig for me, right? You guys want to know where my pumpkin obsession came from so early in the season this year? Well, I've been drinking coffee with Pumpkin Spice creamer since June! No joke.
This past June I had the luxury of indulging in some of Lori's (Recipe Girl) treats that she made using BAILEYS creamer. And when I say indulge, I mean over indulge.
So when BAILEYS asked me to create some recipes using their newest creamer flavors, I was thrilled!
For today's recipe, I used their Pumpkin Spice creamer to create a delicious shortbread cookie. You all know how much I love shortbread cookies!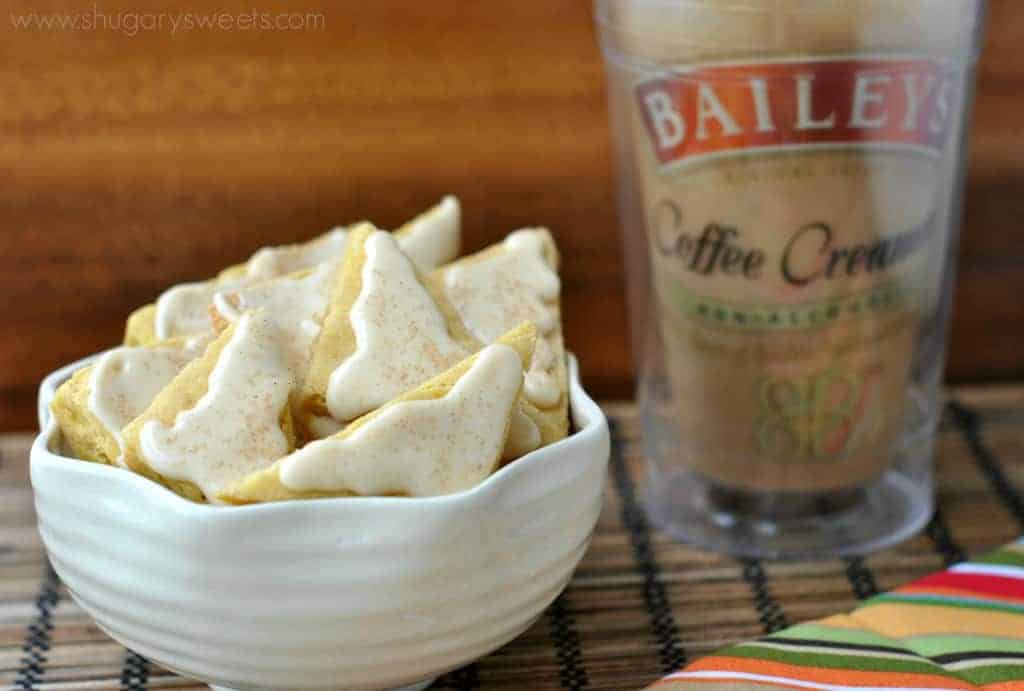 The creamer adds a delicious depth of flavor, not only to the cookie, but also to the glaze on top! Add just a drizzle of glaze, or spread it on thick like I do!
Stay tuned to see the other delicious recipes I created using BAILEYS creamers. Hint: keep an eye out for Red Velvet Cupcake creamer and White Chocolate Peppermint creamer!
Yield: 36 cookies
BAILEYS Pumpkin Spice Shortbread
Buttery shortbread cookies made with BAILEYS pumpkin spice coffee creamer. Don't forget to add the pumpkin spice glaze on top!
Ingredients
For the Cookies:
¾ cup unsalted butter, softened
1 ¼ cup powdered sugar
2 cup all purpose flour
¼ tsp kosher salt
¼ cup plus 2 Tbsp pure pumpkin puree
1 Tbsp BAILEY'S Pumpkin Spice Coffee Creamer
½ tsp ground cinnamon
¼ tsp ground nutmeg
½ tsp allspice
For the Glaze:
1 1/2 cup powdered sugar
3 Tbsp BAILEY'S Pumpkin Spice Coffee Creamer
2 tsp pure pumpkin puree
1 Tbsp cinnamon/sugar blend, for garnish
Instructions
Preheat oven to 350 degrees F. Line a large baking sheet with parchment paper. Set aside.
In a large mixing bowl, beat butter and powdered sugar for 3 minutes, until fully combined. Add flour, salt, pumpkin puree, creamer, cinnamon, nutmeg and allspice. Beat until mixture comes fully together.
Drop dough onto parchment paper lined baking sheet. Working with floured fingers, press dough into a large rectangle (about 14x12inch). Bake in oven for 20-25 minutes, until cookies are slightly firm to touch and just starting to brown. Remove from oven and immediately cut into triangles. Separate slightly and allow to cool completely before adding glaze.
For the glaze, whisk together the powdered sugar, creamer and pumpkin puree. Pour smooth glaze into a Ziploc bag. Cut of the corner and drizzle glaze over cooled cookies. You could cover the tops of the cookies completely with glaze, or just do a small amount of drizzle on each cookie. Sprinkle cookies immediately with cinnamon sugar blend.
Store cookies in air tight container at room temperature.
**This post is part of an ongoing brand ambassadorship with BAILEYS creamers. I was compensated to create my own recipes and video, however all opinions about the product are 100% my own.