You're going to want to make a pan of these No Bake Brownie Brittle Pumpkin Cheesecake Bars. Today. Right now. Go!
Be sure to sign up for my email…new recipes in your inbox
**Thanks to Brownie Brittle for sponsoring today's recipe post! All opinions are 100% my own!**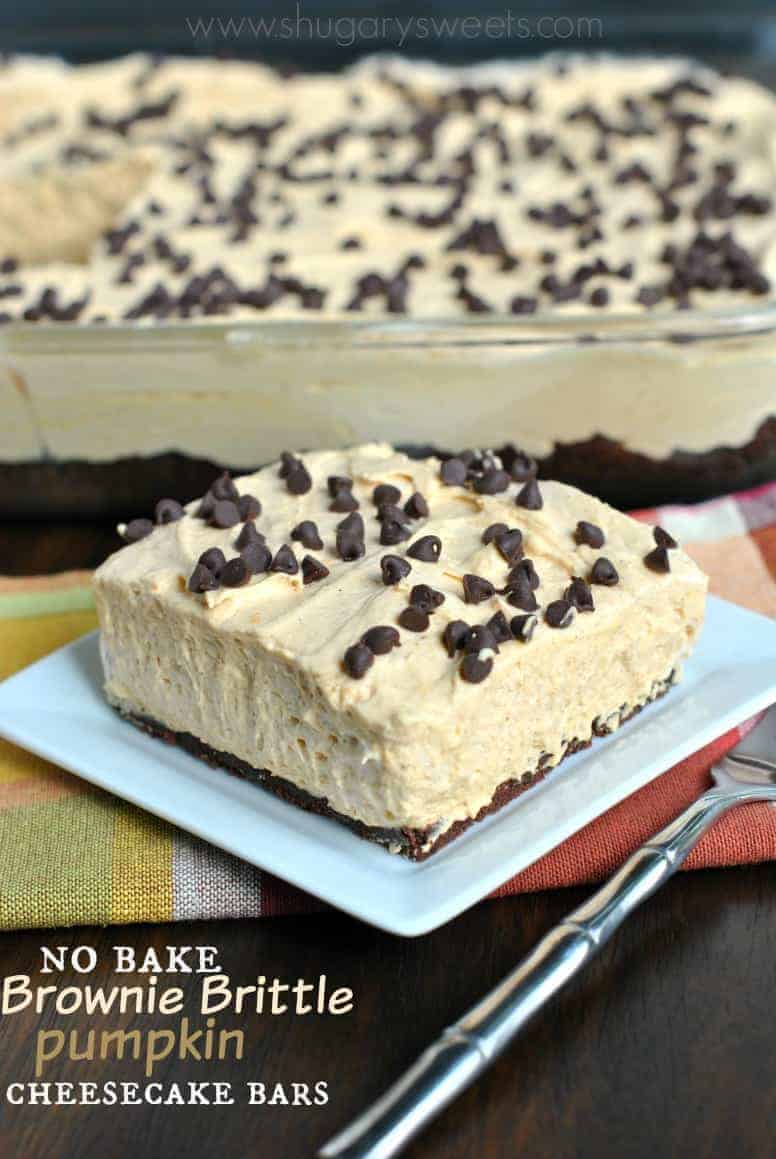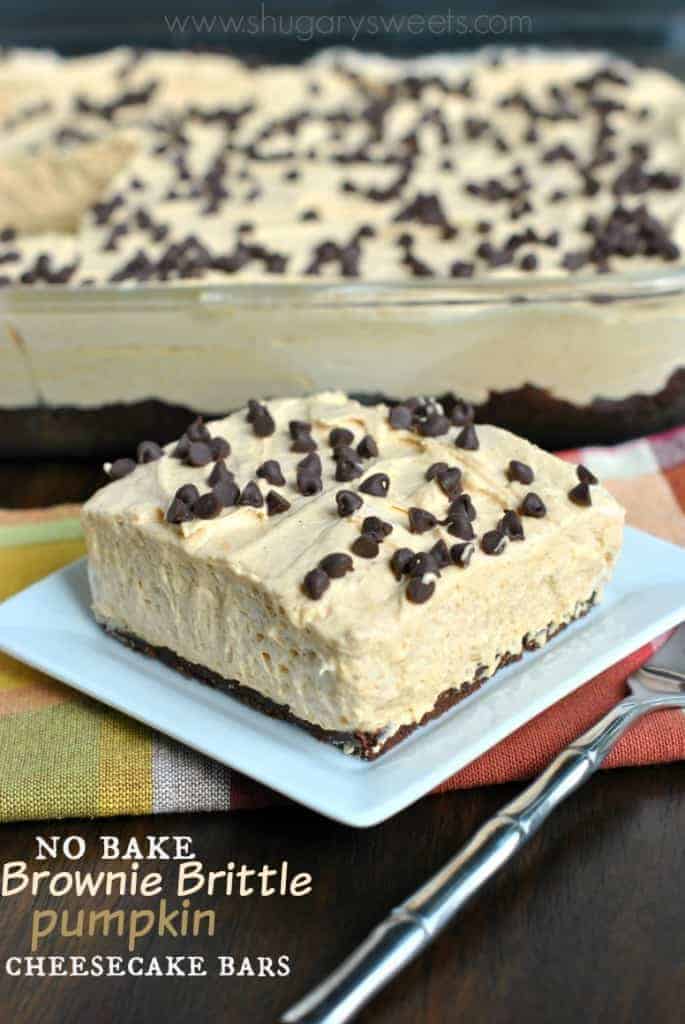 You guys may remember last month when I created these No Bake Brownie Brittle Toffee Bars? Yes? If not go check them out!
I'm back with another Brownie Brittle recipe. Thanks to Brownie Brittle and their challenge to "brittle" my recipes, I'm completely obsessed.
As if eating Brownie Brittle straight out of the bag isn't delicious enough..I've gone and made another sweet treat to tempt your taste buds!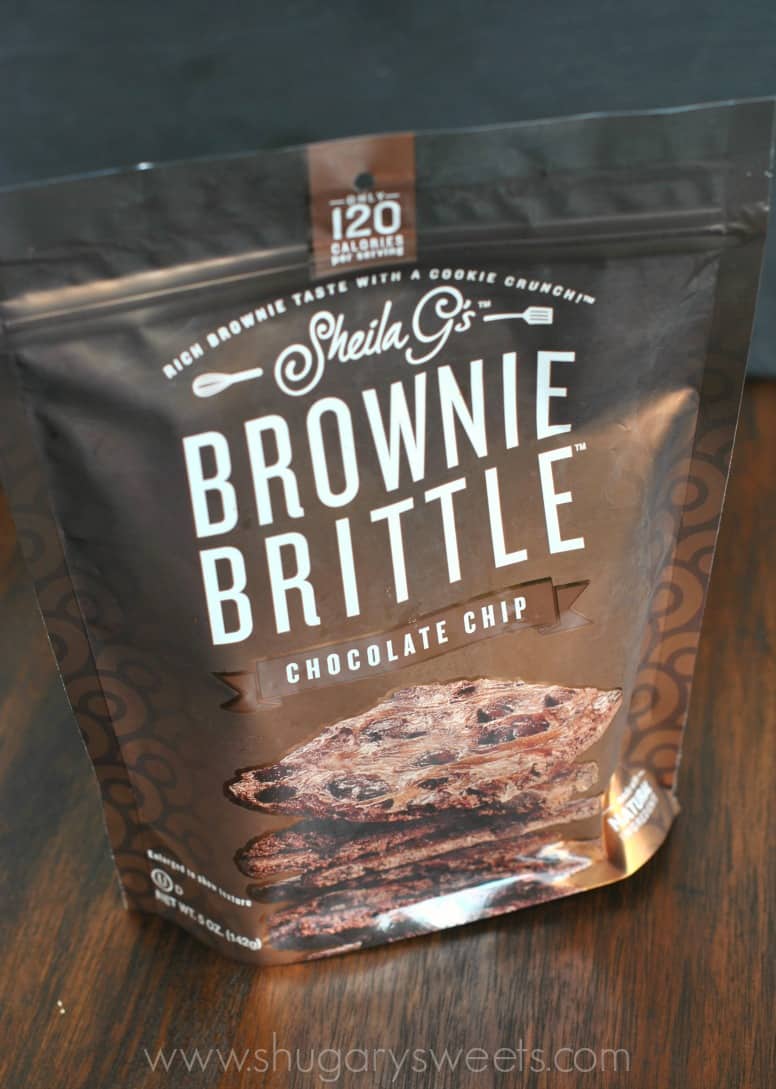 Have you tried Brownie Brittle yet? If not, what are you waiting for? It's crunchy and delicious, and comes in some out of this world flavors (salted caramel!!).
If yes, then you know just how good it tastes.
Way back in 2011, the year I started my blog, I made these delicious No Bake Pumpkin Cheesecake jars. I honestly didn't think they could get any better. Until now. Until I accepted the Brittle challenge. The idea is you take your favorite recipe and "brittle it." By replacing the gingersnap crust with Brownie Brittle, this treat is over the top good!!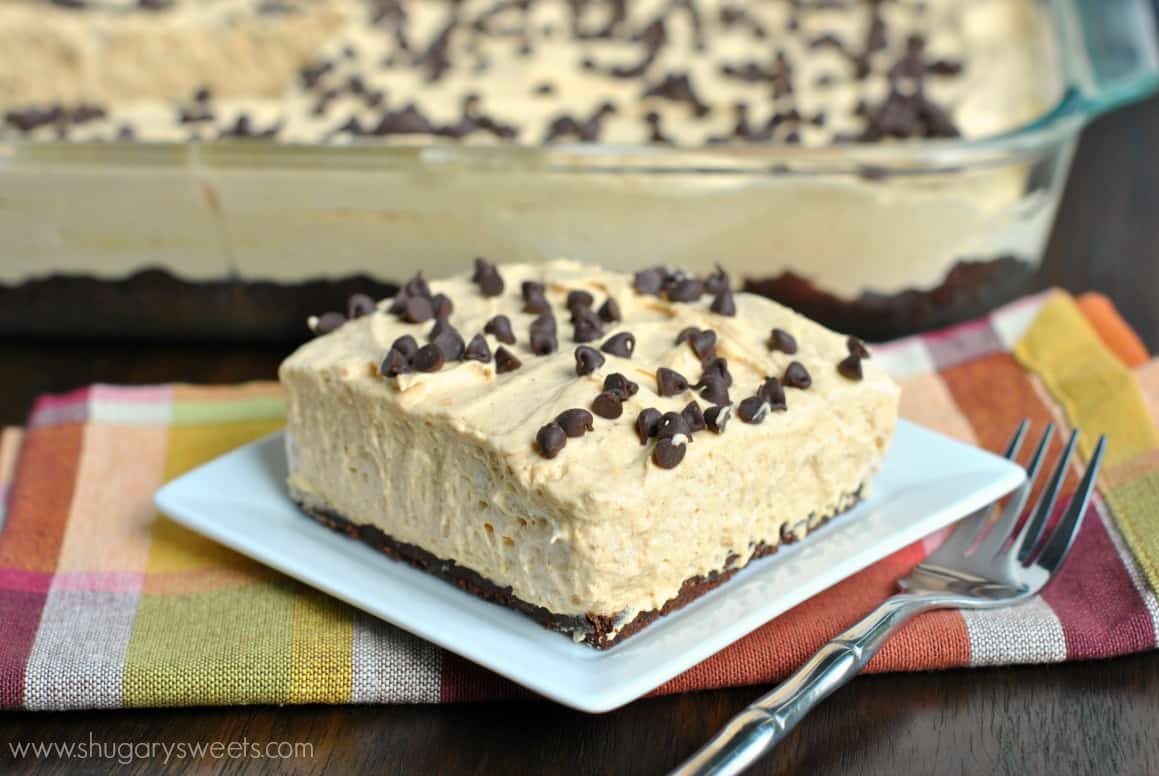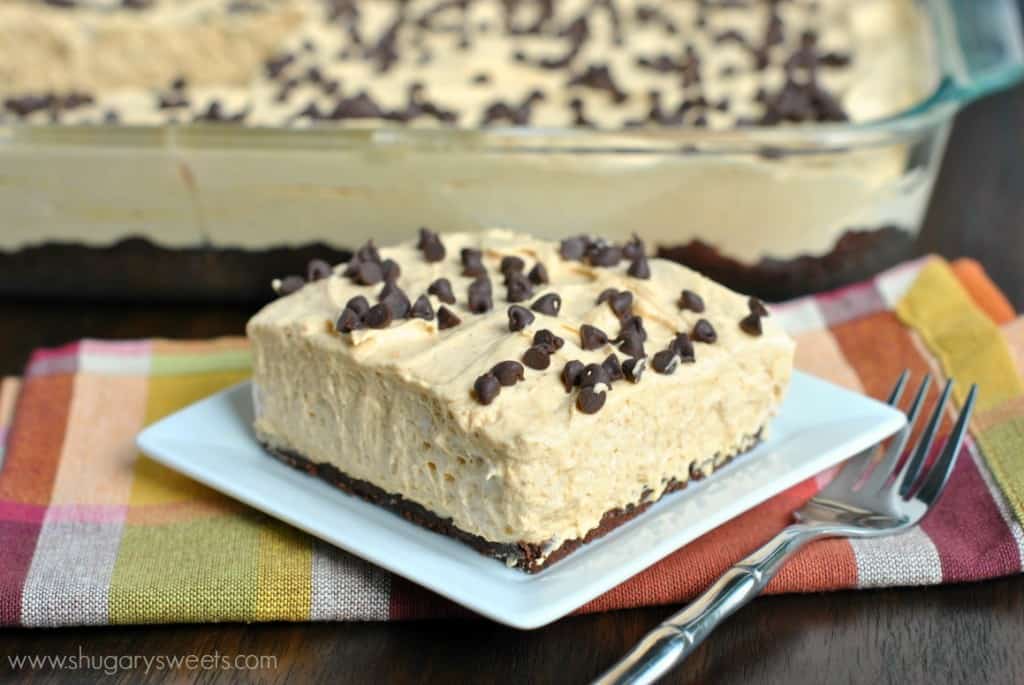 Seriously. The crunchy chocolate chip Brownie Brittle base. The creamy, pumpkin cheesecake filling. And the chocolate chips. Wow!
The other great part? This is a no bake recipe. So you can assemble it without every turning on your oven. Nice, right?
Now…go grab a few bags of Brownie Brittle and get in the kitchen to make a batch of these Pumpkin Cheesecake bars today! ENJOY!
Connect with Brownie Brittle:
website | twitter | facebook | pinterest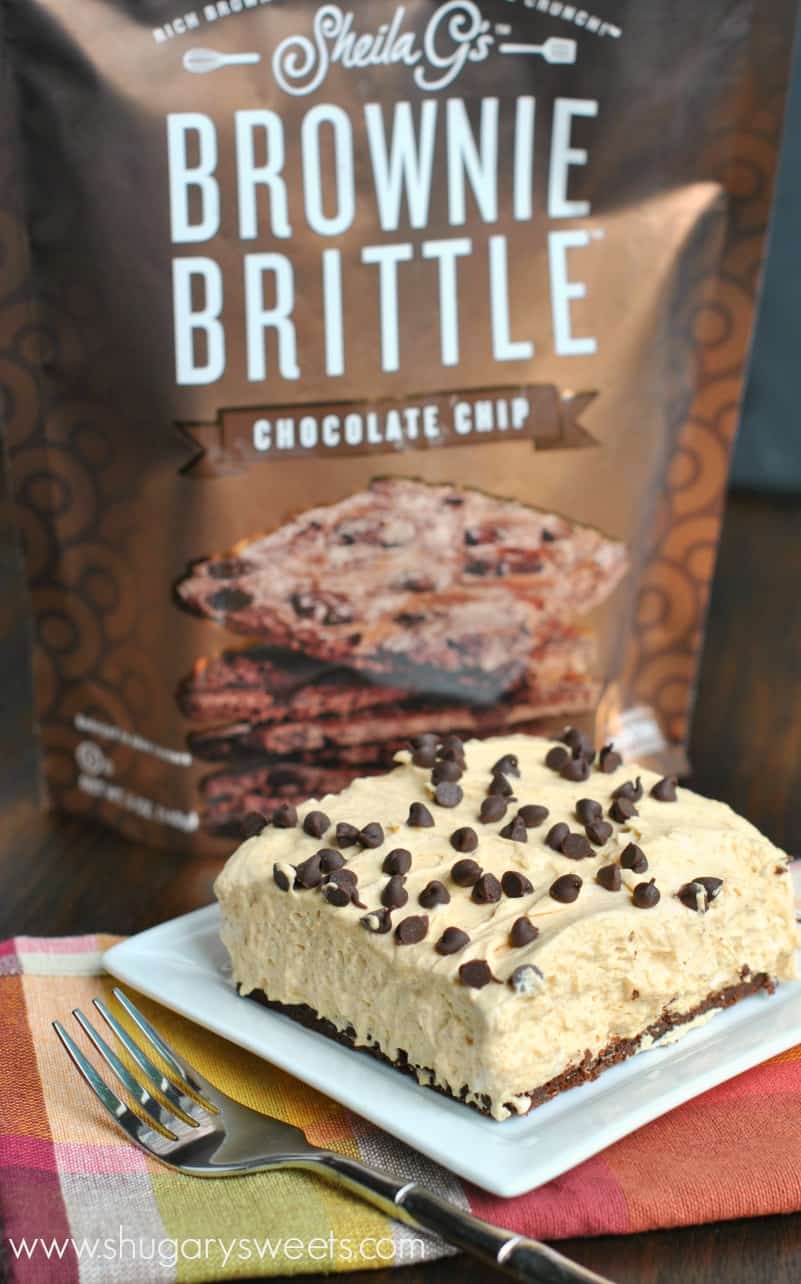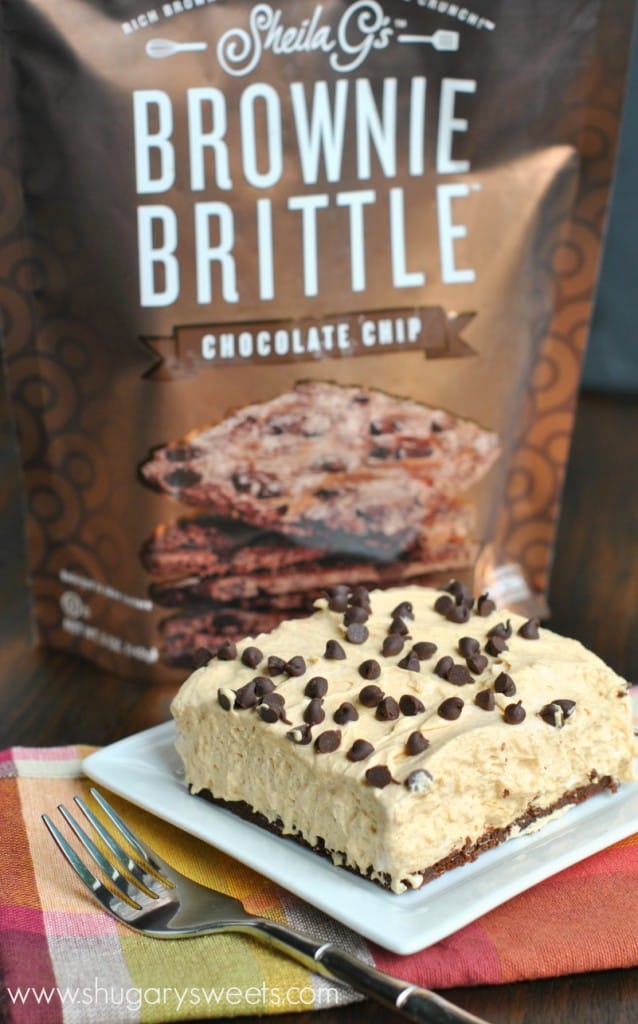 Yield: 15 servings
No Bake Brownie Brittle Pumpkin Cheesecake
Prep Time
2 hours
10 minutes
Ingredients
For the crust:
2 package (5oz each) Chocolate Chip Brownie Brittle
1/2 cup unsalted butter, melted
For the filling:
2 package (8oz each) cream cheese, softened
1 can (14oz) sweetened condensed milk
1 cup canned pumpkin
1 Tbsp lemon juice
1 1/2 tsp ground cinnamon
1/4 tsp ground cloves
1/4 tsp ground nutmeg
12oz Cool Whip
1/4 cup mini semi-sweet chocolate morsels
Instructions
In a food processor, add Brownie Brittle and pulse until fine crumbs. Add melted butter and pulse again until fully combined. Press mixture in bottom of 13x9 baking dish.
In a large mixing bowl, beat cream cheese and sweetened condensed milk until light and fluffy (about 4-5 minutes). Add pumpkin, lemon juice and spices. Beat until combined.
Fold in Cool Whip and spread over Brownie Brittle crust. Garnish with chocolate chips on top.
Refrigerated for two hours until set (or overnight). Serve and enjoy!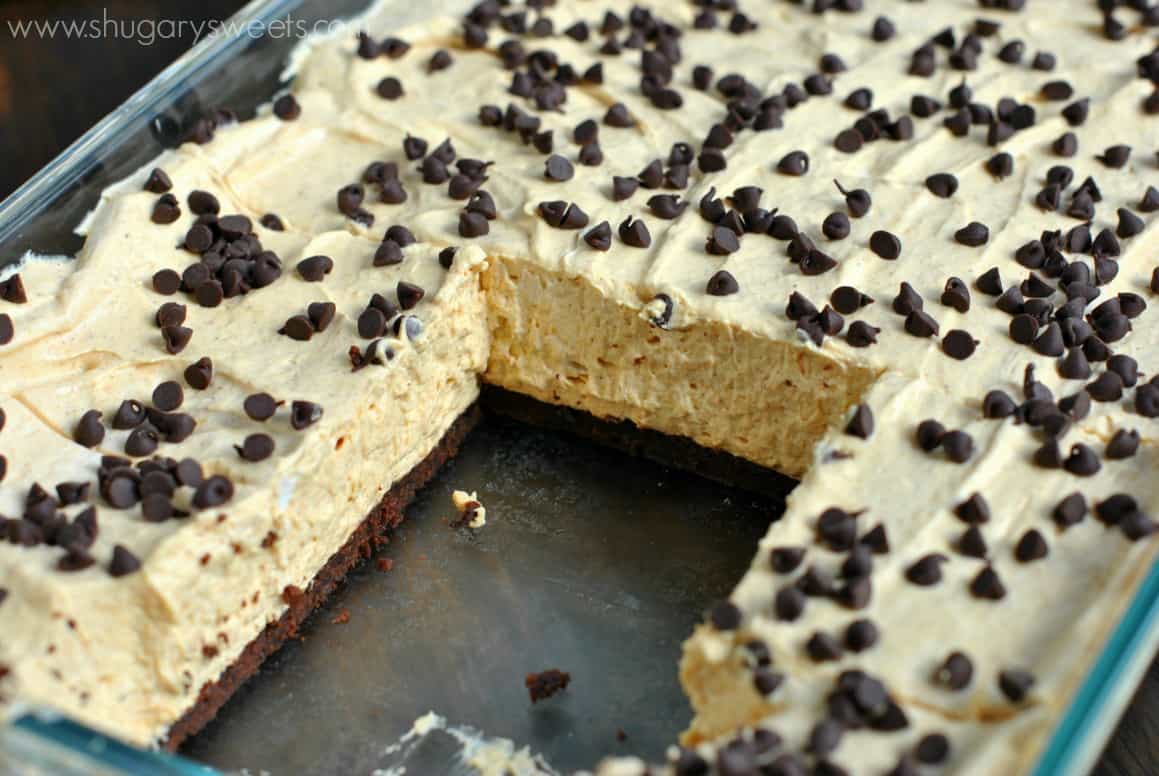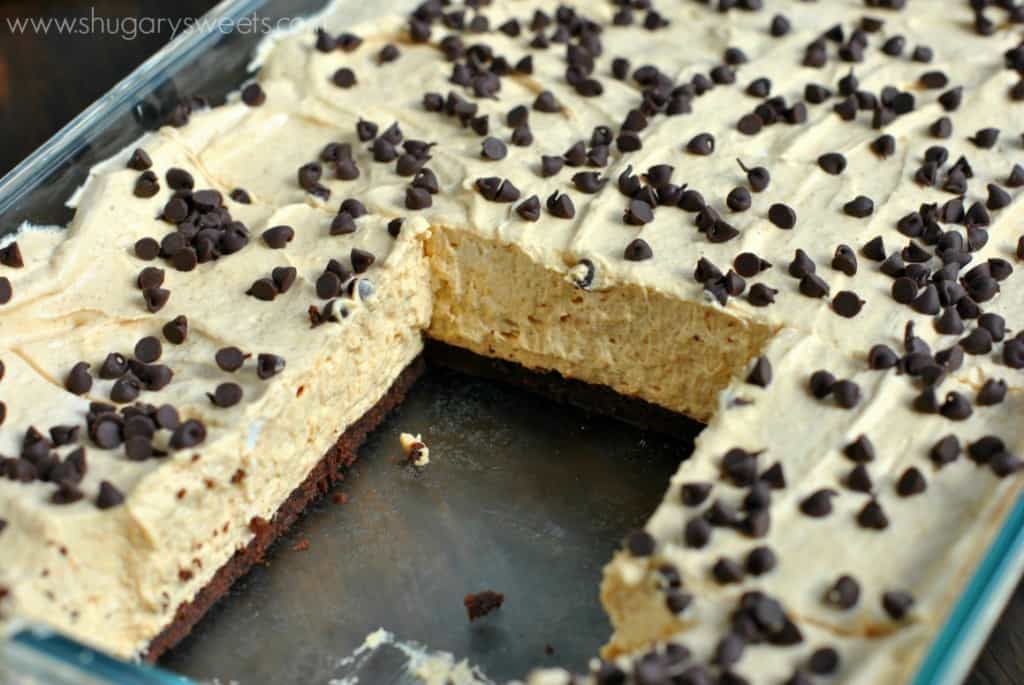 **Today's recipe is sponsored by Brownie Brittle. All opinions about the product are 100% my own! See my disclosure policy for more information**