No Bake Brownie Brittle Toffee Bars. Fudgy Brownie Brittle base topped with a decadent caramel and cream cheese layer. Don't forget the ridiculously generous amount of toffee bits on top! These will be your new go-to treat this fall.
Be sure to sign up for my email…new recipes in your inbox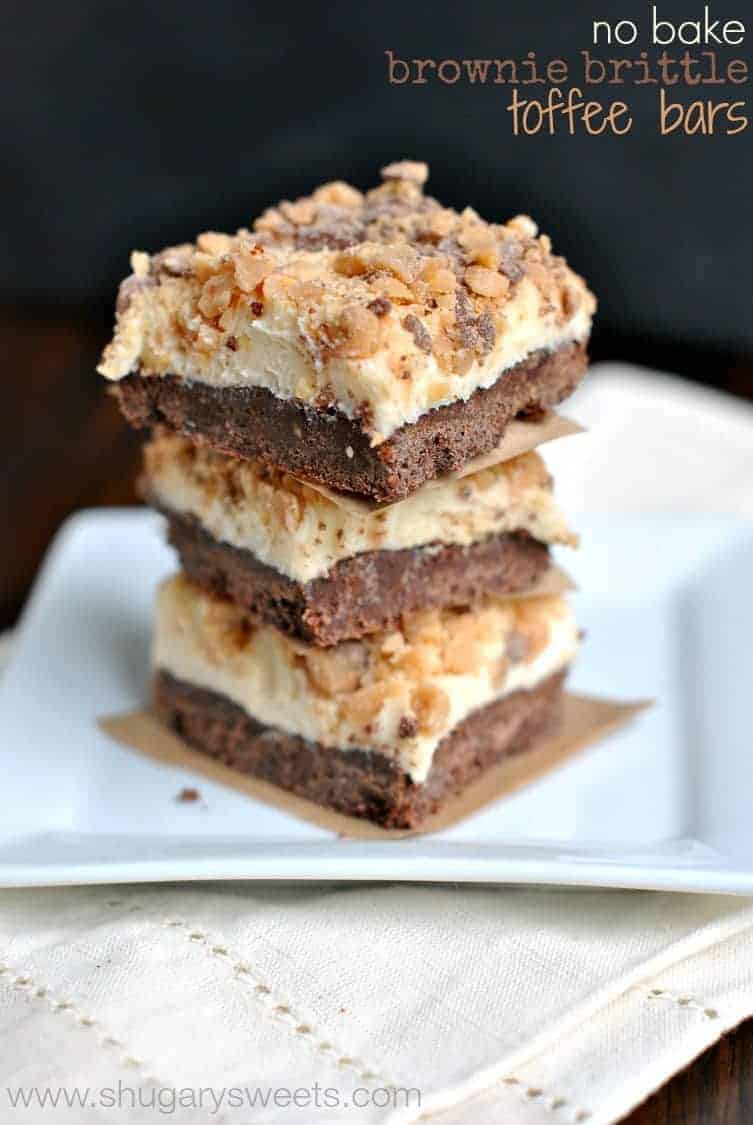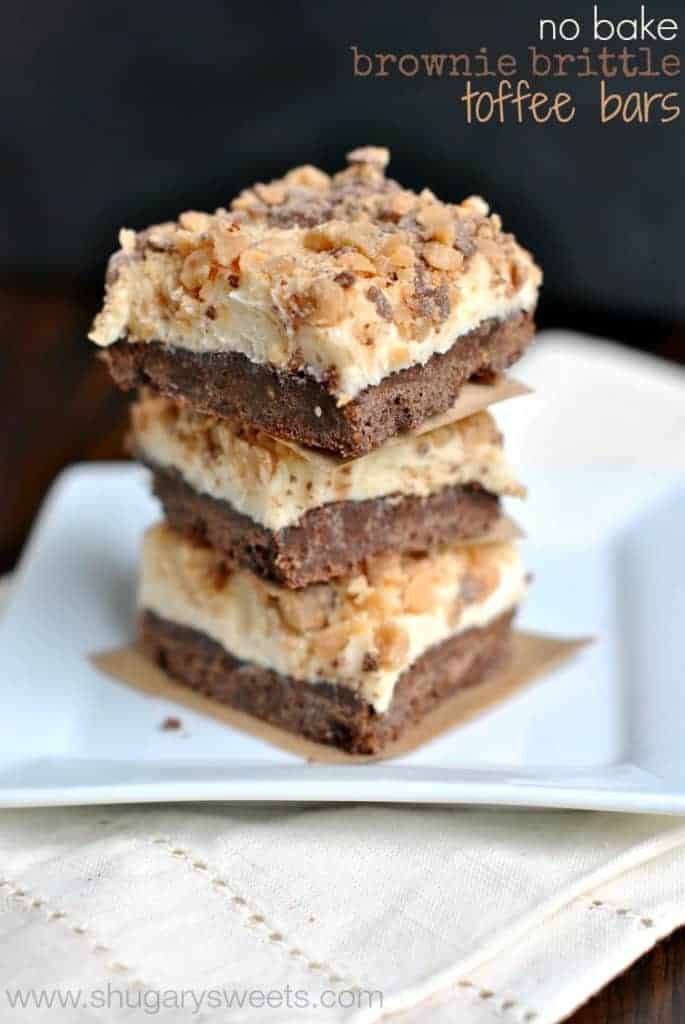 After whipping up a dessert like this, I'm just going to say. I love my job.
Making delicious treats in your kitchen does not have to be time consuming. Doesn't even need to involve an oven. Just a few tasty ingredients (like Brownie Brittle) and you can have this outrageously good dessert in your hands today!
When the folks over at Brownie Brittle contacted me to create some unique treats using their product, I was all in. They wanted me to "brittle" one of my favorite recipes.
It only took me a minute to think about what recipe would be great: Chocolate Peppermint Bars.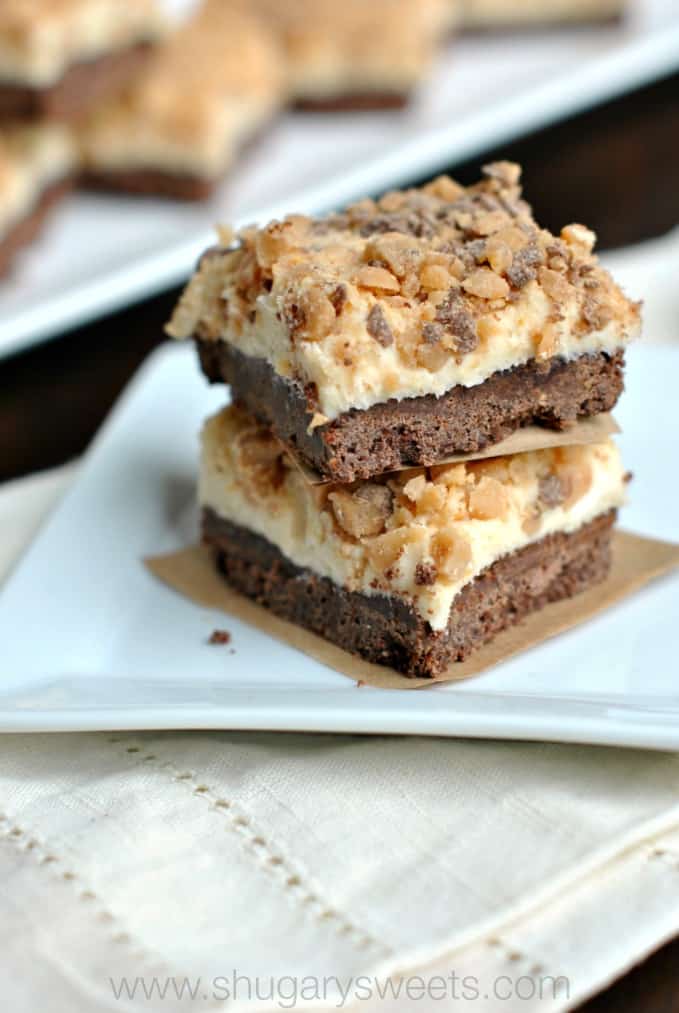 Brownie Brittle is a great substitute for chocolate sandwich cookies in recipes. Love a rich chocolate crust? Grab a bag of Brownie Brittle. Trust me, it's a delicious swap.
By "brittling" today's recipe, I swapped the cookies for a bag of Toffee Crunch Brownie Brittle. I combined this with my melted chocolate. Once you spread it in the bottom of a pan, you freeze while you make the topping. This crust is rich and fudgy, I think you're going to want to Brittle all your recipes!
The creamy topping on the crust layer is what gives a mouthwatering contrast to each bite. This layer is cream cheese, melted vanilla bark (almond bark) and caramel. That's it. Spread it over your hardened crust and immediately press in your toffee bits.
I guarantee this dessert will be a huge hit in your house. If not, feel free to ship it to me, cause I know I will enjoy it!
Connect with Brownie Brittle:
website | twitter | facebook | pinterest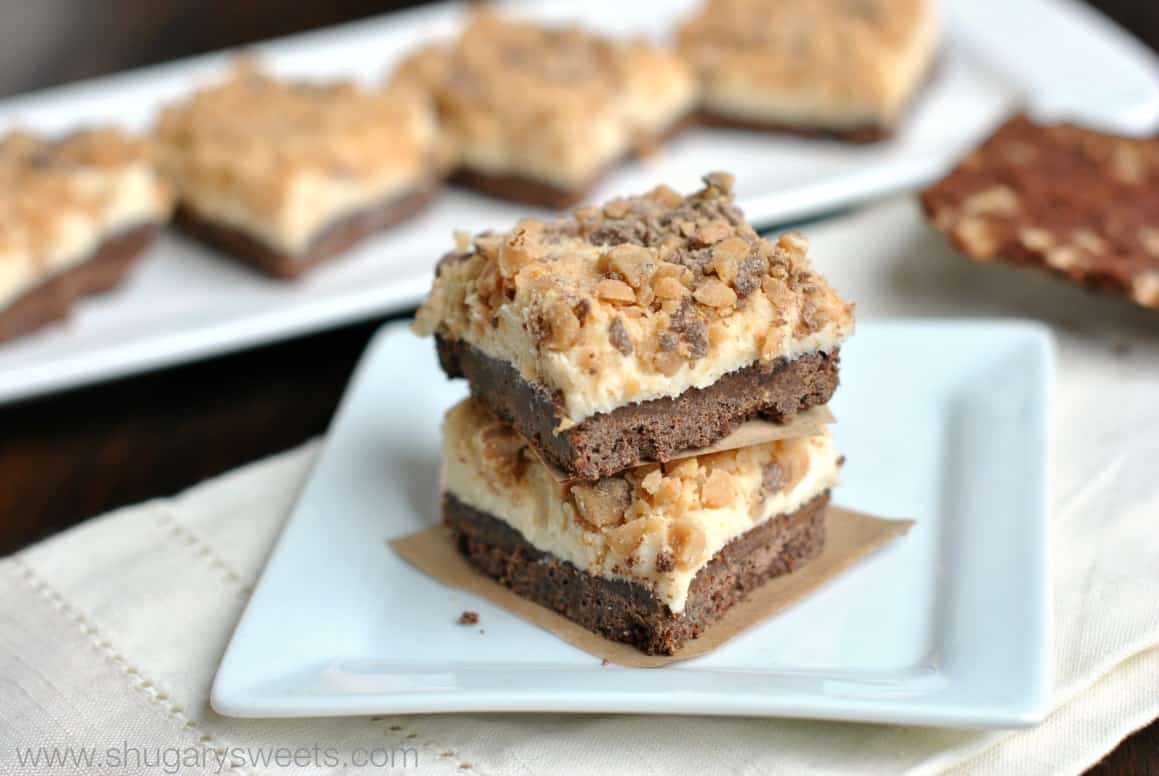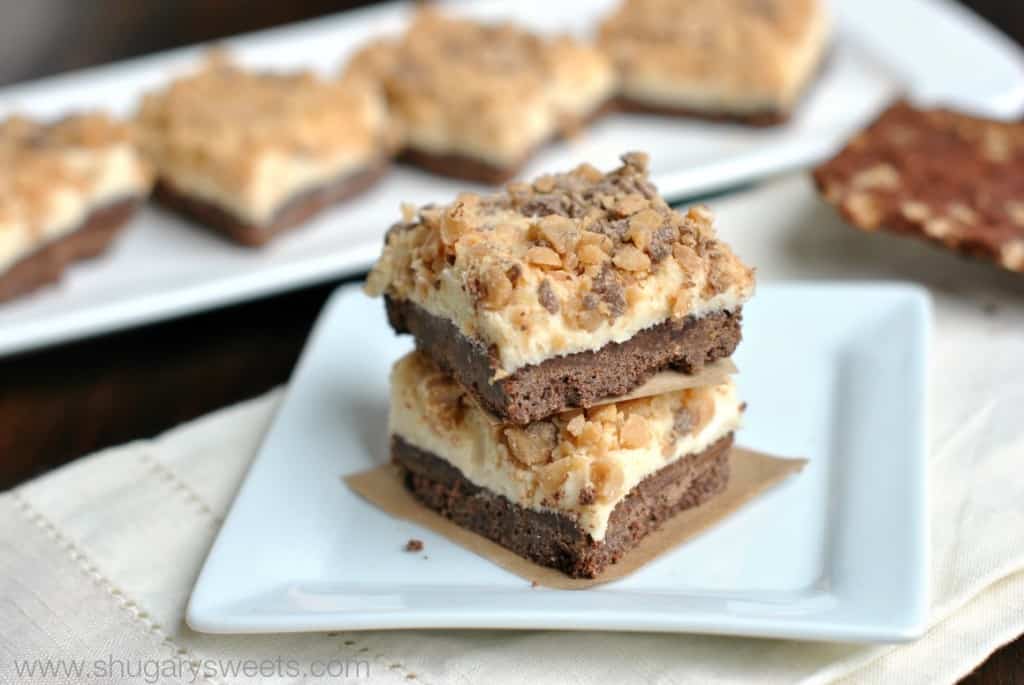 Yield: 25 bars
No Bake Brownie Brittle Toffee Bars
Additional Time
25 minutes
Ingredients
2 packages (5oz each) Toffee Crunch Brownie Brittle
1 cup (8oz) chocolate candy coating, melted
1 cup (8oz) vanilla candy coating, melted
8 oz cream cheese, softened
2 Tbsp caramel sauce (ice cream topping)
3/4 cup toffee bits
Instructions
Line an 8x8inch square baking dish with foil. Set aside.
Using a food processor, process the Brownie Brittle until it becomes a fine crumb. Pour into a bowl. Combine with melted chocolate candy coating. Pour into baking dish. Using the bottom of a cup, or your finger tips, press crumbs into the pan evenly. Place in freezer for about 10 minutes.
Meanwhile, beat cream cheese for about 2 minutes until soft and fluffy. Add melted vanilla candy coating and caramel sauce. Beat until blended. Pour over chilled crust, spreading evenly.
Immediately press toffee bits into the top of the bars. Refrigerate 20 minutes, cut into bars and enjoy!


**Today's recipe is sponsored by Brownie Brittle. All opinions are 100% my own!**