Baked Apples with Lemon Streusel
(thanks to Ashley for this beautiful photo)
I love apple pie. There is no better way to ring in the Fall than with an apple dessert baking in the oven. The aroma through the house was amazing. Being that we are now in September, I thought apples are the perfect dessert. Does it matter that it's 90 degrees outside still? Nope, just turn down that air conditioning until you are chilly!
I was recently invited by Donsuemor to sample a box of their cookies and create a seasonal recipe using their products. One of the first things to come to mind was to make something with apples!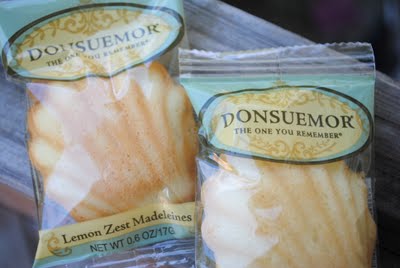 I received two types of treats from Donsuemor, lemon zest madeleines and chocolate madeleines! Now, I have to be honest here, I had never eaten a madeleine prior to these. But, OMG these are amazing. The lemon ones are so buttery and, well, lemony. I knew immediately I would be pairing these with my dessert. The chocolate ones, well, they are gone, eaten, and enjoyed. I wish I had saved them because they would have made a great dessert with peppermint!
The baked apples with the lemon streusel and the lemon infused caramel sauce are absolutely divine. I hope you enjoy them as much as we did here! Thank you Donsuemor for a great product! You can send me more anytime!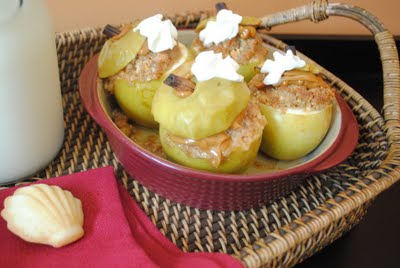 Donsuemor is celebrating national dessert month this October by featuring a "Dessert a Day." So, without further ado…here is my recipe for all of you! Enjoy! Be sure to "like" them on facebook and tell them I sent ya!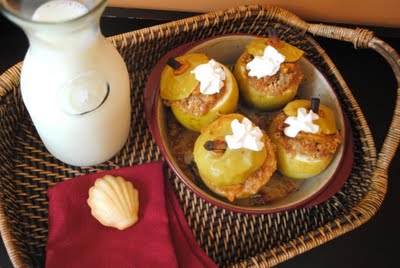 Yield: Serves 4
Baked Apples with Lemon Streusel
Ingredients
4 large granny smith apples
1 lemon
4 Tbsp butter, cut in cubes
1/3 cup brown sugar
1 tsp cinnamon
10 lemon zest madeleines, crumbled (about 2 cups, can substitute pound cake)
2 cinnamon sticks, cut in half
1/4 cup dulce de leche
whipped cream
Instructions
Cut top of apples off, set aside. Core apple and using a paring knife cut the top of the apple a little wider so you can fit more stuffing inside. Repeat for all the apples. Put apples in small baking dish.
Cut lemon in half. Juice half the lemon and drizzle the lemon juice all over the insides of the apples (to help prevent browning).
In a bowl, add butter, brown sugar, cinnamon and madeleines (or pound cake). Use hands to mix and combine butter throughout streusel. Will be crumbly!
Stuff each apple with the streusel by pressing the mixture into the core with fingers. Use remaining streusel to top each apple, pressing firmly. Return top of apple and stick half a cinnamon stick through the center to hold it in place (will also look like a stem).
Bake apples, uncovered, in a 425 degree oven for 15 minutes. While baking, make caramel sauce. In a mixer combine dulce de leche with juice from half of a lemon. Beat for two minutes until creamy.
Remove apples from oven, immediately drizzle with caramel sauce. Top with whipped cream and enjoy warm!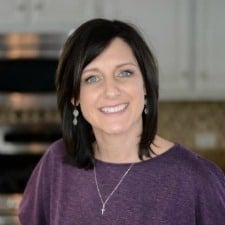 Aimee is a dessert lover (specifically rice krispie treats), workout enthusiast, self-taught foodie, and recipe creator. Her recipes have been featured in over 15 magazines, and her passion is to share her love of cooking with the everyday home cook! Learn more about Aimee.