Big, Bakery Style Blueberry Muffins packed with flavor and blueberries! You'll love these freezer friendly breakfast bites!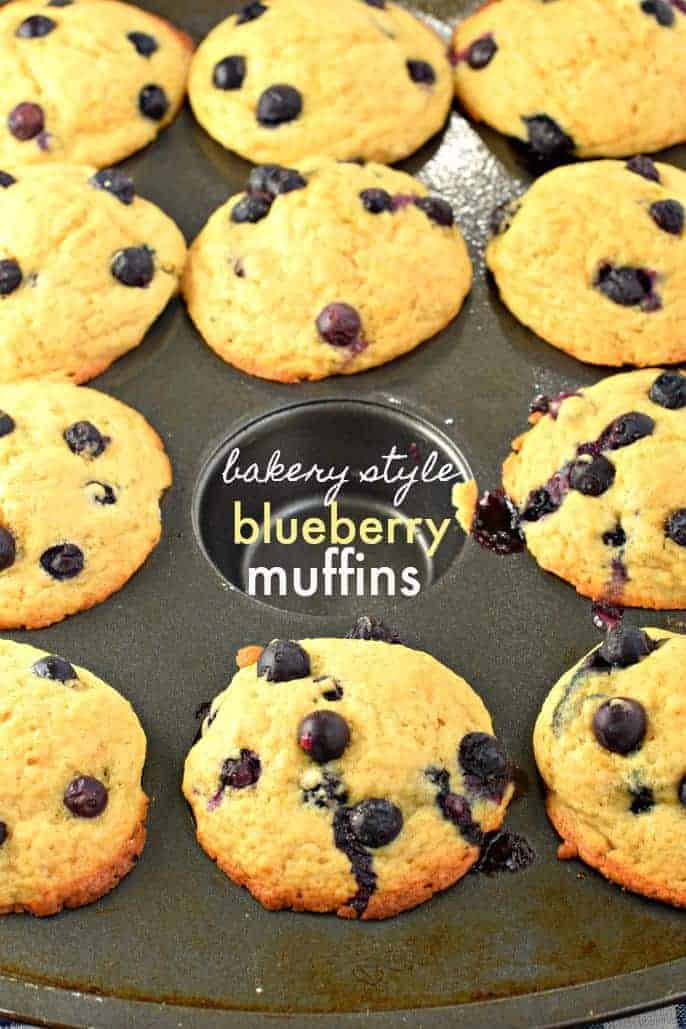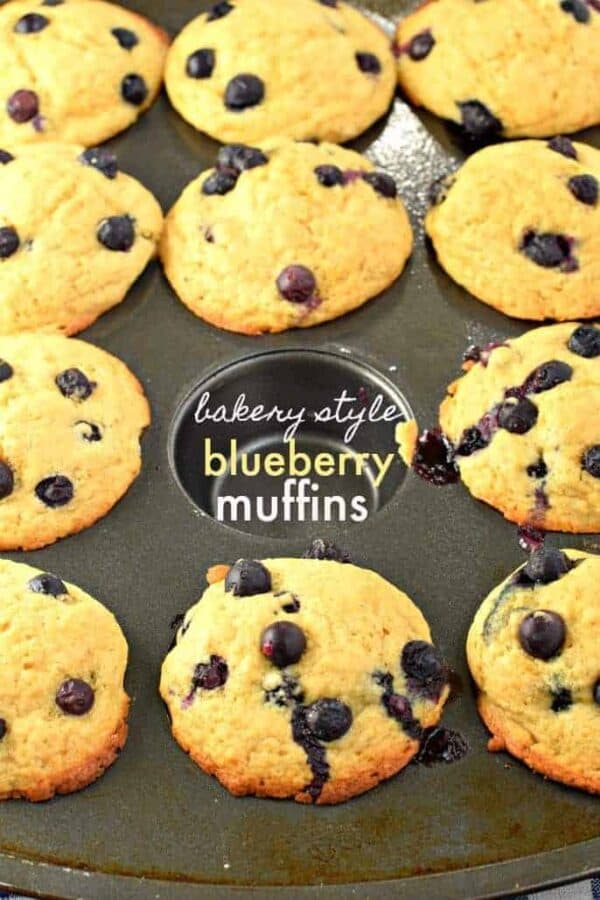 I'm always on the hunt for new muffin recipes. They are my favorite "on the go" breakfast, much like these Egg Muffins!
I know breakfast is the most important meal of the day, I just can't seem to find time in the morning to take that statement seriously. I mean, there's coffee to be drank, facebook to peruse, showering, working out (reverse those two), and laundry. Always laundry. By the time I think to eat something it's lunch time.
Occasionally I can whip up one of these Green Smoothies (honestly they taste amazing), but most mornings it's hard enough to get the kids all out the door and ready for school.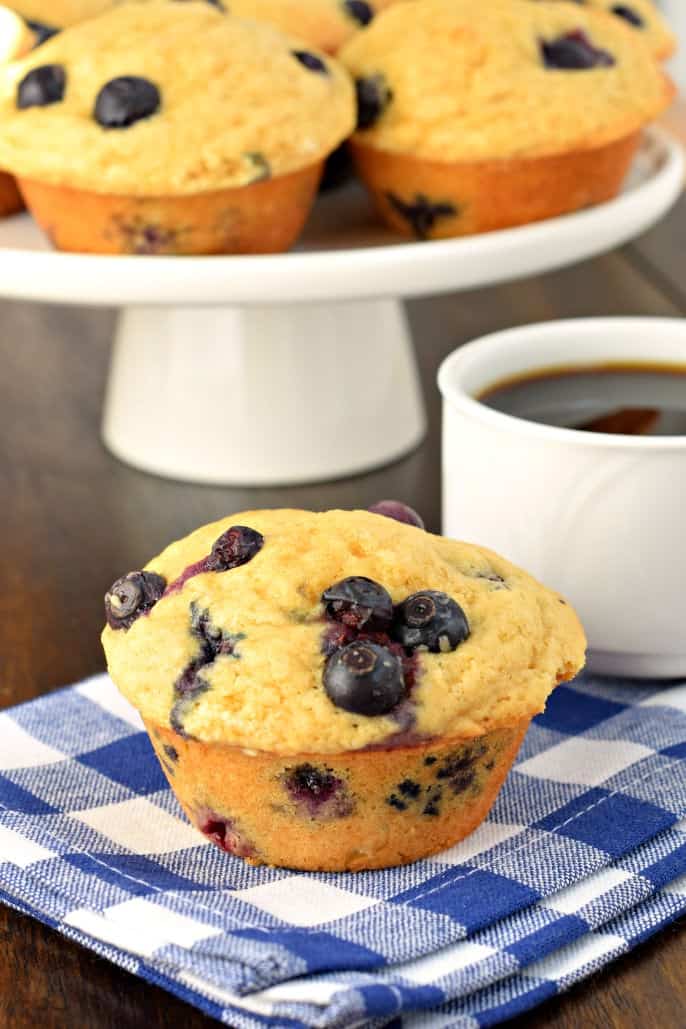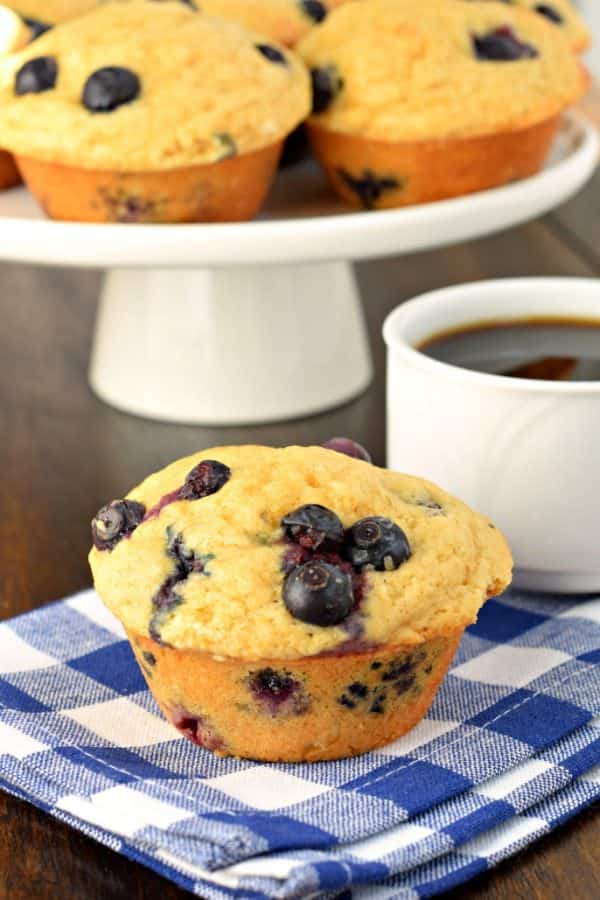 Welcome to summer though. The days of sleeping in and breakfast becomes lunch. No pressure to cook in the morning. Especially if I can have a batch of these muffins on the counter to satisfy my hungry beasts teens. Grabbing one of these delicious Bakery Style Blueberry Muffins is the perfect "appetizer" for their next meal, whatever meal that might be (breakfast, lunch or dinner)!
So what makes them "bakery style", you ask?
I have no idea. Haha. No but seriously, they have big dome tops and a super moist center! If you love Blueberry Muffins, like my family, then give these a try!
I created a fun little group on facebook and I'd love for you to join in! It's a place where you can share YOUR favorite recipes, ask questions, and see what's new with Shugary Sweets (so that you never miss a new recipe)! If you'd like to check it out, you can request to join HERE.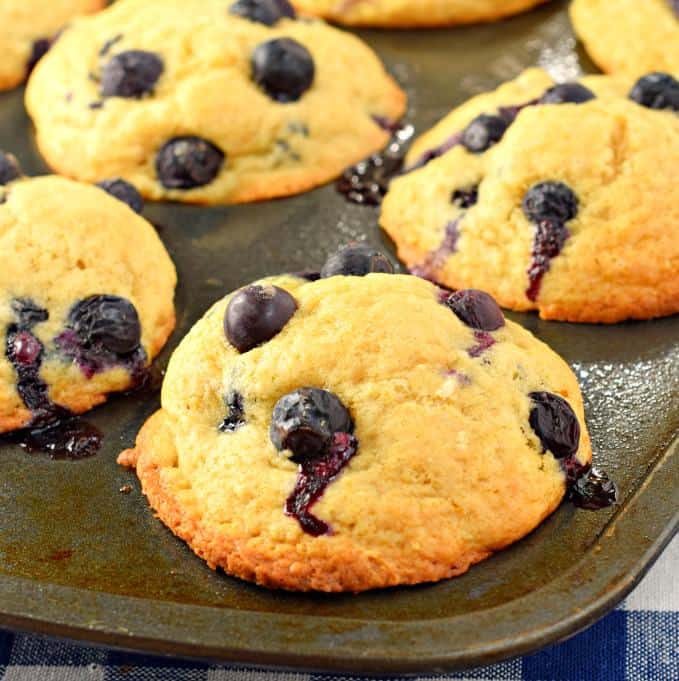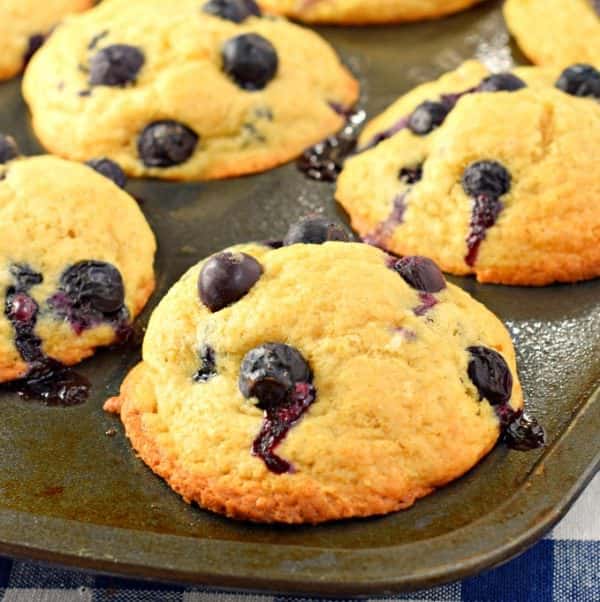 Connect with Shugary Sweets! Be sure to follow me on my social media, so you never miss a post!
Facebook | Twitter | Pinterest | instagram
Yield: 12 muffins
Bakery Style Blueberry Muffins
Big, Bakery Style Blueberry Muffins packed with flavor and blueberries! You'll love these freezer friendly breakfast bites!
Ingredients
1 cup milk
1/4 cup vinegar
2 1/2 cups all-purpose flour
1 Tbsp baking powder
1 tsp baking soda
1/2 tsp salt
1 cup granulated sugar
1/2 cup butter, melted
2 large eggs
1 Tbsp vanilla
1 1/2 cups blueberries (fresh or frozen)
Instructions
Preheat oven to 425ºF. Grease a 12-cup muffin tin with non-stick cooking spray.
In a small bowl, pour the milk and vinegar together. Set aside.
In a large bowl, Combine the flour, baking powder, baking soda, salt and sugar. Add the butter, eggs, vanilla, and the milk + vinegar mixture. Stir JUST until a batter with lumps forms.
Fold in the blueberries.
Fill each muffin cup in the muffin tin to be completely full (about a heaping 1/4 cup).
Bake at 425ºF for 5 minutes. Then decrease the heat to 375ºF (without removing the muffins) and bake for another 13 minutes. Remove from oven and let cool for a few minutes before removing from the tin and serving.
These are delicious for 1-2 days, or freeze for later!