This Banana Cake with Cream Cheese Frosting recipe is everything you want it to be, and more! Two moist layers of 'from scratch' Banana Cake, topped with a sweet frosting!
I love making from scratch cakes. If you're craving the perfect Chocolate Cake or want to try your hand at Coconut Cake, I've got you covered!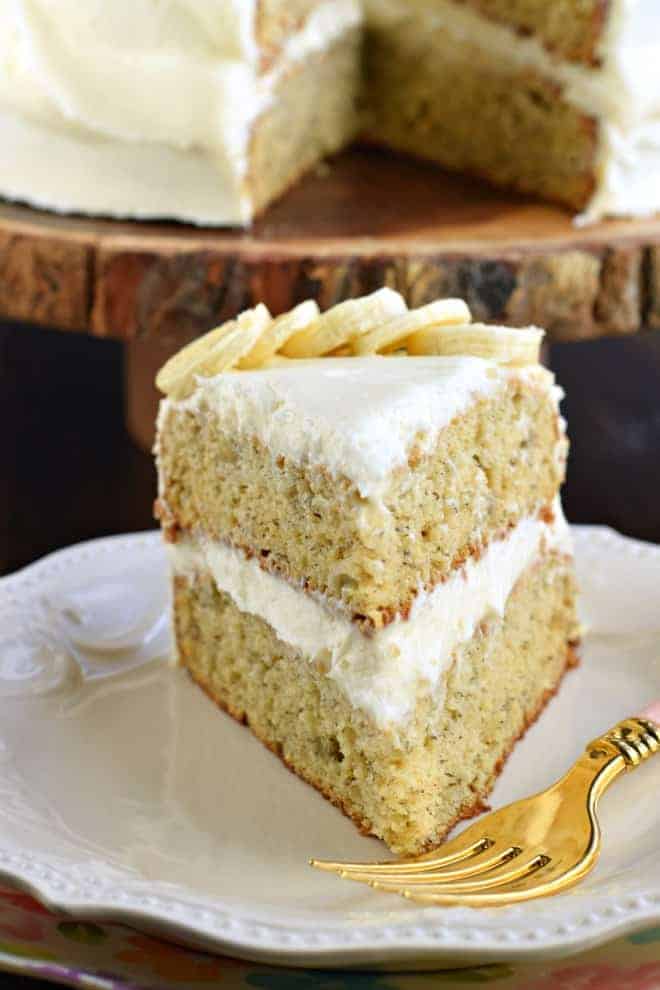 Perfect Birthday Cake
Happy Birthday to me!!!!! Or you. Today could be SOMEONE's birthday, right?
Sometimes you have to take the initiative and wish yourself a happy birthday….and bake your own cake!
As you can see, I baked up a layered Banana Cake with Cream Cheese Frosting. Such a great use for those overripe bananas on the kitchen counter!
You guys, this is what I want every birthday. For real.
A sweet layered cake packed with banana flavor
Covered in cream cheese frosting
And, as you can see I'm not about fancy frosting swirls or crazy garnishes. Just give me an extra large slice of cake (which means I've got lots of frosting).
My kids? They tend to swipe off some of that extra frosting and just eat the cake. So bizarre. I don't complain though, because I just scoop that extra frosting with my spoon and eat it up. I don't get the name "Shugary Sweets" for nothing 🙂
Ingredient Notes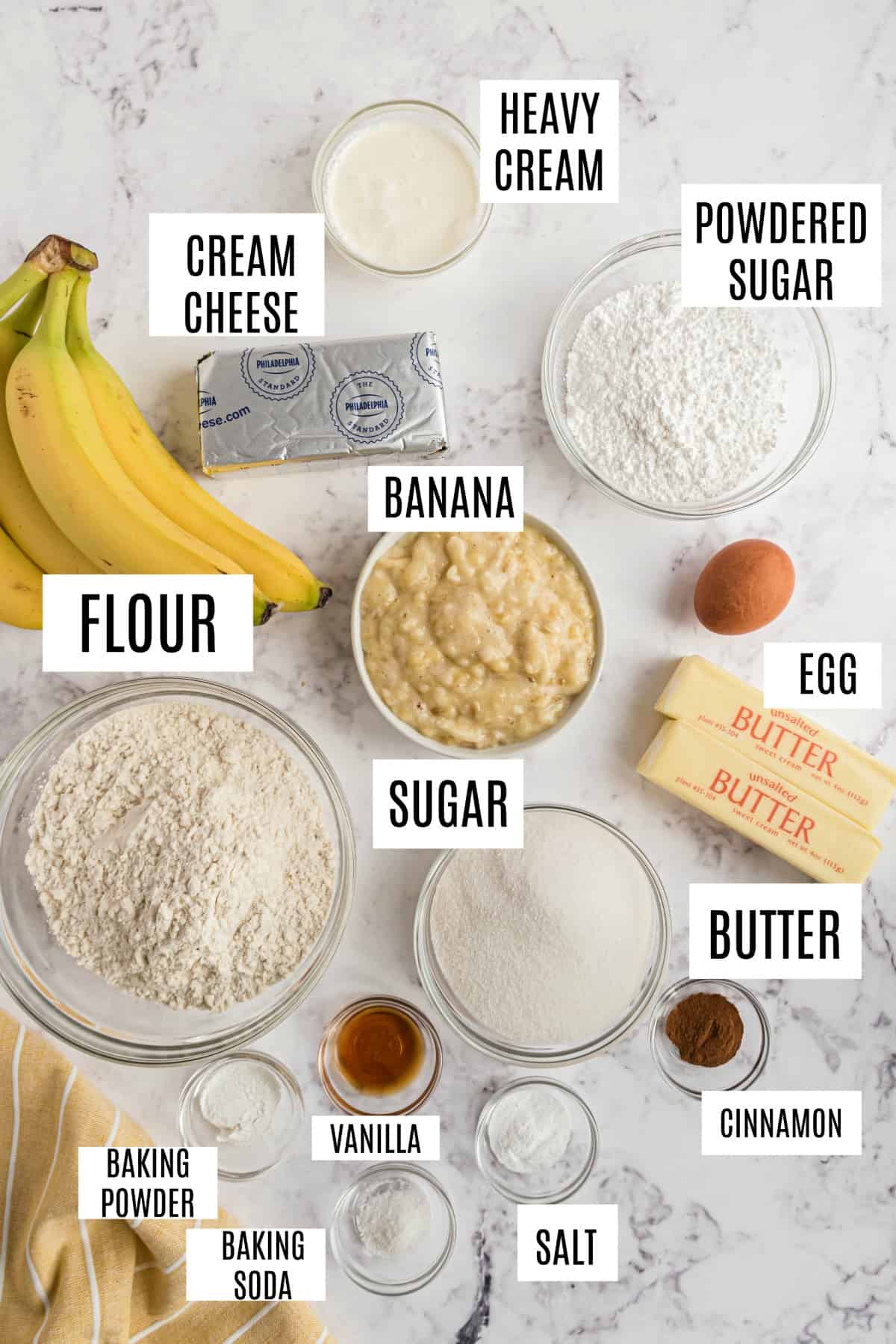 Butter- I use unsalted for 99% of my baking!
Bananas- as ripe as you can get them. The more brown, the sweeter they are! Use our guide on how to ripen bananas in 20 minutes!
Vanilla Extract- love using my homemade vanilla extract in baking.
Substitutions:
You can swap out the sugar and use vanilla sugar if desired!
Add chopped walnuts for a nutty cake!
Use almond extract to add some depth of flavor to the banana cake.
Add cinnamon to the frosting for a hint of warmth.
Step by Step Instructions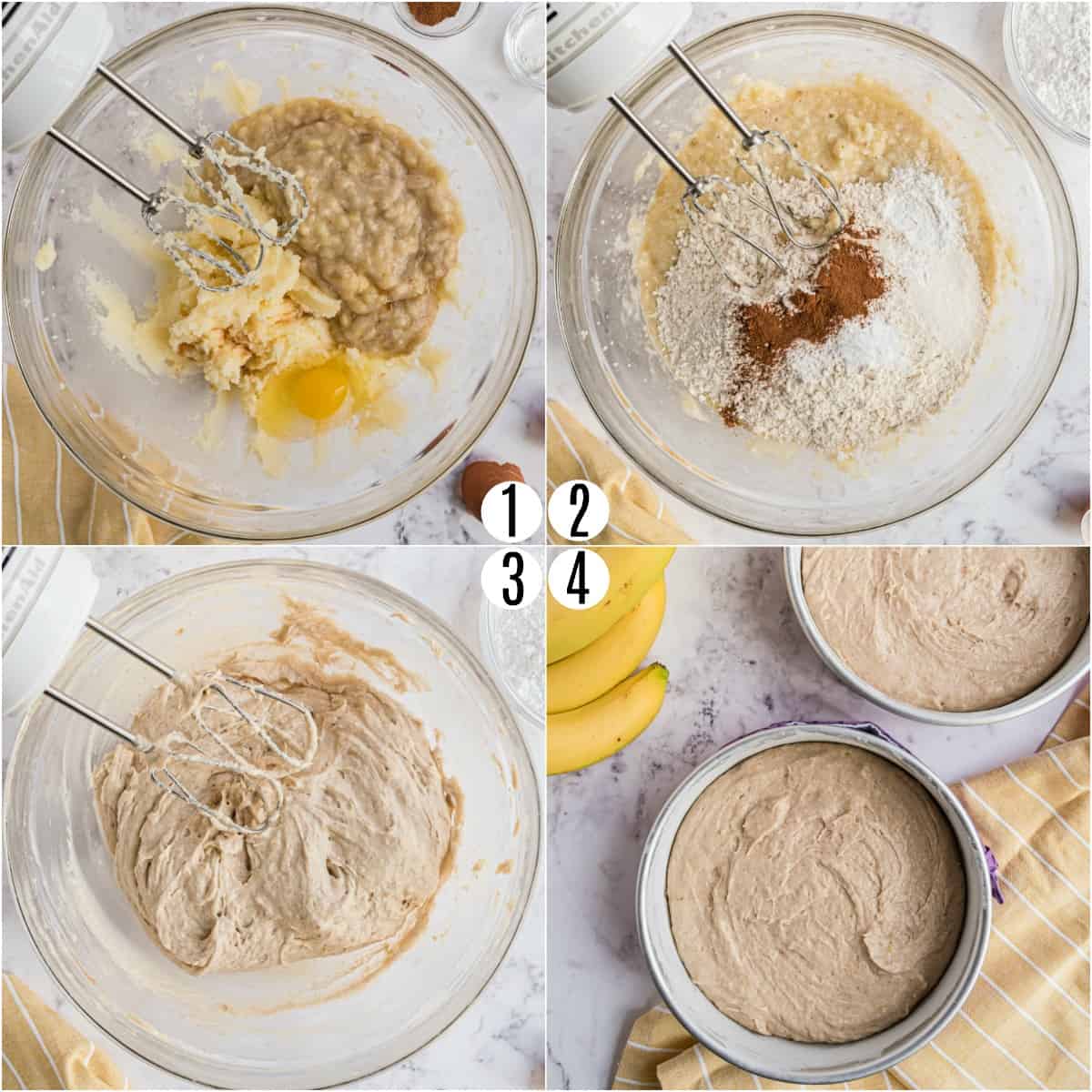 STEP 1: Start by preheating your oven to 350 degrees F. Grease and flour two 9-inch cake pans (or use my homemade pan release).
PRO TIP: When making a layer cake, I like to use these Wilton's Bake Even Strips. It keeps your cake layers level and flat, perfect for stacking (and they just slide right onto your cake pans)!
STEP 2: Beat room temperature butter and sugar in a mixing bowl for several minutes, until creamy. Add in egg, vanilla, and mashed ripe bananas. You can mash banana in a bowl, or directly in your butter mixture.
Add remaining dry ingredients and beat for 2 minutes until fully blended.
STEP 3: Pour batter evenly between the two prepared cake pans. Bake for 25 to 30 minutes. Check if done by toothpick inserted in the center comes out clean. Remove from oven and cool in pans for 10 minutes, then flip onto a cooling rack to cool completely before frosting.
STEP 4: For the cream cheese frosting, beat softened butter and cream cheese in a large bowl for 3-4 minutes until fluffy and pale. Add vanilla extract, heavy cream, and powdered sugar. Beat for an additional 3-4 minutes until light and fluffy.
STEP 5: To assemble the cake, lay one layer of cooled cake on a cake plate. Spoon a generous amount of filling over the first layer. Add second layer of cake. Spread frosting over cake. Slice and enjoy!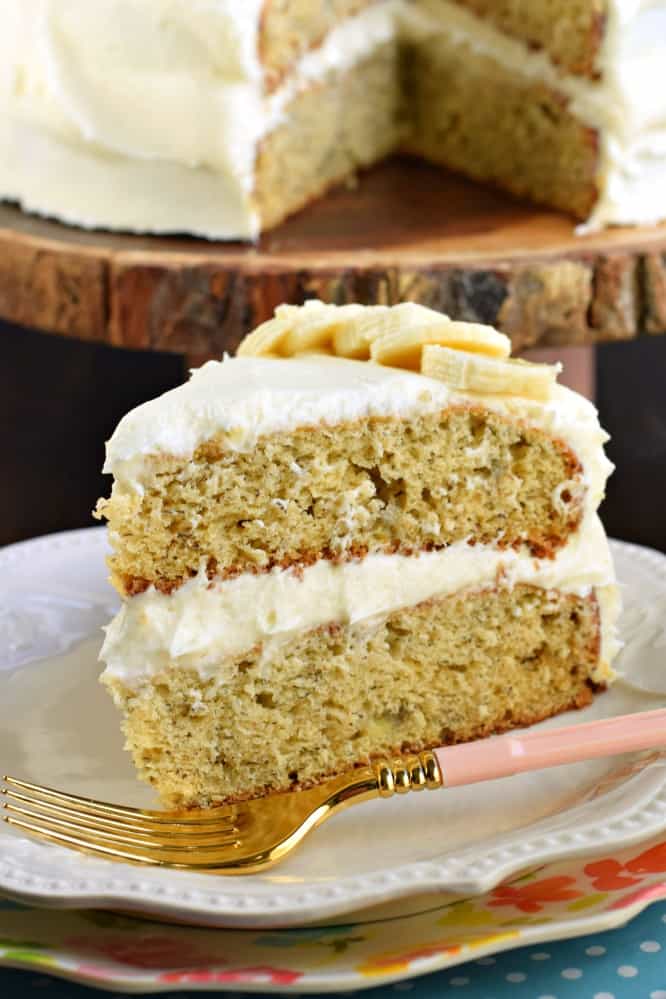 Tips and Tricks
Ensure that your butter (and cream cheese for the frosting) are room temperature.
Don't over mix the cake batter. When adding the dry ingredients, do it just until combined.
Check your oven temperature for accuracy. Oven temps oven vary, so if you don't have a gauge in your oven, be sure to check your cake early.
Use Wilton's bake even strips. They wrap around your cake pan and create LEVEL cakes which results in NO waste.
Recipe FAQs
Do you need to refrigerate banana cake?
Yes. Keep this banana cake covered in the refrigerator for best results, for up to 3 days.
Can you freeze a layered Banana Cake?
You can also freeze this cake (whole) in an airtight container. Or, like I do, cut slices and wrap them individually in plastic wrap. Slide slices into a ziploc freezer bag or airtight container. Thaw in refrigerator overnight and enjoy.
What is the difference between banana bread and banana cake?
Typically banana bread is more dense and baked in a loaf pan. Banana Cake has a light crumb texture and can be made in a 13×9 or cake pans and layered.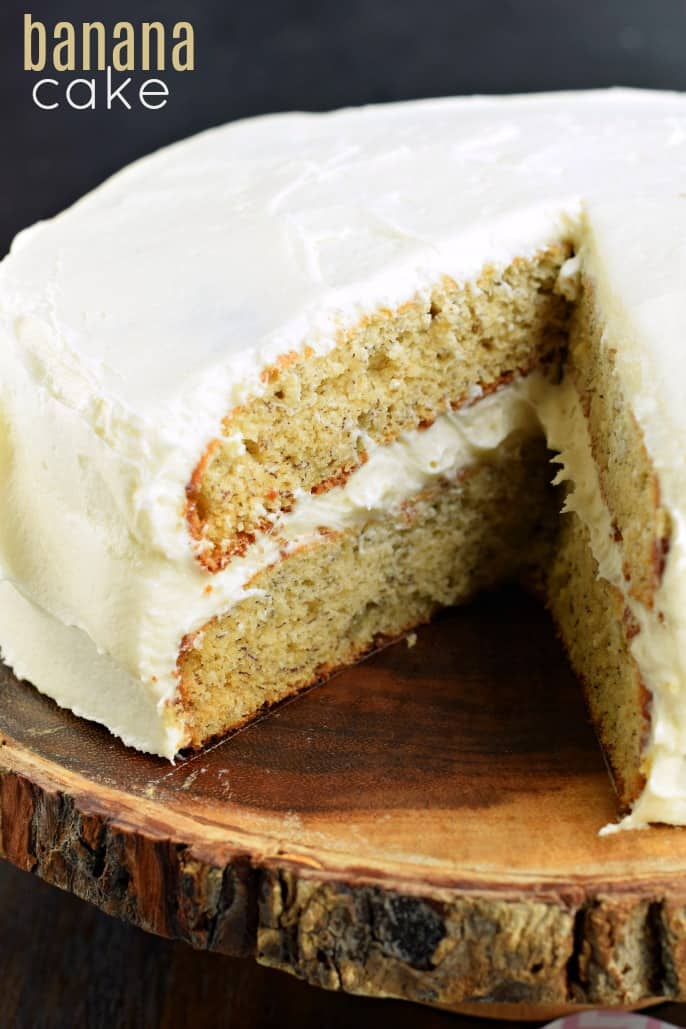 More Banana Recipes
A delicious Banana Cake with Nutella Frosting. Sweet, moist banana cake with a nutty, creamy frosting. Doesn't get much better than this!
So many fun flavors in one cake! This Banana Split Cake has it all…bananas, pineapple, strawberry, chocolate, whipped cream frosting and more! Perfect for a birthday cake, graduation, or just a dessert with family and friends!
No oven needed with this beautiful, layered NO BAKE Banana Cream Cheesecake! You'll love the cookie crust with the creamy cheesecake, fresh bananas, banana pudding and whipped topping!
Add a little texture and tang to your breakfast with this Sour Cream Banana Bread. The addition of sour cream in this recipe is pure genius for the most delicious, moist slice of banana bread!
You're going to love eating these Carrot Cake Muffins for breakfast. Especially since they are topped with a cream cheese frosting and walnuts!
How about baking up a Pumpkin Cream Cheese Bundt Cake this fall? Not only will your house smell amazing, but the flavor of this cake will knock your socks off!
This Carrot Cake Cheesecake Cake is a showstopper! Layers of homemade carrot cake, a cheesecake center and it's all topped with a delicious cream cheese frosting!
Perfect Banana Cake recipe with homemade cream cheese frosting. You'll love this easy, from scratch recipe!