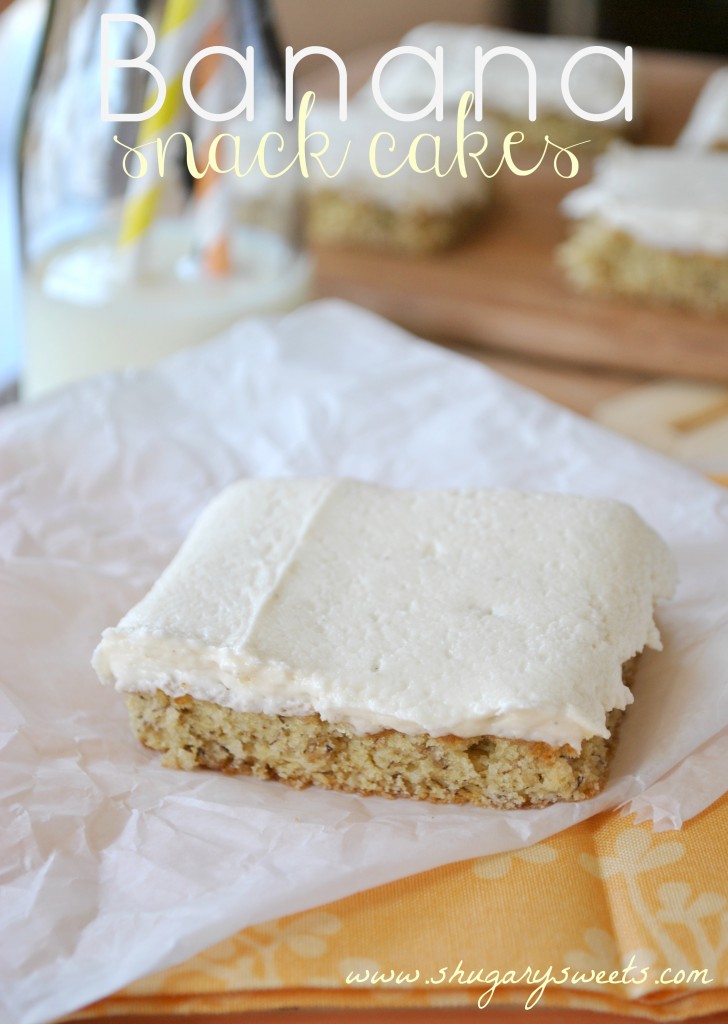 When I was just a teenager I worked at Little Caesar's (pizza!pizza!). One of my favorite things was to work Sundays, when it was a little slower. Our pizza place was in a strip mall and my boss would always send one of us down to the Walgreen's next door for some of the 2/$1 bags of candy. Then she would send someone else to the Sara Lee Outlet next door to buy some individual snack cakes.
She would buy these delicious Banana cakes and we would keep them in the freezer! OMG they were so yummy!
I decided it was time to recreate those snack cakes. Only, I made mine much thinner.
Why, you ask? Well, as good as they would be baked up thick, I prefer a better frosting to cake ratio!
If you enjoy this Banana Snack Cake Recipe, you may also enjoy these recipes….
Banana Cake Recipe– a layered banana cake with creamy cinnamon frosting! from Shugary Sweets
Peanut Butter Banana Cake– a chocolate chip banana cake topped with peanut butter frosting! from A Kitchen Addiction
Banana Cake with Walnuts– a walnut banana cake topped with browned butter frosting! from Lauren's Latest
Banana Snack Cakes
Ingredients
For the Cake:
1/2 cup unsalted butter, softened
1 cup granulated sugar
1 egg
1 tsp vanilla bean paste
3 medium bananas
1 3/4 cup all purpose flour
1 tsp baking powder
1 tsp baking soda
1/2 tsp kosher salt
For the Frosting:
1/2 cup unsalted butter, softened
1 tsp vanilla bean paste
4 cup powdered sugar
1/4 cup skim milk
Instructions
For the cake, beat butter and sugar until creamy, about 3-4 minutes. Beat in egg and vanilla bean paste. Add in bananas, beating until smooth and mashed. Add in flour, baking powder, baking soda and salt. Pour batter into a greased and floured 15x10 baking sheet. Bake in a 350 degree oven for 18-22 minutes. Remove and cool completely.
For the frosting, beat butter with vanilla paste, powdered sugar and milk until creamy (about 5 minutes). Spread over cooled cake, cut into large slices. ENJOY!
**if you don't have vanilla bean paste, you can substitute vanilla extract or one vanilla bean