Birthday Cake Fudge is a fun, festive Disney inspired treat. Packed with cookies and marshmallow, this is one easy fudge recipe you can't resist!
Need some birthday inspired treats? Start with my favorite birthday cake recipe! Don't forget to add a side dish of homemade chocolate ice cream too.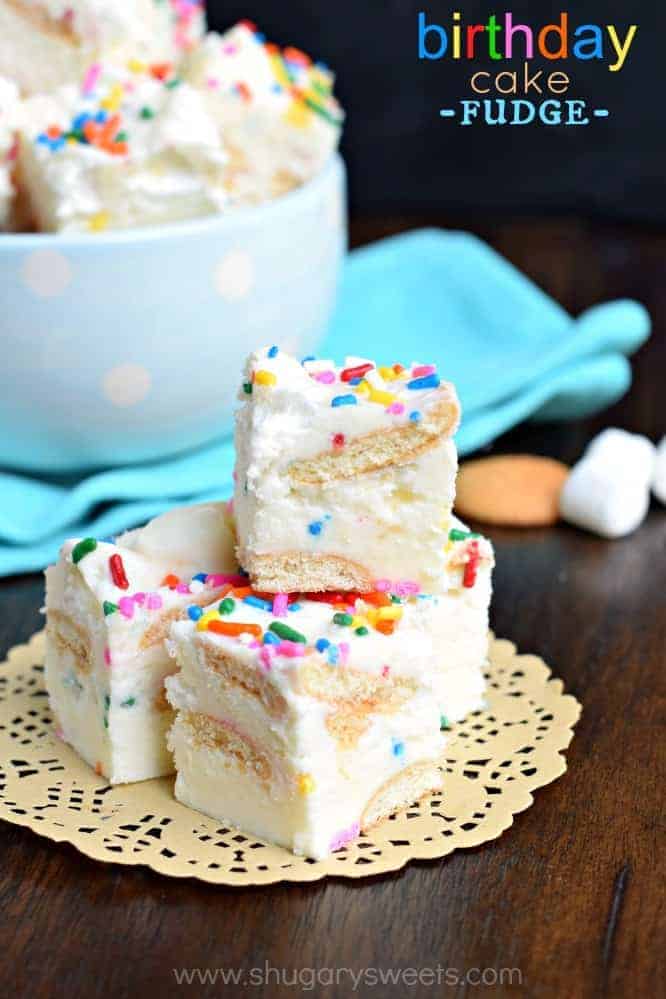 Why this Fudge is Best
I don't know about you, but birthday cakes are the best. They don't have to be elaborate, I prefer them without fondant, but I want them to be packed with flavor (and frosting).
In my ideal world, I would choose either a chocolate cake with vanilla frosting….or a funfetti cake with sprinkles in the frosting. I mean, it's sprinkles. Who doesn't love sprinkles?
Today's fudge is so easy, you'll wonder why you haven't tried it yet!
No candy thermometer needed!
Sets up in a few hours, but can be stored in the fridge for weeks!
Soft and creamy with a crunch thanks to the cookies inside!
My ideal birthday menu would consist of some homemade dinner (chicken tetrazzini please), with a side of sweet potato casserole (yes it's an odd combination), a batch of rice krispie treats, and today's fudge!
Ingredient Notes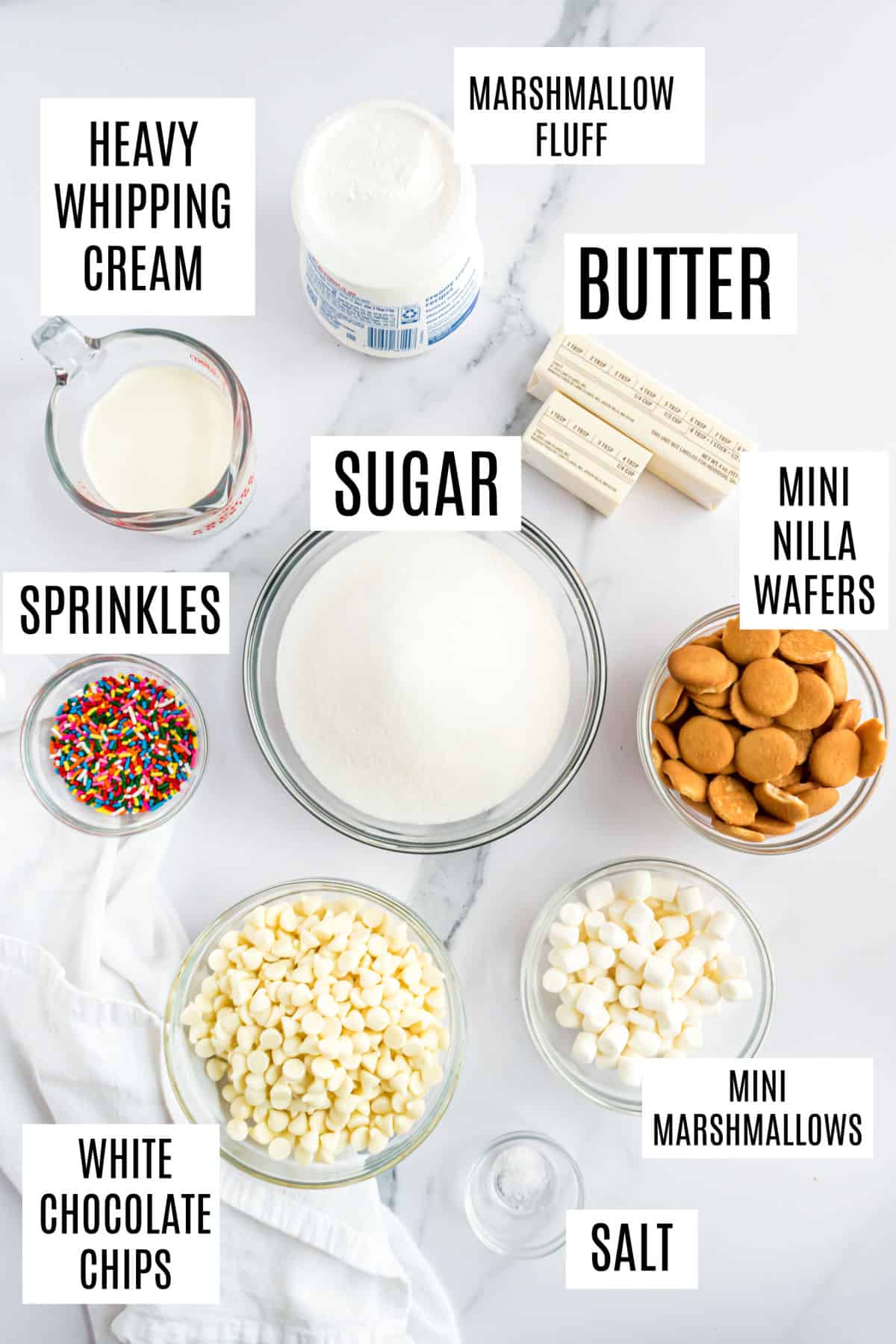 Nilla Wafers – It really helps to use the MINI Nilla Wafers, rather than the full sized ones. They are smaller and incorporate better in the fudge. If all you have are the bigger ones, split them in half.
White Chocolate Chips – Choose a good brand like Ghirardelli since this flavor is key to a delicious tasting fudge.
Marshmallow Fluff – Also called marshmallow creme, this helps give the fudge its soft texture.
Heavy Whipping Cream – Be sure to use the full fat heavy cream. And don't try to substitute with half and half or evaporated milk.
Sprinkles – We are using 1/2 cup of sprinkles in this birthday cake fudge recipe. You'll fold about half into the fudge batter and sprinkle the remaining sprinkles on top for a pretty, festive finish to the fudge.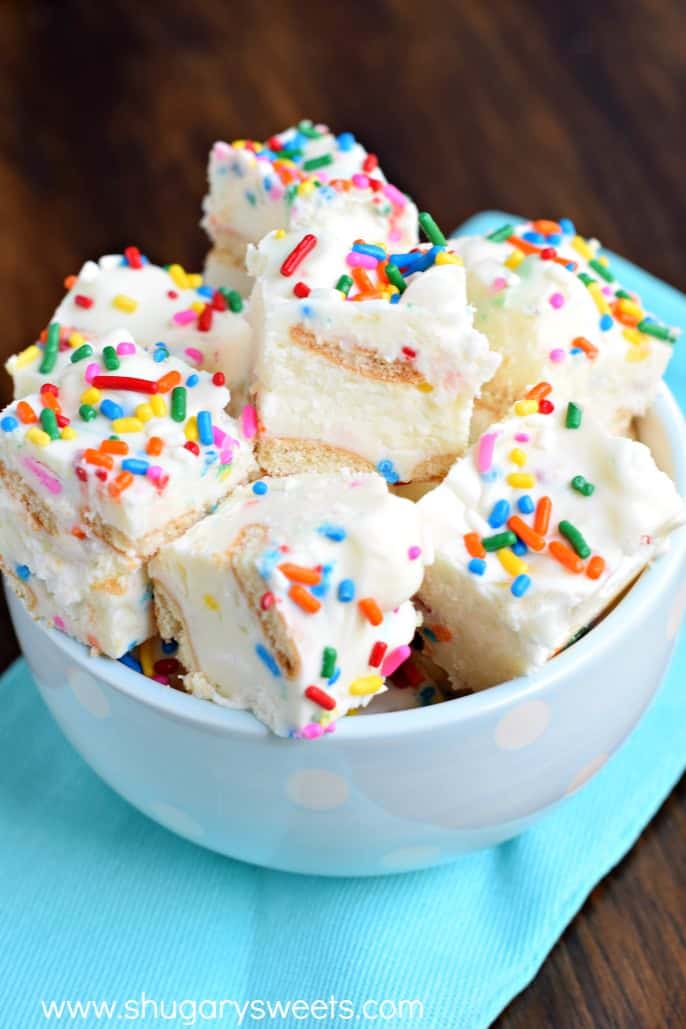 Easy Instructions
Prepare the pan. Line your baking dish with parchment paper and scatter about half of the mini wafers in the bottom of the pan.
Prepare the base ingredients. Add the white chocolate chips and marshmallow fluff to a bowl. No need to stir them together, but this should be ready to go.
Boil the cream mixture. Heat the butter, heavy cream, sugar and salt over medium heat and bring to a boil. Let it boil for 4 minutes then pour the mixture over the ingredients in your mixing bowl.
Beat the fudge mixture. Beat the butter mixture with the white chocolate chips and marshmallow fluff for about one minute, until the white chocolate chips are melted. Gently fold in the remaining cookies, mini marshmallows and about half of the sprinkles.
Pour into pan and let set up. Pour the fudge mixture into the prepared pan, top with the remaining sprinkles and let set up for about 3 hours. Then cut into squares and enjoy!
Tips and Tricks
Use the mini Nilla Wafers if you can find them. This will make cutting the fudge and not having too much "crumble" so much easier. If you can't find the minis, I would break each cookie in half.
Before you start melting your butter and cream mixture, get your other ingredients ready. First, line your 8 inch baking dish with parchment paper. Toss a few cookies (wait, that sounds wrong) into the bottom of the dish (don't cover the bottom, but add a few cookies). Second, add your white chocolate and marshmallow fluff to your mixing bowl so it's ready to melt when you add the hot cream mixture over it.
GENTLY fold your remaining cookies and mini marshmallows into the fudge mixture. Do not overmix. Add a few sprinkles and quickly pour this into your prepared dish. Top it with MORE sprinkles (why not??)
Slice the fudge as you go. Only cut your fudge as you plan to use it, leaving the remaining block uncut. This helps keep the remaining fudge as fresh as possible.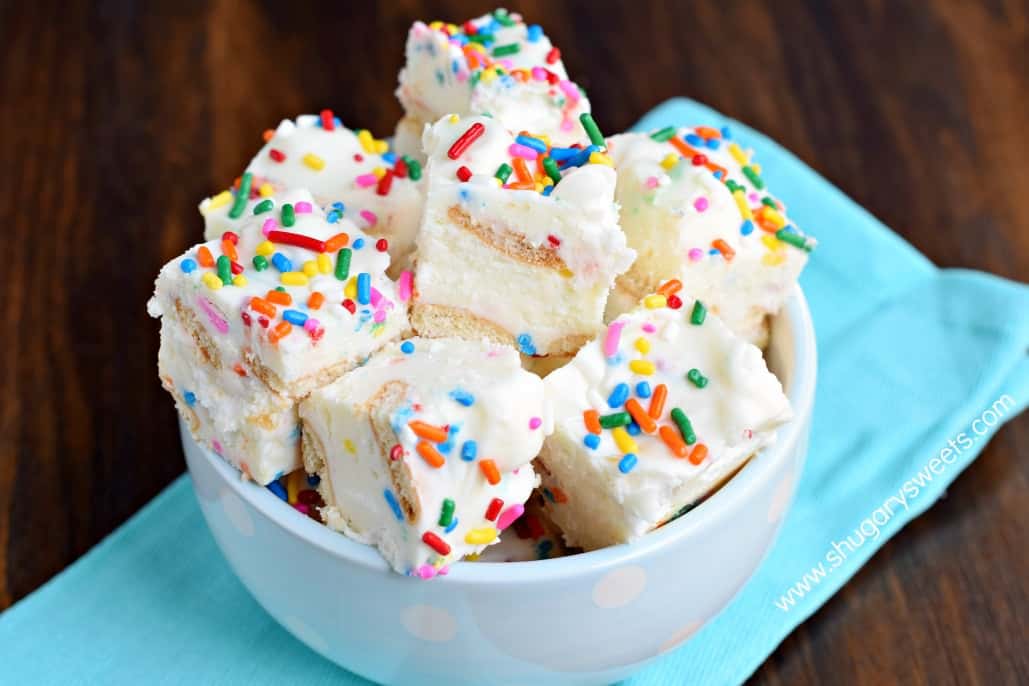 Recipe FAQs
How do I store birthday cake fudge?
For best results, store fudge in an airtight container at room temperature. I prefer to leave the fudge UNCUT until ready to serve, as this helps keep it from drying out. Fudge does not need to be refrigerated, but you can refrigerate for up to 3 weeks to extend the shelf life. Allow it to come to room temperature before slicing.
Can I freeze fudge?
Yes, you can freeze fudge for up to 3 months. Place in an airtight freezer safe bag, with a label and date on it, then squeeze all the air out before placing it in the freezer. Let thaw in the refrigerator overnight before enjoying.
Do I need a candy thermometer to make fudge?
Nope! This recipe uses marshmallow fluff and white chocolate chips to create a soft fudge consistency with no hassle.
More Easy Dessert Recipes