Biscoff French Toast Rolls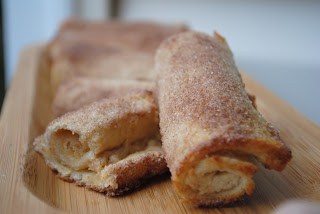 I thought Biscoff spread is a type of peanut butter. Or almond butter. Or something like that. I had no idea it is this amazing spread that tastes like cookies. I might even go far enough to say it's better than Nutella. Might. But don't quote me.
So I have seen others posting recipes using Biscoff but had not yet ventured into buying it myself. Then a friend told me it was at Kroger, so of course I had to stop by and get it (and a few other things too). I opened the jar right up, and took a sample. Yes, by sample I mean 3 large spoonfuls. Then I cut up an apple and dipped that too. And, I may have cried a tear or two that the jar was now half gone and I haven't even shared or made anything, and I've been home from the grocery store for less than an hour.
Fast forward one day. Or 8 hours I should say. I woke up wanting more Biscoff. I'm sure there is some sort of addictive quality to this stuff that keeps you coming back for more. I was hooked. And I made this for breakfast… (took 5 minutes to make, and only 10 to cook…just the cure for an addict like me).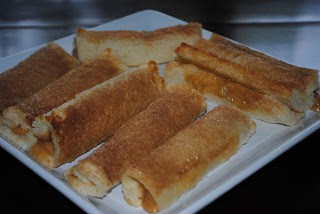 Yield: 12
Biscoff French Toast Rolls
Ingredients
4 oz cream cheese
1/4 cup Biscoff spread
1/4 cup sugar
1 egg
12 slices of bread, crust cut off
3 Tbsp butter, melted
1Tbsp sugar
1 tsp cinnamon
Instructions
In mixer, blend cream cheese, Biscoff and sugar until creamy. Mix in egg. Set aside.
Flatten your slices of bread (I used my hands, but you can use a rolling pin if you choose). Spread cream cheese mixture on each slice, dividing evenly. Roll slices of bread up (mine rolled up lengthwise because I used country white bread). Place seam side down in 13x9 baking dish.
Mix 1 Tbsp sugar and cinnamon together in small bowl. Brush melted butter on tops of bread and sprinkle GENEROUSLY with cinnamon sugar mixture.
Bake in a 400 degree oven for 10 minutes. Remove and eat warm. Enjoy!