Biscoff S'mores Whoopie Pies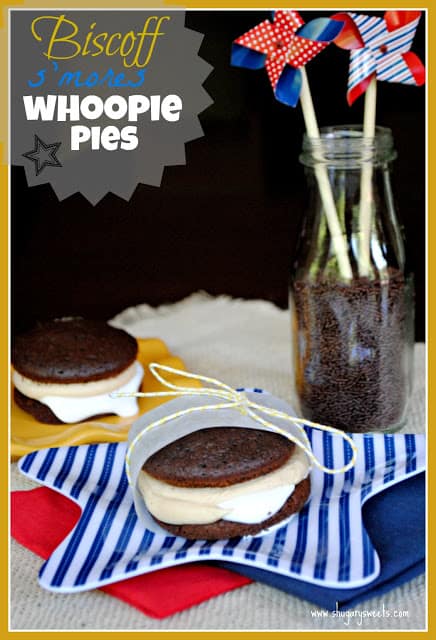 By now I think I have given you plenty of time to purchase your own jars of Biscoff. Certainly you have done so right? You can order it online if you can't find it in the stores.
I know what you're thinking, is it worth ordering online?
YES!! This stuff is simply amazing.
And these whoopie pies? Over the top delicious. I really wanted to make a biscoff buttercream, but I wasn't in the mood for cupcakes. So I made these darling whoopie pies.
They are messy, rich, and delicious.
Go whip up a batch. You'll thank me later! The biscoff buttercream would also be fabulous on cupcakes if you don't have a whoopie pie pan. Just bake some chocolate cupcakes and top with the marshmallow and buttercream. I wish I had more of these left to eat…they were so good!
Want more Biscoff recipes? Check these out….
Yield: 18
Biscoff S'mores Whoopie Pies
Ingredients
For the Pie:
1 box (18.25oz) Devils Food Cake mix
3 eggs
1/2 cup canola oil
1 1/3 cup water
For the Filling:
1/4 cup butter, softened
1/2 cup Biscoff creamy spread
3 cup powdered sugar
1/4-1/2 cup milk
1 cup marshmallow cream (Fluff)
Instructions
In mixing bowl, beat cake mix, eggs, canola oil and water for 2-3 minutes until smooth. Spray whoopie pie pan with baking spray and fill each cavity half full. Bake in a 350 degree oven for 10-12 minutes. You should have about 36 halves (to make 18 pies). Allow to cool completely on wire rack.
For the filling, beat butter with biscoff, sugar and milk. Add more milk until desired consistency. Beat for about 3-4 minutes until fluffy. This will make more filling than you need, but you can freeze it for another time, eat it from a spoon, or make some cupcakes (it's a great buttercream frosting)!
To assemble, spread about 1 Tbsp marshmallow cream on 18 halves (I just dolloped it on, doesn't spread well). Put your frosting in a pastry bag, and pipe on top of marshmallow. Top with second half of cake. Store in refrigerator so they don't get melty! Enjoy!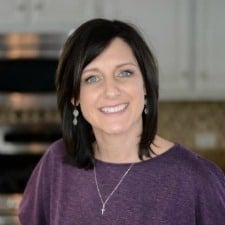 Aimee is a dessert lover (specifically rice krispie treats), workout enthusiast, self-taught foodie, and recipe creator. Her recipes have been featured in over 15 magazines, and her passion is to share her love of cooking with the everyday home cook! Learn more about Aimee.