Biscoff Truffles and a Giveaway!!!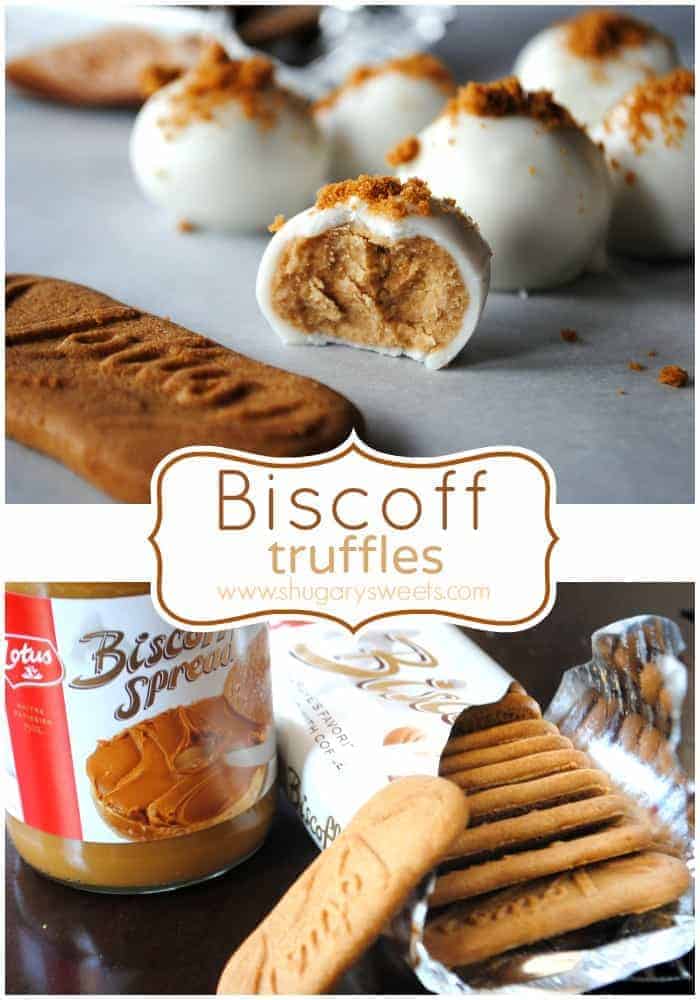 Guess what today is??? Yes, November 1st. Which in my house means we are getting ready for Christmas. All the fall things are being put away, and the winter and Christmas decos are being brought out. I LOVE IT.
What's that you say? You are not in the mood to celebrate yet? Well, have I got the perfect mood lifter for you! In the spirit of the Christmas season, I am having my first giveaway!
Ever since I discovered Biscoff spread, my mind has been on how I can best use this product in my baking. Don't get me wrong, it's perfectly delicious eaten straight from the jar. It may be one of the preferred methods, via a spoon! However, there are other options.
You can make Biscoff French Toast Roll ups, Biscoff Rice Krispie Treats, and even Biscoff Candy Bar Fudge. I've also made you some Biscoff Truffles today.
Oh. You can't find Biscoff spread in your grocery store? Well, that makes me really sad. I'm lucky enough to find it in my Kroger. You are all so wonderful visiting me here at Shugary Sweets, that I want you to be able to make ALL my recipes. So the kind people at Biscoff have generously donated THIS for one lucky winner (a twin pack of Biscoff Spread)!!
Here are the rules. Okay. There is only one rule: 
CONTEST IS NOW CLOSED!
Biscoff Truffles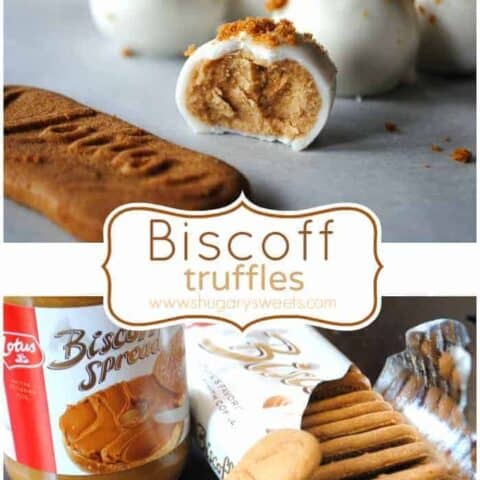 Ingredients
1/4 cup butter, melted
3/4 cup Biscoff spread
1 1/4 cup powdered sugar
1/2 tsp vanilla extract
12 oz vanilla candy coating, melted
2 Biscoff cookies, crushed
Instructions
In mixing bowl, blend melted butter with Biscoff spread, powdered sugar and vanilla. Will be crumbly.
Make one inch balls by scooping some crumbs and rolling into ball in hands. The crumbs will come together once worked with. When all the mixture has been formed into balls, place them on a cookie sheet. Freeze for 30 minutes.
Put melted candy coating in a bowl, and crushed cookies in a separate bowl. Using a toothpick, dip each truffle into candy coating. Tap against side of bowl to shake off excess chocolate. Immediately sprinkle with cookie crumbs. Repeat until all truffles are coated. Allow to set (about 10 minutes). Enjoy!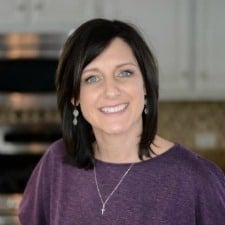 Aimee is a dessert lover (specifically rice krispie treats), workout enthusiast, self-taught foodie, and recipe creator. Her recipes have been featured in over 15 magazines, and her passion is to share her love of cooking with the everyday home cook! Learn more about Aimee.