Adding blueberries to Banana bread is just a good idea. One slice of this Blueberry Banana Bread recipe and you'll totally understand. I enjoyed my slice of bread with a hot cup of coffee!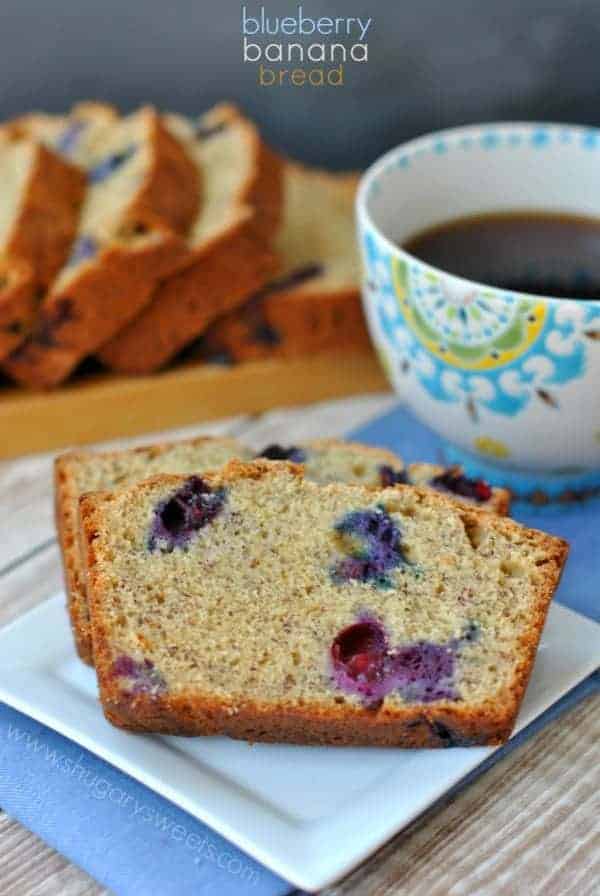 Being sick is no fun. Especially when you have a lot of work to do and have been procrastinating.
I've been putting off packing for our big move for several weeks now and now it's only about two weeks away! The bad news is I haven't packed anything since we put our house on the market.
I started out well. In the beginning, I packed like crazy. I was doing the 40 bags in 40 days challenge, giving things away to Goodwill every day of the week! We exceeded our quota, and even got some boxes packed along the way. But then the house went on the market and we stopped packing.
I thought I would do some this week, but then I got sick. I'm not even sure what was wrong with me—some sort of chest cold, fever, cough, sore throat thing. (Sounds delightful, right?)
Fortunately, I'm starting to feel better, but instead of packing, I now have to play catch up on work!
I sound pretty whiny, I know.
Because "catch up on work" pretty much means "make and eat food."
It's rough.
But this yummy Blueberry Banana Bread was no work at all. I used my favorite banana bread recipe and tweaked it just a little. It's so moist and flavorful and only requires some basic pantry ingredients. No need to dash to the store to pick anything special up!
I used fresh blueberries in this bread, but frozen would also work just fine. The only thing I've found with using frozen blueberries is that they tend to color the bread blue! They still taste delicious though. Maybe your little ones prefer blue banana bread anyway!
This bread freezes really well too. It's a great option if you want to make it in advance or double the recipe!
Now, who wants to come over and help me finish packing? I promise to make you a loaf of this delicious blueberry banana bread!
How to Make Blueberry Banana Bread
STEP 1: Preheat your oven to 350 degrees.
STEP 2: Grease a 9″x 5″ loaf pan with baking spray. I like to line the bottom with parchment paper too, just as an extra precaution.
STEP 3: Soften your butter. In a large bowl, combine the butter, flour, sugar, baking powder, baking soda, salt, milk, and eggs. Mash your bananas and add them to the mixture.
Beat until well blended, about two to three minutes. Then, fold in your blueberries.
STEP 4: Pour the batter into your prepared loaf pan and bake for one hour. Stick a toothpick in the center of your bread to check if it's done. The toothpick will come out clean once it's ready.
STEP 5: Remove the loaf pan and set it on a wire rack to cool for 15 minutes. Then, remove the loaf from the pan and allow it to cool completely on the wire rack.
STEP 6: Store in an airtight container at room temperature for up to 5 days. You can also freeze the prepared loaf and enjoy it at a later time!

How do you freeze Blueberry Banana Bread?
Like I mentioned above, this blueberry banana bread freezes really well. You can always double this great recipe and have one loaf for now and freeze one for later!
To freeze the bread, wait until the prepared banana loaf is completely cooled. Wrap it up in foil and stick it in a freezer safe bag. So easy!
You can store it this way for several months. Defrost it overnight when you're ready to serve and then enjoy!
Tips for making the BEST Blueberry Banana Bread
Overripe bananas work best. The more brown the bananas are, the better.
You can use fresh or frozen blueberries for this recipe. Frozen blueberries will give the bread more of a blue color but won't affect the taste.
Use parchment paper at the bottom of your loaf pan so the blueberries don't stick.
Add a cinnamon sugar topping to the top of this banana bread before sticking it in the oven. This creates a sweet crust topping, like I have in my Snickerdoodle Banana Bread.
Or you can add a glaze topping like I did in these blueberry donut muffins.
Easily double the recipe to make two loaves, one for eating now, one for freezing for later!
Sprinkle a little brown sugar on the top of the bread before baking for a quick streusel like texture.
Swap out blueberries for chocolate chips for a whole different flavor!

What you'll need for Blueberry Banana Bread Recipe
Tools
9″x 5″ loaf pan
Parchment paper
Large bowl
Electric Mixer or stand mixer – on Amazon!
Wire rack
Airtight container
Ingredients
All-purpose flour
Granulated sugar
Baking powder
Baking soda
Kosher salt
Ripe bananas, mashed
Unsalted butter, softened
Milk
Large eggs
Fresh blueberries
Baking spray
MORE BLUEBERRY RECIPES

MORE BANANA BREAD RECIPES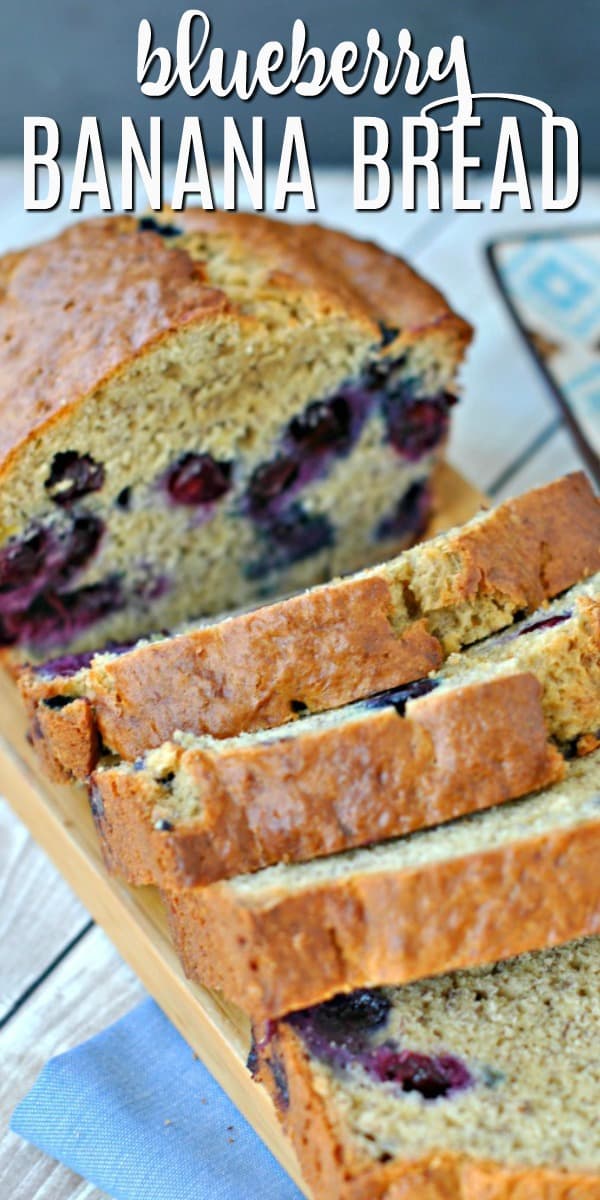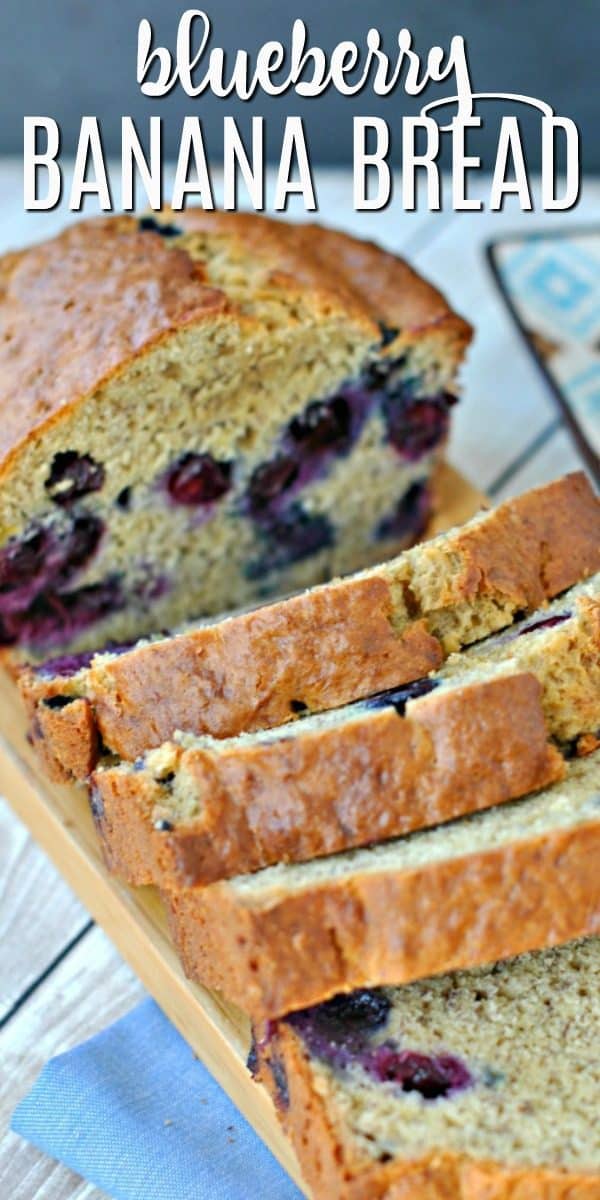 Recipe originally published June 14, 2014. Photos updated April 2019.
Blueberry Banana Bread recipe packed with flavor. You'll love a slice of this moist banana bread with your morning coffee.