Sweet and salty, these no bake Blueberry Cashew Caramel Clusters with DOVE Chocolate are going to be your new, go-to summer treat!
**This post is sponsored by DOVE® Chocolate. I'm excited to partner with them this year to create delicious recipes for you! All opinions are 100% my own!**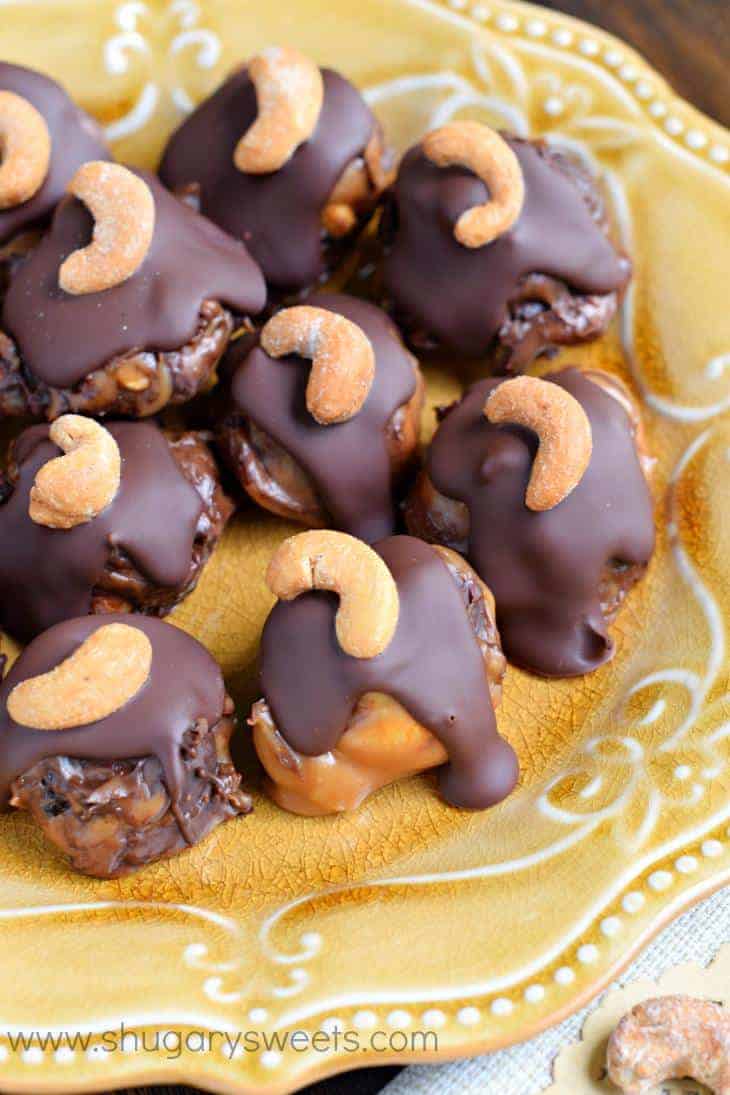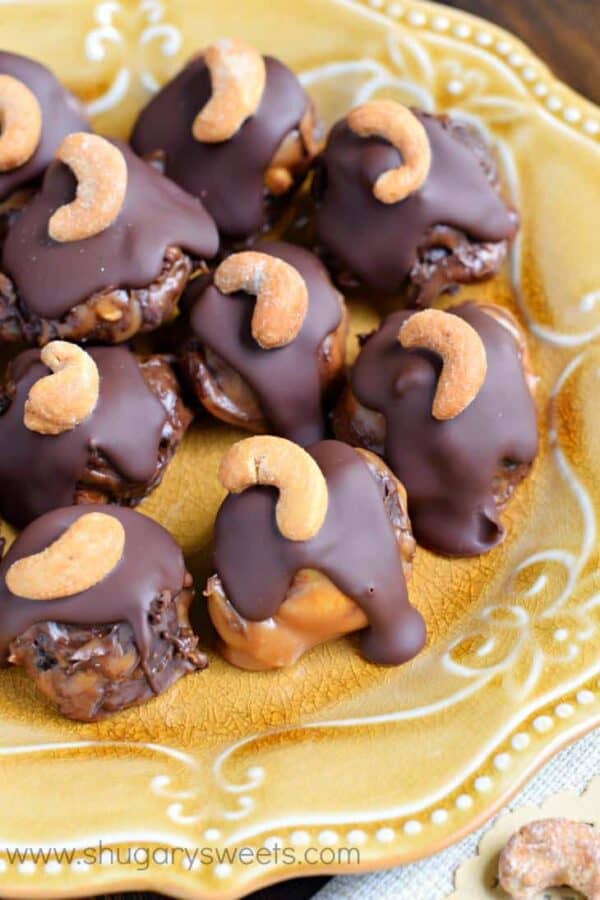 Summer is officially in full swing. Which means the kids are out of school, the weather is warm, the sunscreen is lathered on thick, and the oven is off.
While I hate using the oven in the summer, I still like to enjoy some delicious desserts. If you feel the same way, don't worry, I've got your back!
Today's Blueberry Cashew Caramel Clusters recipe is an easy, no bake treat. I love making candy recipes, and using my favorite DOVE® Chocolate in a recipe is a serious no brainer.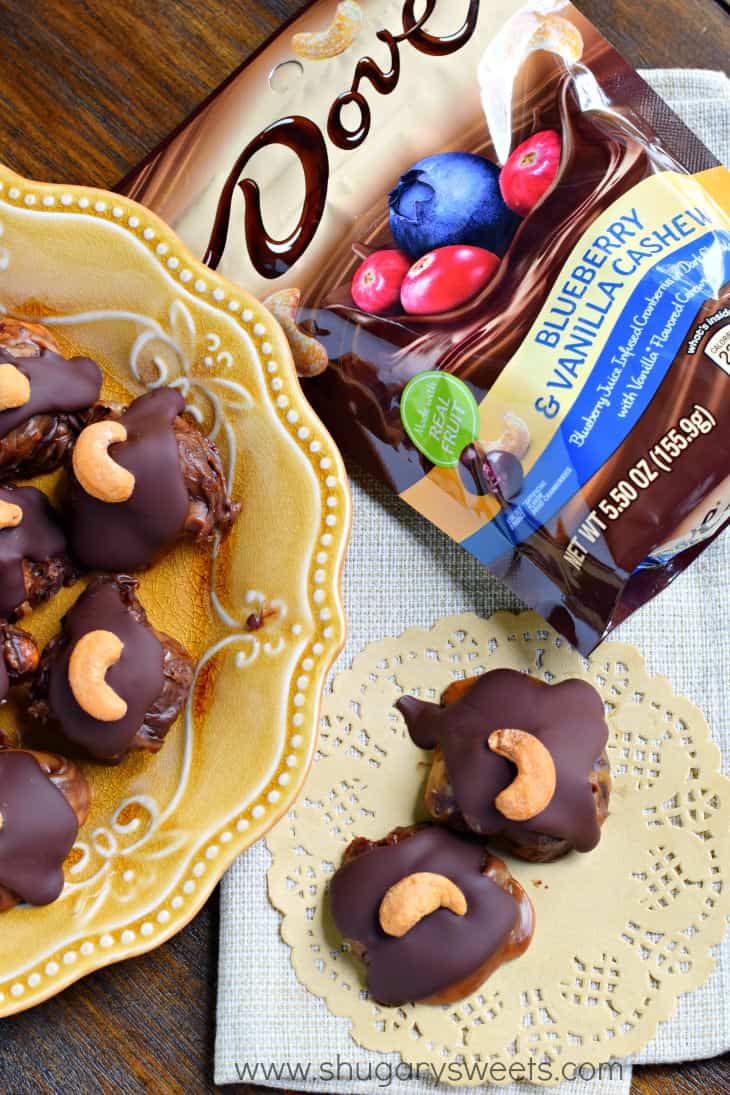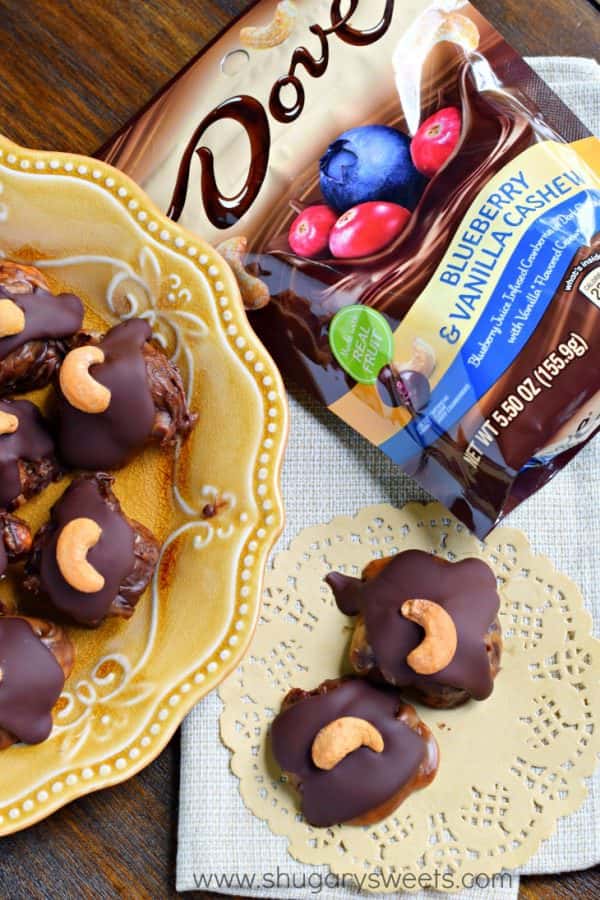 Have you seen or tried the new Real Fruit Dipped in DOVE® Dark Chocolate? Oh my word, if not, you are totally missing out! When I was asked to create a recipe featuring one of their products, the Blueberry and Vanilla Cashew jumped out at me. First, I love cashews. Add in some blueberries coated in silky, smooth DOVE Chocolate and they've got a winning combination!
These would be great tucked into your favorite chocolate chip cookie recipe. Or add them into a crunchy biscotti. Or, eat straight out of the package.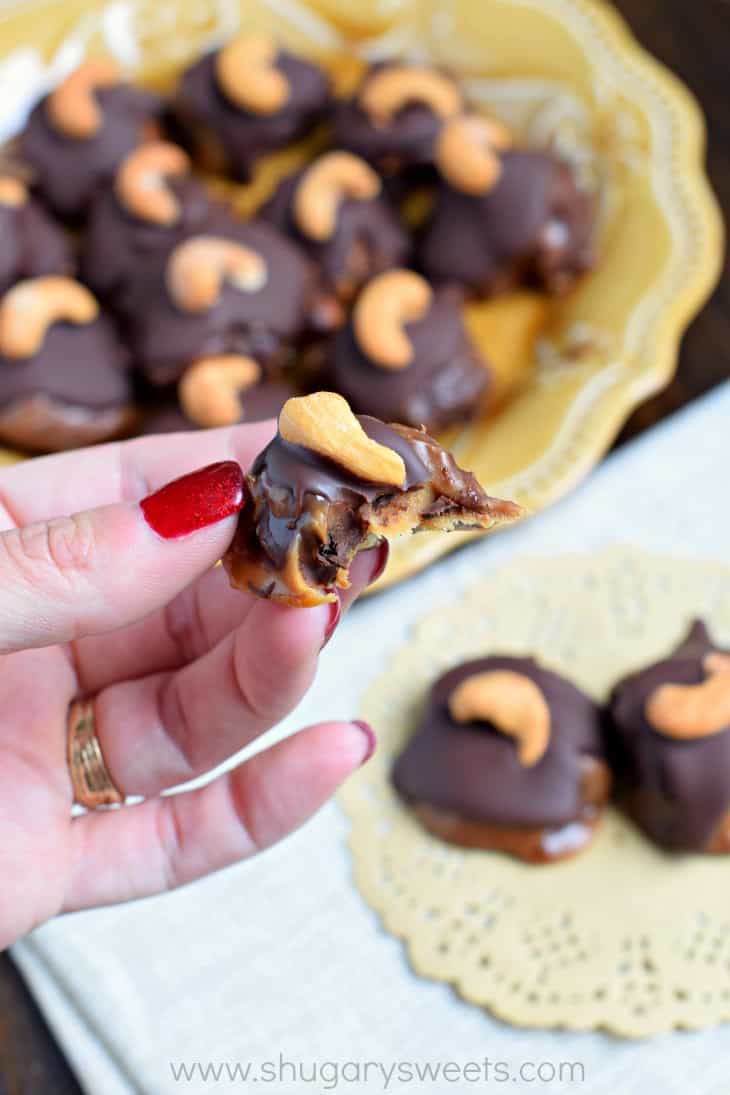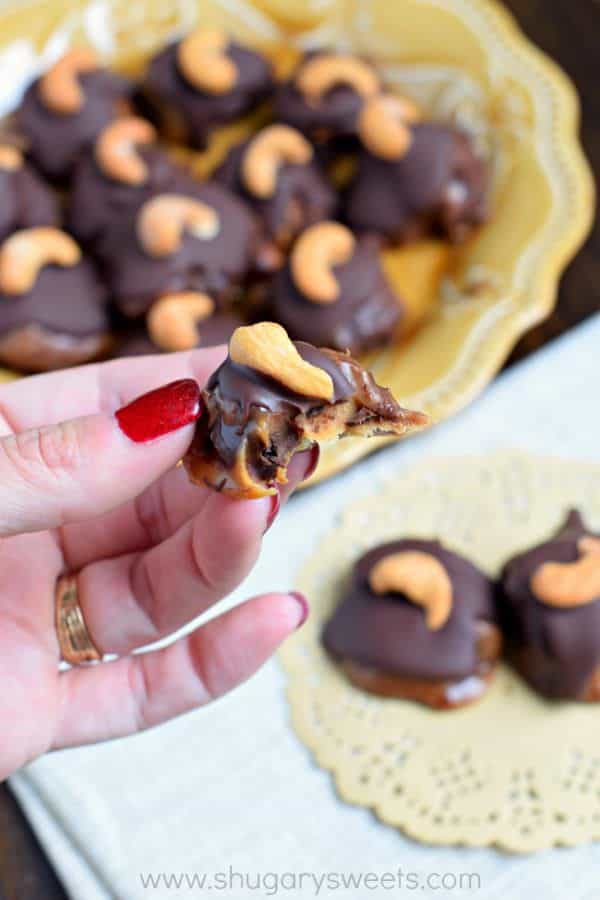 But, I did something different. I wanted to have a sweet treat to surprise my family as we celebrate the start of summer, so I mixed them into a creamy, buttery caramel coating and topped them with some melted DOVE® Dark Chocolate PROMISES. What an explosion of flavor! The chocolate covered blueberries melted slightly into the caramel mixture, creating swirls of chocolate and caramel with a pop of fresh blueberry flavor! But, the crunch of the vanilla cashews gave them the perfect texture! You're just minutes away from enjoying these today!!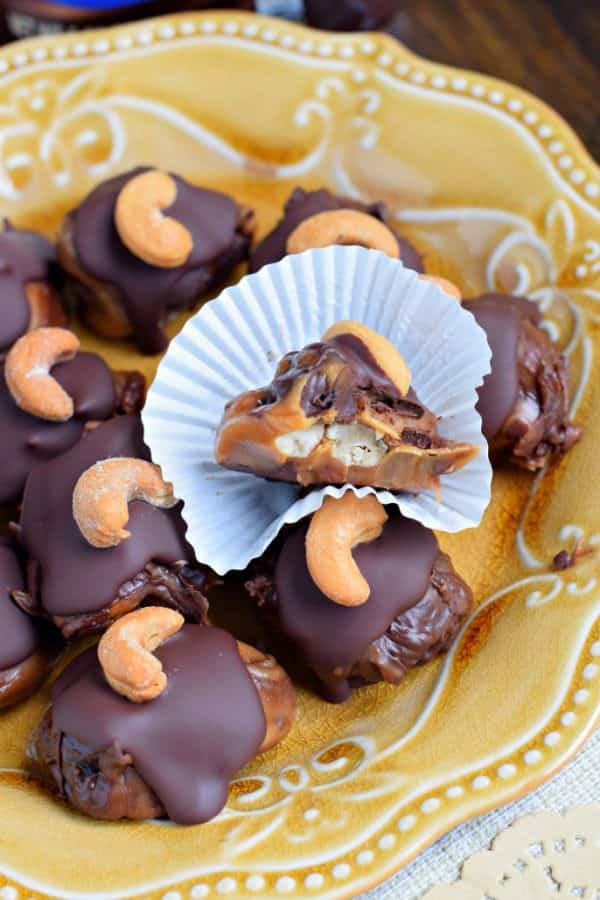 A few notes about making these Blueberry Cashew Caramel Clusters:
Line a baking sheet with parchment paper and set aside.
Start with a clean, dry, microwave safe glass bowl. I used half a bag of caramel bits (about 6 oz), but you can unwrap 12 caramel candies if you prefer
Add in 1 TBSP butter and 1 TBSP heavy whipping cream. Melt in the microwave in 30 second intervals, stirring between each one. Mine took 1 1/2 minutes total to melt smooth.
Immediately fold in 1 package of DOVE® Blueberry and Vanilla Cashew Fruit and Nut. Working quickly, using a 1 TBSP metal cookie scoop, drop by tablespoons onto your prepared baking sheet. You'll get about 18 clusters!
Melt about 1/4-1/2 cup DOVE® Dark Chocolate PROMISES (I used about 8-10 candies) in a small bowl in the microwave. Mine took about 1 minute to melt. Using a spoon, drop a dollop of melted chocolate onto each cluster. Top with a salted cashew!
Refrigerate clusters for about 15 minutes, to allow chocolate and caramel to set. Store in airtight container in refrigerator for about a week, for best flavor. ENJOY!