Breakfast Pastries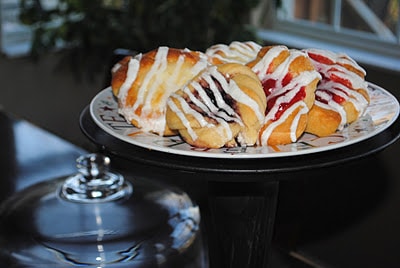 I love pastries. I probably love baking them as much as I love eating them. Which is a good thing, because I do eat a lot of them. And who wants to bake something they don't love to eat?
This recipe makes 3 dozen good sized pastries. So plan on feeding a crowd when you bake these. I freeze them in ziploc too, then thaw on counter. They are a little softer the second time around, but still quite tasty! I made some plain cheese danishes, some cheese and cherry, and some raspberry. I think my favorite was the plain cheese.
And I'm not a plain person. Ask anyone I know. Wait. Don't do that. That might be creepy and stalker-ish. Instead, just read my blog, you will see that I like to go
OVER
THE
TOP
. Which may be why my daughter Alyssa asks for regular chocolate chip cookies (which of course I have a difficult time doing).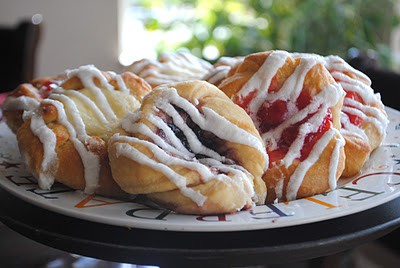 Back to breakfast. And danishes. And the fact that these are great to eat before you head to they gym. Or why you should head to the gym. Something like that.
Enjoy!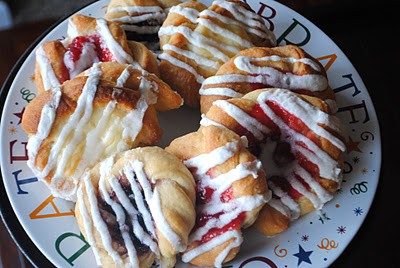 *** yes, don't judge the icing in these pictures. I added a bit too much cream and they separated. Add your cream slowly!
Breakfast Pastries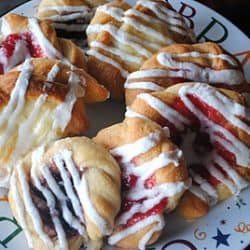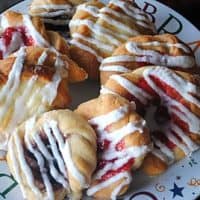 Total Time
4 hours
17 minutes
Ingredients
for the danish:
2 pkg yeast
1/2 cup milk, warm
6 cup flour
1/3 cup sugar
2 tsp salt
1 cup butter
1 1/2 cup warm half and half cream
6 egg yolks, beaten
coarse sugar
1 can cherry pie filling (optional)
for the filling:
8 oz cream cheese, softened
1/3 cup sugar
1 egg
1 tsp vanilla extract
pinch of salt
1 can cherry pie filling (optional)
for the icing:
3 cups powdered sugar
2 Tbsp butter, softened
1/3 cup heavy cream
Instructions
In a small bowl, warm milk (110 degrees) and dissolve yeast. Meanwhile, in mixer add flour, sugar and salt. Cut in butter until crumbly, on low speed Add the yeast mixture, half and half cream, and egg yolks. Stir until soft dough (a couple minutes). Cover and refrigerate overnight.
***note***If making same day, allow dough to rise in warm place, covered loosely for one to 2 hours.
Punch down dough and divide into fourths. Roll each piece of dough into an 18 inch by 4 inch rectangle. Cut into strips (18 one inch strips).
Place two strips side by side and twist together. Shape into a ring and pinch the ends together. Repeat with remaining strips. Sprinkle with coarse sugar. Place on greased baking sheet and cover. Rise for one hour in warm place.
Using the end of a spoon, make an indentation in the center of each roll.
In mixer, beat cream cheese with sugar until blended. Beat in egg, vanilla and salt.
Spoon the cream cheese filling into each "well". Bake at 350 degrees for about 15-17 minutes. Remove and cool.
Prepare icing by beating butter, powdered sugar and heavy cream for 3 minutes until desired consistency.
To serve, spoon a small amount of pie filling into each danish and drizzle with icing. Enjoy!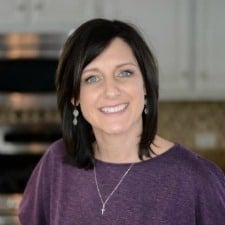 Aimee is a dessert lover (specifically rice krispie treats), workout enthusiast, self-taught foodie, and recipe creator. Her recipes have been featured in numerous magazines, and her passion is to share her love of cooking with the everyday home cook!