Broccoli Ham Quiche
Use up some of your leftover ham to create these delicious Broccoli Ham Quiche. They freeze well too!!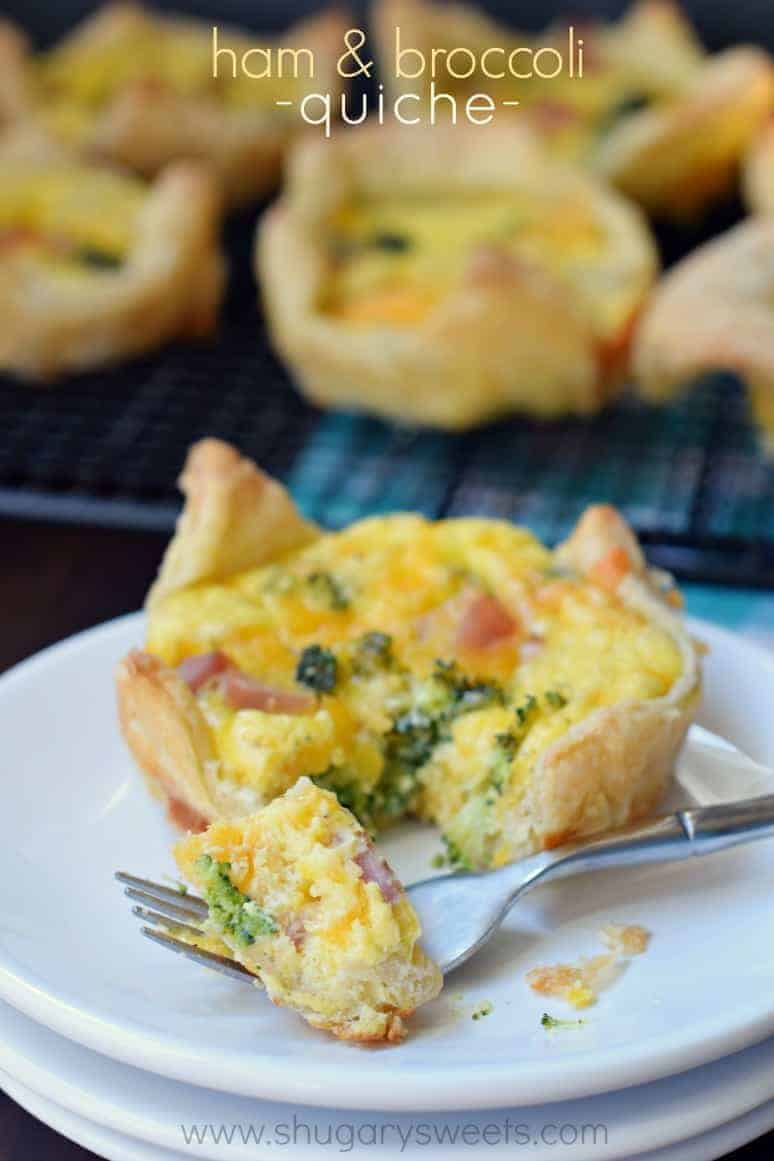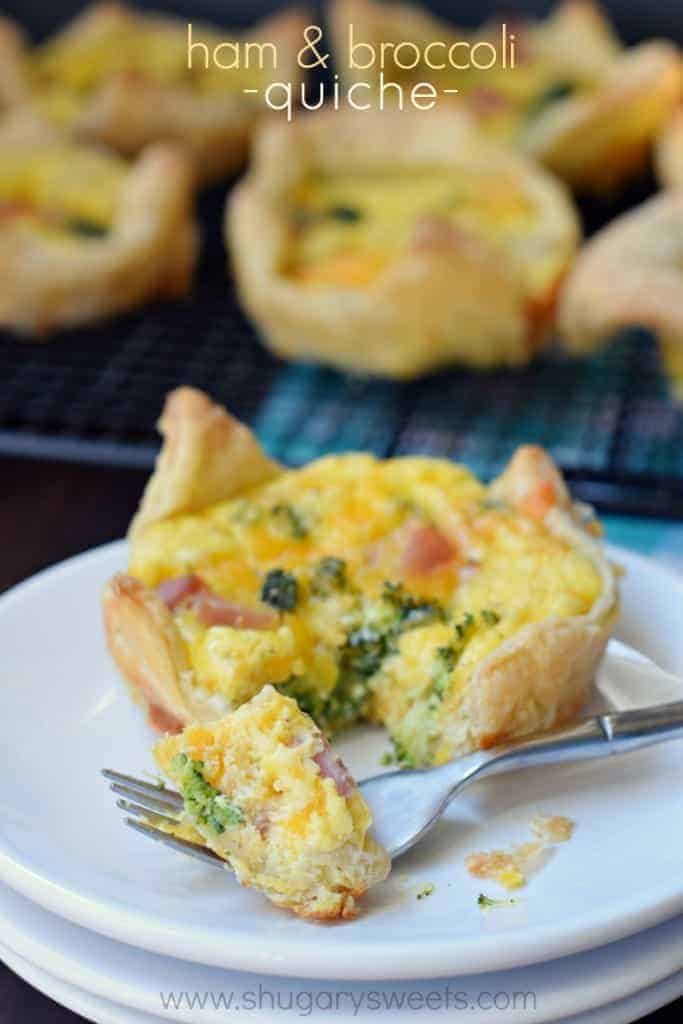 In case you weren't aware, Easter is only a few days away. (unless of course you're reading this blog post months from now, then disregard, haha)!
I don't know what you usually have for dinner, but in our house it's always a ham. A big, spiral sliced ham.
No matter how many are over for dinner, I purchase the biggest ham I can find. And then I like to take those leftover ham slices and freeze them. I keep some sliced (for sandwiches) and then I dice some of the ham too…for recipes.
Today's recipe uses that diced up ham.
We love having quiche for dinner…it goes well with the whole brunch or breakfast for dinner theme that my family seems to enjoy.
Especially on a busy evening when I haven't had the chance to prepare a meal. If I don't have dinner prepped in the morning, chances are we are going to be eating eggs. Or grilled cheese (what's your go-to meal?).
How to make Ham and Broccoli Quiche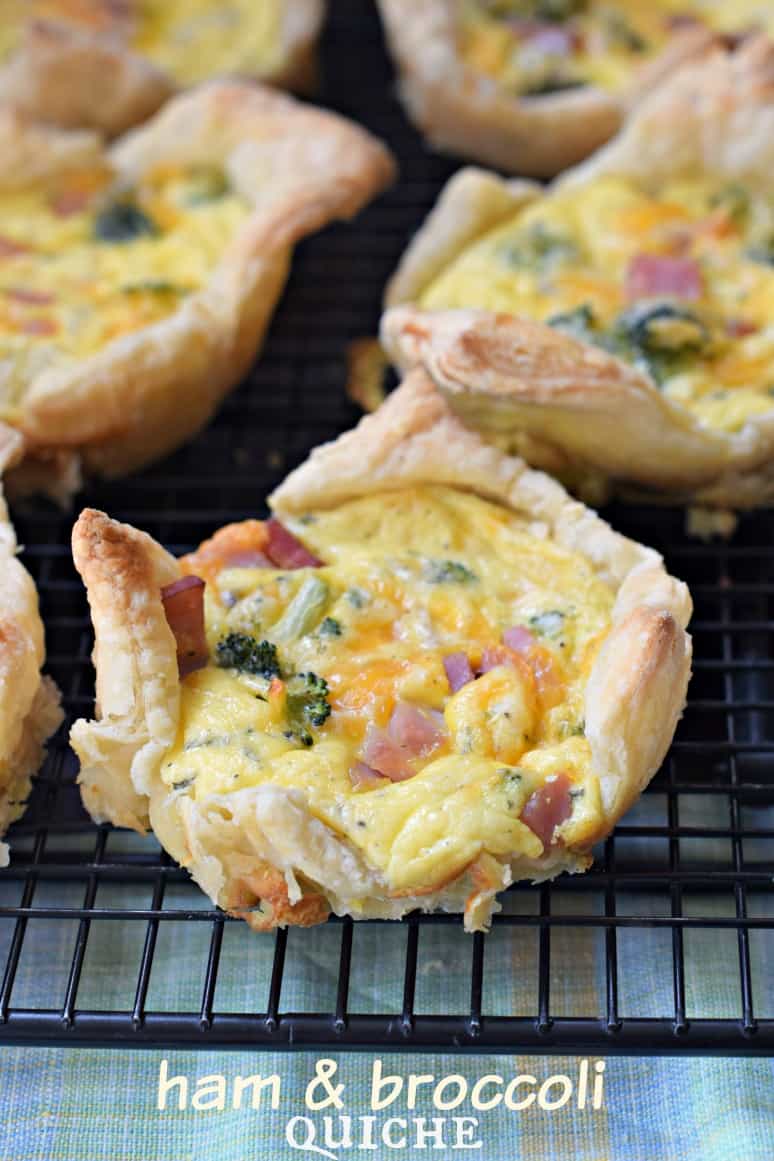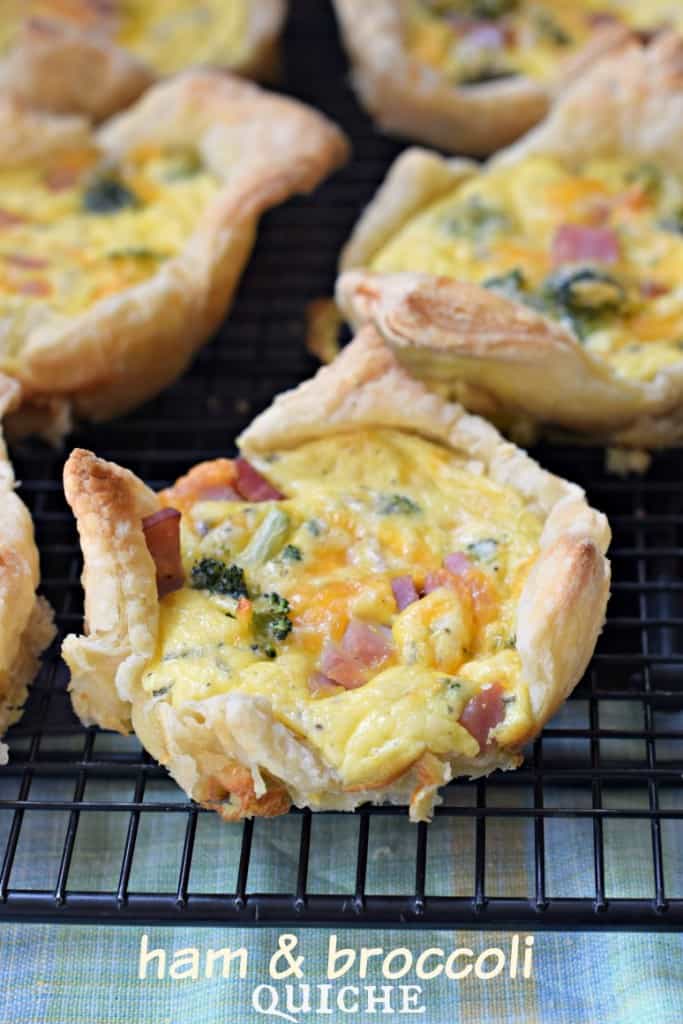 As you can see, I made mini quiche.
I purchased a dozen 4 inch cake pans
a couple years back just for this purpose.
The reason I made mini quiche is because these are perfect for a quick breakfast. You can take it straight from the freezer and microwave it for breakfast.
Or, if you have time, bake them from frozen. Or eat them fresh as a mini. You could also make a Veggie Quiche in a pie plate with this recipe (or ham and broccoli)!
To remove quiche from pans, I allow them to cool about 10-15 minutes in the pan, the take them out. When using puff pastry, I don't spray my pans.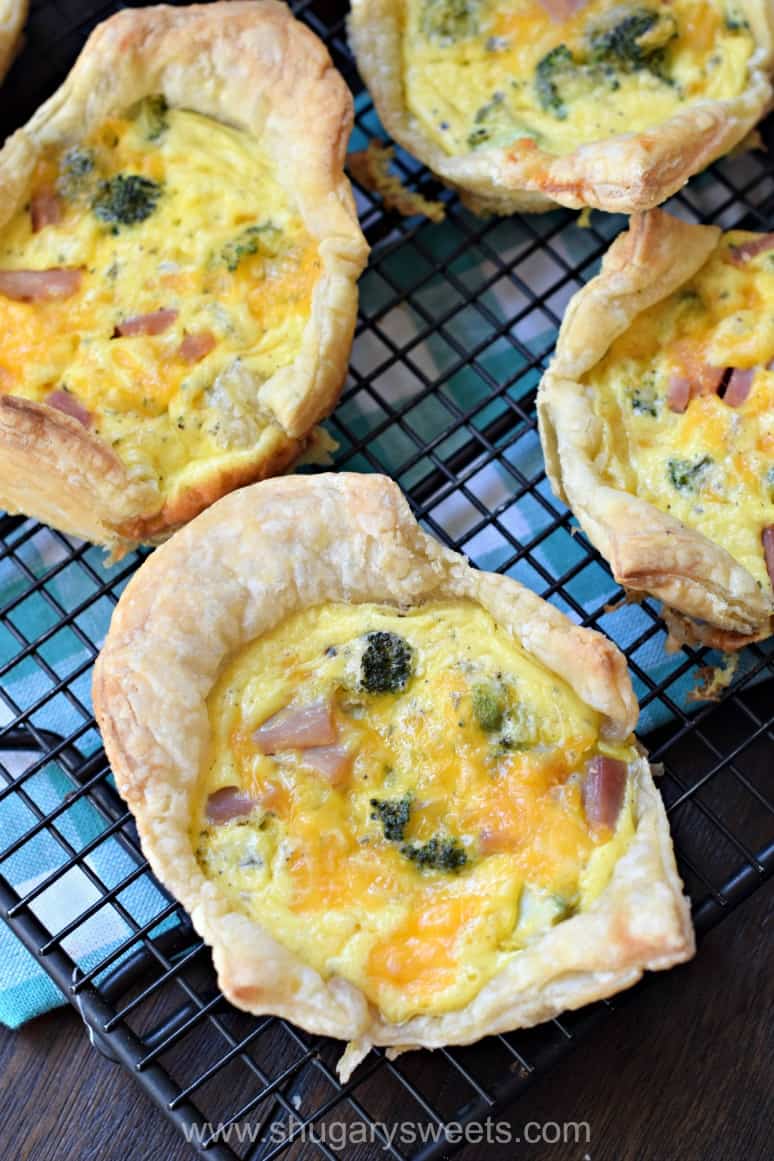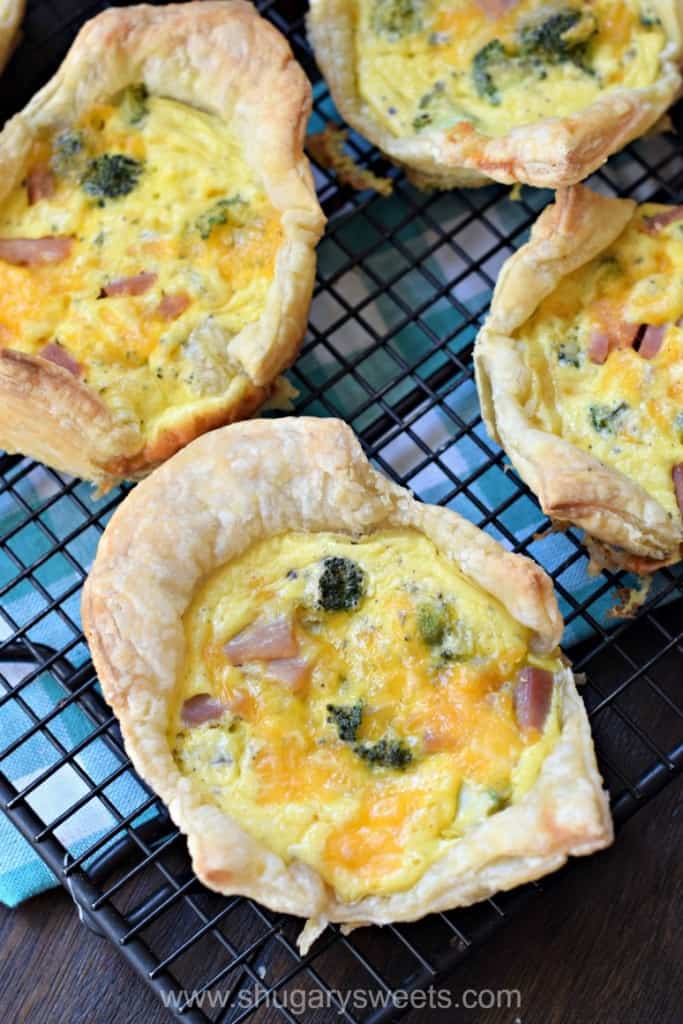 Yield: 9 quiche
Broccoli Ham Quiche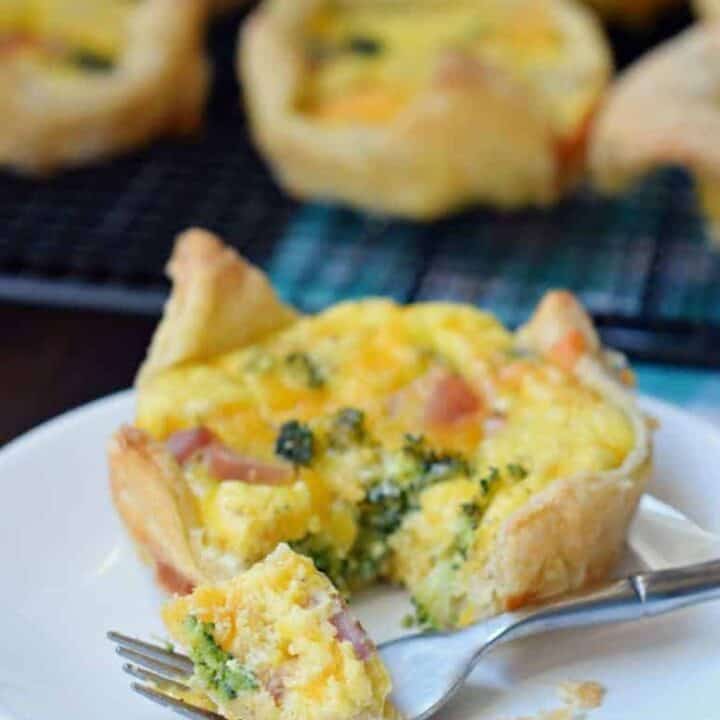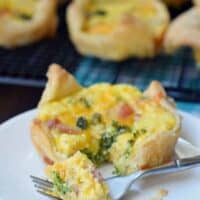 Total Time
1 hour
17 minutes
Delicious make ahead breakfast recipe. Broccoli Ham Quiche.
Ingredients
1 sheet puff pastry (1/2 package)
6 large eggs
1/2 cup heavy whipping cream
1/4 cup milk
1/2 tsp garlic salt
1/4 tsp black pepper
1/2 tsp dried parsley
1/2 tsp minced onion flakes
1/2 cup shredded parmesan cheese
1 1/2 cup shredded cheddar cheese
1 cup diced ham
1 cup diced broccoli florets
Instructions
Allow frozen puff pastry to thaw, according to package directions (takes about 40 minutes).
Once thawed, cut puff pastry into 9 squares (like a tic tac toe board). Roll each square on a lightly floured surface until twice it's size. If you have trouble rolling it, pick it up and gently stretch it (works great)! Place each piece into a 4-inch cake pan. Press gently so it is in the bottom and sides of the pan. Set aside.
Beat eggs and add cream, milk, garlic, pepper, parsley, and minced onion. beat until well combined. Add in cheeses, ham and broccoli. Spoon mixture into prepared pans. Bake in a 375 degree oven for 17-20 minutes, on the middle rack. Remove from oven and cool in pan about 10-15 minutes. Remove gently and eat.
Notes
**If desired, you can make a full size quiche. Using your one sheet of puff pastry, stretch it gently to fit a standard size pie plate. Press it into bottom and sides of plate. Fill with egg mixture and bake in a 375 degree oven for 30-35 minutes. ENJOY.
**If freezing the mini quiche, remove from pans and allow too cool completely on a wire rack. Place in a large ziploc freezer bag. To reheat, either heat from frozen in microwave for about 60-90 seconds (depending on your wattage) or heat in oven until fully warmed.
Nutrition Information:
Yield:
9
Serving Size:
1
Amount Per Serving:
Calories:

236
Total Fat:

18g
Saturated Fat:

9g
Trans Fat:

0g
Unsaturated Fat:

7g
Cholesterol:

171mg
Sodium:

502mg
Carbohydrates:

5g
Fiber:

1g
Sugar:

1g
Protein:

15g
*Nutrition facts are an estimate and not guaranteed to be accurate. Please see a registered dietitian for special diet advice.