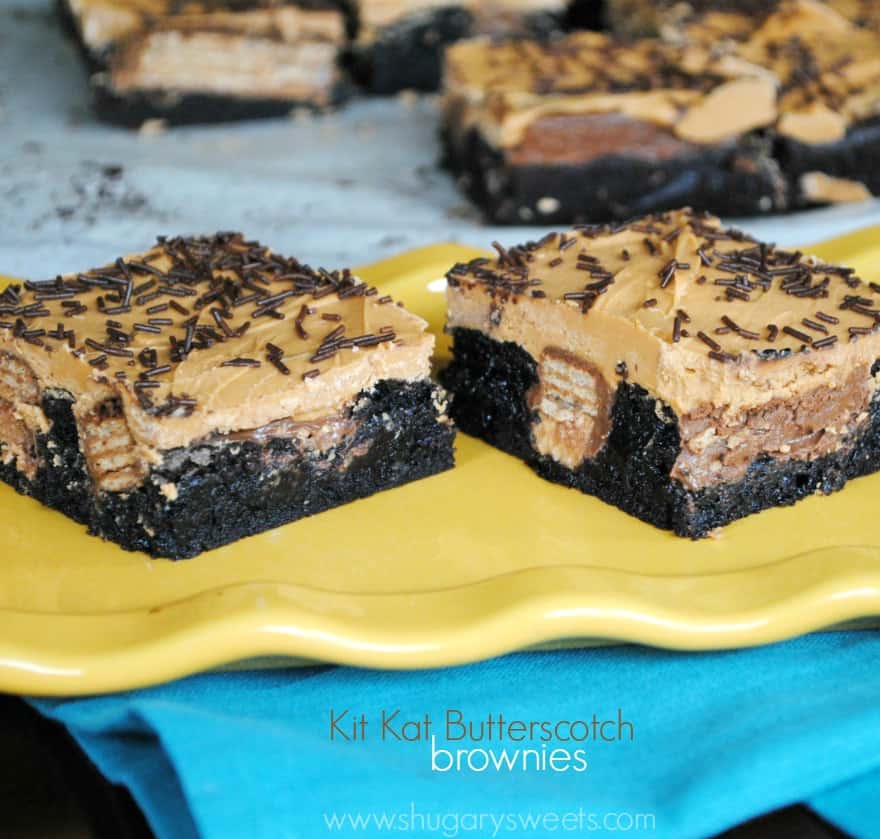 Want a dessert that will send you straight to the dentist? 
Wait, maybe that's not how I should sell these…
Want a dessert that will make you gain 10 pounds, on your thighs, immediately? 
Want a dessert that will have your children eating, laughing, and bouncing off the walls? 
Want a dessert that tastes amazing, looks fantastic and is easy to make? Better.
Want a dessert that has a dark chocolate fudgy brownie layer topped with crunchy kit kat candy bars and topped with melted butterscotch? 
Yield: 16 bars
Butterscotch Kit Kat Brownies
Ingredients
1 1/2 cup sugar
3/4 cup flour
3/4 cup unsweetened dark cocoa powder
3 eggs
3/4 cup melted butter
24 snack size Kit Kat bars
11oz pkg butterscotch morsels, melted
1 Tbsp chocolate jimmies
Instructions
In a large bowl, mix sugar, flour, cocoa, eggs, and melted butter until thoroughly combined.
Pour into a parchment paper lined 9inch square baking dish. Press candy bars into top of batter.
Bake in a 375 degree oven for about 25 minutes. Remove and cool.
Spread melted butterscotch over top of brownies (brownies can be warm still) and sprinkle immediately with chocolate jimmies. Allow to cool completely.