Butterscotch White Chocolate Wonderful Krispie Treats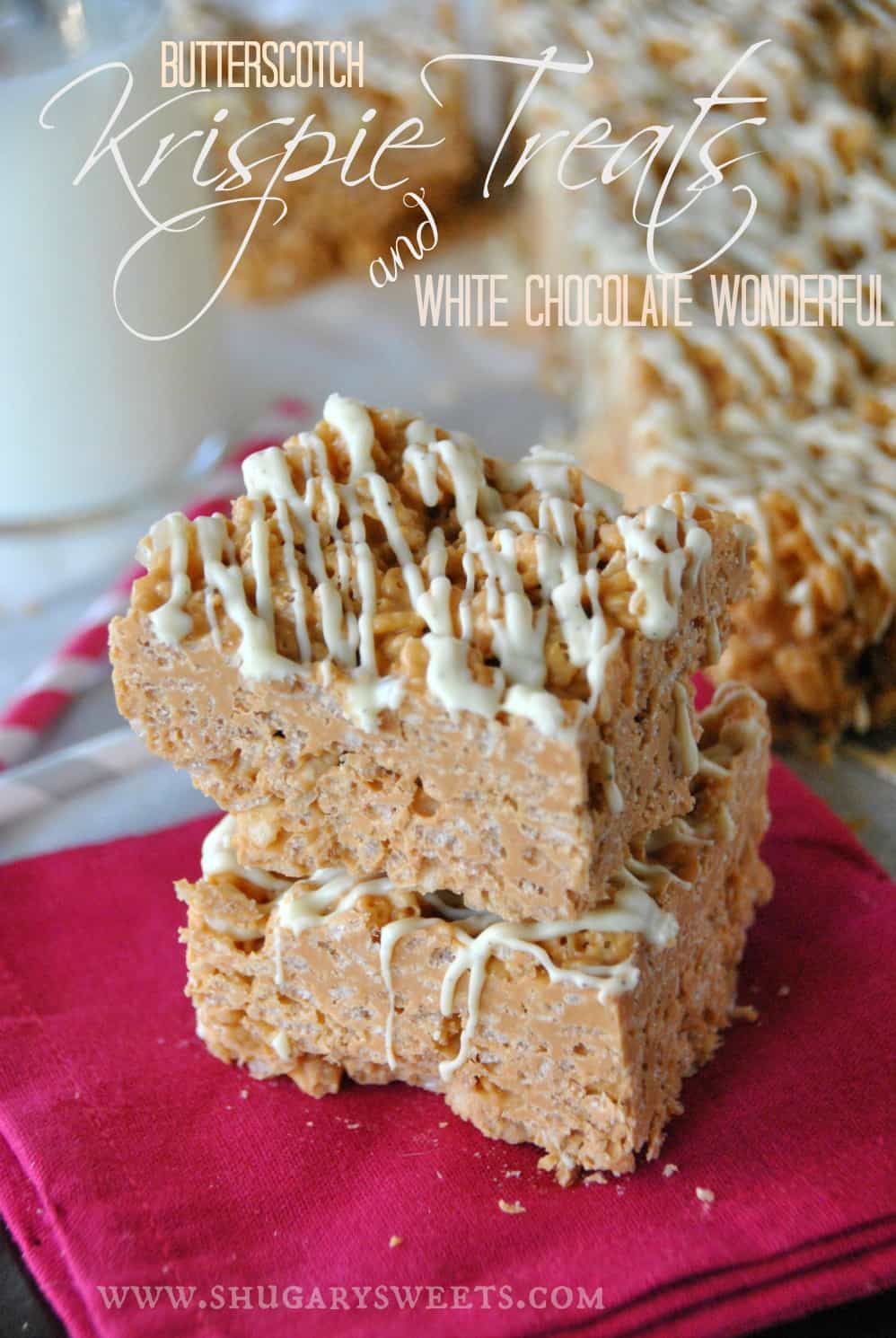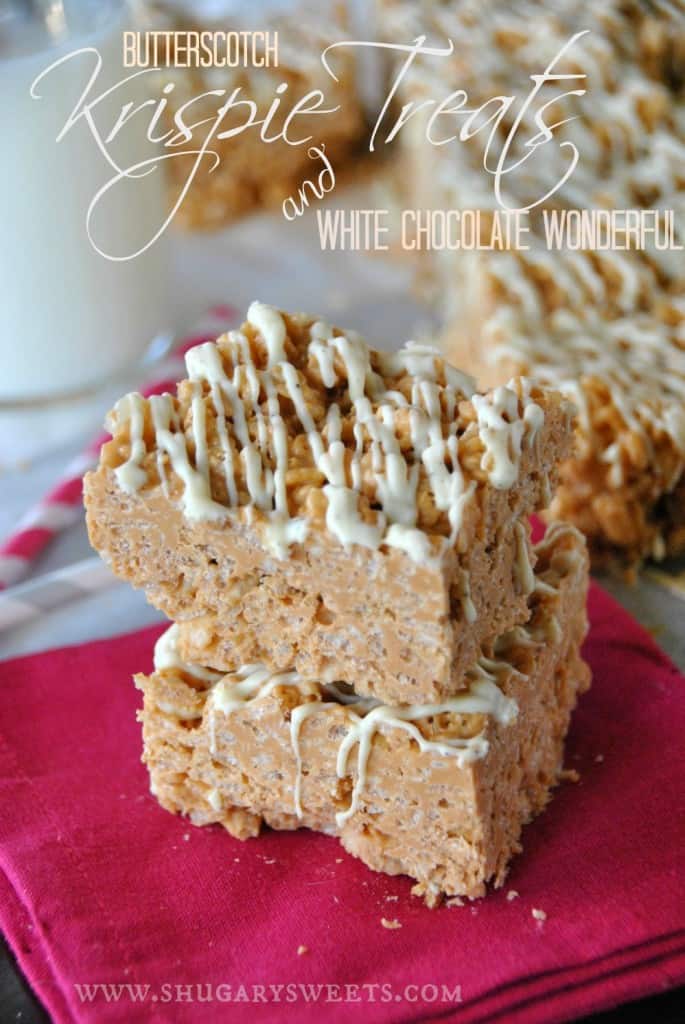 Quite a long name for an easy 3 ingredient recipe.
Sometimes I get serious cravings. And 90% of the time they involve Krispie Treats. There is something just so magical about a Rice Krispie treat. No store bought version can ever fulfill this craving.
I probably talk too much about how to make rice krispie treats, but they really are my favorite thing.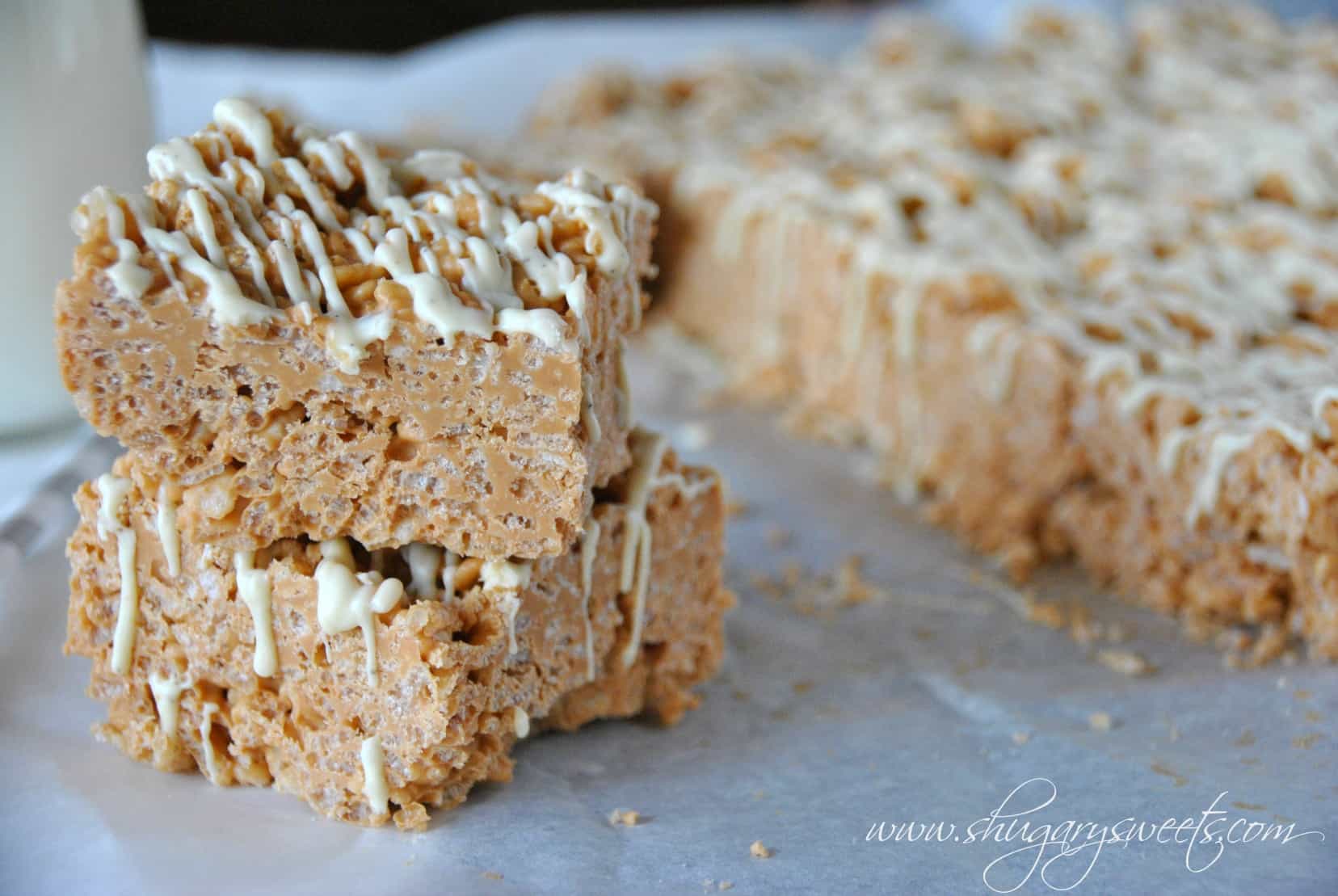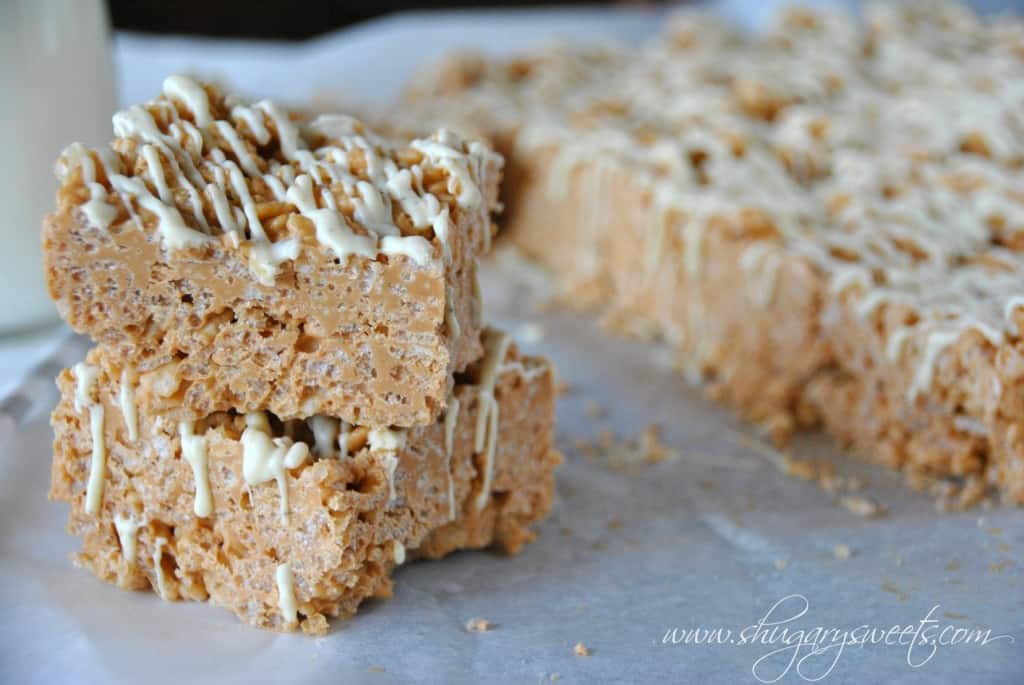 So last week when I was craving some Krispie Treats, I opened up my pantry to get the ingredients. You know, Rice Krispies, marshmallow, butter.
Ummm, I had no marshmallows and no butter. WHAT?
I know. So I remembered YEARS ago I made Krispie treats using butterscotch morsels and peanut butter.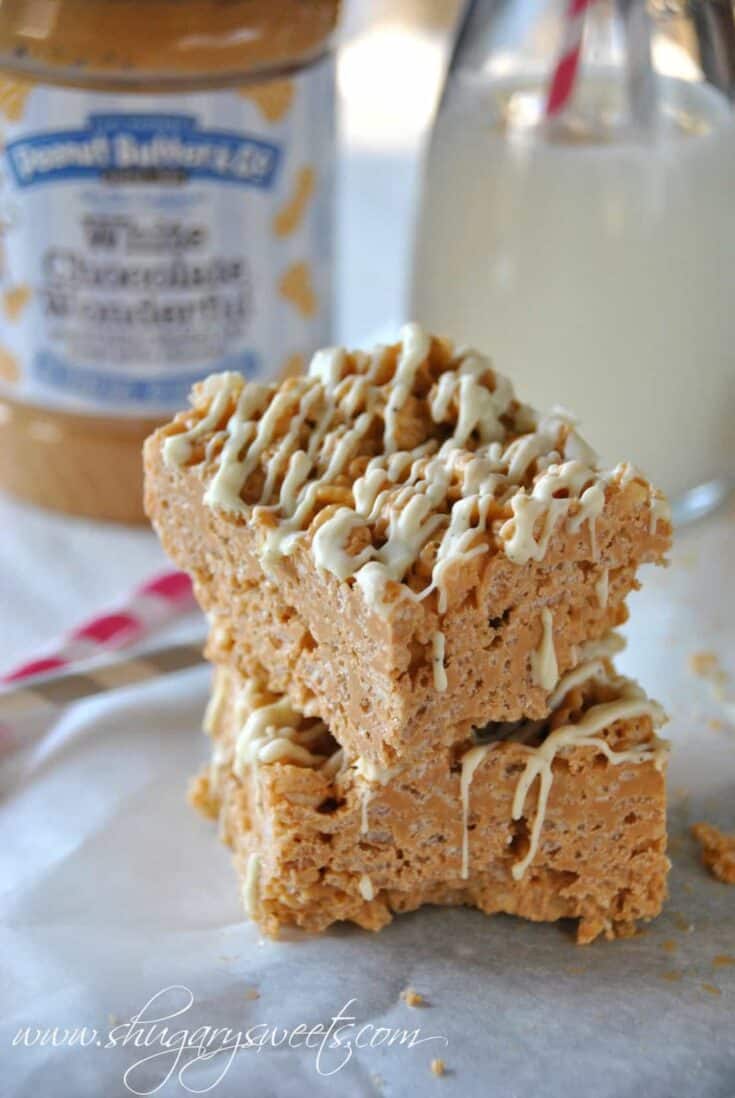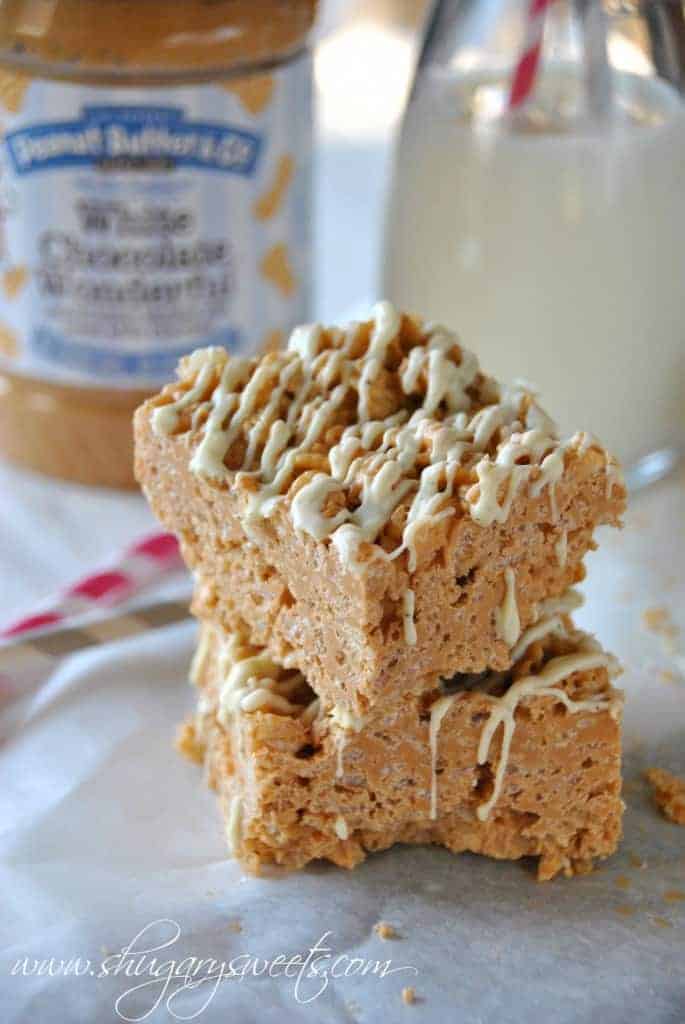 But, as luck would have it, I was out of creamy peanut butter. I KNOW. (What I should have been doing at this point was realize I needed some serious grocery shopping).
I did have a beautiful jar of White Chocolate Wonderful. Have you tried this stuff? OMG, it's amazing. But I don't like to bake with it. Cause it's too good. Like, I don't even share it much with the family it's so good. But, I figured, since I don't usually share my Rice Krispie treats I could dive into my jar of White Chocolate Wonderful.
If you haven't tried this before, it's white chocolate with peanut butter. All scientifically blended together to create a delicious jar of wonderful (probably where they came up with the name, ya think?) I'm sure the website (or the jar) has a better description. Needless to say, these treats were amazing. You can use creamy peanut butter if you choose, but if you can get your hands on a jar of this it would be better. So much better.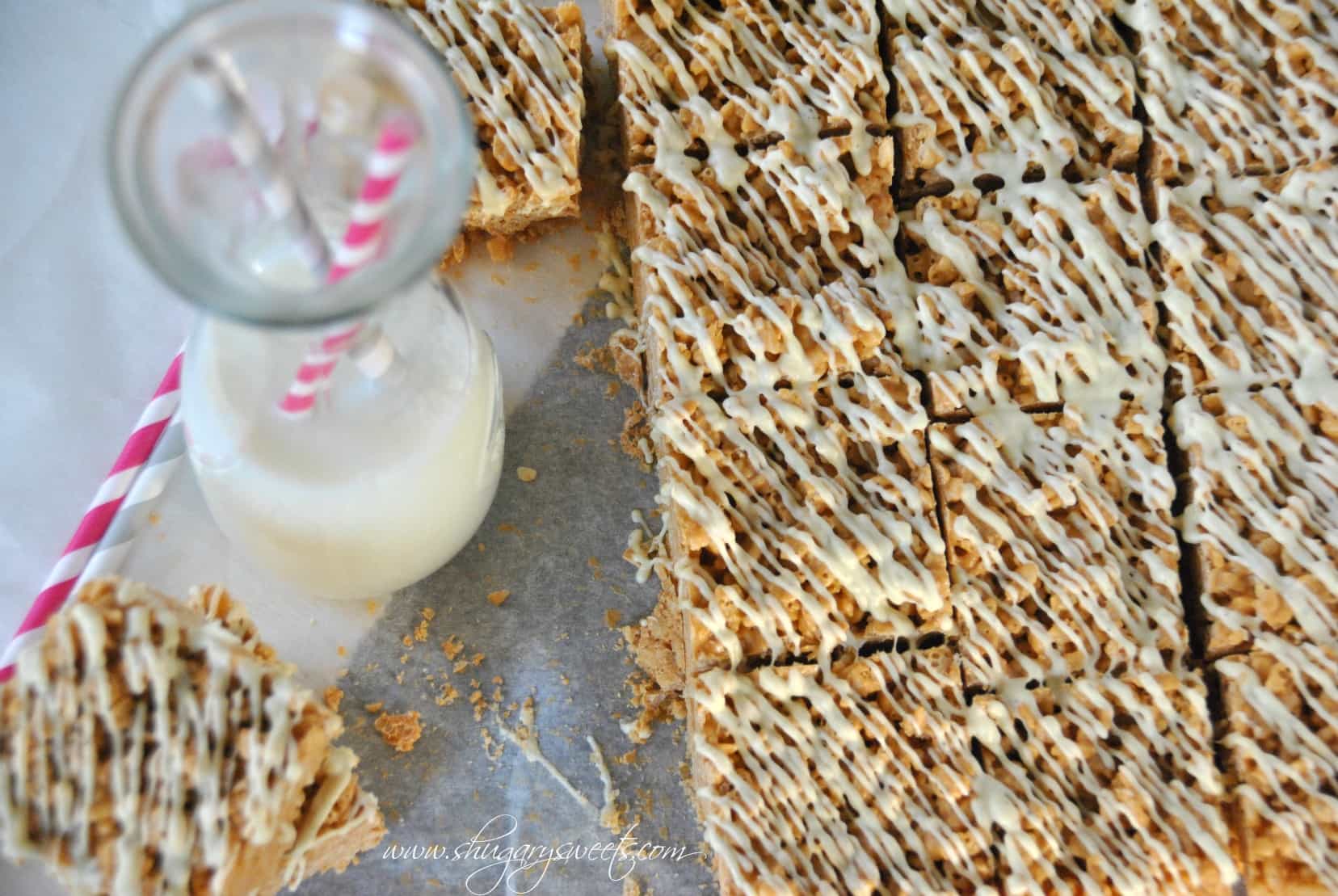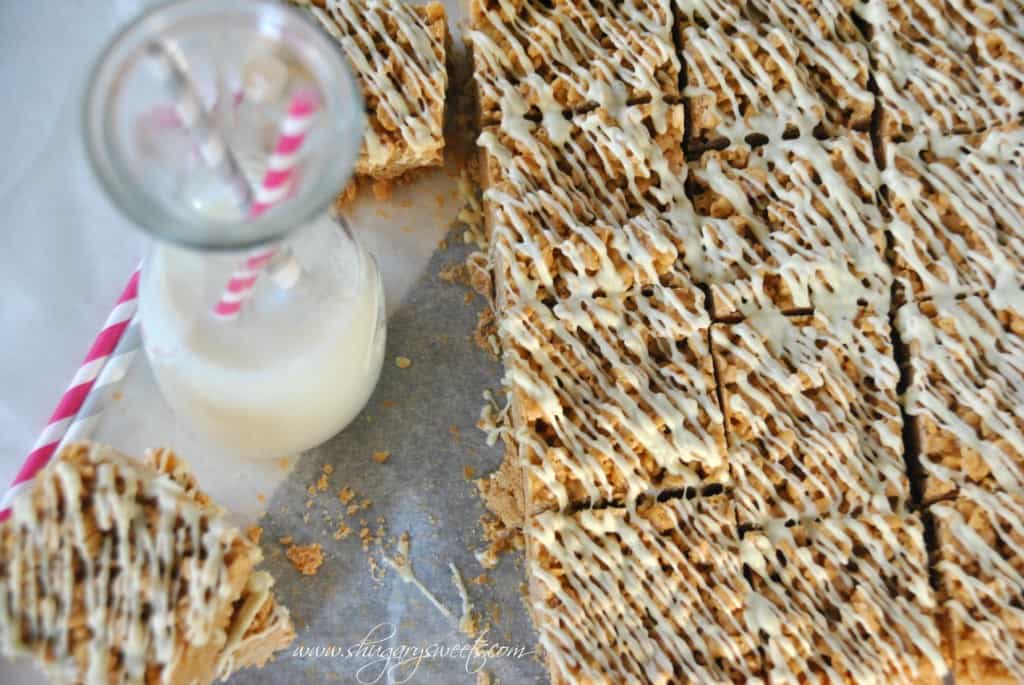 Want more Rice Krispie Treat ideas? Well you've come to the right place!
First, I have a Pinterest Board dedicated to these lovely desserts. Follow here: Rice Krispie Treat Addiction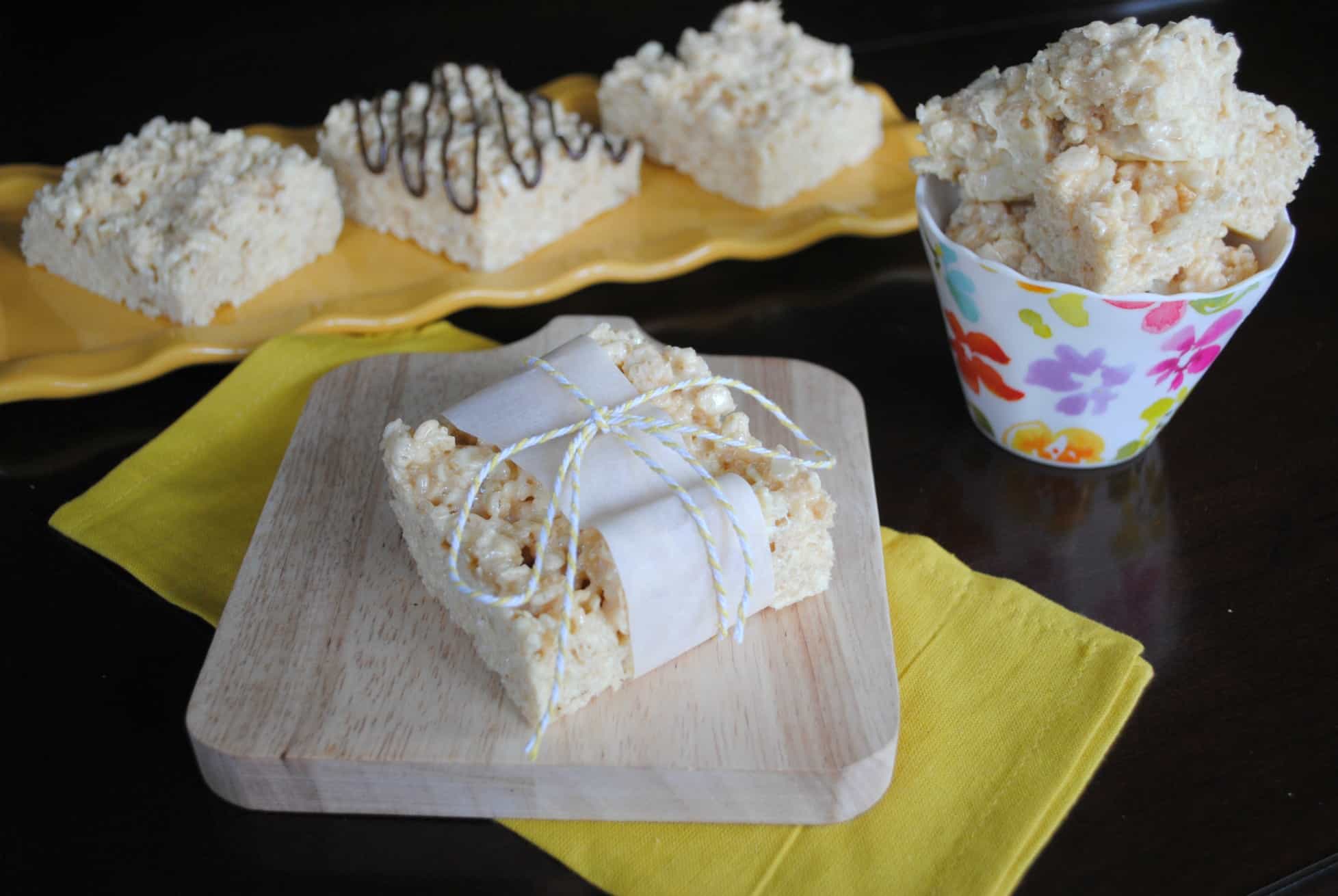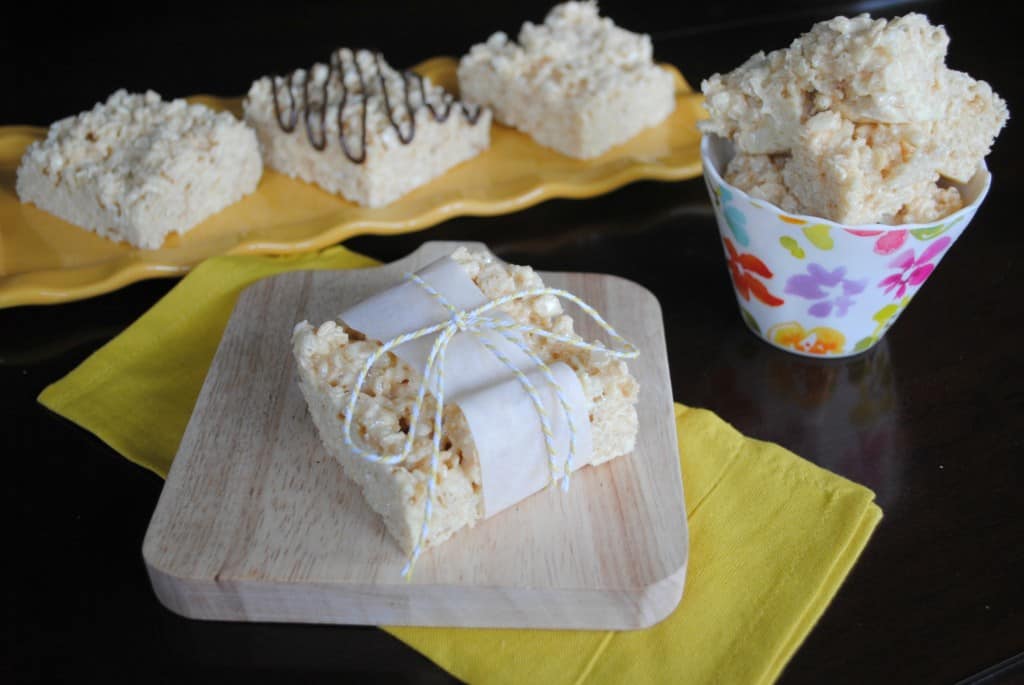 Banana Rice Krispie Treats: your classic breakfast cereal meets bananas. Genius? I know.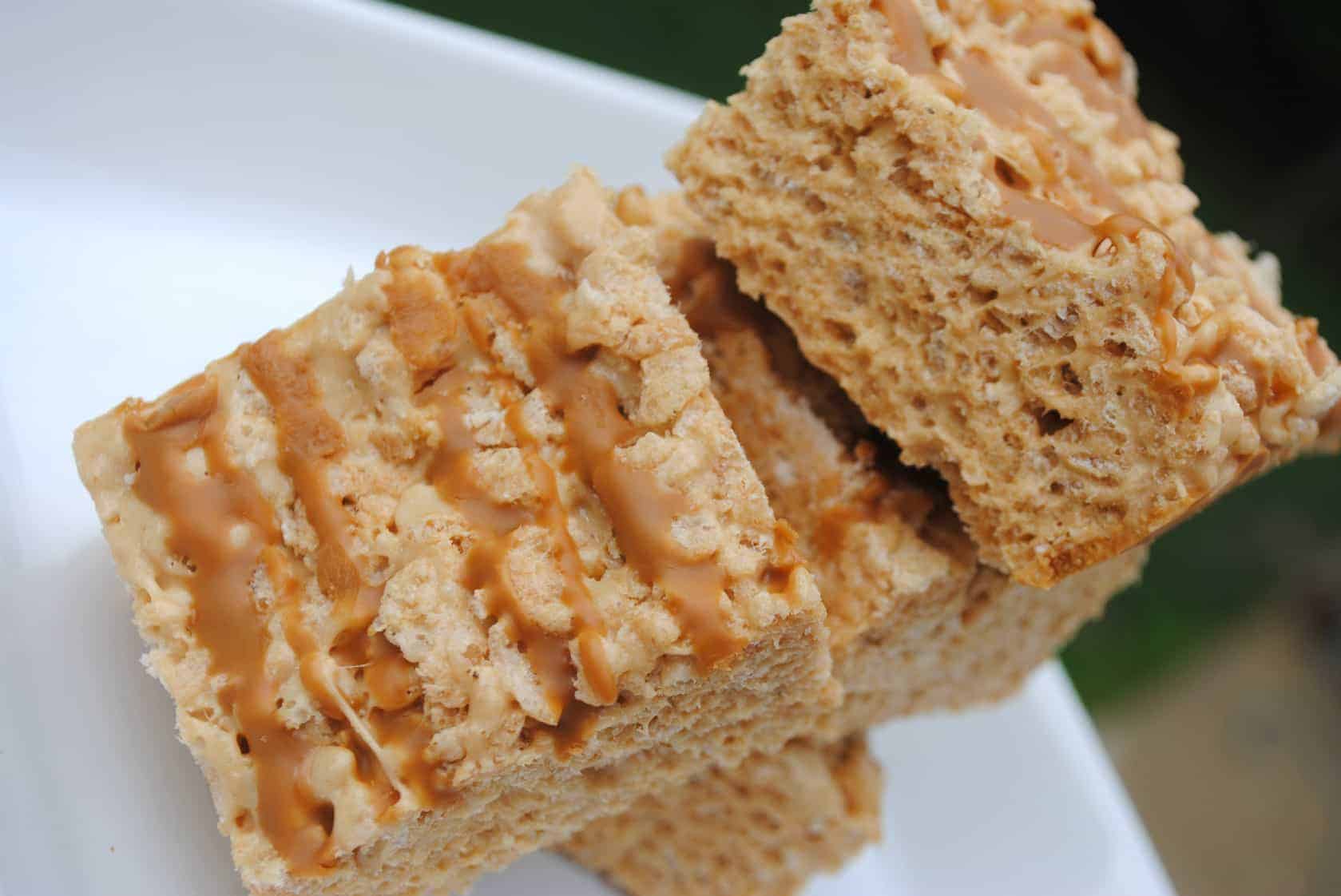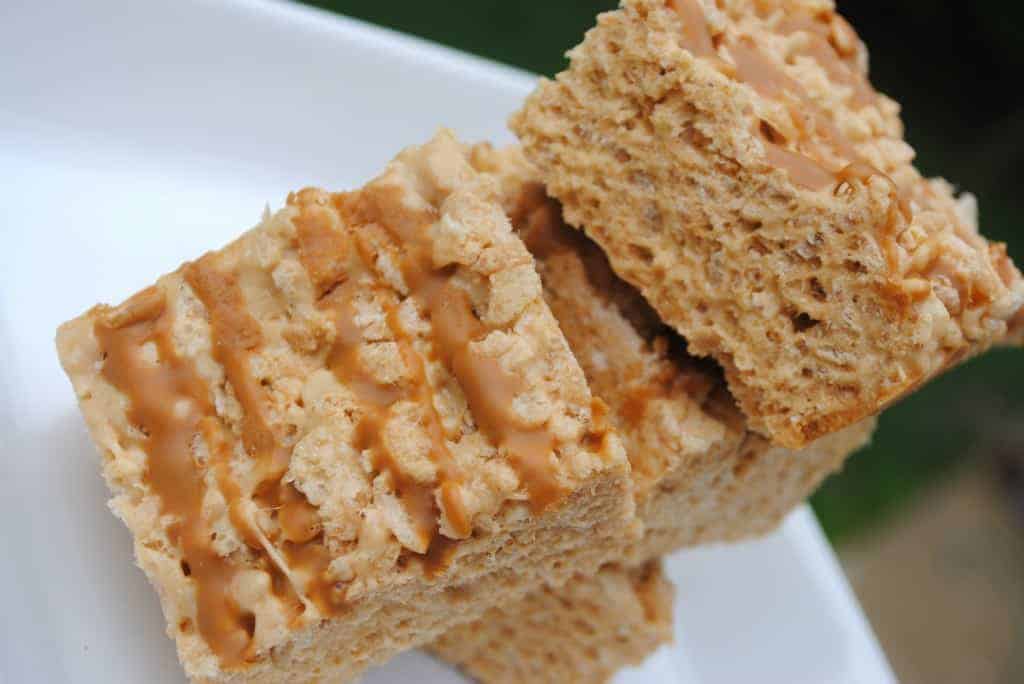 Biscoff Krispie Treats: These tasty treats are flavored with one of my favorite ingredients: Biscoff Spread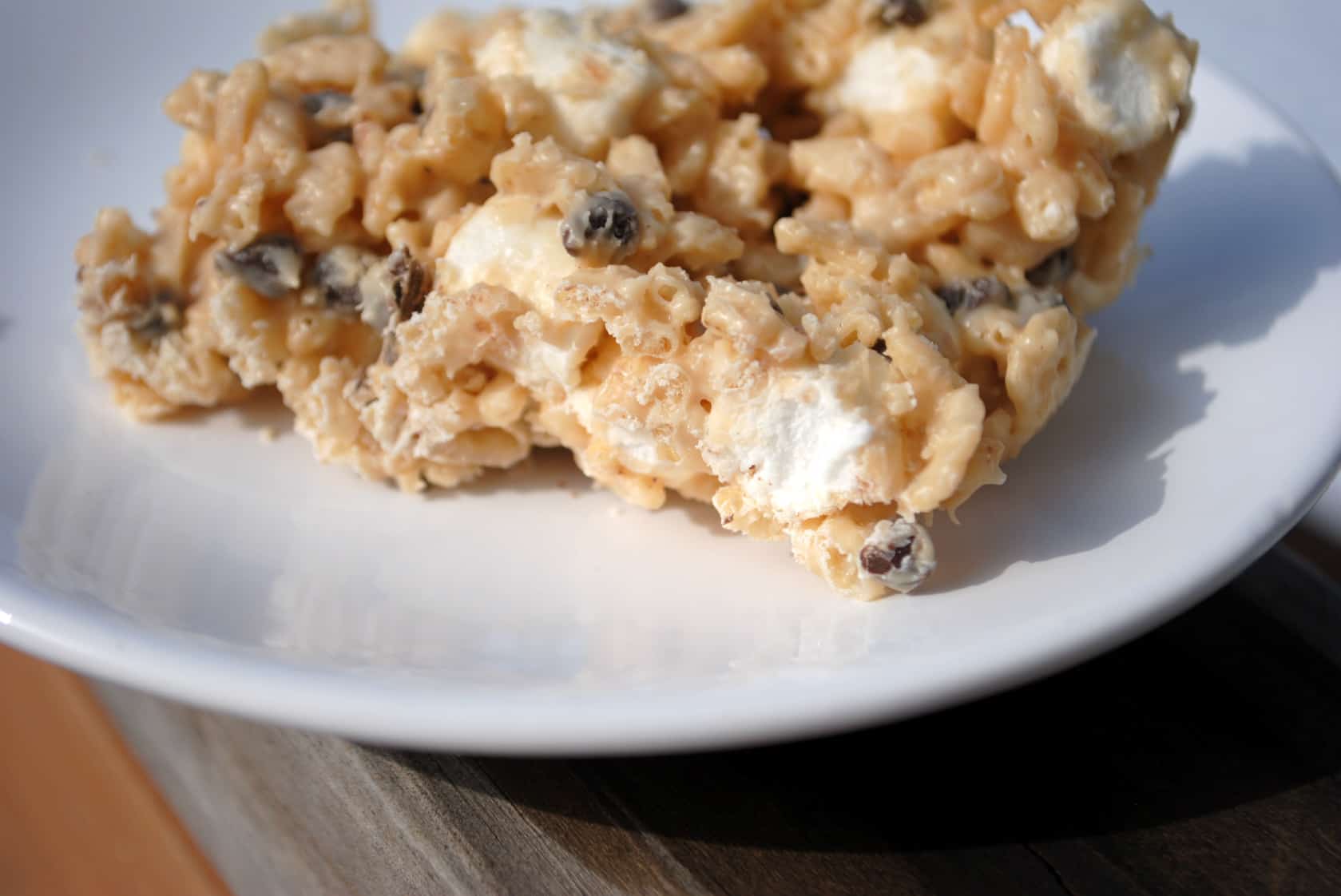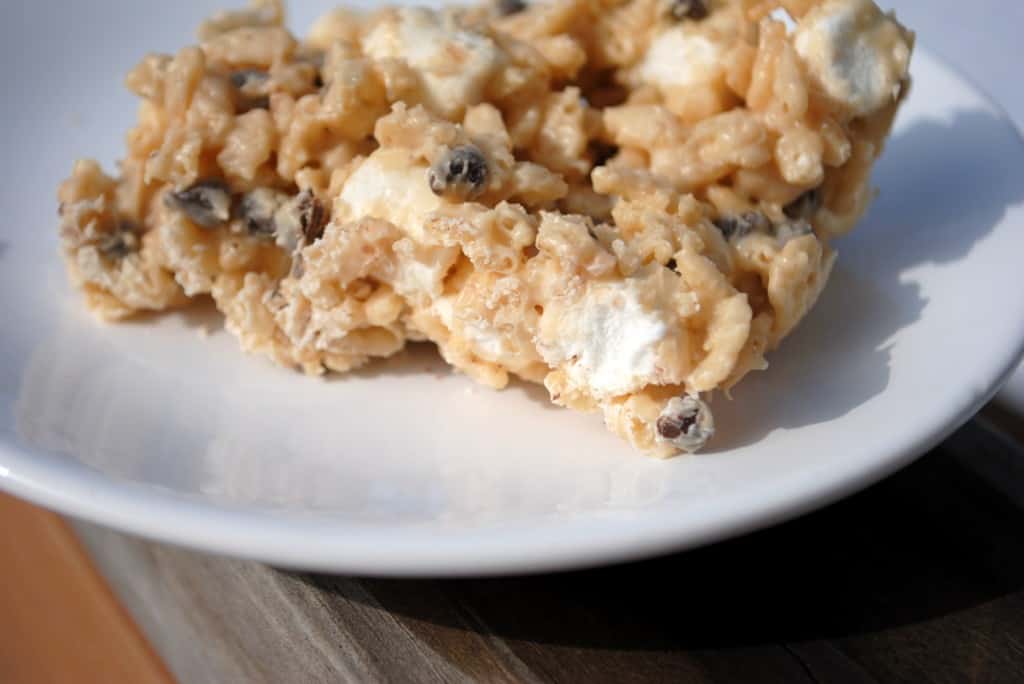 Avalanche Krispie Treats: inspired by Rocky Mtn Chocolate Factory- these are GOOD!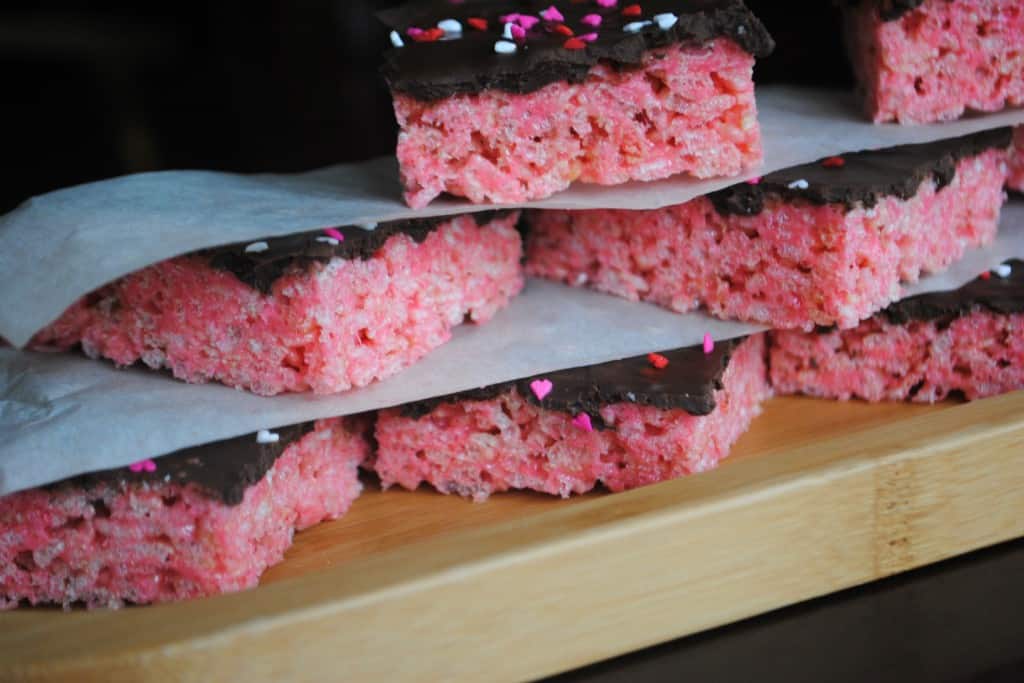 Cherry Krispie Treats: Valentine inspired Cherry Treats topped with Dark Chocolate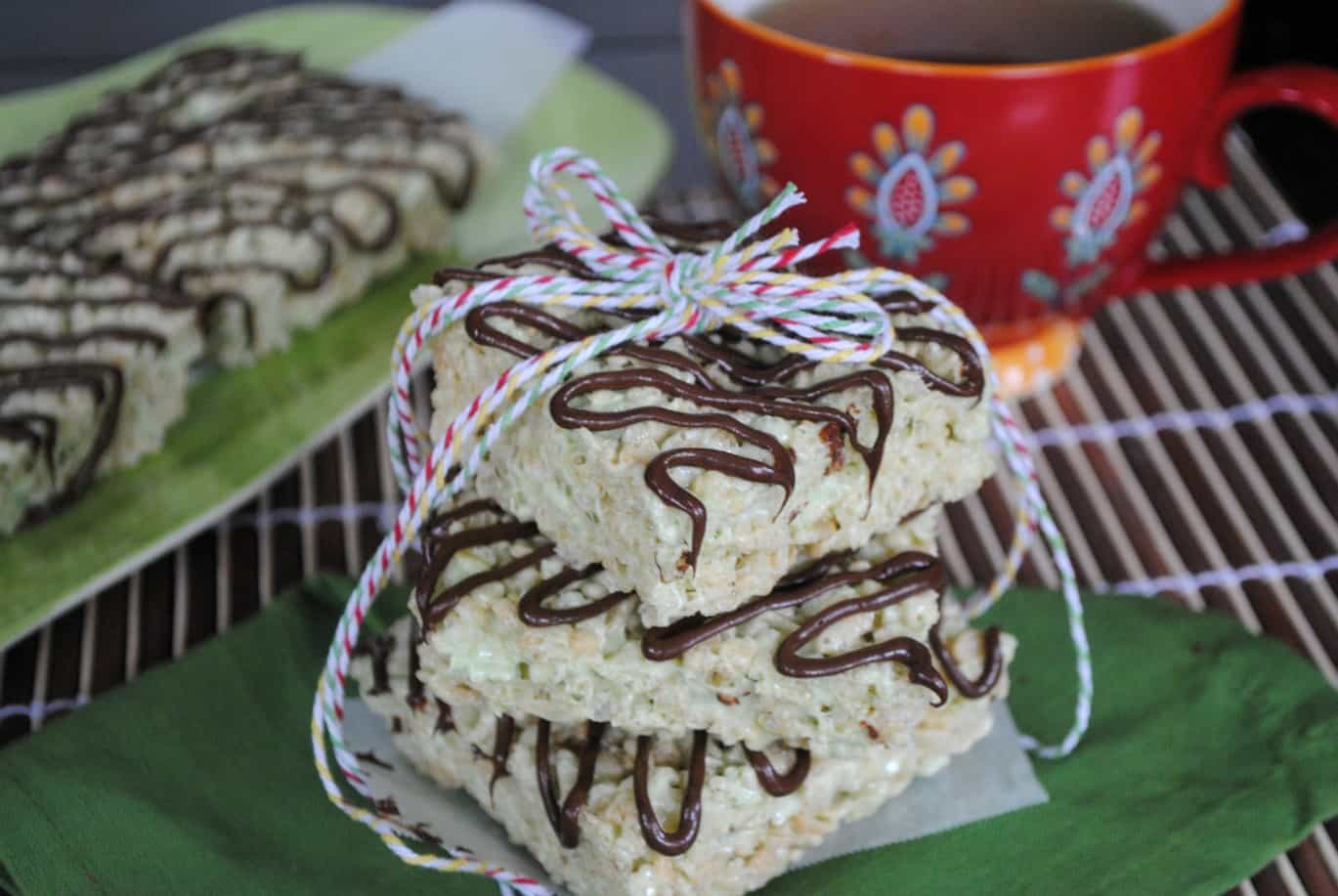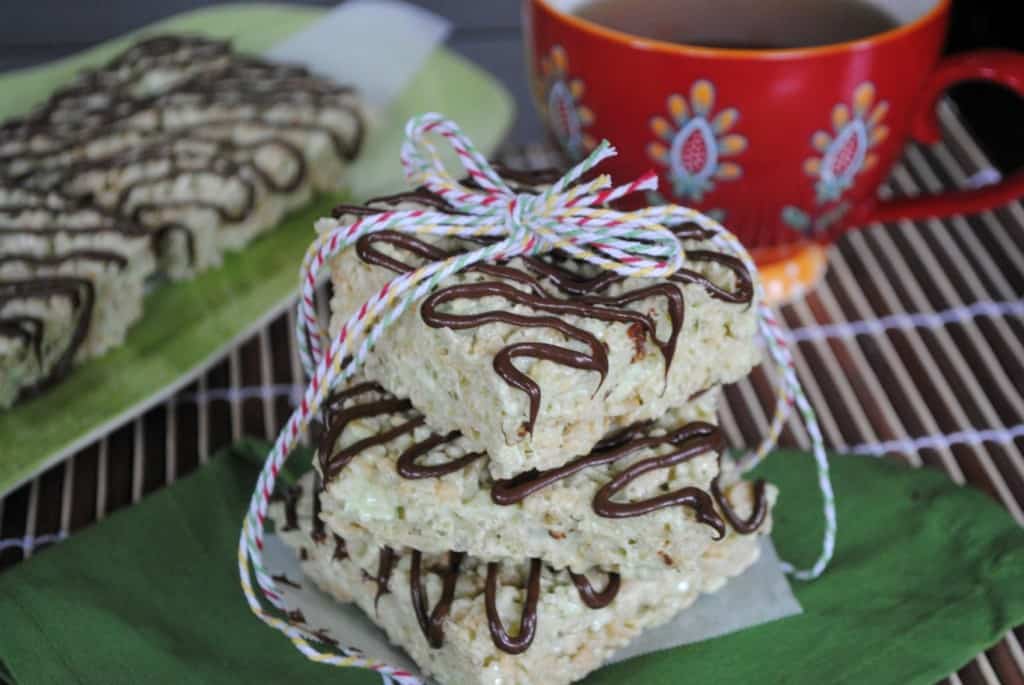 Pistachio Krispie Treats: JELLO pudding mix combined with Krispie treats makes these delicious! Drizzle some dark chocolate for extra YUM factor!
Connect with Shugary Sweets! I know you want to see behind the scenes…check out my instagram!
Facebook | Twitter | Pinterest
Yield: 16 large bars
Butterscotch White Chocolate Wonderful Krispie Treats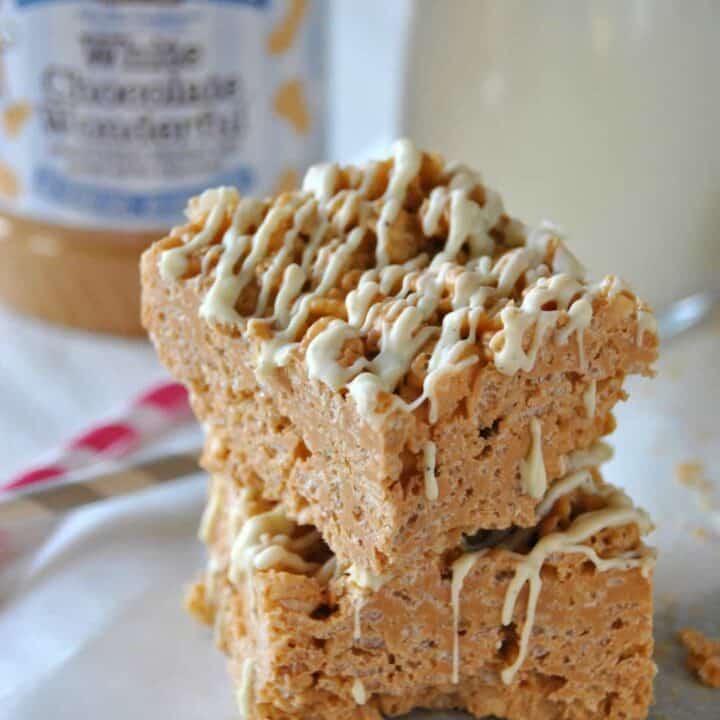 Ingredients
1 bag (11 oz) Butterscotch morsels
1 cup peanut butter (OR Peanut Butter & Co White Chocolate Wonderful)
6 cup crispy rice cereal
4 oz white chocolate, melted
Instructions
In microwave safe bowl, combine butterscotch morsels with peanut butter. Heat for 1 minute. Stir and heat an additional 30 seconds. Stir again (if still not completely melted, heat an additional 30 seconds. Pour over cereal, folding it in completely.
Press into an 8inch square baking dish lined with parchment paper. Refrigerate for 15-30 minutes. Cut into squares. ENJOY!
Optional: drizzle treats with melted white chocolate bar!
Nutrition Information:
Yield:
16
Serving Size:
1
Amount Per Serving:
Calories:

173
Total Fat:

10g
Saturated Fat:

3g
Trans Fat:

0g
Unsaturated Fat:

6g
Cholesterol:

1mg
Sodium:

138mg
Carbohydrates:

17g
Net Carbohydrates:

0g
Fiber:

1g
Sugar:

6g
Sugar Alcohols:

0g
Protein:

5g
*Nutrition facts are an estimate and not guaranteed to be accurate. Please see a registered dietitian for special diet advice.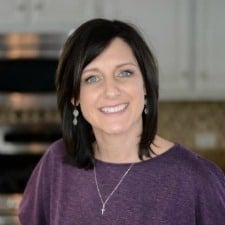 Aimee is a dessert lover (specifically rice krispie treats), workout enthusiast, self-taught foodie, and recipe creator. Her recipes have been featured in over 15 magazines, and her passion is to share her love of cooking with the everyday home cook! Learn more about Aimee.