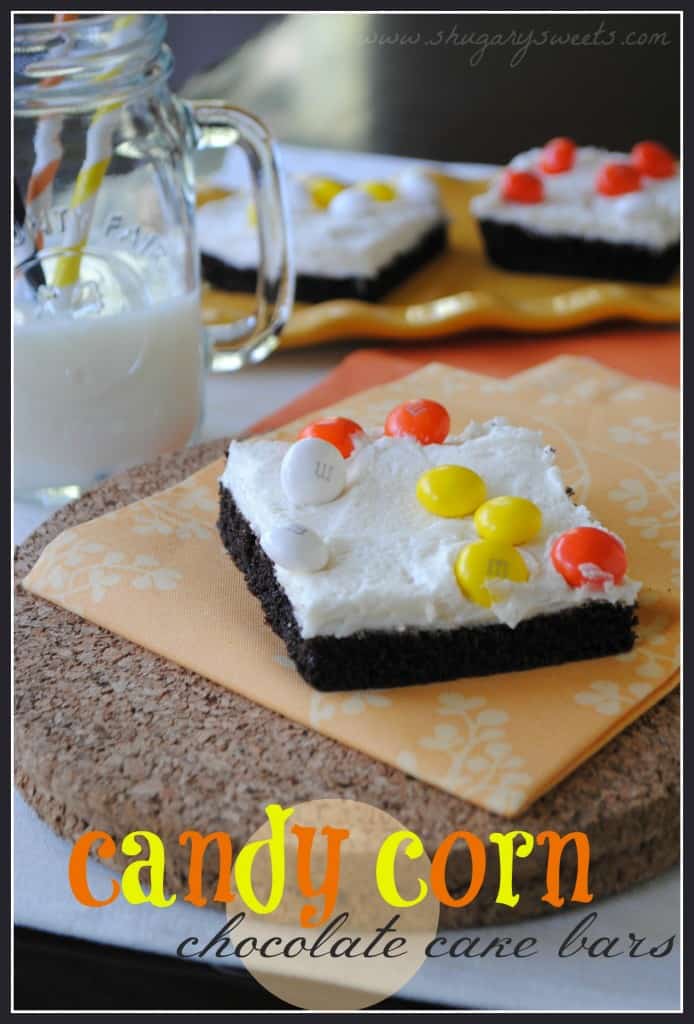 This my friends is a total cheat dessert.


Sometimes in the middle of the day, I get cravings.
Yes, you read that right. This dessert is all about the frosting. The cake is just a slightly doctored up Duncan Hines Fudge Cake Mix.
Then it's topped with a fluffy vanilla buttercream frosting.
And sprinkled with Candy corn m&m's.
Yes. I think they really do taste like candy corn. But I know many of you won't be able to find them. So throw on the real stuff and that would be cute too! It tastes so good with the buttercream frosting.


Best part? You bake it in a 15×10 baking sheet…that makes a lot of cake bars! Just sayin. And if you put these in an air tight container, the frosting keeps the cake moist for up to a week! Maybe longer…but I wasn't able to test that theory. Ours lasted 5.02 days. The .02 is that is about how long it took me to eat the last cake bar after waking up and pouring my coffee.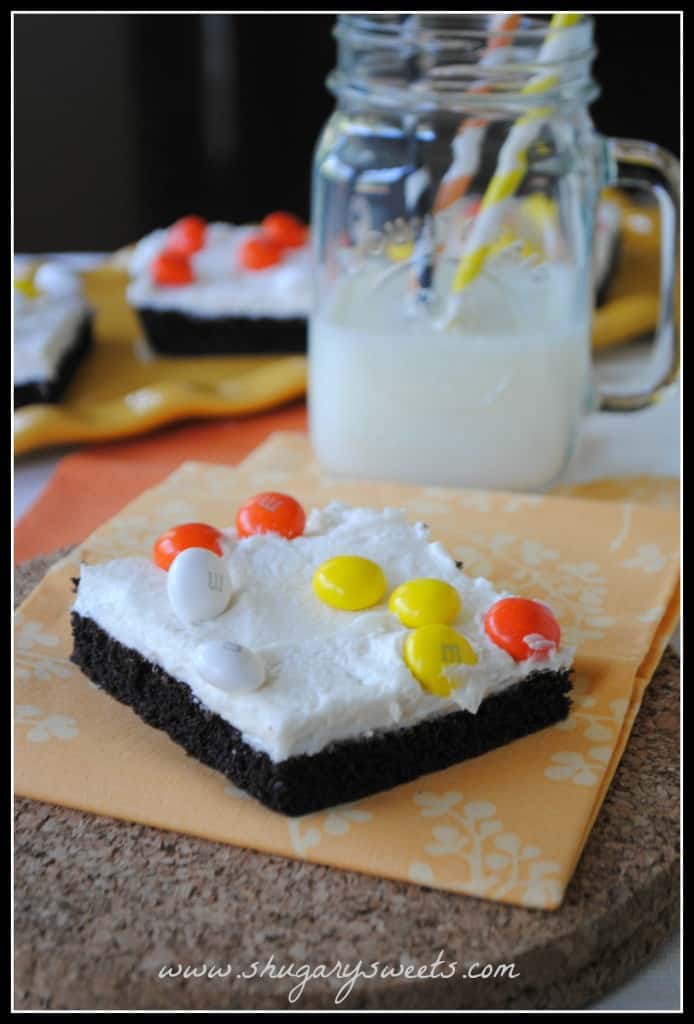 Like this cake bar recipe? You may also enjoy these bar recipes….
Chocolate Chip m&m Cookie Bars with Rainbow Frosting– delicious chocolate chip cookie base topped with buttercream frosting. Oh, and the frosting has an awesome rainbow swirl!!!


Gooey Chocolate Brownie Bars– instead of gooey cake bars, I took a chocolate cake mix and make gooey brownie bars. No frosting needed on these!


Cinnamon Frosted Zucchini Bars– garden zucchini is the highlight of these soft and sweet bars. Top them with a sweet cinnamon frosting and these are perfect for breakfast or dessert!
Candy Corn Cake Bars
Ingredients
For the Cake:
1 box (16.5oz) Duncan Hines Dark Chocolate Fudge Cake Mix
2 eggs
1/4 cup water
1/4 cup unsalted butter, melted
For the Frosting:
1/2 cup unsalted butter, softened
4 cup powdered sugar
2 Tbsp heavy cream
1 tsp vanilla extract
1 bag (9.9oz) Candy Corn M&Mcandies
Instructions
In mixer, beat cake mix with eggs, water and melted butter. Spread into a greased 15 1/2x10x1 baking sheet. Bake in a 350 degree oven for 15-18 minutes. Remove and cool completely.
In mixer, beat butter for 2-3 minutes, until fluffy. Add in powdered sugar, cream and vanilla. Beat until fluffy, about 5 minutes. Spread over cooled cake and sprinkle with candy corn m&ms. Cut unto squares and enjoy!