Adorable and festive, these Candy Corn Chocolate Donuts are easy to bake and fun to eat!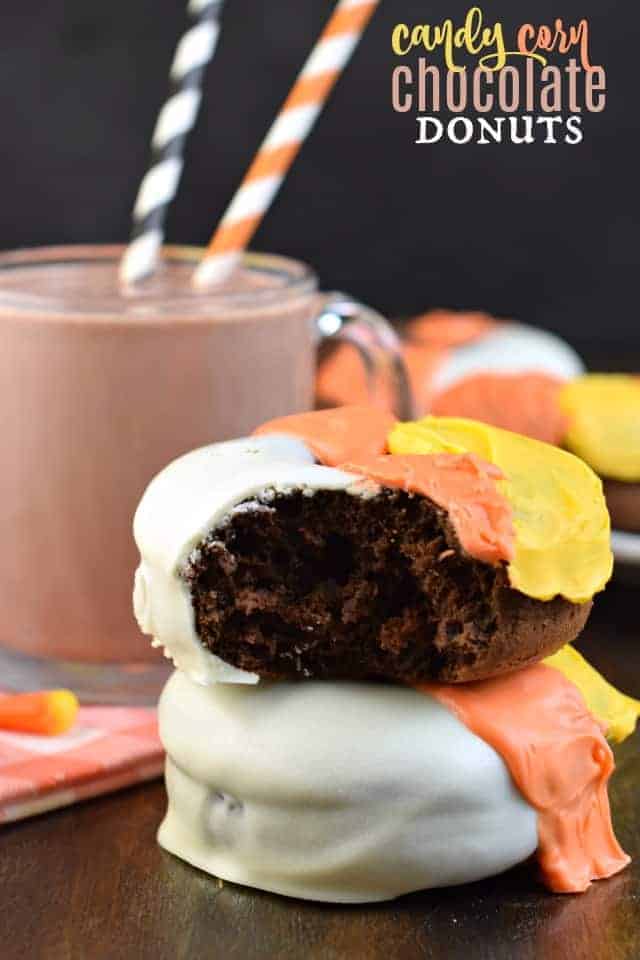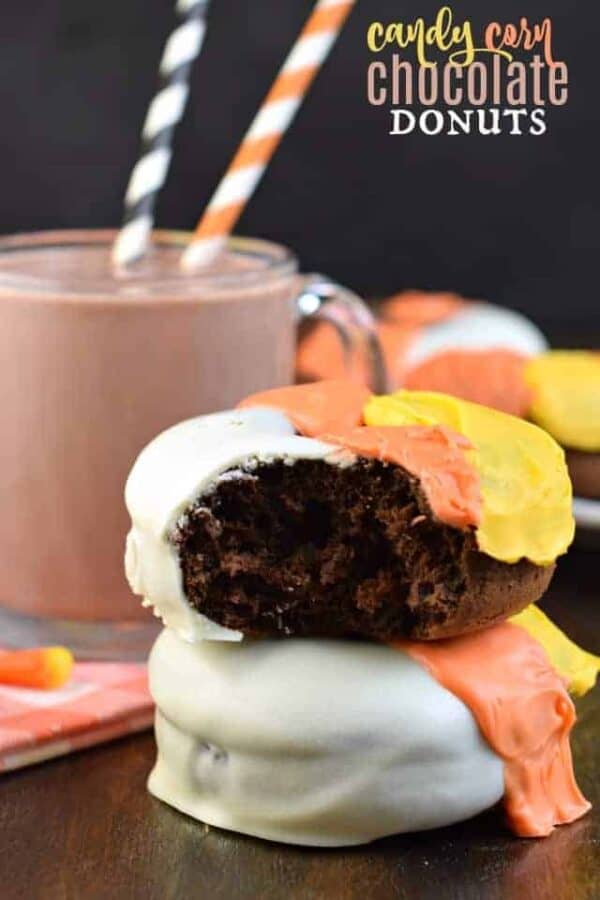 Today's recipe was created in partnership with The National Milk Life Campaign. While I was compensated to create this recipe, all opinions are 100% my own!
Click HERE to save to Pinterest!
It's that time of year again! When moms everywhere are scrambling to make costumes, classroom treats, and Halloween memories.
I don't know about you, but Halloween is NOT my favorite holiday. I love fall, and the chill in the air, and pumpkin spice EVERYTHING, but the stress of Halloween with 4 kids was always too much for me.
Buying costumes was out of my comfort zone, as I grew up with a mom who made our costumes every year, from household items. But I can't sew to save my life. Such a conundrum. So every year my kids had homemade costumes that looked like a 5 year old made them, haha.
I'm so glad my kids are too old for trick-or-treating. Well, I shouldn't say that, they do still trick or treat, but now they make their OWN costumes. And I can still reap the best part of the holiday…the candy!

One of my favorite candies is Candy Corn.
I know, people either love it or hate it. And I'm all about the "autumn mix" too with the pumpkins and chocolate candy corn.
Today's Candy Corn Chocolate Donuts recipe was inspired by my love for this Halloween treat…and a need to have something to dunk in my chocolate milk.
I used my favorite Chocolate Donuts recipe as the base for this breakfast treat!
While the Halloween holiday is filled with candy and other treats, I try to make it a priority to still enjoy the holiday while giving my family a drink I can feel good about. Chocolate Milk. The official drink of Halloween!
Just like classic milk, chocolate milk has 9 essential nutrients in every 8-oz glass, including protein! Not only do we love the taste, but it's perfect for fueling hours of trick-or-treating fun!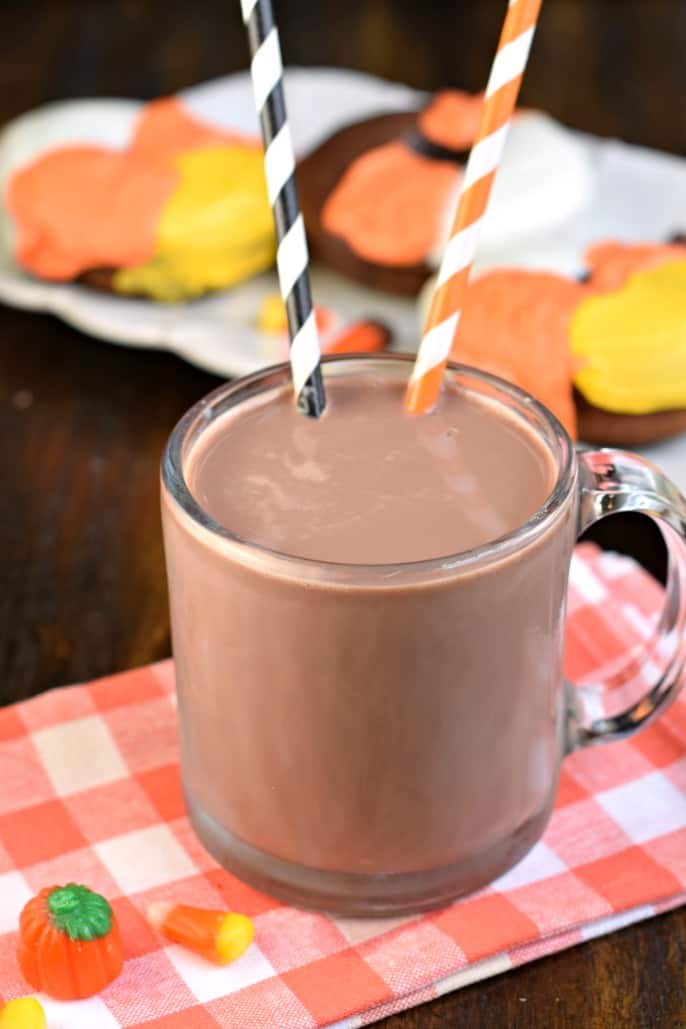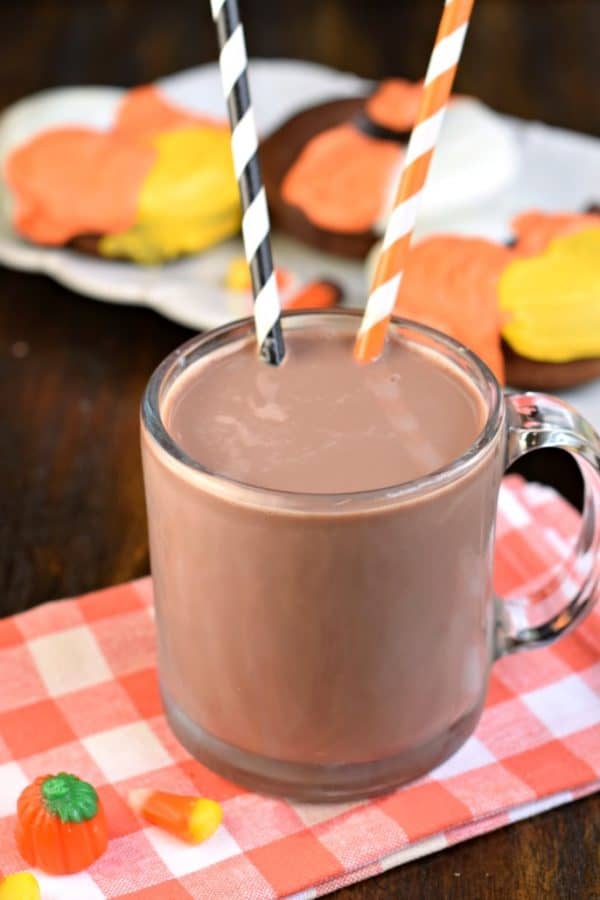 Why choose Chocolate Milk?
Milk provides 8 times more naturally occurring, high-quality protein than most almond milk (per 8-oz glass), plus it is minimally processed for a farm-to-table beverage your family will love.
The Dietary Guidelines for Americans recommend that kids should get between 2 and 3 cups of milk/milk product per day, dependent on age. Chocolate milk counts as one serving!
The American Academy of Pediatrics agree that chocolate milk is a positive trade-off for pop (soft drinks for you non-midwesterners, haha).
KIDS LOVE chocolate milk, and moms feel good about serving it. Also, this mom, LOVES chocolate milk too!
If you want more information about the National Milk Life Campaign visit Milk Life to get the details.
Visit AmazonFresh to get chocolate milk delivered today for a terrifyingly tasty snack!

How to make Chocolate Donuts:
Start by preheating your oven to 325 degrees F. Spray a donut pan with baking spray (you'll need enough for 12 donuts). I have TWO of these donut pans and love them!
In a large mixing bowl, combine all your dry ingredients. Add your eggs, milk, and vanilla extract. For this recipe you can use any kind of milk you have on hand, or make it extra fudgy by using CHOCOLATE MILK!
Once that is well blended, spoon all the batter into a gallon sized ziploc bag. Snip off the corner and fill your donut pans evenly, about 3/4 full.
Bake donuts for 12-14 minutes. Allow to cool in pan for a couple minutes, then flip out onto a wire rack to cool completely.
Tips for making CANDY CORN Chocolate Donuts:
To decorate, you will use dark chocolate melting wafer, white chocolate melting wafers, yellow candy melts, and orange candy melts. You can find these items in most grocery stores or on amazon!
Decide how many "chocolate" candy corn donuts you will make, and how many regular. I did 6 of each. Start by dipping half of the doughnuts in the melted white chocolate (all the doughnuts will need this).
Once that sets (about 10 minutes), dip the other side in the melted dark chocolate (for half) or spread the melted yellow chocolate on them.
Now all 12 of your donuts need orange in the middle. My easiest trick for this was to spoon a dollop of melted orange on the donut then using an offset spatula spread it out.
Voila. Done. And yes, they still kinda look like a 5 year old made them, just like the costumes I created, haha!!!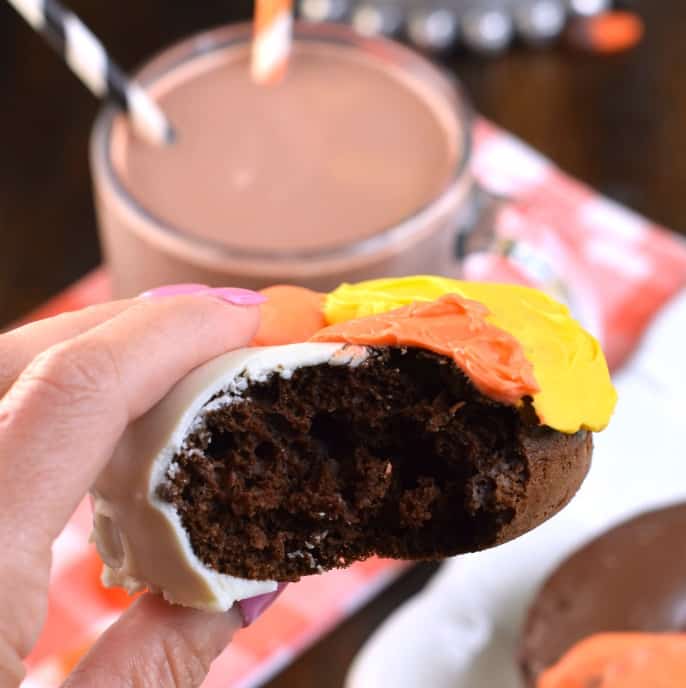 More treats that go great with Chocolate Milk:
Pumpkin Scones are a great choice in the morning. Packed with flavor from the double glaze, these are perfect with a big cup of chocolate milk!
Chewy Peanut Butter Krispie treats topped with Candy Corn, Peanuts, and peanut butter candies are a great Halloween treat to go with your chocolate milk!
Cookies and milk go hand in hand. But Halloween Peanut Butter Cookie Cups with their spooky decorations go PERFECT with chocolate milk!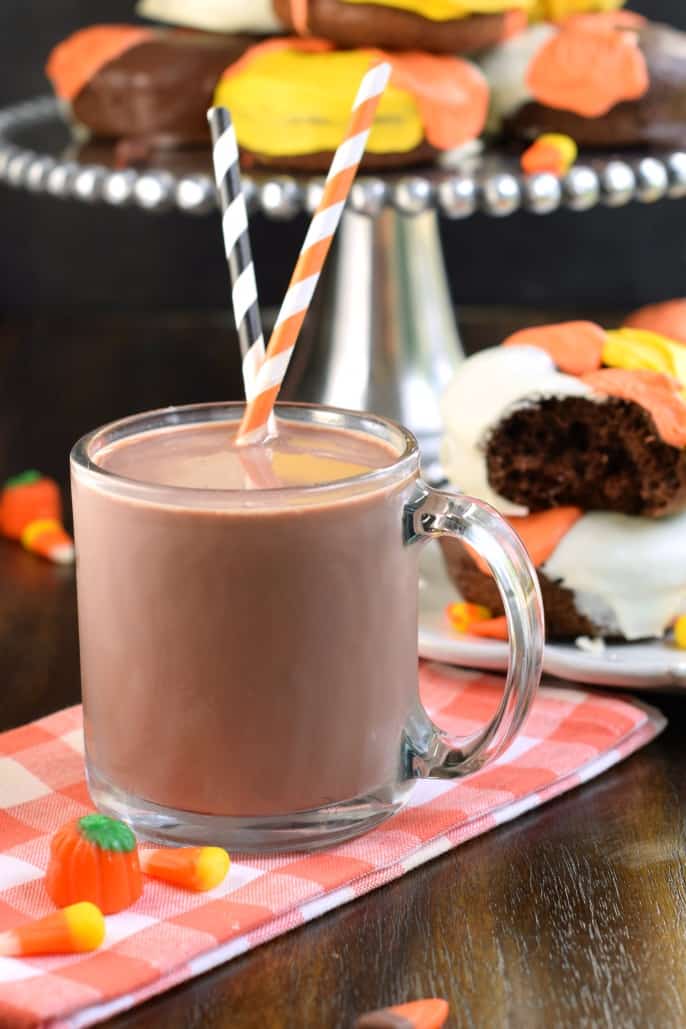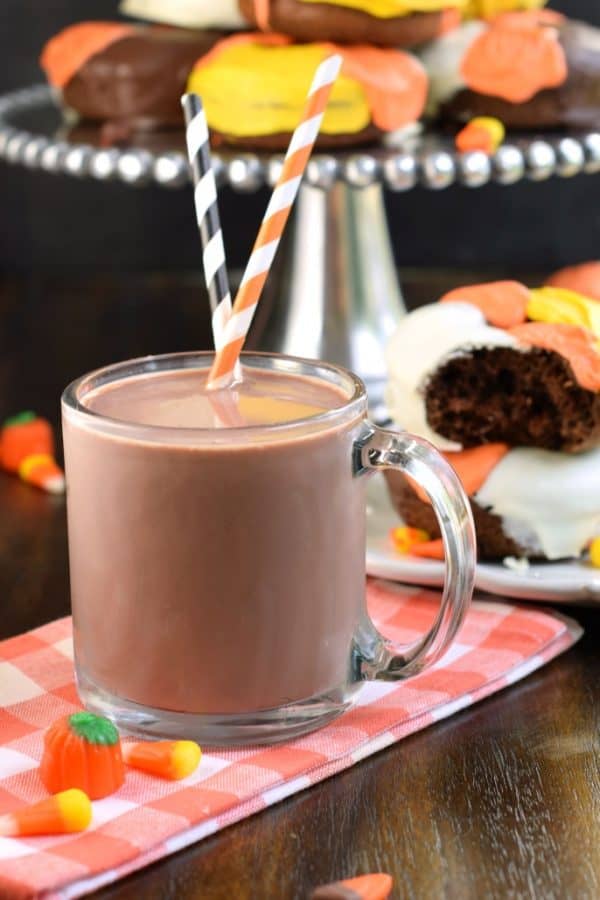 Connect with Milk Life:
Facebook | Website | Twitter | Pinterest | Instagram
If you LOVE this recipe, be sure to stop on over in my Pinterest Community to share a picture of YOUR dish! Or share it on Instagram and tag me #shugarysweets so I can see it!
I created a fun little group on facebook and I'd love for you to join in! It's a place where you can share YOUR favorite recipes, ask questions, and see what's new with Shugary Sweets (so that you never miss a new recipe)! If you'd like to check it out, you can request to join HERE.

Connect with Shugary Sweets!
Be sure to follow me on my social media, so you never miss a post!
Facebook | Twitter |  Pinterest | instagram 

Candy Corn Chocolate Donuts recipe:
Today's recipe was created in partnership with The National Milk Life Campaign. While I was compensated to create this recipe, all opinions are 100% my own!