Caramel Apple Ring Pops
Capture the delicious chocolate, caramel, and coconut flavor of your favorite cookie in this fun, Caramel Apple Ring Pops recipe! Great for snacking, dessert, or bake sales!
Be sure to sign up for my free email subscription…new recipes in your inbox
**I am part of the Ambassador program with Crunch Pak apples. While I have been compensated for this recipe, all opinions are 100% my own**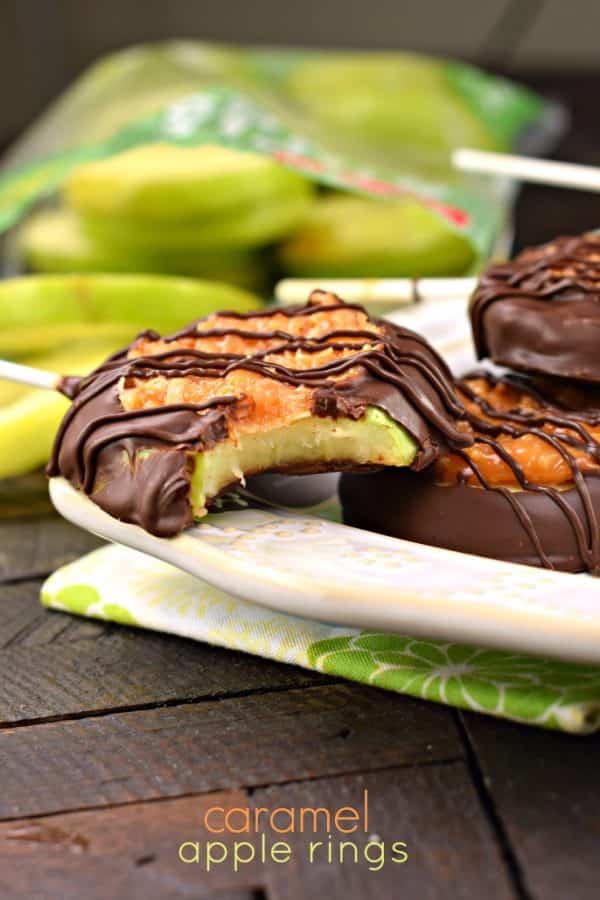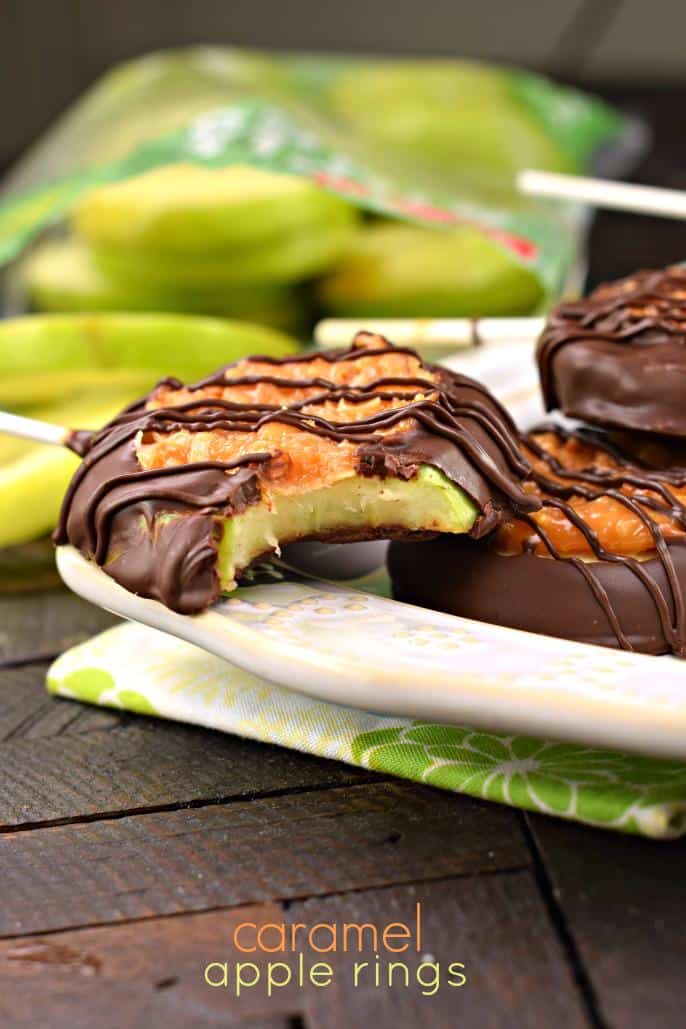 Day 3 of Apple Week and I saved one of my favorites for the end!
If you know me, you'll know that Girl Scout Samoa cookies are my absolute favorite. And eating them frozen just makes them better! I even made my own copycat Samoa Truffles that have the same great flavor as the cookies (without harming any cookies in the process, haha)!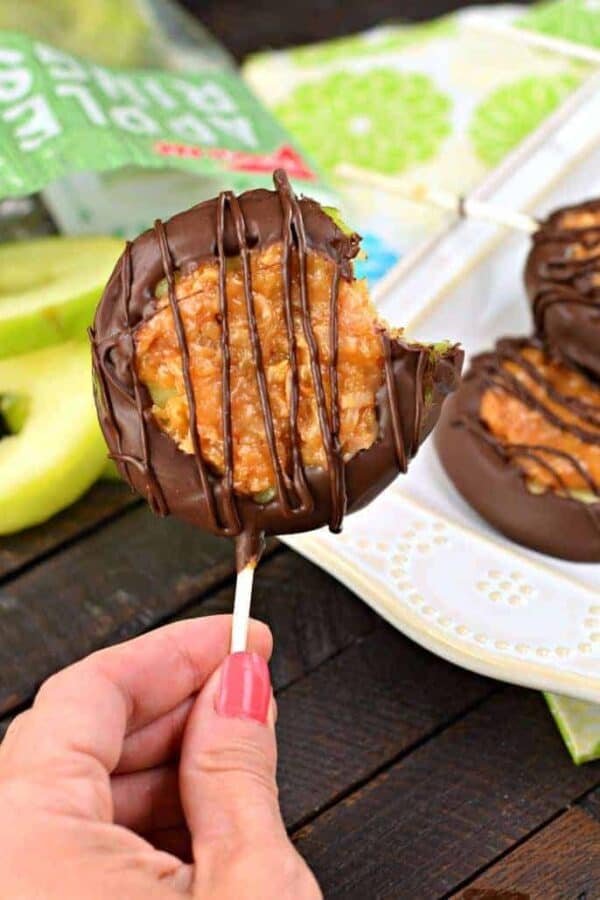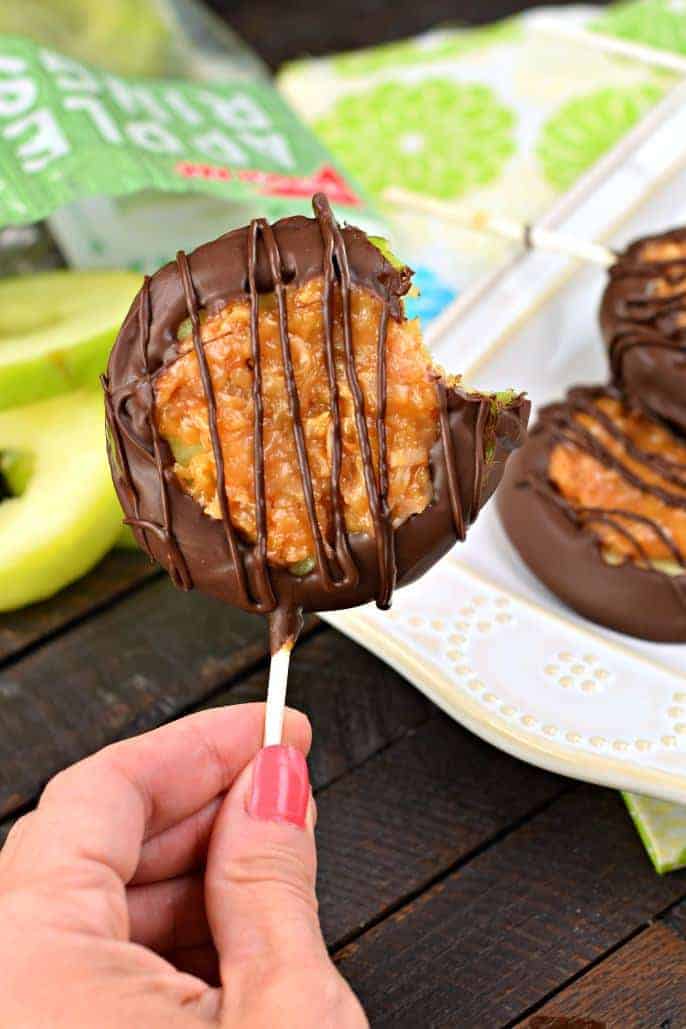 Well, today's Caramel Apple Ring Pops capture the delicious chocolate, caramel, and coconut flavor as the cookies, but instead of shortbread…I used Crunch Pak Apple Rings!
Remember earlier this week I shared this recipe for Apple Cream Cheese Tart? Such a super simple dessert recipe, yet it's quite impressive to look at! Then I shared a wonderful Apple Cranberry Upside Down Bundt cake which is perfect for the holiday season. Today's Caramel Apple Ring Pops are just downright delicious and fun. Make them as an afternoon snack for the kids, or whip some up for a bake sale. Either way, you may want to double the batch because they go quick (and everyone will want the recipe)!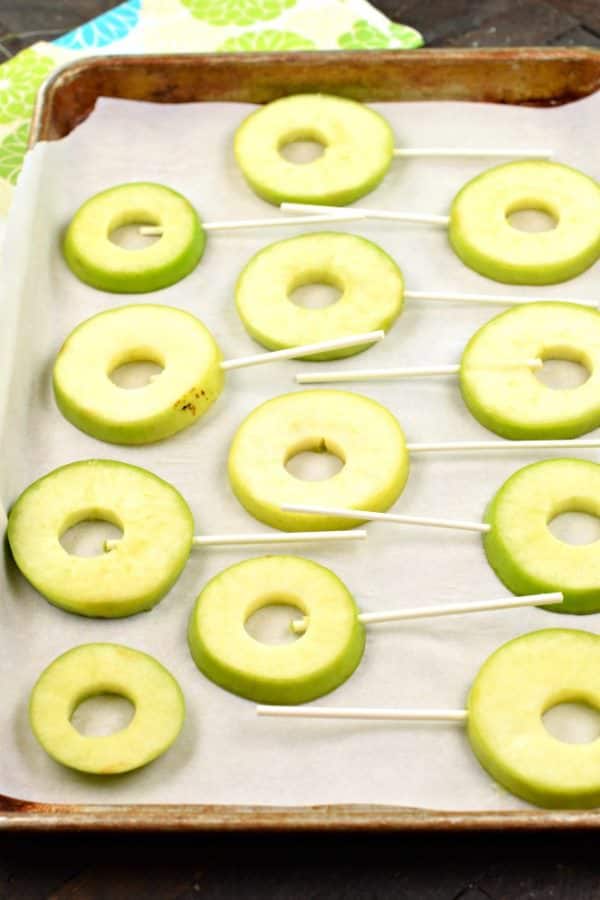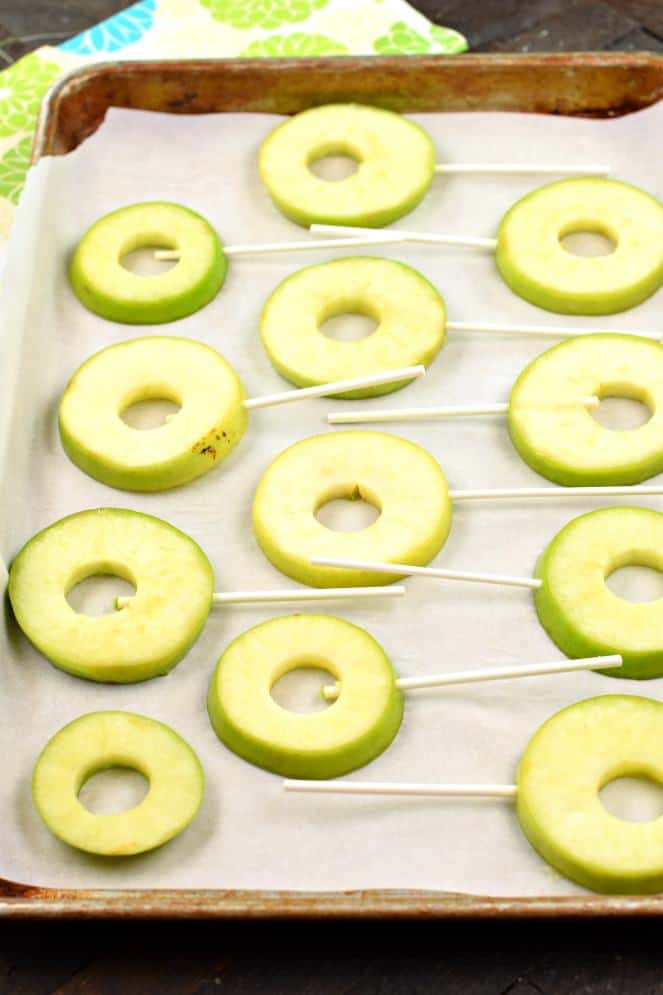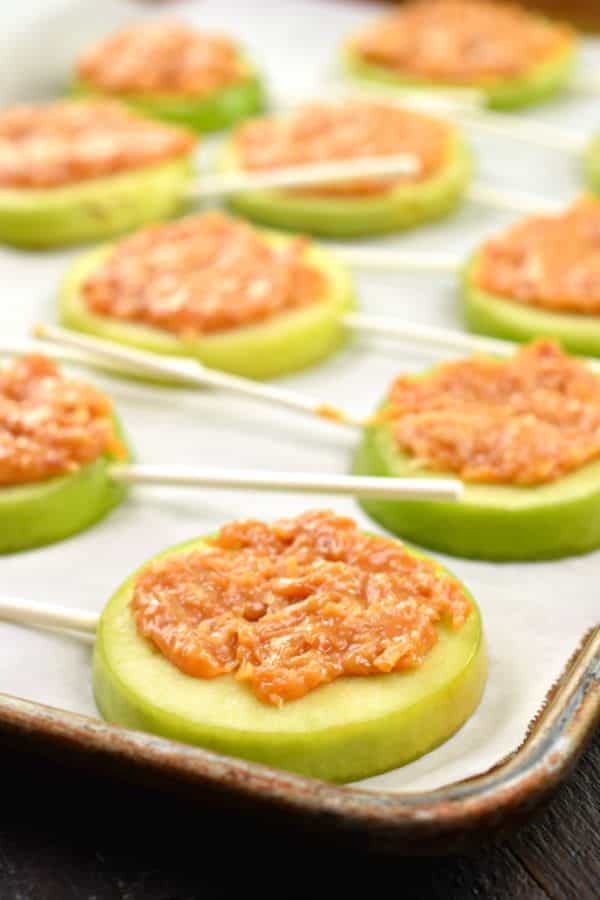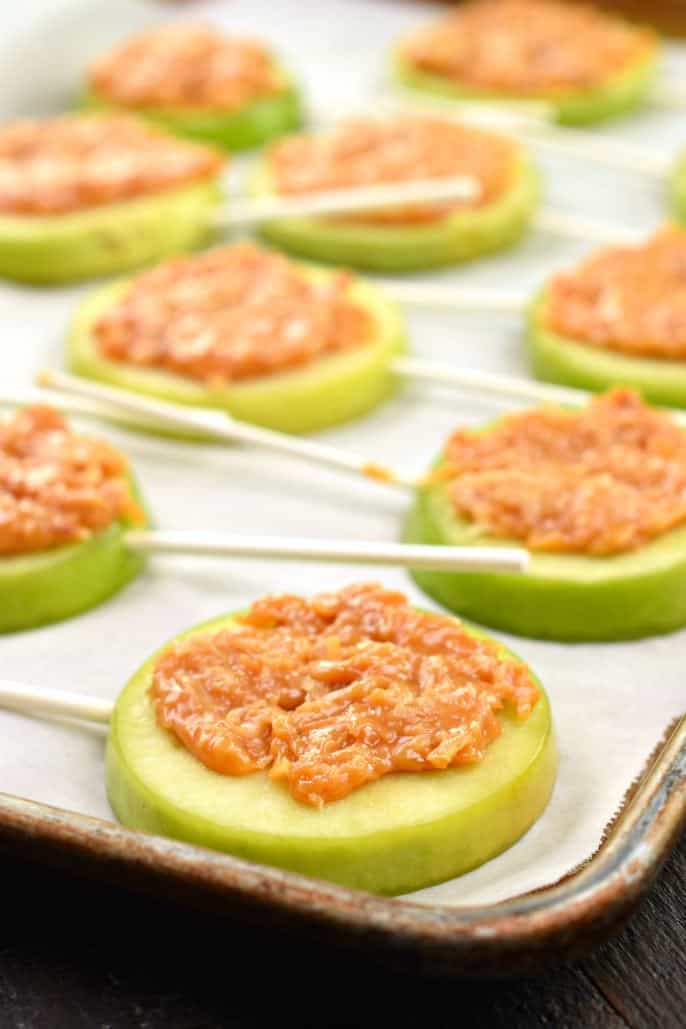 A few notes about make Caramel Apple Ring Pops:
While you're prepping your apples, get your coconut toasted! I do this by spreading out my coconut (about 1 cup of sweetened, shredded coconut) onto a large baking sheet (with sides). Bake in a 400 degree oven for about 10 minutes, giving it a stir with a flat spatula every 2-3 minutes. You want it to be lightly browned. BE CAREFUL. Once it starts to brown, it can go from toasted to burnt VERY FAST.
I used a whole bag (12 oz) of Crunch Pak Apple Rings. Any variety would work great with this recipe, just choose if you prefer sweet, tart, or a mix of both! Maybe pick up an extra bag so you have one to SNACK ON while you create these fun treats! As you can see in the photos I used sucker sticks. Don't be like me. If you can, use wooden popsicle sticks instead. While the sucker sticks are cute, the apples made them soft after awhile and the sticks had to be removed. Use the wooden popsicle sticks (they're cheaper too)!
Unwrap about 25-30 caramels and place them in a microwave safe bowl. Heat for about 90 seconds, stirring every 30 seconds. Fold in your toasted coconut and this is your "topping."
You'll heat your chocolate the same way, in a clean microwave safe bowl for 90 seconds, stirring every 30 seconds. I poured my chocolate into a glass pie plate to make "dipping" the apples easier! I dunked their back side into the chocolate and then placed them on a sheet of parchment paper. Once they were all dunked I spooned the remaining chocolate into a small ziploc bag, snipped off the corner, then drizzled the chocolate over the tops of the caramel apples! I use these chocolate melting wafers, which are great because you don't need to temper the chocolate, and they set up quickly!
If using for a bake sale, wrap in a clear treat bag and tie with ribbon. ENJOY!
My friend Jocelyn from Inside BruCrew Life is sharing a recipe today for some fun Halloween Themed Apple Ring Pops! You've got to see how cute they are, and easy to make too!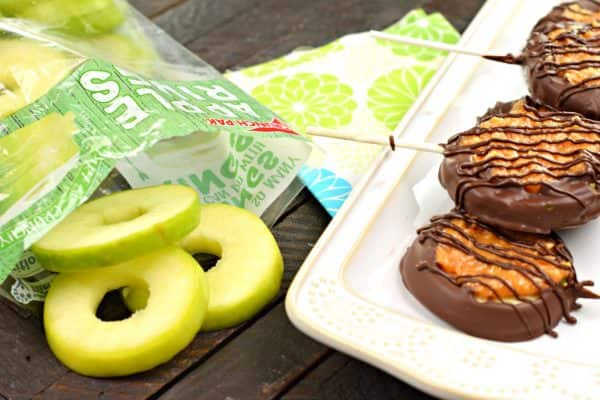 If you're looking for MORE apple recipes, I've got you covered. 
Apple Ring Fritters are a great fall recipe, much like you would enjoy at the orchard, but made at home! I haven't made this Caramel Apple Sugar Cookie Pizza in awhile, but it's going on our dessert menu soon. So easy to make, and perfect for fall parties and holidays! There's nothing like a perfect Apple Crumble recipe to make you want to curl up with a good book on a cold fall evening. You'll love that crumble topping, don't forget the scoop of ice cream!
Stop on over to Crunch Pak for some delicious recipes and ideas!
blog | recipes | facebook | instagram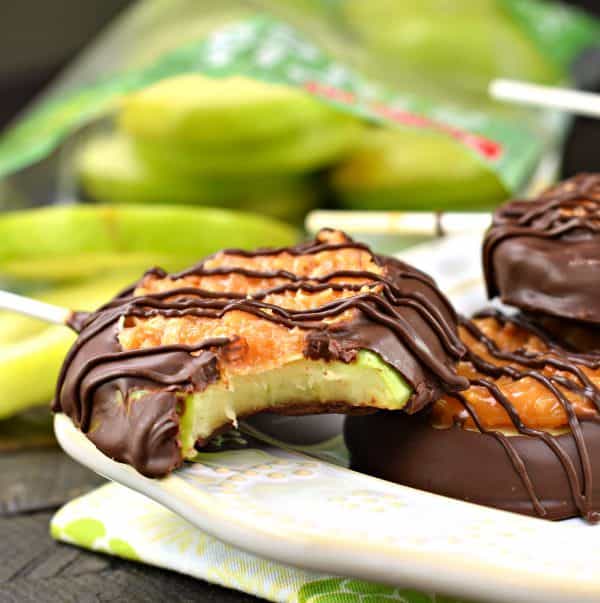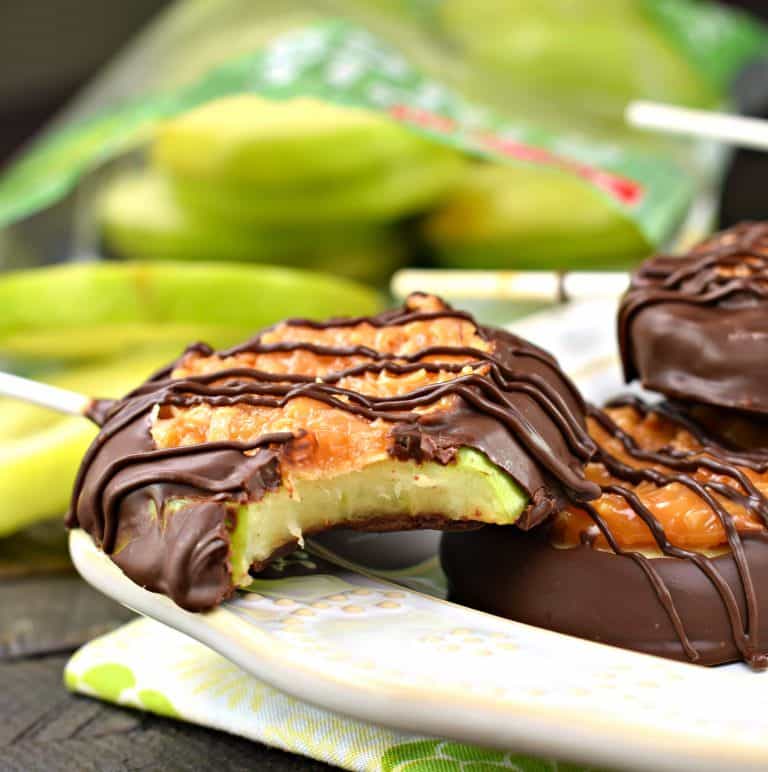 I created a fun little group on facebook and I'd love for you to join in! It's a place where you can share YOUR favorite recipes, ask questions, and see what's new with Shugary Sweets (so that you never miss a new recipe)! If you'd like to check it out, you can request to join HERE.
Connect with Shugary Sweets! Be sure to follow me on my social media, so you never miss a post!
Facebook | Twitter | Google+ | Pinterest | instagram 
Sign up to receive an email in your inbox for each new recipe: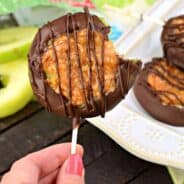 Caramel Apple Ring Pops
Yield: 12 pops
Prep Time:45 minutes
Cook Time:10 minutes
Total Time:1 hour
Capture the delicious chocolate, caramel, and coconut flavor of your favorite cookie in this fun, Caramel Apple Ring Pops recipe! Great for snacking, dessert, or bake sales!
Ingredients:
1 cup sweetened, shredded coconut
1 package (12 oz) Crunch Pak Apple Rings (any variety)
1 package (8 oz) caramels, unwrapped (approx 25-30 candies)
1 package (10 oz) dark chocolate melting wafers
Directions:
Place coconut on 10x15x1-inch baking sheet. Spread out evenly and bake in a 400°F oven for about 8-10 minutes. Stir coconut every two minutes, and cook just until lightly browned.
In a microwave safe dish, melt unwrapped caramels for about 90 seconds, stirring every 30 seconds, until smooth. Fold in the toasted coconut.
Place apple rings on a piece of parchment paper. Push a popsicle stick into one end, gently, so that it's secure. Set aside.
Melt chocolate wafers in microwave safe dish for 90 seconds, stirring every 30 seconds, until smooth. Pour melted chocolate into a shallow dish, like a pie plate.
To assemble, use 1-2Tbsp metal scoop and scoop up some of the caramel coconut mixture. Drop onto the center of an apple ring. Using your finger tips, lightly spread it out. Repeat until all apple rings are down.
Dip bottom of apple ring into the melted chocolate, allowing the chocolate to come up the sides to the caramel center (you want it to touch the caramel as this helps secure everything). Place apple pop back onto parchment paper. Repeat for all the apple rings.
With the remaining chocolate, spoon into a small ziploc bag. Snip off the bottom corner and drizzle over the top of the apple pops. Allow to set about 10 minutes. ENJOY!
MAKING THIS RECIPE? Share it with me on Instagram using the hashtag #ShugarySweets so I can see what you're cooking up in the kitchen!

**I am part of the Ambassador program with Crunch Pak apples. While I have been compensated for this recipe, all opinions are 100% my own**