Capture the delicious chocolate, caramel, and coconut flavor of your favorite cookie in this Caramel Apple Ring Pops recipe. These apples-on-a-stick are as fun to make as they are to eat!
This Caramel Apple Sugar Cookie Pizza is another easy kid-friendly dessert you'll love. Or give this Caramel Apple Dip a try!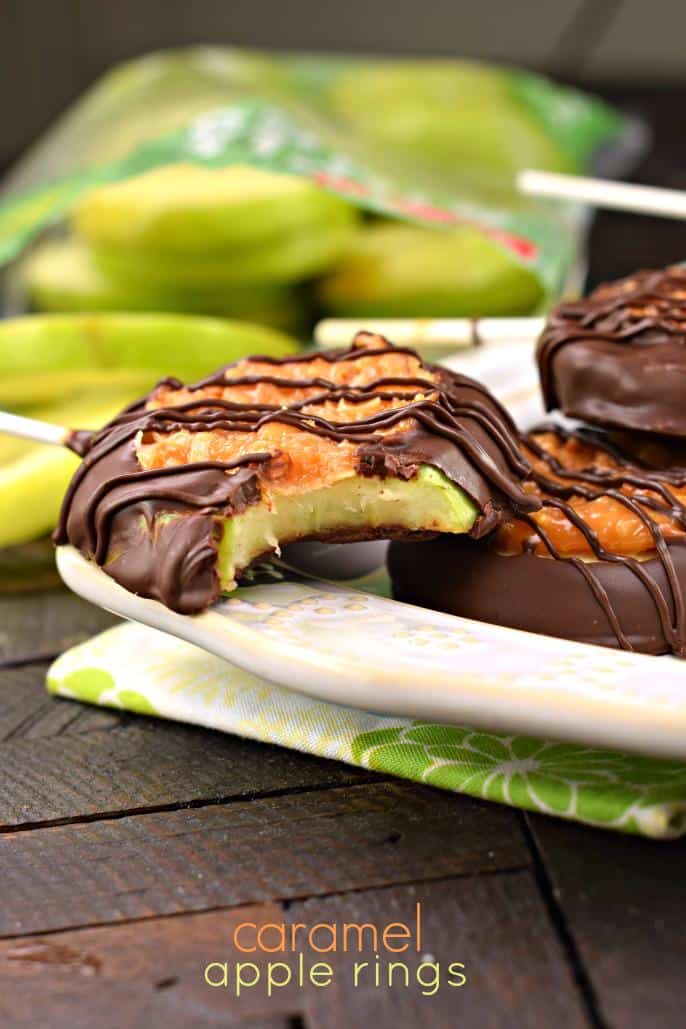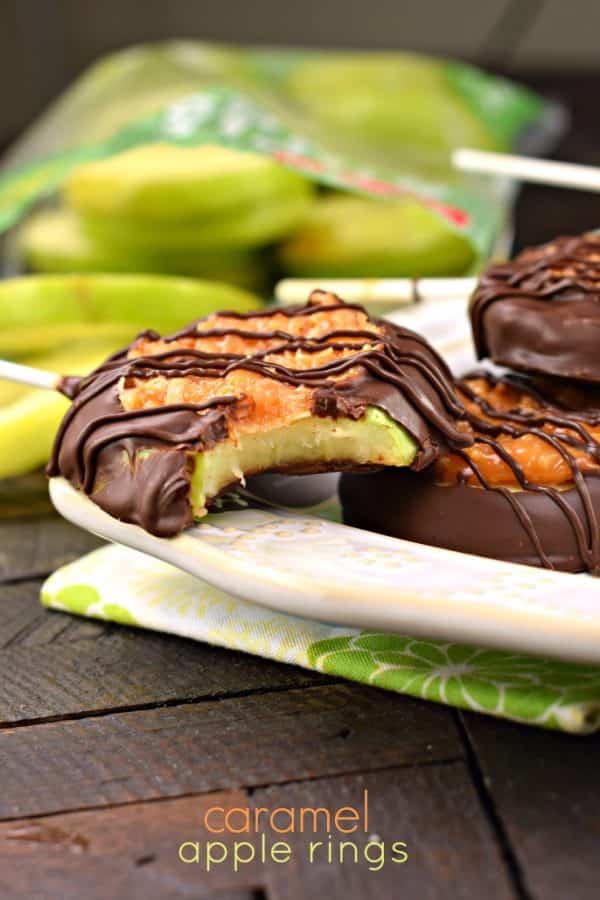 Why This Recipe is Best
Caramel apple meets cookies. These apple pops combine the flavors of Coconut Kiss Cookies with the classic carnival food.
Every food is better on a stick. The popsicle stick adds a novelty that even adults love—whether they admit it or not!
Easy to make. You only need four ingredients to create a treat that looks impressive and tastes even better.
Unique bake sale idea. The cute look and irresistible taste makes Caramel Apple Ring Pops a surefire bestseller!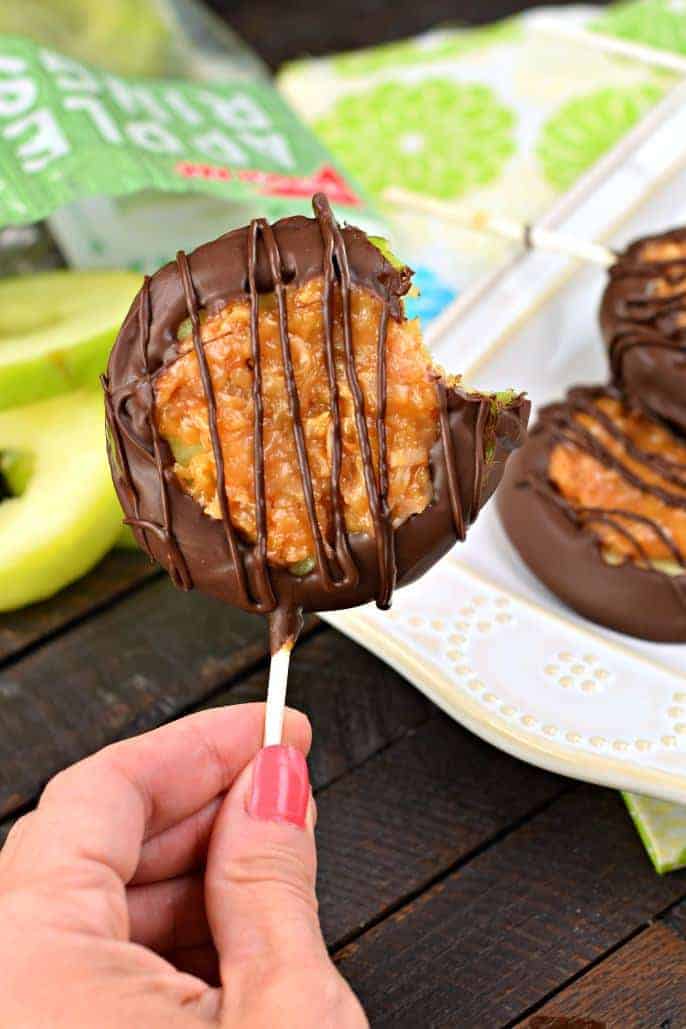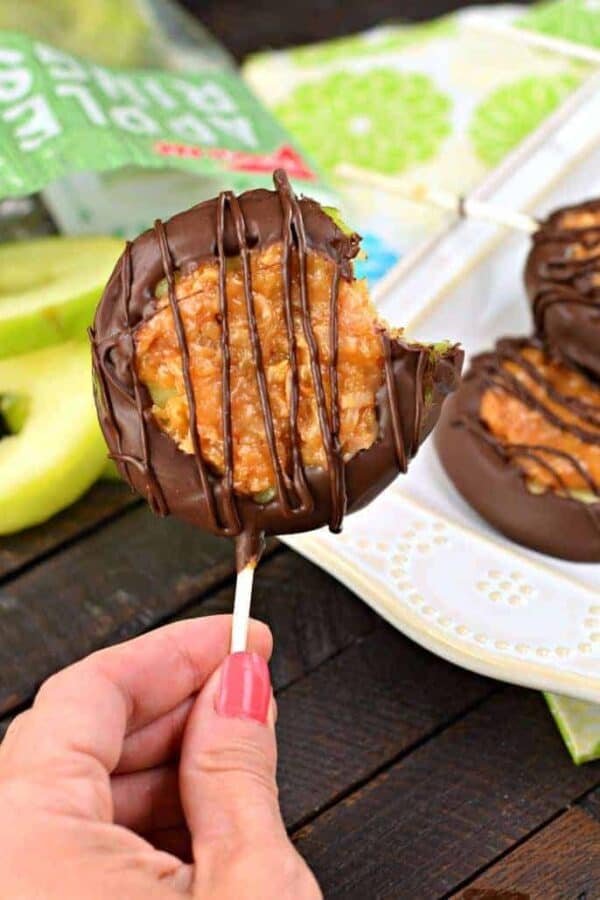 What Kind of Apples are Best
Firm, crisp apples with some tartness are best for making caramel apple rings. Granny smith are a classic choice for caramel apples, so that's what I used in this recipe.
The sweetness of the caramel and chocolate balances out the tartness beautifully. If you don't have Granny Smith apples try this recipe with other tart-leaning varieties like Braeburn or Pink Lady apples.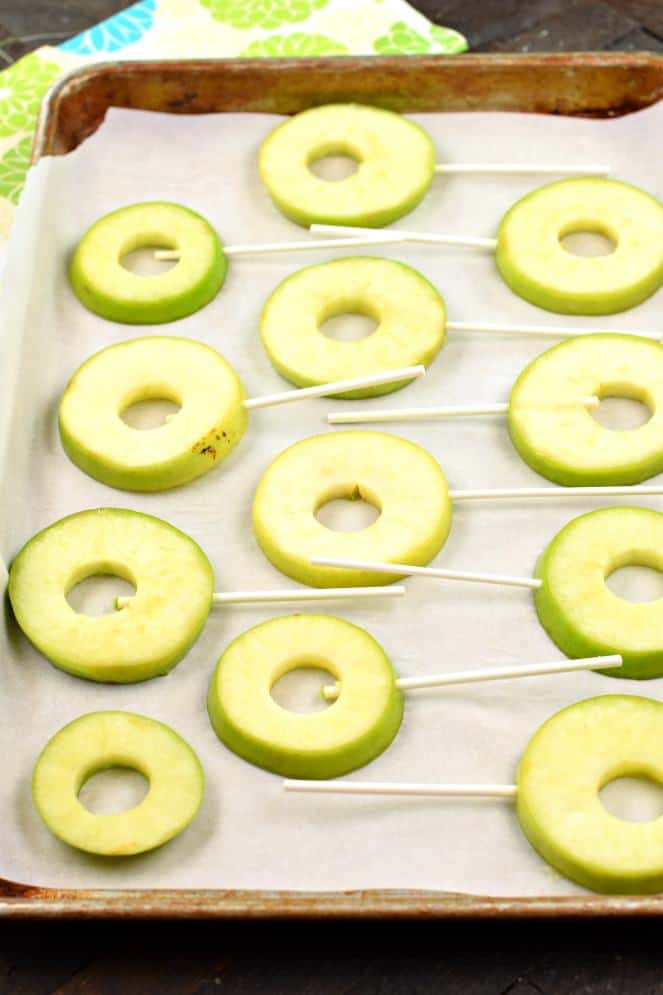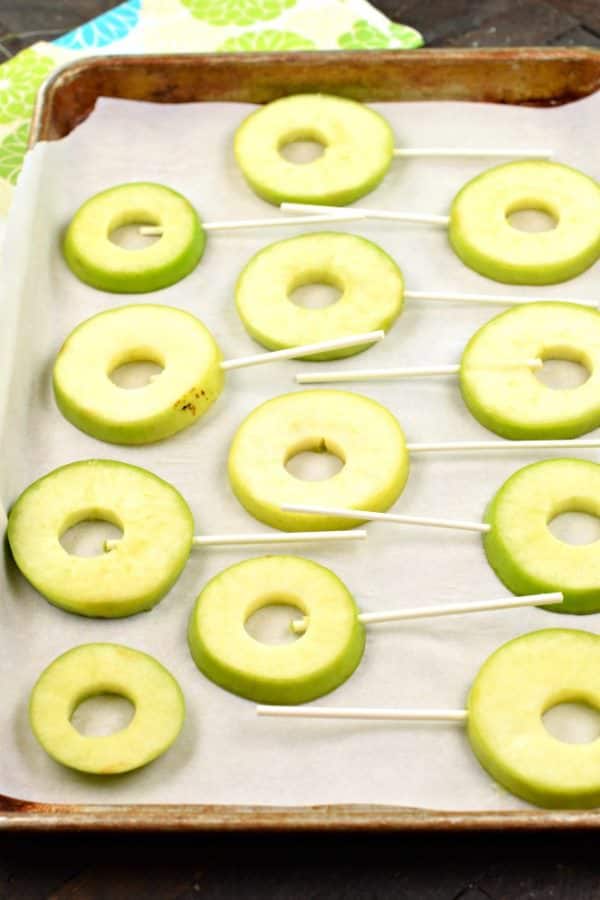 Tips and Tricks
While you're prepping your apples, toast the coconut.
Unwrap about 25-30 caramels and place them in a microwave safe bowl. Heat for about 90 seconds, stirring every 30 seconds. Fold in your toasted coconut and this is your "topping."
You'll heat your chocolate the same way, in a clean microwave safe bowl for 90 seconds, stirring every 30 seconds. I poured my chocolate into a glass pie plate to make "dipping" the apples easier! I dunked their back side into the chocolate and then placed them on a sheet of parchment paper. Once they were all dunked I spooned the remaining chocolate into a small ziploc bag, snipped off the corner, then drizzled the chocolate over the tops of the caramel apples! I use these chocolate melting wafers, which are great because you don't need to temper the chocolate, and they set up quickly.
If using for a bake sale, wrap in a clear treat bag and tie with ribbon. ENJOY!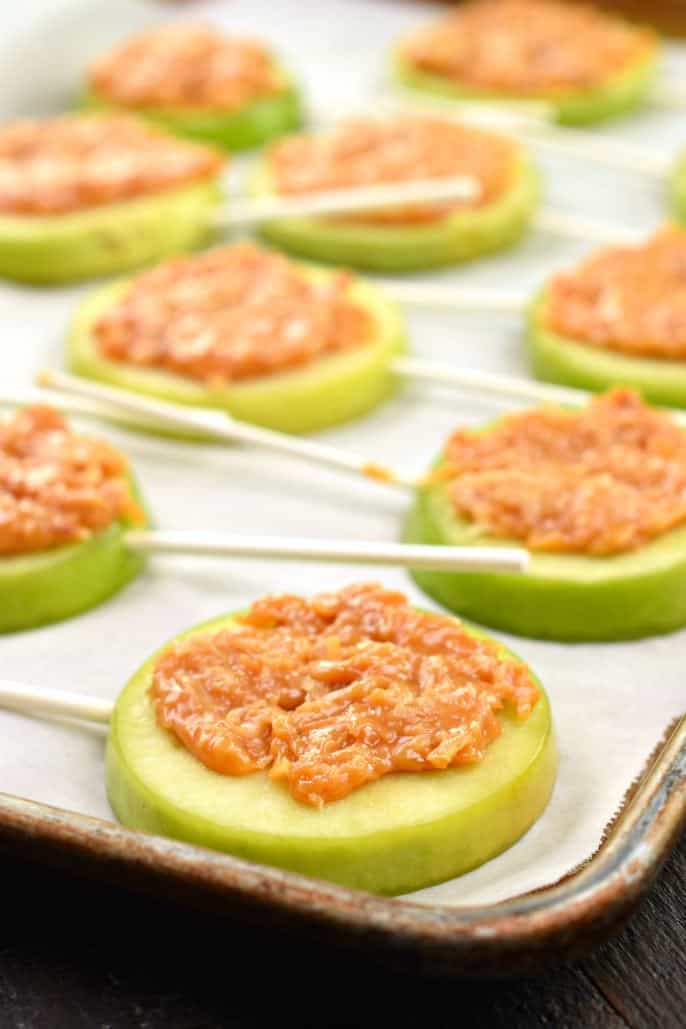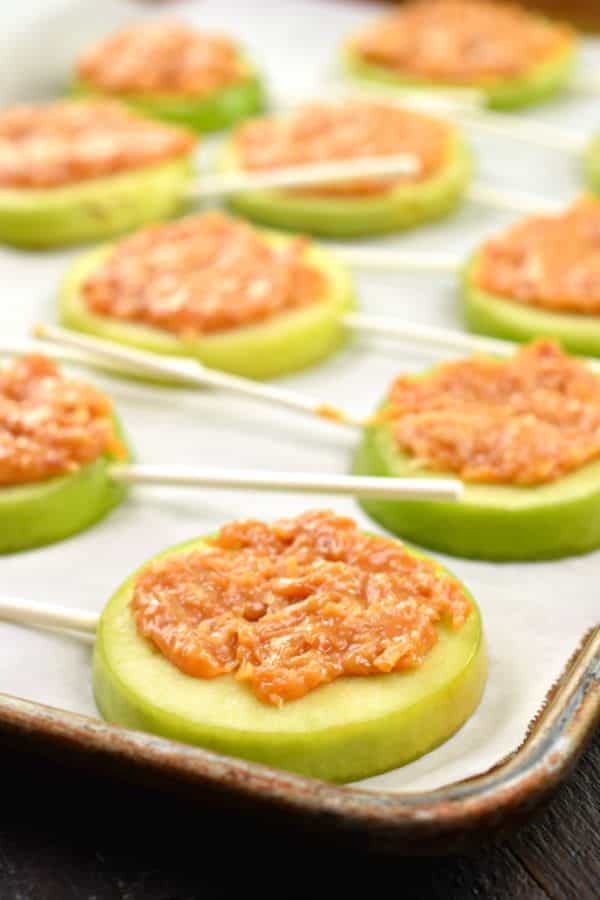 Recipe FAQs
How far in advance can I make them?
These can be made up to a day in advance. I don't recommend making them any farther ahead because the apples will lose their freshness.
Can I make them without popsicle sticks?
Of course! These taste just as delicious if you eat them by hand. The stick just adds an extra fun touch.
Do these taste like Samoa cookies?
These have a flavor reminiscent of Samoas cookies (also called Caramel deLites) but with an apple ring instead of a cookie base. It's a homage to one of my favorite girl scout cookies but not an exact copycat.
Should I refrigerate Caramel Apple Ring Pops?
These do not need to be refrigerated, unless you prefer to. They are perfect enjoyed at room temperature.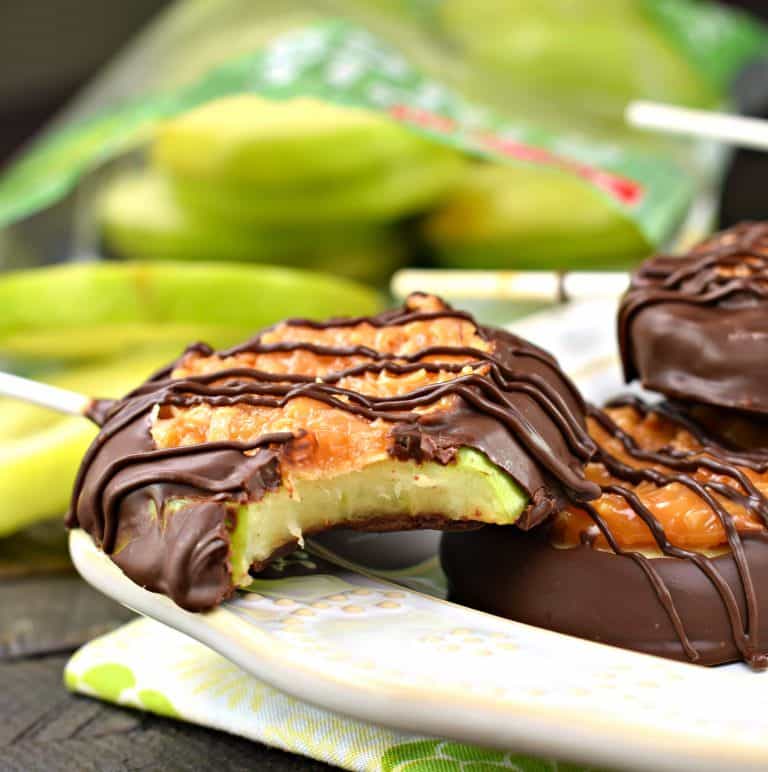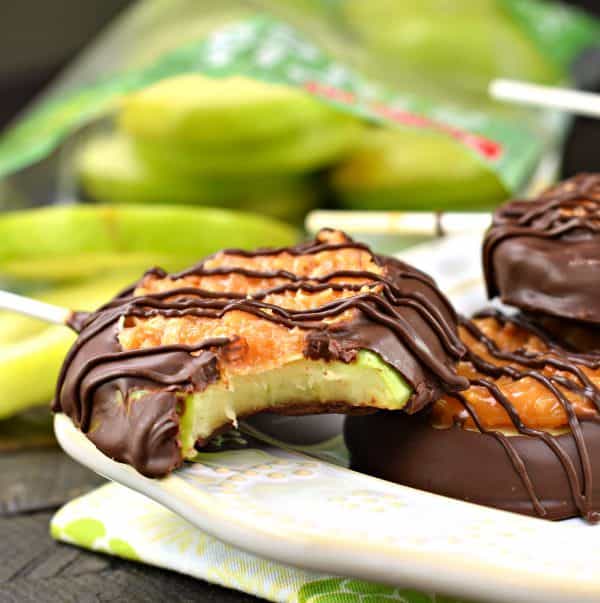 More Apple Desserts
Apple Fritters are a great fall recipe, much like you would enjoy at the orchard, but made at home!
I haven't made this Caramel Apple Sugar Cookie Pizza in awhile, but it's going on our dessert menu soon. So easy to make, and perfect for fall parties and holidays!
There's nothing like a perfect Apple Crumble recipe to make you want to curl up with a good book on a cold fall evening. You'll love that crumble topping, don't forget the scoop of ice cream!