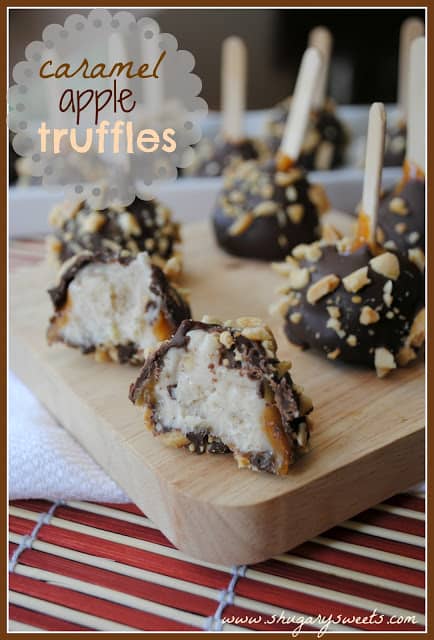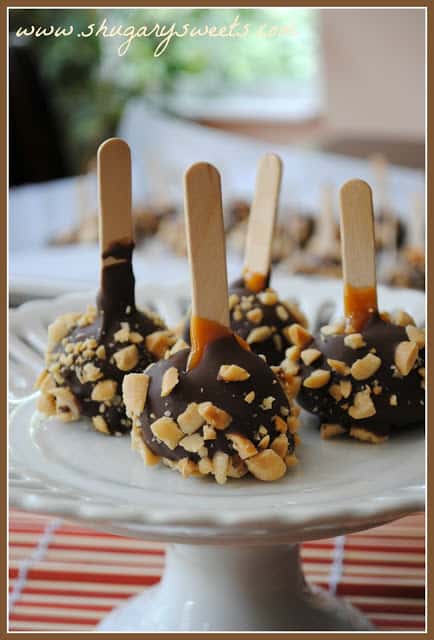 Caramel Apple Truffles are amazing. The center is filled with a homemade apple pie truffle filling (took me three tries to get this baby right)! Then it's coated in caramel, chocolate and peanuts. I had several people who tried these say they are the best thing ever…I have to agree!
These little truffles here are a lot of work. I'm not going to lie.
To clarify, it's not hard work, just quite a few steps. But let me tell you they are so worth every step! Plus this recipe makes about 72 truffles. AND you can freeze them. So make them, freeze them, and eat one a day for the next 72 days. Or something like that….
Yield: 72
Caramel Apple Truffles
Ingredients
For the Truffle Center:
2 cup granulated sugar
3/4 cup heavy cream
1/4 cup unsalted butter
3 cup white chocolate, chopped (or morsels)
7oz jar marshmallow cream
1 cup peeled apples, diced
1 tsp cinnamon
1/4 tsp nutmeg
1/2 tsp allspice
For the Coating:
2 bags (14oz each) Kraft caramels, unwrapped
2 Tbsp water
2 lb chocolate candy coating, melted
1 1/2 cup lightly salted peanuts, chopped
Instructions
Begin by mixing sugar, cream and butter in medium saucepan over medium-high heat. Stirring constantly, bring mixture to a boil. Continue to boil for 4 FULL minutes, stirring constantly.
Pour hot mixture into large freezer-safe mixing bowl. Add white chocolate, marshmallow, cinnamon, nutmeg, allspice and apples. Mix until chocolate is completely melted (about 2 minutes). Freeze bowl for about 2 hours (or refrigerate overnight).
Scoop mixture into 1 1/2 inch balls on a large parchment paper lined cookie sheet. Stick a small popsicle stick (I found the mini sized ones at Michaels, about 2 inch) Refreeze for 2 hours. Don't worry if they are misshapen. After this second freeze you can reform them into balls before dipping in caramel.
In large microwave safe bowl, add unwrapped caramels and water. Microwave on high for 2 1/2 minutes, stirring after each 30 second interval.
Dip each truffle in melted caramel, twisting and tapping until excess drips off. After dipping about a dozen, go back to the dipped ones and re-shape with your hands, pressing the caramel back into a ball shape. Freeze immediately! If truffles get too soft to dip in caramel, stick back in the freezer for 15 minutes.
Once all truffles are dipped in caramel and in the freezer, melt your chocolate according to package directions. Pour melted chocolate in a bowl. Have your bowl of chopped peanuts next to it. Take your frozen truffles and dip in melted chocolate, tapping a couple times to remove excess chocolate. Sprinkle immediately with peanuts and return to parchment paper. Continue until all truffles have been dipped.
Store truffles in refrigerator. OR, if you're not going to be using within several days, place truffles in freezer safe container or ziploc bag and freeze. Return to refrigerator to thaw for an hour before eating!