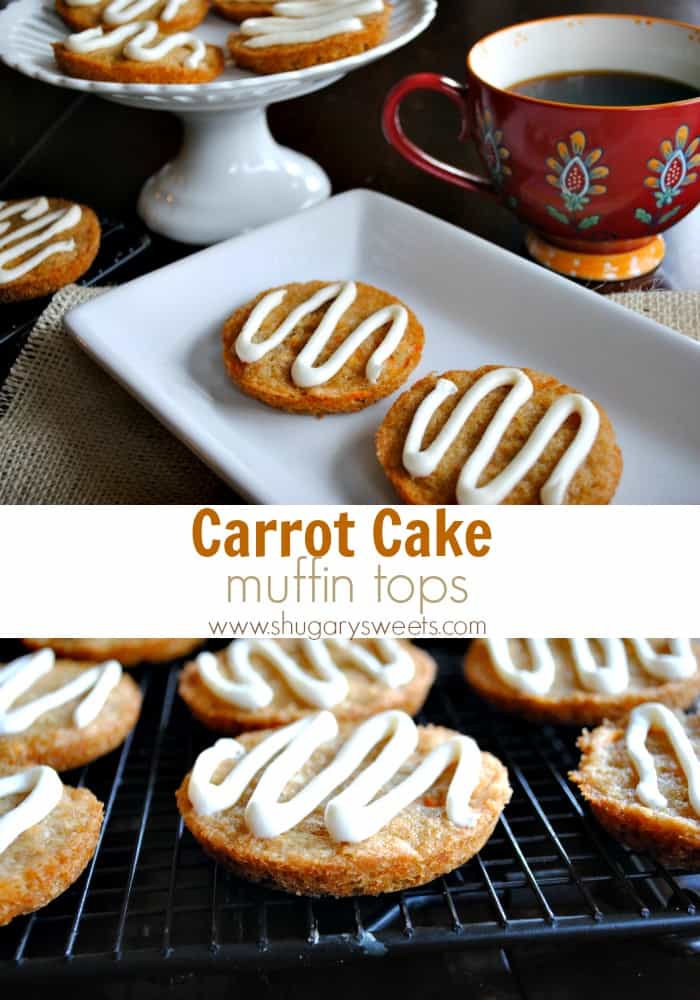 I don't know if you all are ready to hear this yet, but Easter is just around the corner! This is a busy time of year in our home. Two birthdays, Easter and spring break all fall within a two week period!
These carrot cake muffin tops are a perfect addition to any Easter brunch. Or, make a batch for Spring Break.
Finding yourself busy during the day, guess what? They make a delicious dessert too! (and lunch, and dinner, but that might just be me…)
Carrot Cake Muffin Tops with Cream Cheese Frosting
Ingredients
For the Muffins:
1 cup granulated sugar
1/2 cup canola oil
2 eggs
1 cup flour
1/2 tsp baking soda
1/2 tsp baking powder
1 tsp cinnamon
1 cup carrots, shredded
For the Frosting:
2 Tbsp butter, softened
2 oz cream cheese, softened 1/2 tsp vanilla extract
1 cup powdered sugar
1-2 Tbsp heavy cream
Instructions
In large bowl mix the sugar, oil and eggs together. Add in flour, baking soda, baking powder and cinnamon until thoroughly combined. Fold in carrots.
Spray muffin top pan (I use Wilton's) with Baker's Joy and fill each spot with about 2Tbsp of filling. DO NOT OVERFILL. You should get 24 equal sized muffin tops.
Bake in a 375 degree oven for about 8-10 minutes. Remove from pan and cool.
For frosting, beat the butter and cream cheese for about 2-3 minutes. Add vanilla, powdered sugar and cream. Beat until combined. Pour icing into a large ziploc bag, snip off the corner and drizzle on cooled muffin tops. Enjoy!