This Cheesy Hashbrown Casserole recipe is true comfort food. Made with frozen hash browns and plenty of cheese, I can guarantee your family is going to enjoy this one! Often served at potlucks and funerals, everyone digs this cheesy dish.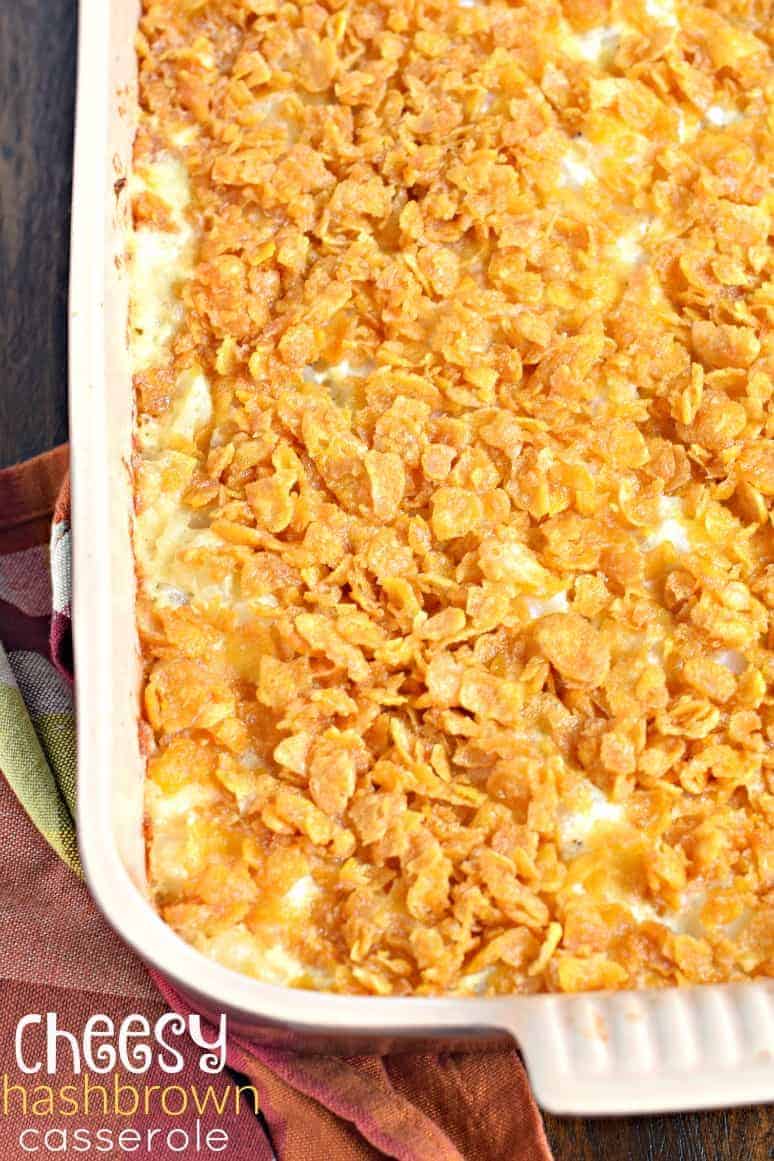 Holiday Side Dish
I'm curious what you all eat for the holidays?
Typically our meal is a carb overload. Of course we have the ham (or turkey for Thanksgiving)…but then you have mashed potatoes, sweet potatoes, and hashbrowns.
Oh and a basket of No Knead Garlic Parmesan Dinner Rolls is a must too!
This Cheesy Hash brown Casserole has been making appearances at family functions since I was young. You know, back when Corn Flakes cereal was like one of only 20 cereal choices.
And as children, we liked Corn Flakes! I have to be honest, my kids don't care for Corn Flakes (they much prefer Frosted Flakes).
The only time we have a box of Corn Flakes in our pantry is when I know this Cheesy Hashbrown Casserole is going to be on the menu.
Why this Recipe works
Corn flakes mixed with melted butter are the perfect crunchy, buttery topping for Cheesy Potato Casserole.
My mom's recipe also uses pre-shredded cheddar cheese. You know, the orange stuff in the bag (which we all love of course).
However, if you're looking to take this to the next level of deliciousness, try using a good quality cheddar, that you shred yourself.
It gives this dish such an intense, tangy flavor you can't resist. And, it melts so creamy mixed up with the rest of the ingredients!
Cheesy Hashbrown Casserole is such a great addition to any meal as it can be prepared ahead of time. All you need to do is pop it in the oven when it's time to cook the meal.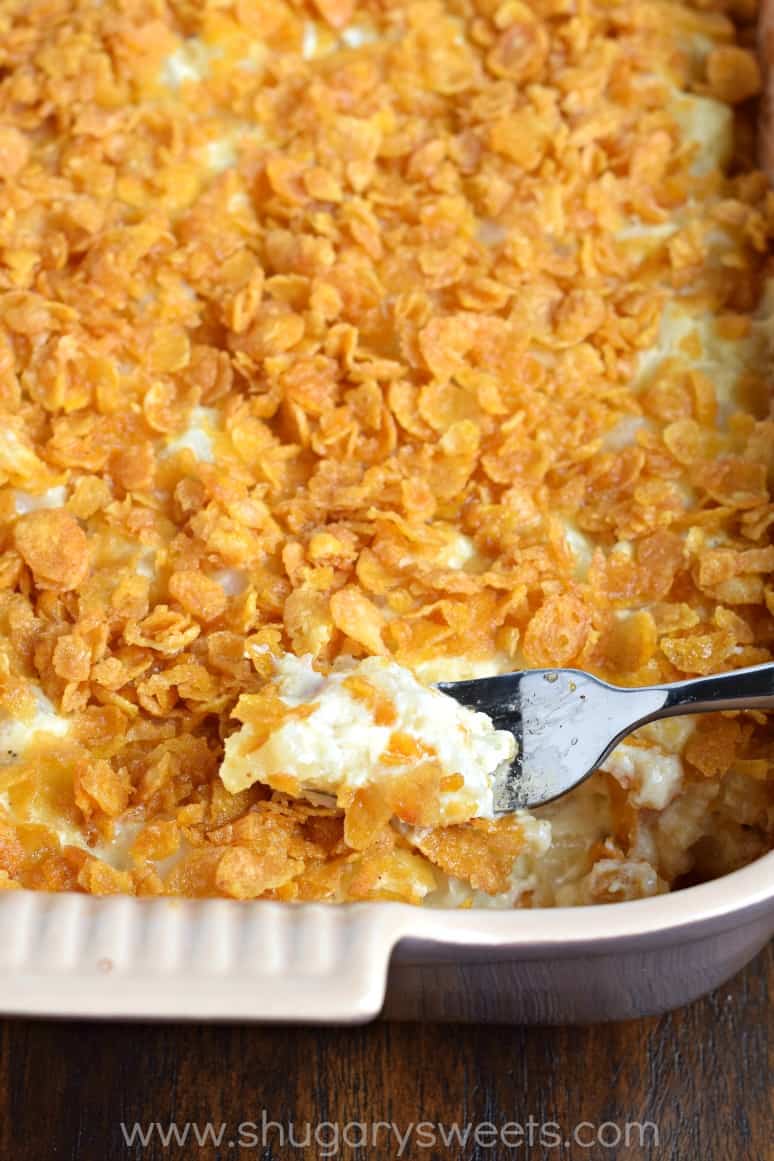 Funeral Potatoes
My family calls this recipe Cheesy Hashbrown Casserole, but I have also heard it called Funeral Potatoes.
Why, you ask? If you have ever been to a funeral in the Midwest, you know that these Cheesy Funeral Potatoes almost always make an appearance at the meal afterwards.
They're not just a staple at funerals, though – Funeral Potatoes are a part of just about any potluck or gathering in the Midwest.
They're great to serve as a side dish with my favorite mississippi roast or Oven Baked Pork Chops too!
Step By Step Instructions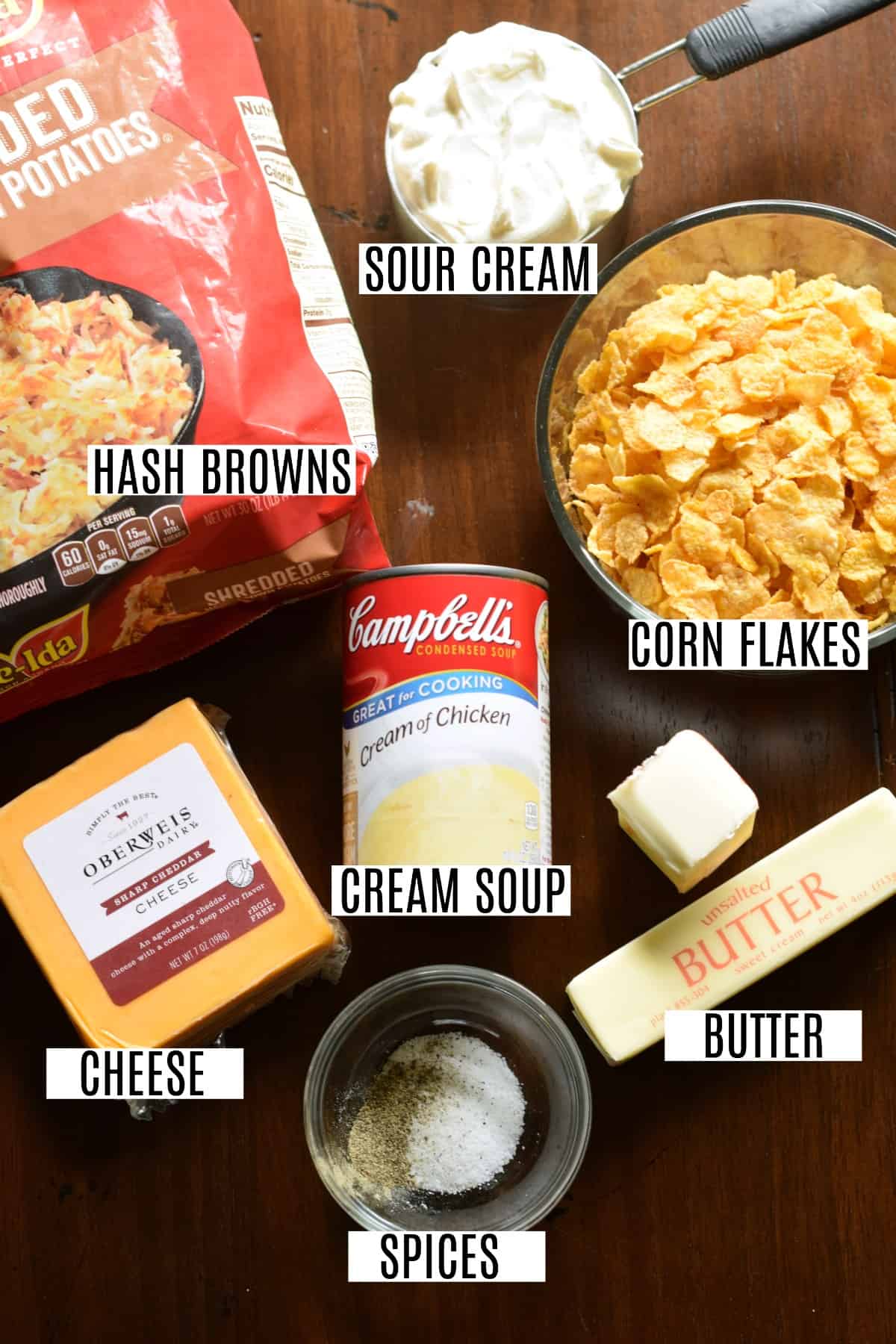 Step 1.
Preheat oven to 350 degrees F.
Step 2.
In a big bowl, you'll mix everything except for the butter and corn flakes together. It's okay if your hashbrown potatoes are frozen.
My family prefers the "cubed" version, but if you like shredded feel free to use those! Pour into your 13×9 pan!
Step 3.
Crush your corn flakes slightly, you don't want tiny crumbs here, but you also don't want all whole flakes either. Mix up your corn flakes with the melted butter and sprinkle it over the top of the casserole.
PRO TIP: You can also substitute potato chips or Ritz crackers for the topping!
Cover the Cheesy Hashbrown Casserole with foil and bake until golden brown and bubbly. About one hour. SERVE hot!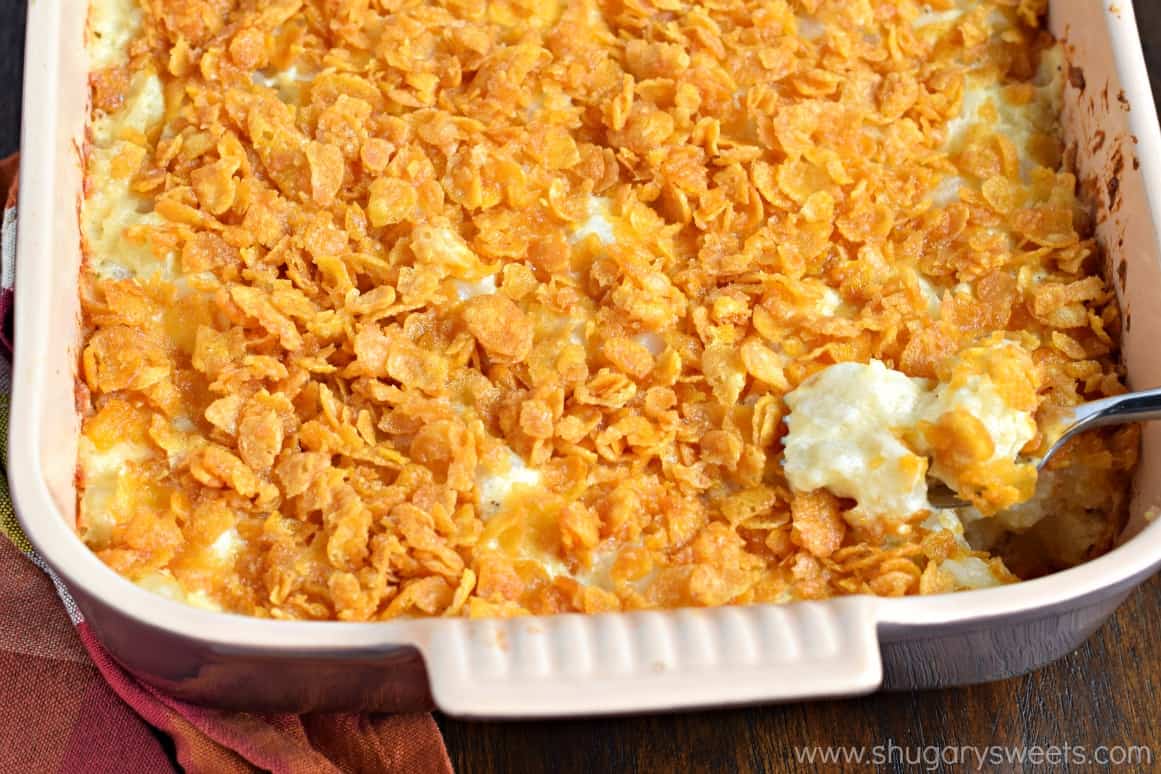 Recipe FAQs
Should I thaw hashbrowns before cooking?
With my recipe, you can use straight from frozen!
Can I use fresh potatoes instead of frozen hashbrowns?
Yes! Grate potatoes using food processor. Use in recipe as directed.
What are cracker barrel potatoes?
Want to make this more like Cracker Barrel? Add the cheese on top before baking (skip the corn flakes).
More Comfort Food Recipes