Sweet and Crunchy, Cherry Almond Biscotti is the perfect pair to your morning cup of joe, tea, or hot cocoa!
Be sure to follow me on Bloglovin'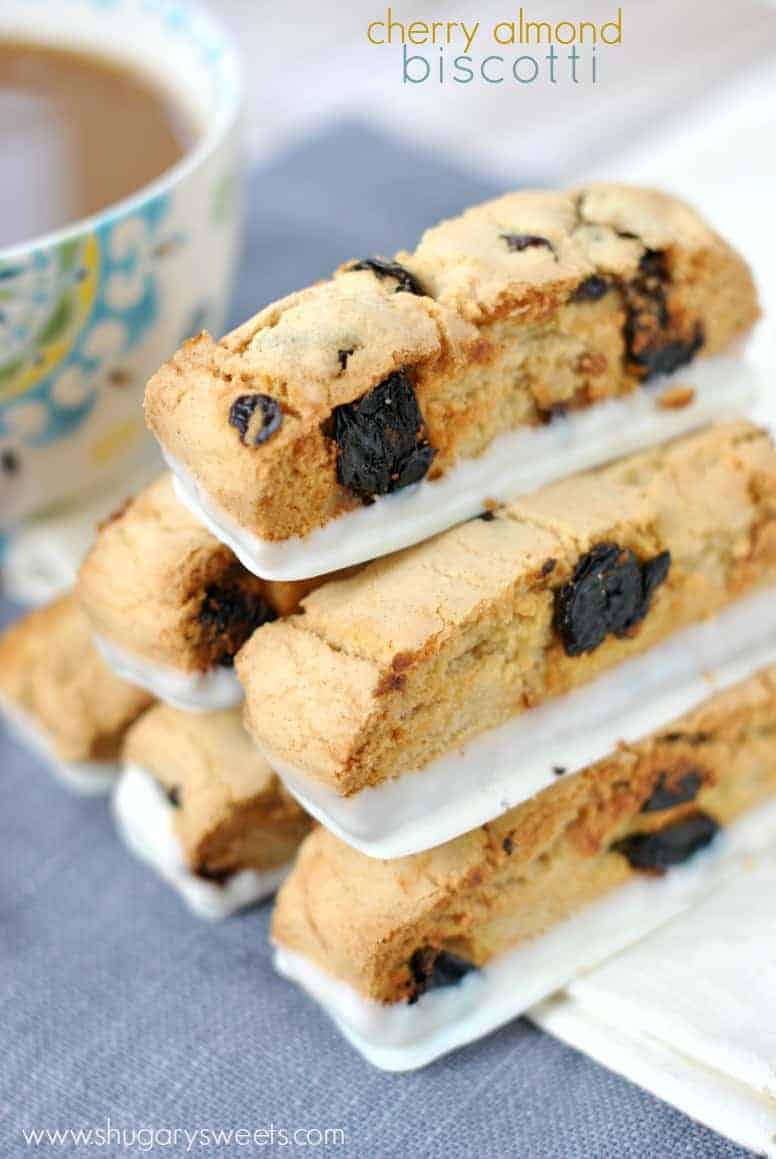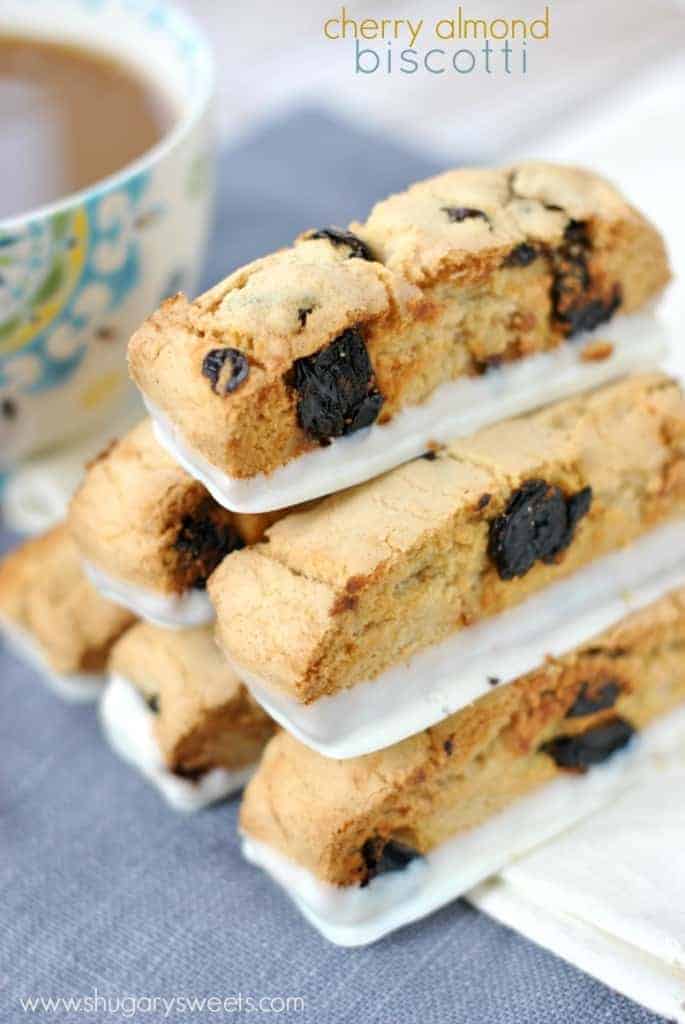 I'm so in love with making biscotti. For me, it's better than baking cookies.
Yes, I just said that aloud.
But think about it. Biscotti is like a crunchy cookie. A cookie that you can eat for breakfast. Cookies that are BREAKFAST approved!
Plus, since I love having coffee in the morning (okay, and at noon, night, and whenever), biscotti is the perfect "dipper." It's also great dunked in tea or hot cocoa.
Who needs to dunk chocolate chip cookies when you have fresh biscotti on hand?! (okay, again, did I just say that aloud???)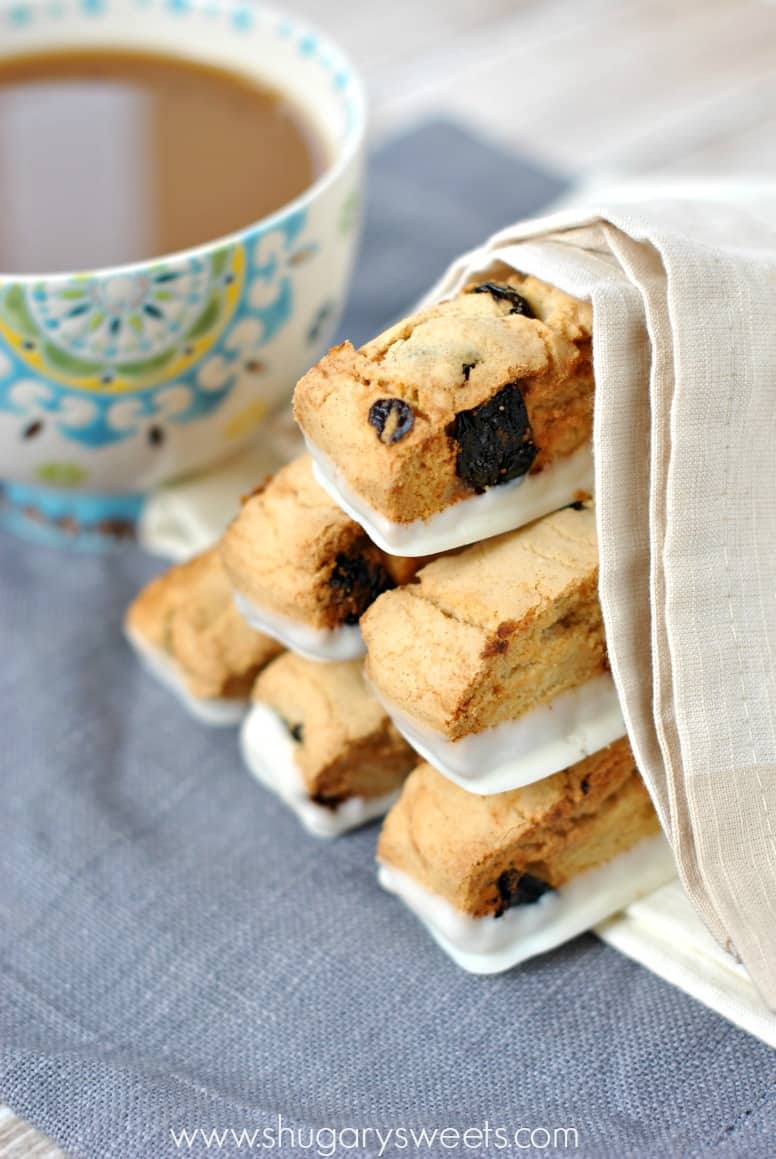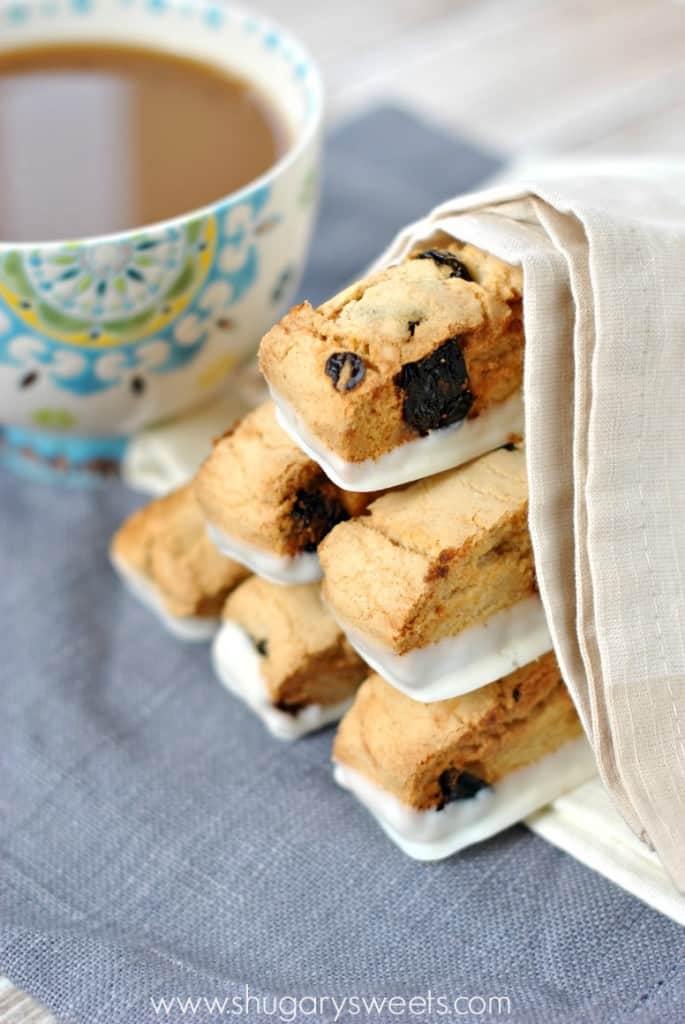 For today's flavor, I wanted to make something that would be tasty for a Valentine's Day breakfast. It's not pink. But it IS cherry.
Adding in dried cherries gives a nice chewy texture with the crunchy biscotti. I also added almond extract to the dough. I love almond extract. I would put it in all my recipes if that wasn't weird.
I thought about adding some chopped almonds either to the dough or to sprinkle on top, but decided against it. The biscotti is crunchy enough, and with the dried cherries I really wanted those to shine a little brighter.
Biscotti is never complete until it's dunked or drizzled with chocolate. (unless it's snickerdoodle biscotti, which is lovely with a healthy dose of cinnamon sugar sprinkles.) Dipping the bottoms in Vanilla Candiquik (or almond bark) is the perfect pairing for this recipe.
It's hard to believe I used to be afraid of making biscotti. I thought it seemed so difficult. It's NOT. I promise! Once you start making it, you may get addicted like me!
I've got a list of flavors I still want to make, but would love to hear from YOU about the flavor you enjoy most? What would you like to see next? I'm taking notes…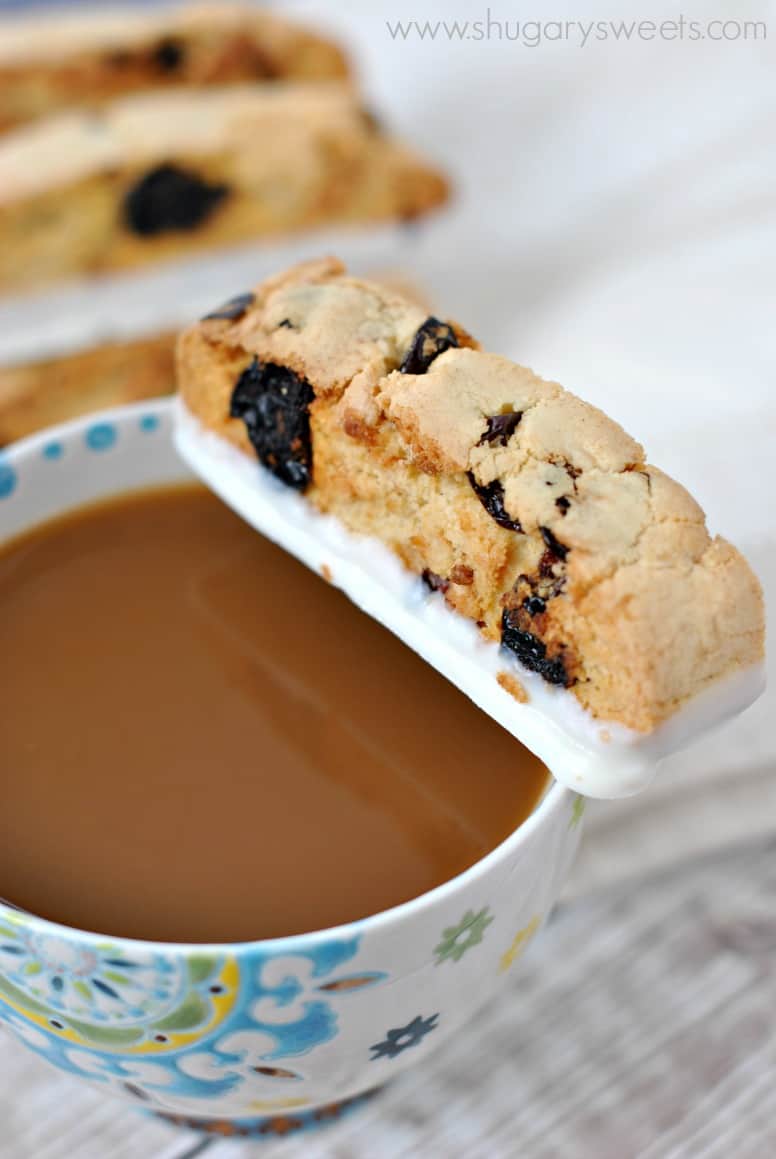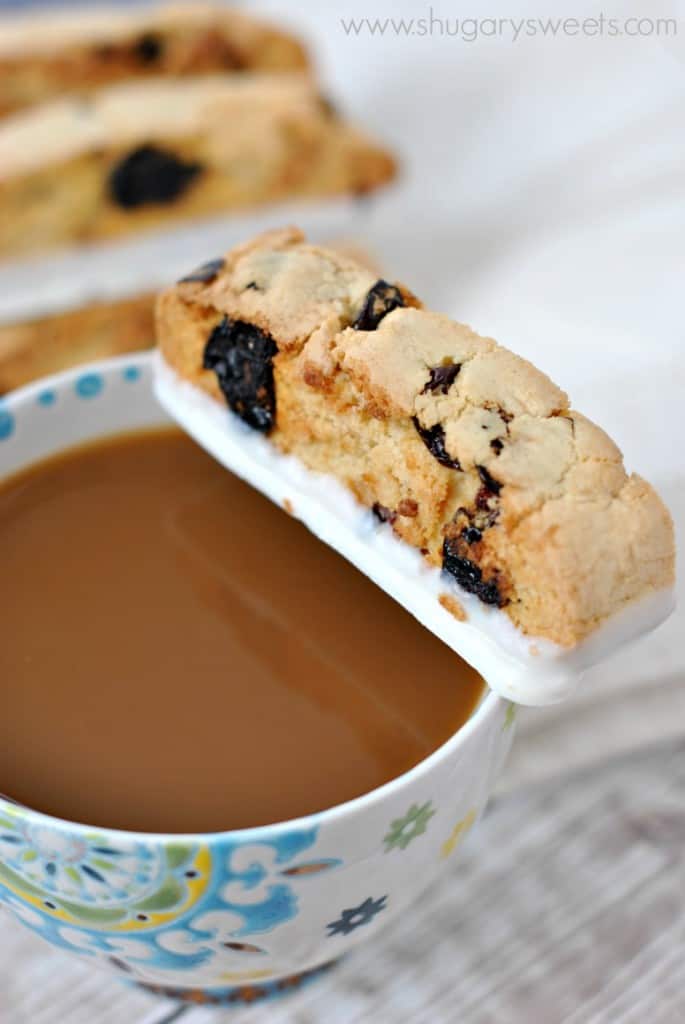 Connect with Shugary Sweets! Be sure to follow me on my social media, so you never miss a post!
Pinterest | instagram | Bloglovin'
Save your favorite recipes to your personal recipe box with the   

  button on all my recipes! Create a Meal Plan with your "favorited" recipes and the ingredients will automatically be added to your own Grocery List!
Yield: 13-15 biscotti
Cherry Almond Biscotti
Prep Time 10 minutes

Cook Time 45 minutes
Ingredients
6 Tbsp unsalted butter, softened
3/4 cup granulated sugar
2 large eggs
1 tsp almond extract
2 cup all-purpose flour
1 tsp baking powder
2/3 cup dried cherries
4oz Vanilla Candiquik (almond bark), melted
Instructions
In a large mixing bowl, beat butter with sugar until fully combined. Beat in extract and eggs. Add flour and baking powder and mix until blended. Fold in dried cherries.
Line a large baking sheet (15x10) with parchment paper. Lay dough in center, and using your fingers, pat it into a rectangle, about 13in x 4in x 3/4in high.
Bake in a 350 degree oven for 25 minutes. Remove from oven and cool for 5 minutes. Slice into 3/4-1inch thick slices. Rotate each slice onto it's side. Return to oven for 10 minutes.
Rotate slices to opposite side and return to oven an additional 10 minutes. Remove and cool on wire rack.
When completely cooled, dip bottom of each biscotti into melted candiquik. Set on parchment paper and allow to set for 15 minutes. Store in airtight container at room temperature for up to two weeks.
See some of my other favorite biscotti recipes: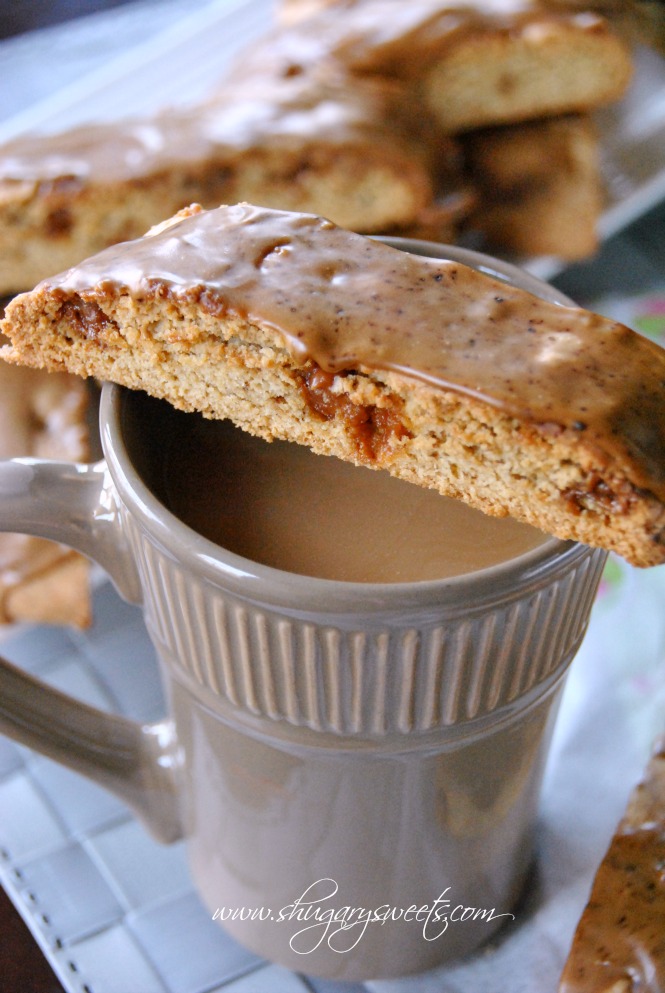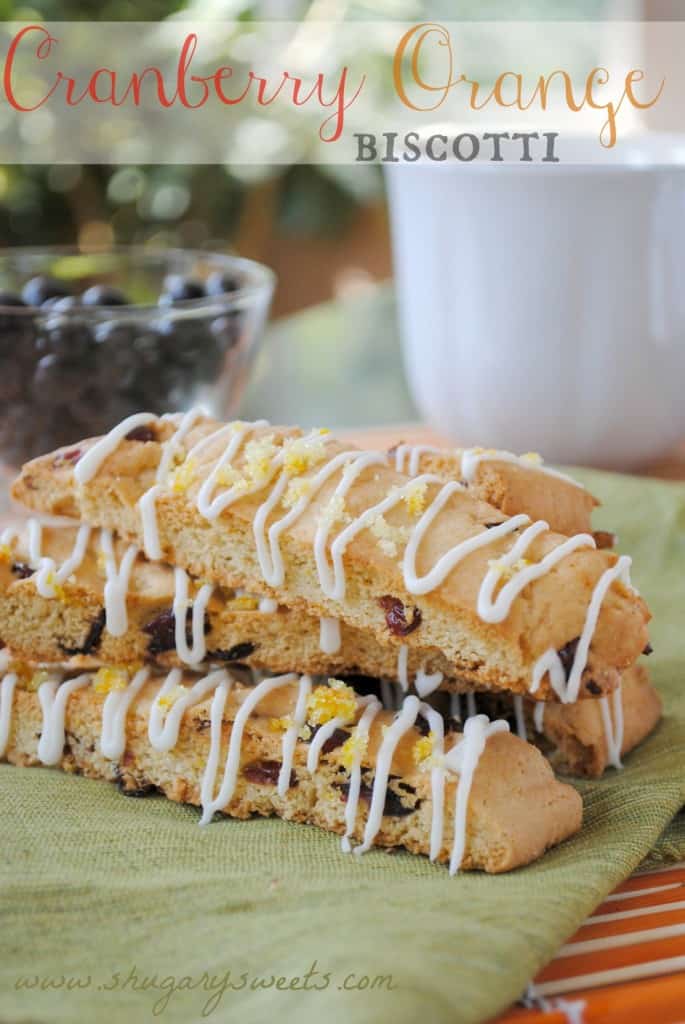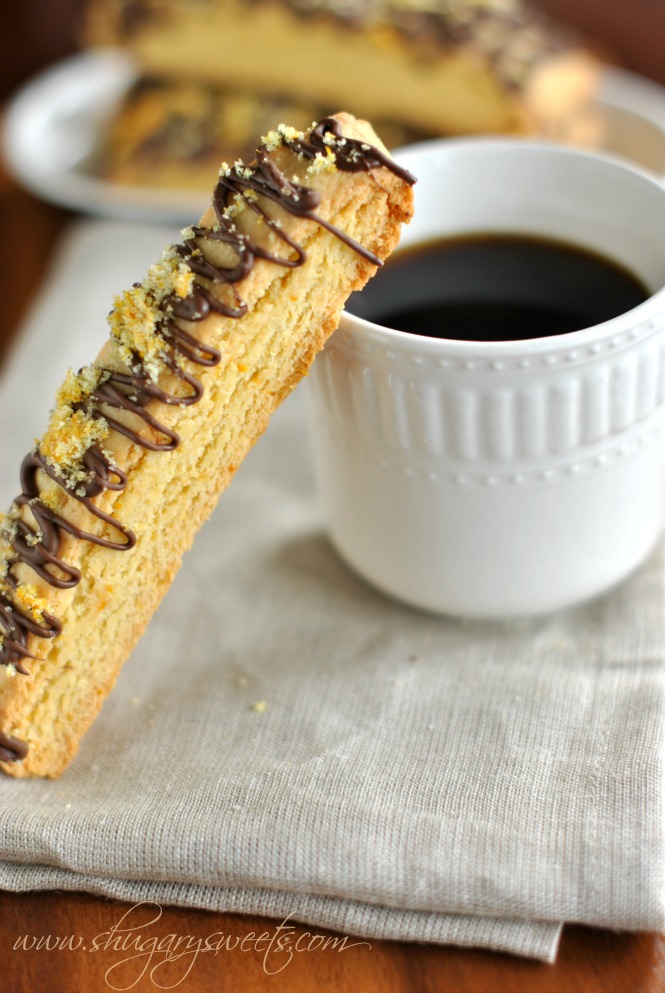 LOVE Cherry Almond?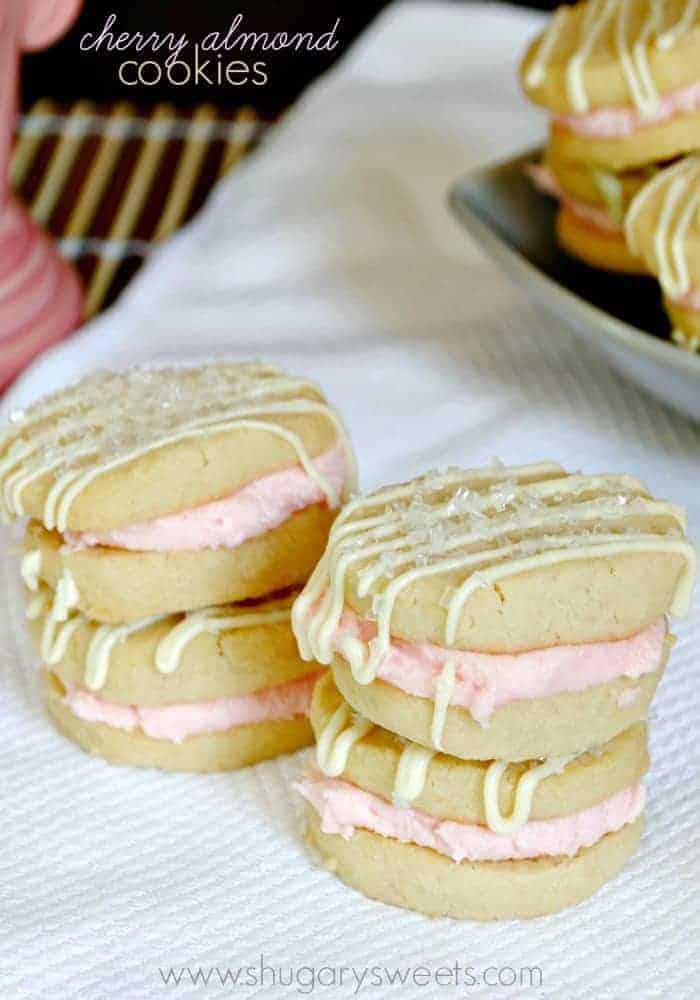 Cherry Almond Sandwich Cookies