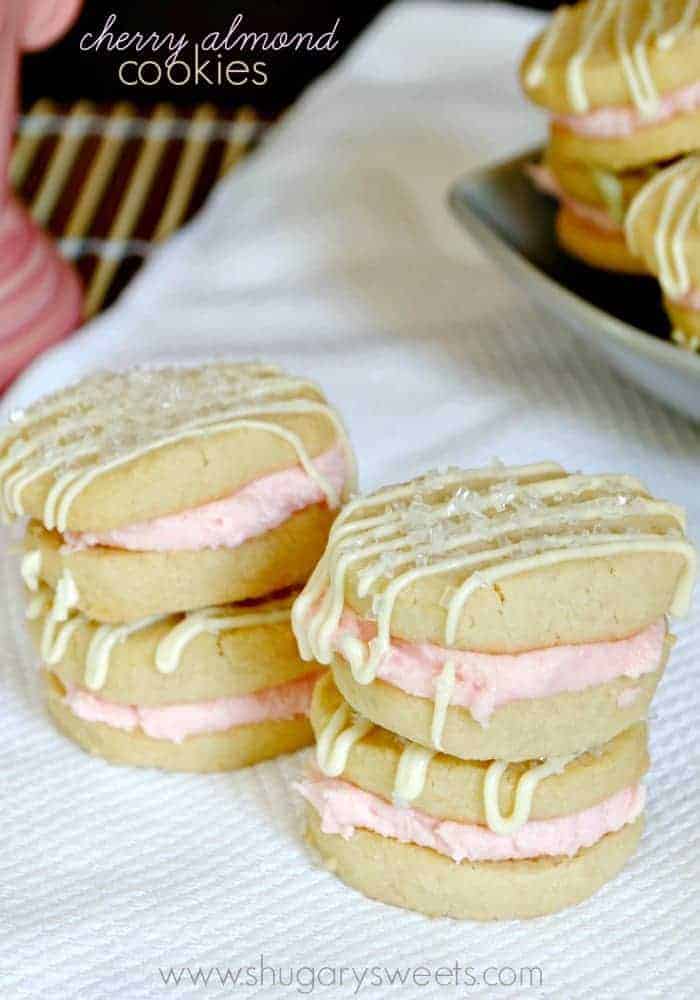 And so pretty in pink. Don't ya think?
In case you were wondering, my favorite color is pink.
I was the only girl with three brothers, naturally everything I owned was pink. And I loved it.
Cherry Almond Sandwich Cookies
Ingredients
For the Cookies:
3/4 cup unsalted butter, softened
1/3 cup sugar
1/3 cup almond paste
1/4 tsp almond extract
1 egg
1 2/3 cup all purpose flour
For the Filling:
1/4 cup butter, softened
2 cup powdered sugar
3 Tbsp maraschino cherry juice
For the topping:
1/2 cup white chocolate, melted
sprinkles or coarse white sugar
Instructions
In large mixing bowl, cream butter with sugar and almond paste, about 2 minutes. Beat in egg. Slowly add flour and extract. Shape into a ball, then flatten into a disk. Wrap in plastic wrap and refrigerate at least two hours.
Divide dough in four portions. On a lightly floured surface, roll each portion into a 1 1/4 inch roll, about 4-5 inches long. Slice about 18-20 cookies per roll.
Place each cookie on a parchment paper lined baking sheet and bake in a 350 degree oven for 6-8 minutes. Cool completely.
For filling, beat butter with powdered sugar and cherry juice. Spread between two like sized cookies. Drizzle with melted white chocolate and sprinkles. ENJOY!