It doesn't get an easier than this four ingredient Cherry Dump Salad! Made with pineapple and cherry filling, this is a chilled side dish that everyone loves. Cold, sweet, and perfect for summer!
Who else LOVEs cold side dishes? You'll flip for this Frozen Cranberry Salad and this Seven Layer Salad too.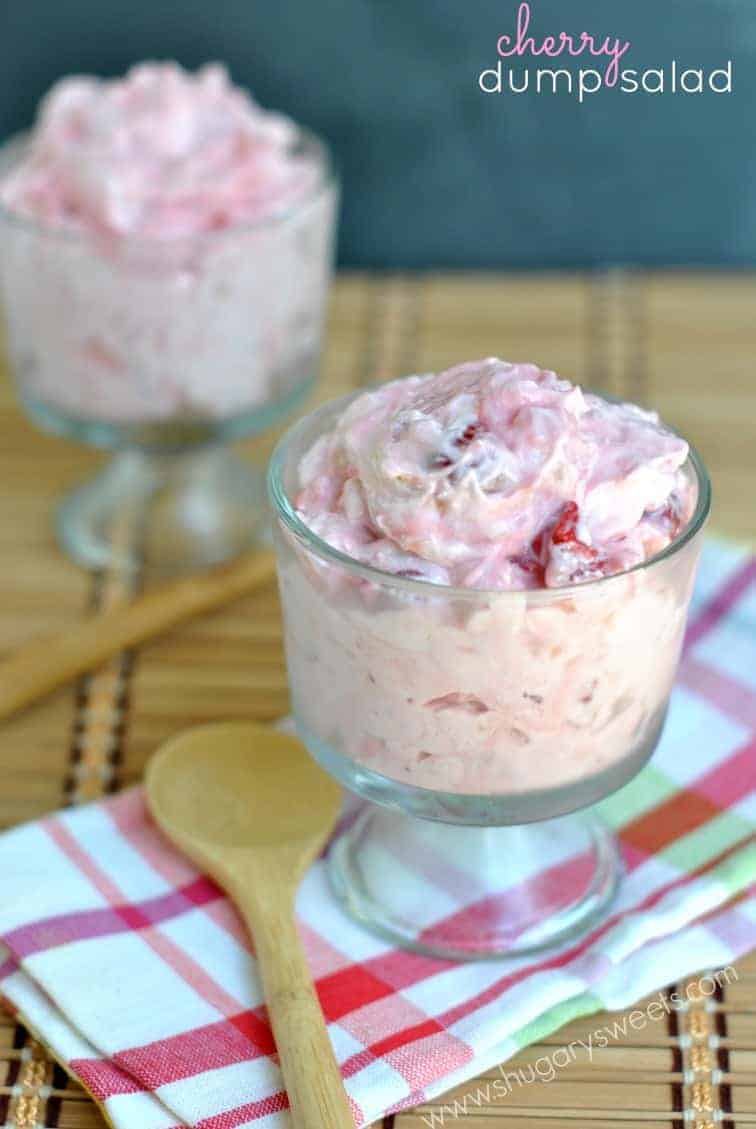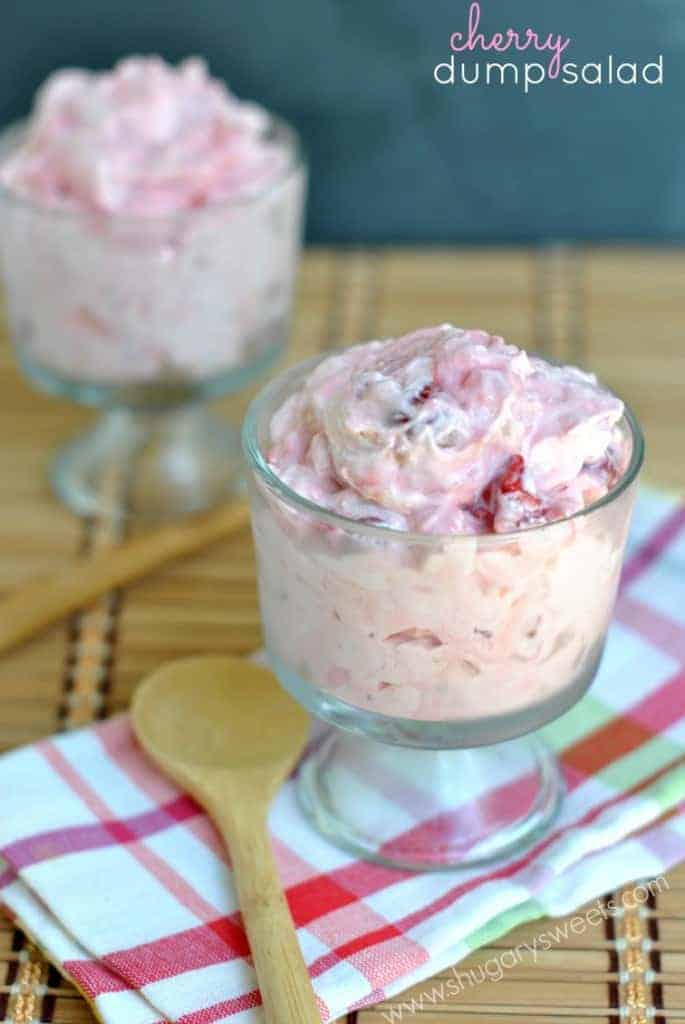 Why this Recipe Works
No-bake chilled dump salads like this one have been in my family for generations. There's a reason why we keep making them–they're always the first dishes to disappear at a big family meal!
Pour pistachio salad is always a reader favorite!
You only need four ingredients to make Cherry Dump Salad!
It takes no time at all to toss together. Pop it in the fridge to set and forget about it until it's time to eat!
A creamy cool whip base makes the cherry and pineapple flavors shine.
Easy to transport, kid approved and delicious as a side dish or dessert!
If you've never made a "dump salad" before, you're in for a treat. This recipe is my go-to for potlucks and parties that fall during a busy season.
It's so tasty that no one will guess that it took you literally seconds to make!
Ingredient Notes
Here's everything you need for this recipe.
Crushed pineapple. Don't drain the juice!
Cherry pie filling. Use canned filling (like I do) or swap it for an equal amount of homemade cherry pie filling.
Cool whip. Thaw the whole container in the fridge first.
Sweetened condensed milk.
Just toss everything in a bowl, mix and chill!
Tips and Tricks
Flavor variations. You can make this dump salad with other pie fillings like blueberry or strawberry too.
Mix ins. Add a cup of chopped pecans or mini marshmallows to your dump salad to change up the flavors!
Make ahead. I like to assemble the cherry dump salad the night before. By the next morning it's set, chilled and ready to eat.
Storing. You can store the prepared salad covered in the fridge for several days. Keep it nice and cold until serving.
Recipe FAQs
Can you freeze the cherry dump salad?
Cherry Dump Salad definitely holds up well to freezing! Some readers tell me they've success freezing it in cupcake tins for individual servings.
Can I make this with real whipped cream instead of cool whip?
Yes, real whipped cream would work in this recipe.
Will evaporated milk work instead of consensed milk?
No, you should be sure to use sweetened condensed milk here. Evaporated milk will majorly alter the consistency and taste of the cherry dump salad.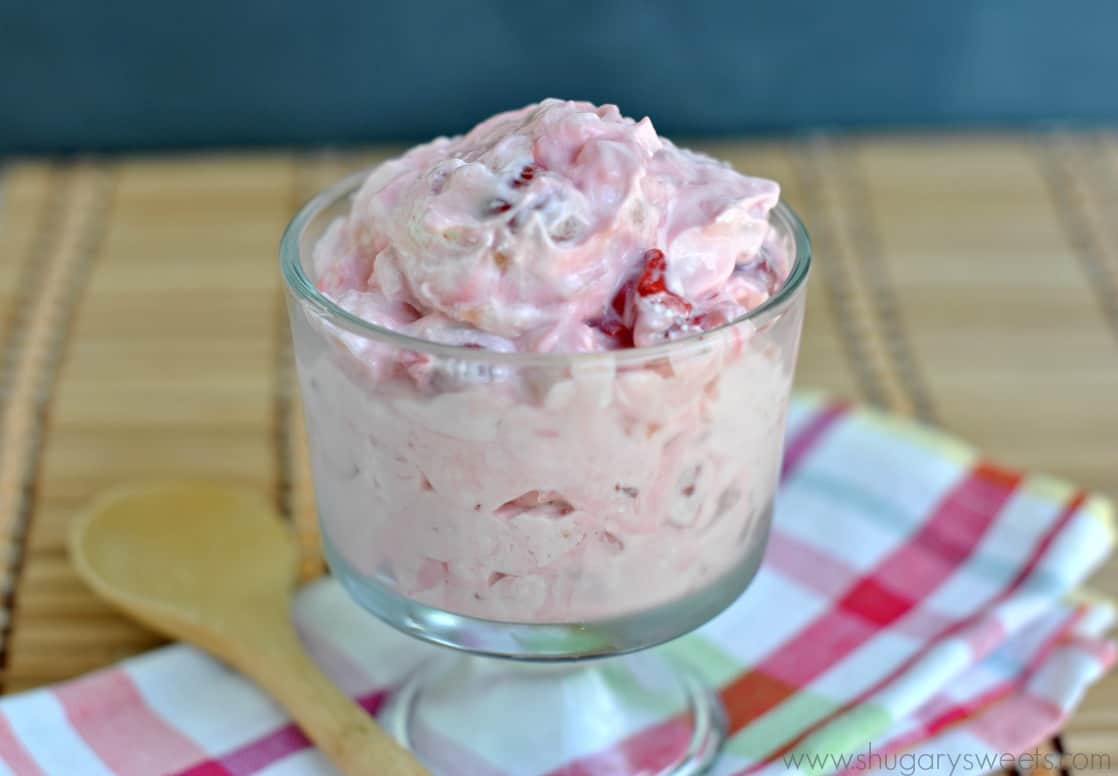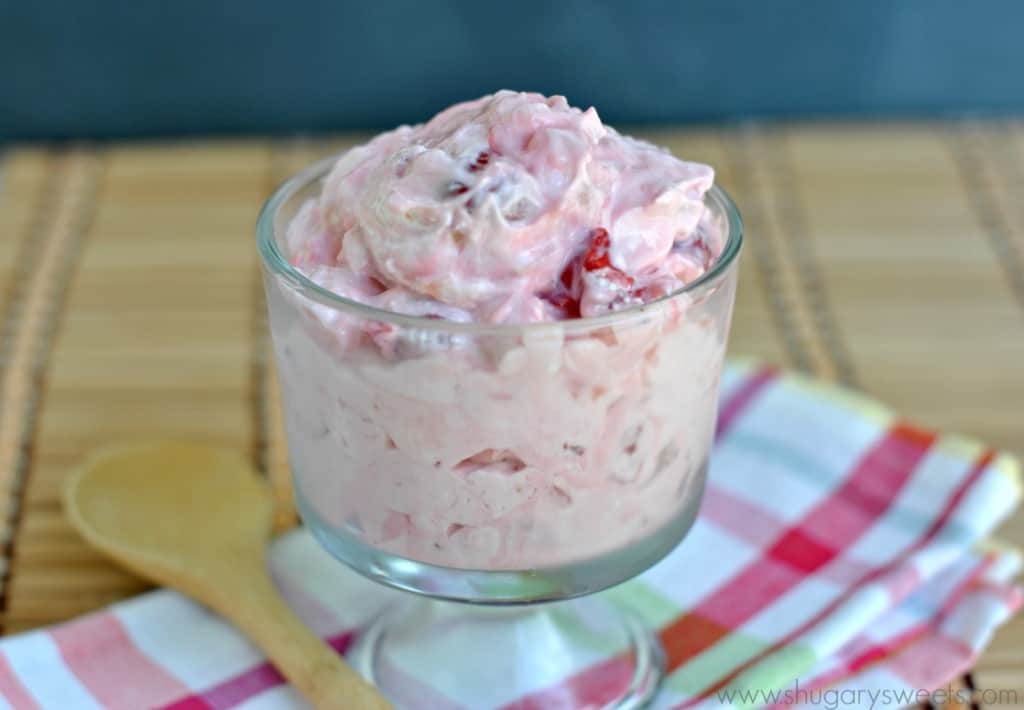 More Easy Desserts Recipes
Four ingredients and one bowl are all you need to make an amazing sweet side dish. Anyone can make this Cherry Dump Cake–just be prepared for all your friends and family to swarm you for the recipe!