Cherry Pound Cake Bites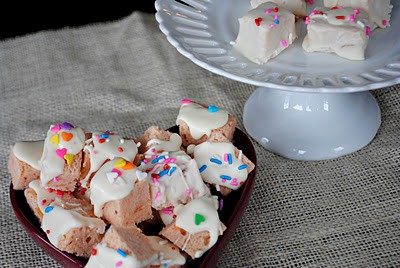 I have to be honest with you all. I cheated big time on my healthy eating the day I made these. See, you have to cut off the crust of the pound cake so they are pretty. I ate a lot of crust. I hate wasting after all….
I also have another confession. I can be a lazy baker. Or I should say a lazy "decorator". I initially started by dunking each piece of pound cake into the glaze, applied sprinkles and repeated. It reminded me of this past  Christmas when I made about one million truffles. (these, these, and these) And I'm not ready for that right now. So the lazy in me put all the pound cake on a parchment paper lined baking sheet and drizzled the glaze over the remaining cubes. Let me tell you something….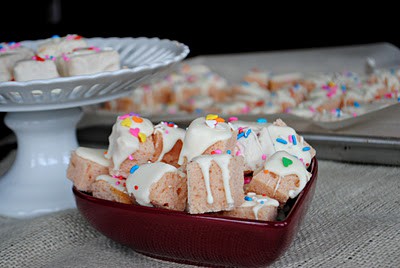 They taste the same!! Still absolutely delicious with much less work.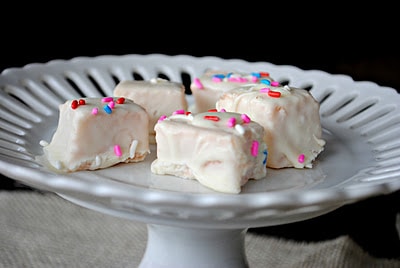 And I'm all about less work. Just ask the hubs.
Cherry Pound Cake Bites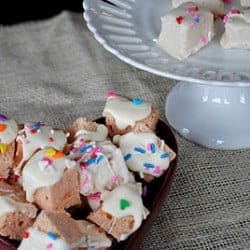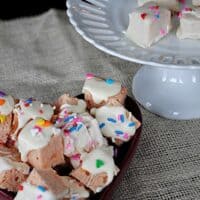 Ingredients
For the Pound Cake:
1 1/2 cup butter, softened
8 oz cream cheese, softened
3 cup granulated sugar
6 eggs
2 tsp vanilla extract
1 vanilla bean, scraped
1 tsp almond extract
1/4 cup maraschino cherry juice
3 1/4 cup all purpose flour
1 tsp baking powder
For the Glaze:
16 oz can vanilla frosting
1/2 cup white chocolate
sprinkles
Instructions
Beat butter and cream cheese. Add in sugar and beat a full three minutes. Add eggs one at a time, beating well after each addition. Add in vanilla, almond, cherry juice and vanilla beans. Mixture will be slightly curdled looking (don't fear).
In small bowl mix flour and baking powder. Add to butter mixture one cup at a time, until fully blended.
Pour batter into two greased loaf pans (I also line the bottoms with parchment paper). Bake in a 325 degree oven for about 75 minutes.
Remove from oven and cool in pans about ten minutes, then remove and cool on wire rack.
For frosting, mix can of frosting with white chocolate in microwave safe bowl. Heat in microwave one minute, stirring to make sure all chocolate is melted and mixed in.
Cube pound cake (cut off outer layer if desired). Drizzle glaze over cubed pound cake and immediately apply sprinkles. Or, if desired, dip each cube completely in pound cake and allow to set until hardened. Store in air tight container in refrigerator. Enjoy!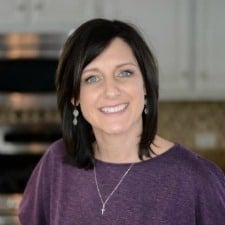 Aimee is a dessert lover (specifically rice krispie treats), workout enthusiast, self-taught foodie, and recipe creator. Her recipes have been featured in over 15 magazines, and her passion is to share her love of cooking with the everyday home cook! Learn more about Aimee.