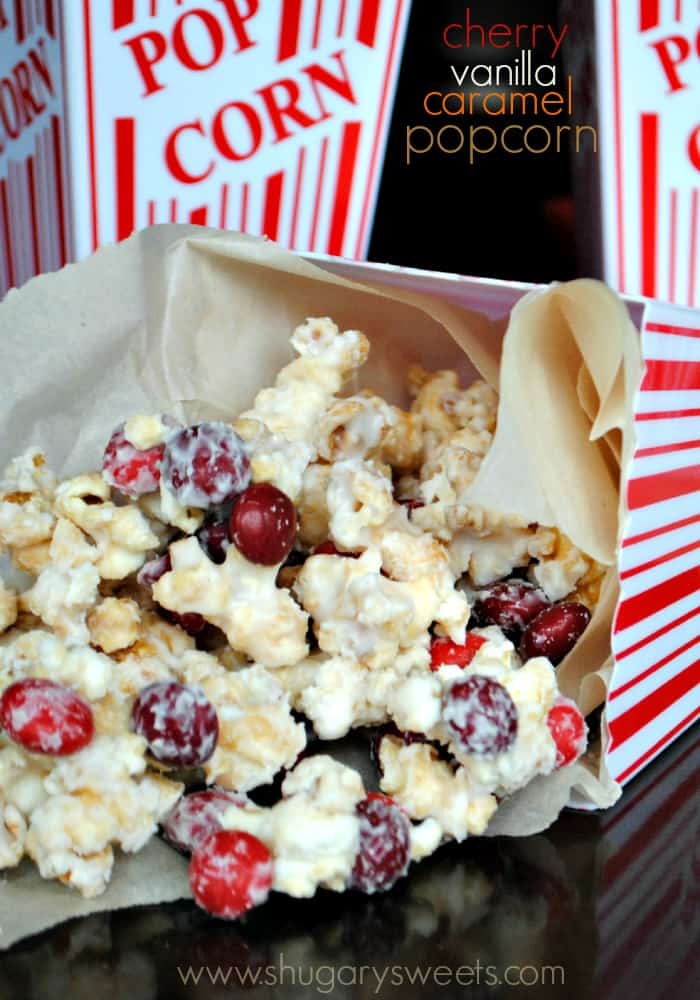 Can you all tell I am on a cherry kick lately? Some people equate Valentine's day with chocolate, but for me it's cherries. And pink food. Especially candy.
And now, I will also forever look forward to Cherry flavored m&m's at Valentine's. Have you tried these? They are simply amazing. I thought about putting them in a cookie. But it occurred to me that I needed to pair them with my caramel corn recipe and coat it in all white chocolate.
I'm so glad I did. Well, kinda. The flavor was amazing. However, my pants are a little tight.
Cherry Vanilla Caramel Corn
Ingredients
2 sticks butter
2 cups brown sugar
1/2 cup light corn syrup
1 tsp salt
1/2 tsp baking soda
1 tsp vanilla
2 1/2 bags of popped corn, REMOVE SEEDS (5 qt popped)
16 oz. package vanilla bark
3 cup Cherry m&m candies
Instructions
Pan melt butter, stir in sugar, corn syrup and salt. Bring to a boil, stirring constantly.
Remove from heat. Stir in baking soda and vanilla. Gradually pour over popped corn. Mix well. I use my broiler pans, but the disposable lasagna foil pans would work well too. Bake at 250 degrees for one hour, stirring every 15 minutes. Remove from oven and cool. Break apart and place in large bowl.
Melt the vanilla bark completely (according to package directions), pour over cooled caramel corn. Allow to cool about ten minutes. Mix in m&m's and pour onto wax paper to harden.
Store in airtight Ziploc or tupperware containers.